Nowadays almost all photo and video cameras are equipped with integrated microphones. They can be compact or professional with quite decent specifications, allowing you to record a sound scene in the place where the device is located. This mic is a must for aspiring camera operators, videographers, and video bloggers who care about the quality of their work. Moreover, it's a required device for professionals who have to solve a lot of issues than just recording ambient sounds and noises.
Newcomers are not so picky to feel the difference while using external microphones. However, more advanced users are always searching for the best lavalier microphone for DSLR "by default." Holding the camera in hands, the operator transmits many different vibrations to its body, which are recorded by the integrated microphones in the form of rustling while best-wired lavalier mic for DSLR records only what you want to be heard.
The autofocus system and the operation of the optical image stabilizer in the lens — it all leaves its "soundtrack". Even the simple inaudible control of shooting parameters with the use of the disc or buttons during recording will inevitably create much extraneous noise on the audiotape. What is the best lavalier microphone for DSLR cameras? We'll definitely find it out in the review.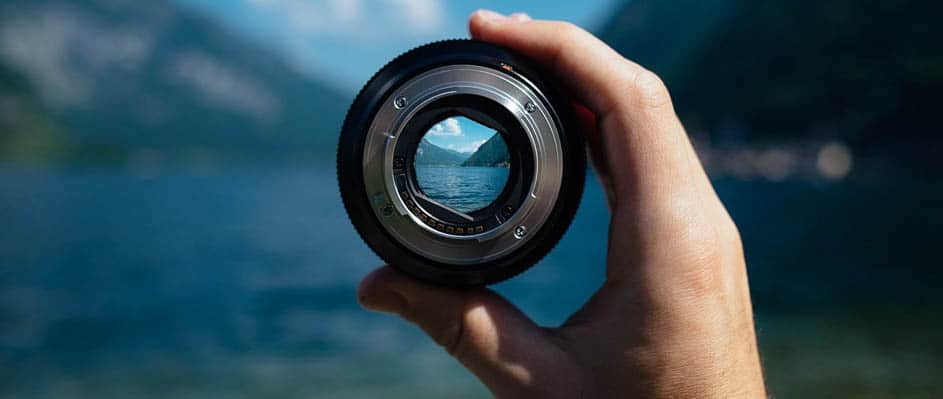 Sennheiser EW 112P G3/G4-B omni-directional EW system
(Read review Sennheiser EW 112P G4)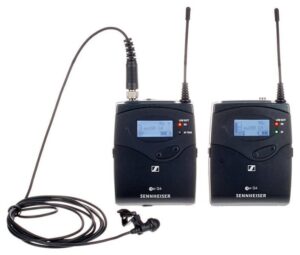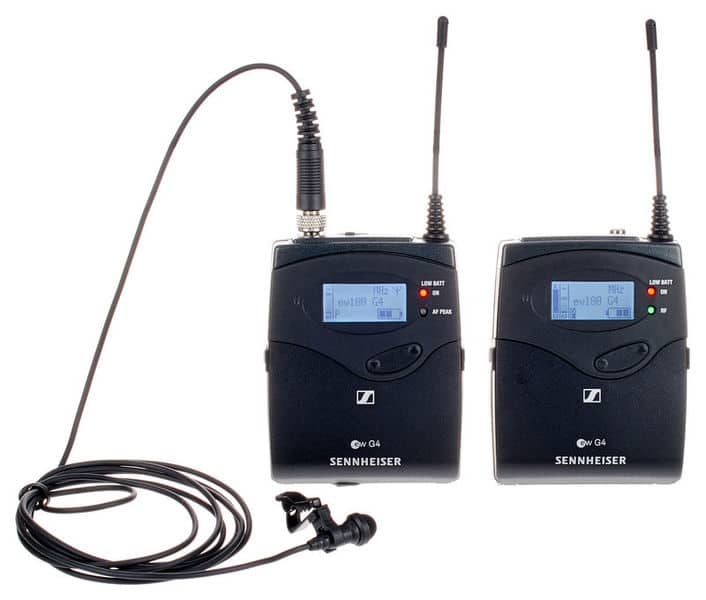 Vocal analog radio system "Sennheiser EW 112P G3/G4-B" represents an omni-directional EW package from the well-known German company "Sennheiser". It consists of 3 elements: the EM 100 G3 receiver, the SK 100 G3 transmitter and the ME 2 microphone. In all types of radio systems, a transmitter is a universal device and is executed in several versions: a stationary hand microphone or a belt transmitter for the connection of a chest microphone / headset / musical instruments to a 1⁄4 input or an adapter which helps to connect any standard microphone to a XLR inlet (which is often used in TV). These features make it universal and saves a considerable amount of money in case of rebuilding.
Pros:
— Compactness;
— Work stability;
— Wide frequency range;
— Reliability when working in extreme conditions.
Cons:
— Lack of additional accessories for the regular microphone;
— One receiver can tune to only one frequency;
— High price.
---
Sennheiser AVX Digital Wireless Microphone System – ME2 Lavalier Set
(Read review Sennheiser AVX-ME2 Set)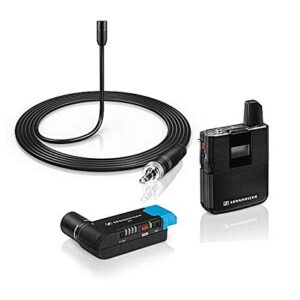 AVX-ME2 is a high-quality radio bug system intended for engaged in video shooting. It is fully packed and made for operation in a split second. The ultra-tiny universal set is directly joined to a XLR input of your digital SLR camera or recorder, while reliable and durable portable transmitter gives you an opportunity to work outdoors recording podcasts or interviews.
AVX-ME2 system provides a transmitter with the best lavalier mic for DSLR, an excellent receiver and all the necessary components for working with professional DSLR cameras.
Digital transmitter is automatically set with a receiver to the free channel in the Wi-Fi frequency amplitude of 1930 Hz, and receiver itself is surprisingly indiscrete and light.
Pros:
— The receiver has a compact design;
— Connects directly to the XLR input to a camera or recorder and includes the necessary adapters for use with DSLR cameras;
— Automatically adjusts the level of distortion.
Cons:
— When used with an analog device, an echo effect appears;
— AA batteries aren't available;
— Battery performance is low;
— Only 4 microphone settings;
— Microphone clip is very fragile.
---
Sony UWPD11/42 Lavaliere Microphone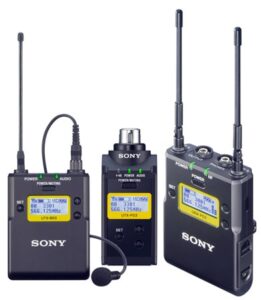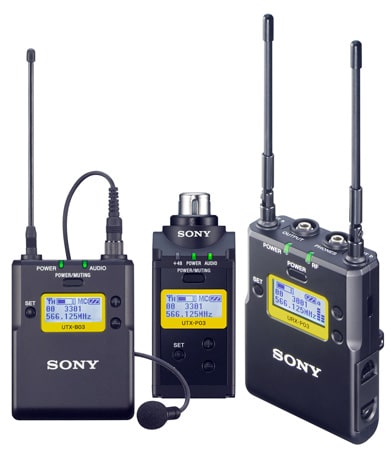 Let's take a look at Sony UWPD11/42 which is an updated professionally made analog drop-in microphone set, which now has internal digital processing. Besides, UWPD11/42 system has several times wider frequency coverage compared to UWP. Compatibility with UWP is preserved. You can also buy a kit which includes additional useful accessories.
This item is perfect for broadcast journalism, live news reports, and shooting different events from weddings to professional sports. Besides, reasonable (by the standards of professional equipment) prices enable DSLR owners and bloggers get the high-end level of sound in their Internet videos.
Pros:
— Digital audio processing for superior sound quality;
— Full set;
— Wide frequency coverage with selectable channels;
— Large display and compact receiver;
— Easy to use features.
Cons:
— Poor compatibility between devices from different manufacturers;
— Non-extensibility of the radio system outside the envisaged sets.
---
Sony ECM-44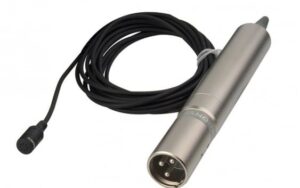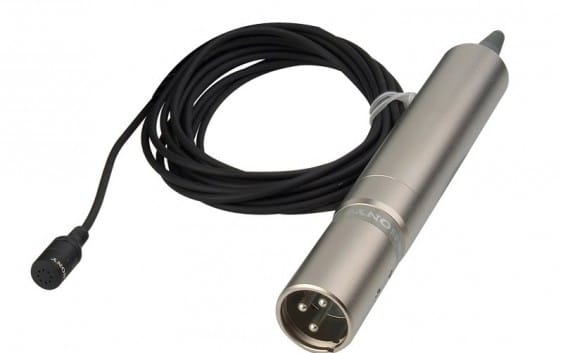 The next in Sony's line-up and our search for the best wireless lavalier mic for DSLR is ECM-44 with a double power supply system. It runs on АА battery (LR-6), installed in the phantom power adapter or external DC voltage source 48В. It is often characterized by awesome sound and is widely used in business presentations and TV production. The microphone is supplied with a PPWR and an outlet XLR-3-12C. The color of the capsule, cable, and accessories is black.
This model represents an omnibearing capacitor-type best wireless lavalier for DSLR. It is an electret microphone, combining the sound quality of condenser microphone and convenience in operation: one AA battery is enough for 5000 hours of work. High sensitivity and low level of self-noise allow you to obtain decent sound quality in any conditions. It is supplied with a windscreen and a rechargeable battery.
Pros:
— Sufficient sound brightness;
— Extensive frequency coverage;
— Battery powered.
Cons:
— A bit noisy;
— Poor performance;
— No ability to turn off the battery switch.
---
Movo WMIC70 Wireless 48-Channel UHF Lavalier Microphone System with Omni-Lav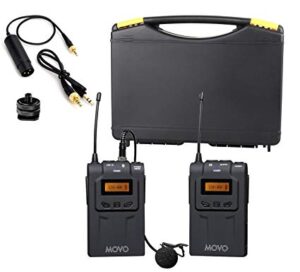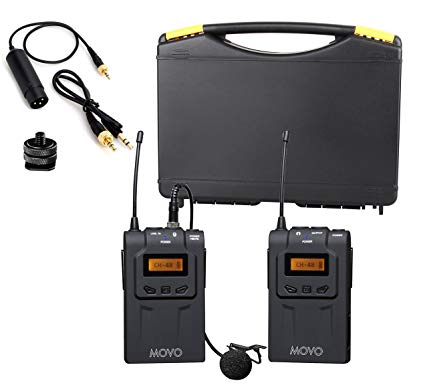 Are you looking for the best value for money? Then it might be an answer. This best cheap lavalier mic for DSLR ensures upscale audio recording at an incredible price. Designed extremely trustworthy, along with functions like headset control, linear input, and frequency flexibility, this outfit is excellent for electronic field production (EFP), filming, presentations, and similar audio/video apps. The entire kit includes a receiver with a camera fastener, a transmitter with a hardhat adapter, a microphone clip, and a windproof screen, as well as XLR & 3.5mm cables.
The modern sound processing equipment provides a broad intensity range with no over-charged issues of loud inputs or any extraneous bang during prolonged use.
The best cheap lavalier mic for DSLR is quite small, and it's almost impossible to place in doubt its sound quality in the field of cordless mics.
Movo WMIC70 Wireless 48-Channel UHF belongs to the best wireless lavalier mic for DSLR of the low-budget segment. It is produced for people who want to forget about the cord and be free to move during speaking.
Pros:
— Juicy sound;
— Reception range over 300 feet;
— Easy to use and customize;
— Good for interviews and live performances;
— It is possible to use an AA battery.
Cons:
— Sometimes the microphone receiver and transmitter lose sync;
— Noise appears after voice recording.
---
Saramonic UwMic9
(Read review Saramonic UwMic9)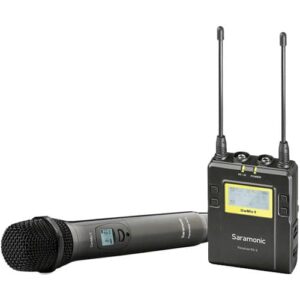 Chinese company "Saramonic" is engaged in the development of professional sound equipment and focused on the manufacturing of audio adapters, best lavalier mics for DSLR video, radio spots and portable recorders.
Saramonic UwMic9 is an updated model of the best lavalier mic for DSLR system UwMic9.
The device is appropriate for recording interviews, video production, conferences and sound producers who find a high quality of transmitted signal very important.
Saramonic UwMic9 works in a frequence band of UHF 614 MHz — 696 MHz, with a possibility to choose from 96 channels. The main feature of Saramonic UwMic9 is a capability of using two transmitters, i.e., to receive a signal from two lavaliers or a lav mic and the reporter's mic simultaneously.
Pros:
— Suitable for recording interviews, conferences, film/video production, for which high quality of the transmitted signal is important;
— A choice of 96 channels;
— The possibility of using two transmitters;
— You can choose stereo or mono for output.
Cons:
— Not visible battery charge in percent;
— Non-removable foam windscreen on the lavalier microphone;
— High noise when recording to the camera.
---
Rode smartLav+ Lavalier Microphone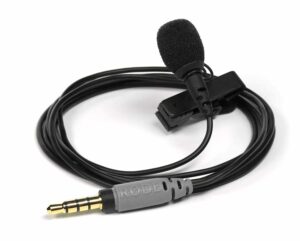 Professional chest microphone "Rode SmartLav" is mostly intended for working with mobile phones (Apple iPhone, Windows Phone, Android) as well as tablets. An updated version with "+" sign minimizes an outward noise (for example, wind, rain, cars, etc.)
For the moment there is a wide variety of lapel mics in the market, but the specialists working in the field of sound recording and the hosts of different shows give their preference to lavalier microphones. We highly recommend you the best wireless lavalier for DSLR "Rode SmartLav+" which is characterized by top-grade features and attractive price. What is more, it is often considered to be the best lavalier microphone for DSLR at this price point.
The best lavalier for DSLR "Rode SmartLav+" has a small size, so it can be fixed on the clothes (with a particular clip). Using this recording system doesn't require the correction of proximity effect, so it is especially popular among the professionals.
Pros:
— High sound quality, sensitivity, and low noise;
— Professional editing features;
— Suitable for recording video blogs, as well as voice enhancement during various webinars and conferences;
Cons:
— Not suitable for all smartphones;
— The problem of connecting to zoom and DSLR cameras (need an adapter);
— It works only with devices listed on the manufacturer's website.
---
Audio-Technica ATR-3350
(Read Audio-Technica ATR-3350 review)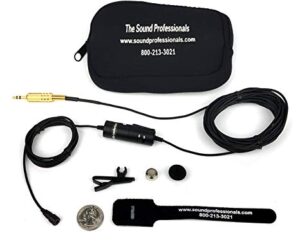 An upstanding model of omnidirectional lavalier capacitor-type microphone "Audio-Technica ATR3350" has not only a great quality of performance but also worthy technical specifications. Audio-Technica ATR3350 is most commonly used by the sports instructors during video shooting, as its compact size doesn't attract much attention. Thanks to its solid quality, high performance and thoughtful fastening it can be called the best lavalier mic for DSLR video. Furthermore, this microphone doesn't catch ambient sounds and has a quite low noise level. Besides, its frequency range is 50-18000 Hz, and an input shaker "mini jack 3.5 mm" can be connected to the majority of modern devices. In addition, we cannot fail to mention the presence of Audio-Technica ATR3350 1/4" adapter and rechargeable battery in the kit.
Pros:
— High-quality sound recording;
— Long cord;
— Small size;
— Real omnidirectionality.
Cons:
— Lack of indicators of work and battery charge level, difficulty when changing batteries;
— Unsuitable for use with a computer – a lot of noise;
— Condenser noise.
---
Audio-Technica AT899cW
(Read Audio Technica at899cw review)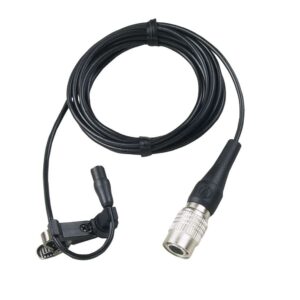 Are you looking for the pint size capacitor lavalier mic, intended to provide high-quality sound performance in a subtle package, which is hidden very easily? Then do not hesitate to pick it up.  Designed for documentary films, interviews, theater and movies this best wired lavalier mic for DSLR records uniformly along the perimeter of the capsule and in-line.
Main specifications:
High understandability and clear and precise reproduction necessary for singers, lecturers, TV hosts, and prayer houses.
Stealth (the device is only 5 mm in diameter) which is perfect for applications that require minimum noticeability.
It runs on battery or phantom adapter.
A wide range of accessories provided: clips for clothes and magnet/viper clip and a belt (only for black model), element coats, a windshield as well as replaceable single/double microphone holder.
Extra equipment sold separately includes full accessory sets, clips for clothing, 3-pack element covers as well as 3-pack windshields.
Pros:
— High sound quality;
— Robust construction;
— Accessories included;
— Reliable fixings;
— Battery included.
Cons:
— Cable too long;
— Poor performance on low ranges;
— Massive power supply.
---
BOYA BY-WM6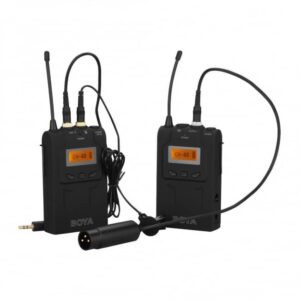 It is a wireless microphone system intended for use during DSLR shooting, media availability and capturing sound from any remote or mobile sources. The set consists of a receiver, a transmitter, and the best lavalier for DSLR. Based on test results the lavalier records pure audio without noticeable distortions.
An omnidirectional microphone is characterized by reasonable sensitivity while the system (according to the manufacturer) provides a stable signal at a distance of up to 330 feet. The devices are equipped with clips for belt fastening and standard 1⁄4-inch fuse threads for the installation on a tripod or a bracket "Magic Arm." The devices can run with the bandwidth of 584-608 MHz.
The transmitter and the receiver are equipped with bright displays allowing to read information both in poor lighting conditions and bright sunlight.
Pros:
— Separate line input on transmitter;
— Fine tuning microphone sensitivity;
— Ease of use;
— Compatible with all professional cameras.
Cons:
The poor-quality defective sound that requires correction of the notch filter;
Overheats at this time the body of the kits from which the batteries are quickly discharged.
Wrapping up
If you are eager to get an excellent sound both in the video broadcast on YouTube and in the videos recorded on your DSLR camera choose any of 10 above presented microphones for DSLR cameras. Thus, you will have a consistently excellent result of sound recording. We advise you to examine all the pros and cons carefully, so you will definitely get the item worth your money. Thank you so much for reading this article. We will do our best give you the most accurate and up-to-date info, stay tuned!