This is rather challenging to find an effective combination of mics in order to record a drum kit. Mic set should cover different instruments to create fantastic sound. So, what is needed to make the best drum mic kit? What microphones should enter it? The main problem is that different instruments produce sound in different ways, consequently the pickup scheme won't be the same. The right microphon should be chosen with this aspect in mind when we select the gear. The experts recommend that the best mic set includes the devices for following instruments:
Overheads
Hi Hats
Toms
Cymbals
Kick drums
Snare
However, it's not necessary to acquire all items from the list especially when cheap drum microphon set is needed. The consumer buying the kit for home studio, is looking for affordable alternative. Such sets include not so many items. It means that consumer can economize.
Shure DMK57-52 4-Piece Kit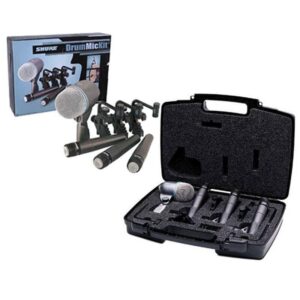 Choosing the drum mic set for recording, decide upon the number of items. Though specialists say that 5 mics is needed for optimal result, sometimes it's enough to have just 4.
A good purchase as offers incredible value for pricetag asked. 3 legendary SM57(toms/snare) and a Beta52A(for kickdrums).
Pros:
It's hard to imagine more popular option than SureSM57.
Both mics are solid, suitable for musicians who travel much and perform on the road.
Incredible, clean sound.
Cons:
The consumers don't like quality of clams.
---
Audix DP7 7-Piece Kit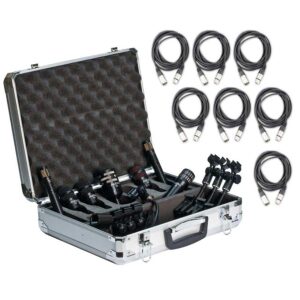 This is a very solid purchase. The kit works effectively when all mics function together. The specialists working in the sphere of music select the option. The kit includes the mics for kick, rack toms, floor tom, snare and overheads. 2 condenser devices ADX51 are added to record overheads. Amazon offers a thousand dollar deal for set equipped with cables, gear bag.
Pros:
The consumers enjoy excellent sounding reproduced accurately without distortion.
Incredibly endurable thanks to its package. The metal case includes 7 mics, which record performance professionally.
The devices are not heavy.
Cons:
---
Shure PGADRUMKIT7 7-Piece Drum Microphone Kit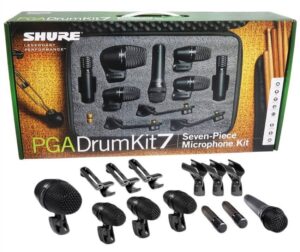 Apart from 7 mic entering the set, accessories for installation were included: mounts/cables etc. The hard case keeps it all safe. PGALTASeries are presented here.
Pros:
The mics don't distort the sound and provide pro-level recording.
PGA52 is a unidirectional dynamic device used for kickdrums that is suitable for low frequencies.
PGA56 is the same pattern applied for acoustic guitar.
2 PGA181 condensers contribute to comprehensive sound.
No shortcomings were revealed.
---
AKG Session 7-piece drum kit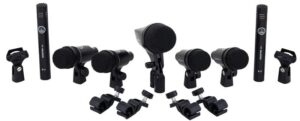 The package includes 7 mics creating harmonious sounding. It's incredible due to the following combination of devices from this brand. 4 microphones create an excellent solution for snare/toms, while a couple of P17 serve as overheads. Also, P2 was added as a kick mic. The microphones of Perception Live Series are able to deal with high SPLs. They are solid and have excellent build as their casings are made of metal. The width of dynamic range surprises consumers who like the way this set functions much. It's a pleasure to employ each microphon from the kit, so when they work jointly, it's fabulous! It's a great set for beginning musicians.
Pros:
High functionality;
Each microphon is easily adjusted;
A detailed sound;
Cons:
Not the flagship level of the brand.
---
Audix FP7 Fusion kit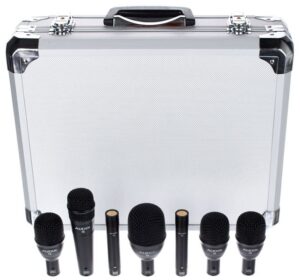 It's comprehensive product at reasonable price. Many consumers called it the best cheap drum mic set as this product solves any problem with drums miking. f5 microphon to record snare, f6-kick and 3 f2 for toms. Also, the kit was supplied with condenser devices that serve their best as overheads. 2 xF9 are SD mics were added for this purpose. The patterns are cardioid and supercardioid.
Pros:
Durability: zinc bodies, grille is made of steel.
Easily mounted.
Not heavy.
Cons:
The clips should be strengthened to make the set perfect. They are currently fragile.
---
Nady DMK-7 7-Piece Drum Microphone Kit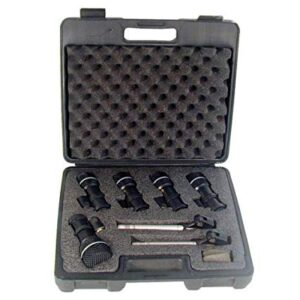 Excellent quality at a nice price. It works better than other similar devices within the price range. The set is universal therefore it's rather popular among consumers. It also includes shock suspension to decrease vibration noise while recording. Delivered with a metal case improving durability.
A set includes LDcondenser Nady DMK7.
Pros:
Accurate reproduction of sound thanks to DM70 model.
Necessary accessories for installation.
The metal case with padding protects the devices.
Cons:
Though package is comprehensive, not all devices are valuable.
---
Sennheiser E604 Kit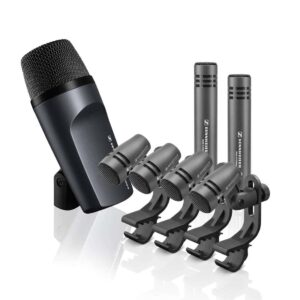 Consumers think it's superb. It includes 3 fabulous mics delivering mindblowing sound. These devices were initially created to record toms/snare drums. Its construction alleviates positioning of mics.
Pros:
Perfectly engineered.
Precision, accuracy of reproduction.
Handles highSPLs.
Cons:
It's rather challenging to assemble it.
---
Conclusion
Not any microphon is able to withstand drum instruments. It should have special characteristics enabling flawless capturing. Also, these instruments differ much from each other. Therefore it's not surprising that selection of devices to record drum performance can be a complicated task. Knowing about it, manufacturers create a special drum kit. Microphon set answers consumers' requirements and is tailored to musicians' needs. Hopefully, a handpicked selection provided above will be helpful for consumers who are going to invest to such gear. It always takes hours of research to find the right product. Save time and money reading this review to select the proper product.