Trying to maximize the available place in the studio, the customers prefer to acquire a rack mount mixer. And they certainly want to acquire the best device among the assortment offered.
Tascam LM-8ST

Those who need to select among the digital rack mixers with basic features should select this model. It's a good option when the device for the party gig is needed.
Features:
8 inputs;
XLR mic input;
TRS stereo input;
2 Master Busses.
Pros:
The model is comfortable;
Easy-to-use controls.
Cons:
Only basic features are provided – more advanced gear is required for more extensive functionality.
Some customers consider it noisy for recording.
---
QSC TouchMix-16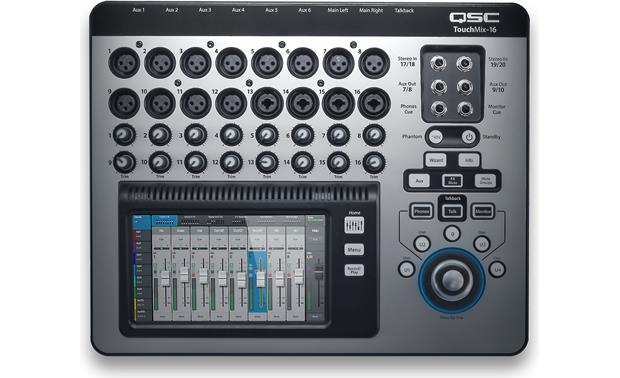 The consumers who purchased this rack mixer, we're impressed with its features. It's worth noting its versatility and functionality despite the compact size of the item. This is the fantastic digital console.
Features:
22 channel record/playback recorded to the hard drive;
120 presets for livesound settings;
Touch screen with high-resolution graphics;
RTA determines the tonal balance;
The monitor is easily configured with 10 aux mixes.
Pros:
Awesome sound quality;
It's able to record numerous tracks at a time;
A reliable mixing console;
It has an amazing layout.
Cons:
Some customers complain that they have to press hard on the screen.
Mounting is not included when rack mixer is purchased.
---
PreSonus StudioLive 16.0.2USB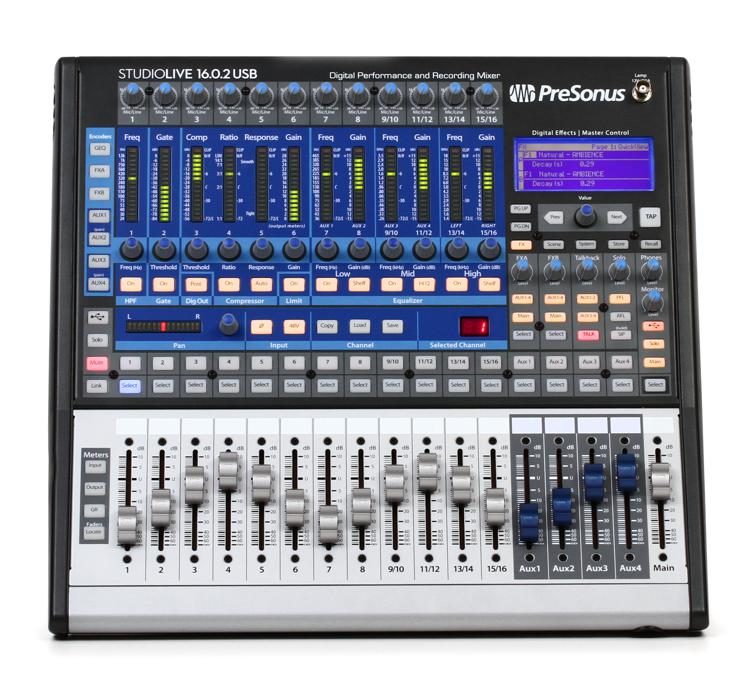 This modest and rather inexpensive device can easily become the best rackmount digital mixer for your particular goals. It suits ideally when you need to organize a party in a club or some small venue. It's also great for churches, schools and small studios.
Features:
16 channel inputs;
4 stereo inputs;
Embedded USB2.0 feature;
4 aux busses.
Pros:
The mixer is not heavy and can be placed on a rack;
It comes with software;
The device is super-easy to set up;
The quality of live music recording is 100% accurate.
Cons:
The device becomes too hot when working.
---
Allen & Heath Qu-Pac Ultra-Compact Digital Mixer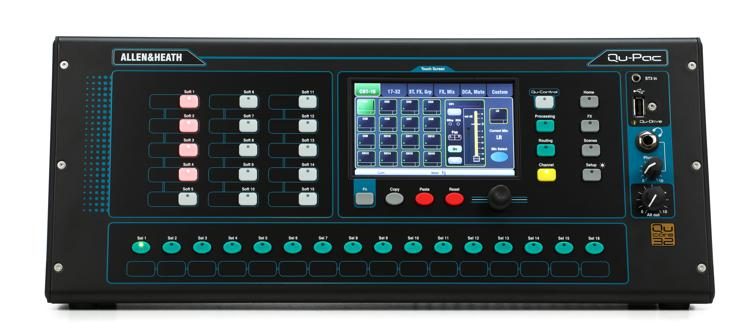 The consumers are surprised when they hear how much better their instruments sound with this digital mixer. Though the price tag seems high for some customers but they admit that it's top notch and can be used in professional setting without doubt. 10 assignable outputs provide the flexibility of use. It's possible to mix any set of channels with this mixer.
Features:
16 preamps;
16 inputs;
Integrated USB recorder.
Pros:
The capability to be expanded to 38 inputs;
Direct recording on USB-drive;
Availability of functions either through a touchscreen or frontpanel;
Can be conveniently placed on the rack in rack mount format;
A special iPad app for live mixing.
Cons:
It takes some time to understand how it works, but no obvious faults were noticed.
---
Behringer X32Rack

The rackmount item is one of the best devices on the digital mixer market. It has a price of middle-class console, however, the functionality received by musicians and level of digital processing is fantastic and can be found in more expensive mixers. The model comes in several modifications: compact, core, producer and rack.
Features:
The rack version has 3U height;
40 inputs;
8 stereo FX engines;
16 preamps.
Pros:
Packed with features at a great price;
The sound quality is on par with expensive desks;
Includes the expansion port;
Powerful management.
Cons:
The consumers haven't complained of anything using this device.
---
Midas M32C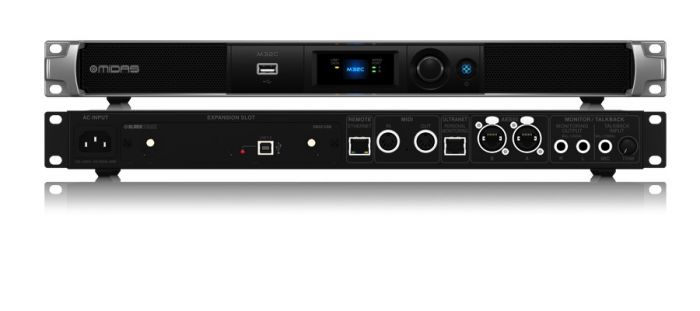 It's possible to mix the tracks well using your hand-held device. The customer should just acquire the proper digital rack mixer like this one.
Features:
40 input channels;
25 min busses;
2 digital interfaces support with Klark Teknik SuperMAC technology support transmission of up to 96 inputs and outputs;
Pros:
The powerful engine enables studio-quality stereo effects;
The capability for expansion with ADAT/MADI/Dante;
It can be controlled via iPad after being connected with a wireless router;
The support of up to 10 devices at the same time.
Cons:
Navigation and operation is not intuitive enough;
The learning curve is steep.
---
Presonus RML16AI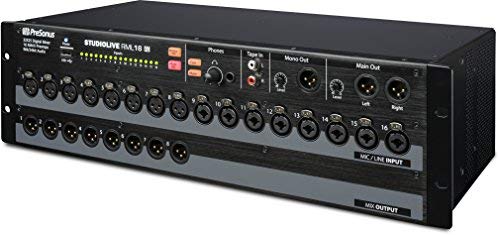 This is an amazing scalable unit and perfect machine for live-sound mixing. It's possible to use the device with computer on different operating systems and iPad.
Features:
32 channels;
25 busses;
8 XLR inputs.
Pros:
Versatility and flexibility of the model.
Cons:
One has to acquire a dongle for wireless use.
---
Mackie DL32R

This is an affordable and popular solution for many people working with sound and trying to achieve better results mixing different sources. The pro audio specialists admit that the item operates perfectly. If you try your best to achieve superb result, this option is worth regarding.
Features:
32 channels;
28 outs;
Inbuilt USB interface.
Pros:
Complete wireless control with a special app;
Good processing power;
Intuitive controls.
Cons:
The internet router should be acquired to configure wi-fi network.
---
Si Expression 1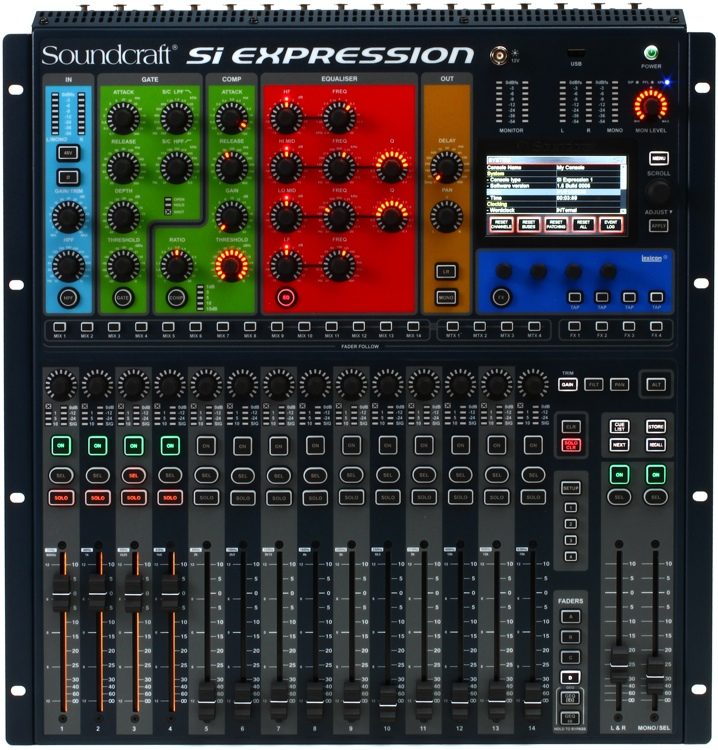 Those who need the best sounding console should try how portable 19''Expression 1 functions. Undoubtedly, this is one of the best digitals on the market of mixers. Explore its features to make sure the device features extensive facilities.
Features:
16 channels;
32 mic/line ins;
16 mic preamps;
4 line inputs;
4 band EQ.
Pros:
Superb, powerful processing;
Outstanding sound;
Flexibility and expansion options;
Effortless integration with components of the other system.
Cons:
Some consumers don't like its color design.
---
Allen & Heath Qu-16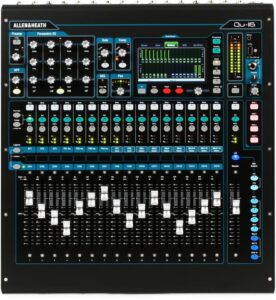 This rack-mountable device is highly functional thanks to its wider focus. This is more than a console for mixing sounds. It was presented as part of the QU ecosystem delivering different solution in different circumstances.
Features:
16 mono ins;
3 stereo ins;
12 mix outs;
4 FX-engines;
19'' rack-mountable.
Pros:
Beautiful metallic finish controls;
High contrast controls are easily seen;
The device is easy to set up.
Cons:
Lack of option cards (Dante, Madi).
---
Conclusion
If you need the best rackmount digital mixer, you can get the one buying one of the consoles from this list. They all showed flawless performance, rich functionality and new approach to sound. You'll love the result using one of them!