A clear and pleasant sound is the main requirement for large-scale events. It's not easy to get high-quality sound, especially with mixer under 100 bucks. In some cases, a sophisticated procedure of calibration should be performed. An audio mixer is a device that helps to enhance the sound quality.
There are budget mixers designed for use by a small number of audio devices. Some amplifiers have many additional functions, that alleviate work with the sound but they are expensive. It is important to learn more about the benefits of the models before buying.
We have a list of the best mixers, as well as expert ratings and recommendations from real buyers. Our recommendations will help you to make the choice of the audio mixer, cheap USB gear, regarding optimal requirements and wishes. There are many competitors in the global technology market, but we consider only the best manufacturers of audio equipment and recommend paying special attention to them whether you need a budget mixer for recording. The consumers who have a limited budget will also be able to find the mixer under $100 in our list.
Best Mixers For Solo Or 2-Person Podcasts
It's always necessary to consider the intended purpose of the device when you buy the product. Those who need a mixer for podcasting should look for different features in audio equipment. Besides, it's essential to consider the number of people participating in the podcast. Are you going to use the device for solo or duet podcasts? Sometimes even more hosts can be involved. Since it's rather an exception than a rule, we will concentrate on the first two cases, but still, keep this thing in mind because even solo podcasts can have invited guests sometimes and then spare input can be needed. For such uses multiport headphone amp is needed.
PreSonus StudioLive 16.0.2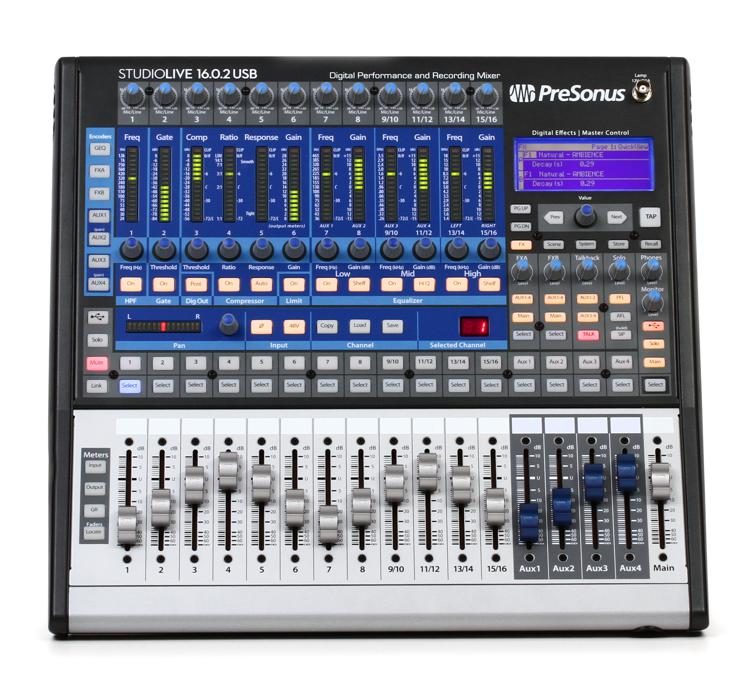 When capabilities of USB digital devices are needed but the consumer still wants to enjoy the simplicity of use like in analogue audio devices, this model is the best option.
Features:
12 mono inputs
4 stereo inputs
4 auxiliary buses
2 FX buses
3 band EQ
Pros:
Simplicity in use
Convenient layout
Nice design
Remote control feature
Cons:
Absence of dedicated output meters
Some consumers don't like how faders work.
---
Behringer XR18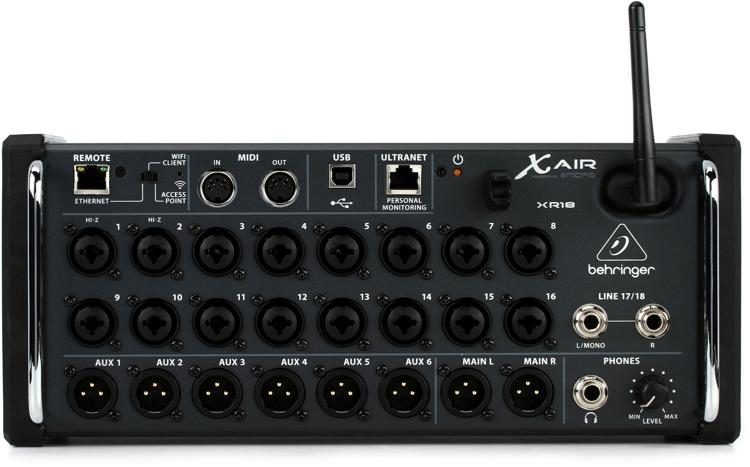 This model is an excellent option for a small gig. It is often liked for portability as it's not heavy and, besides, the item is affordable.
Features:
Embedded wi-fi router
18 channels
An integrated switching power supply unit is integrated into the housing
A power supply unit has sufficient power with low power consumption
The set includes headphones and additional accessories designed for the amplifier rack
Software is available to help you configure the mixer
Pros:
The mixer is equipped with built-in Wi-Fi adapter with three operating modes, allowing you to configure the sound from external devices.
One can control the device from smartphone, tablet, and PC.
Manufacturers provide free updates and additional FX plugins.
The Dugan Auto-Mixing feature has been introduced, which allows you to automatically control the gain of the connected microphones.
Cons:
The consumers complain that the device looks cheap.
The wi-fi client is of low quality.
The device is not intuitive enough.
---
SOUNDCRAFT SI IMPACT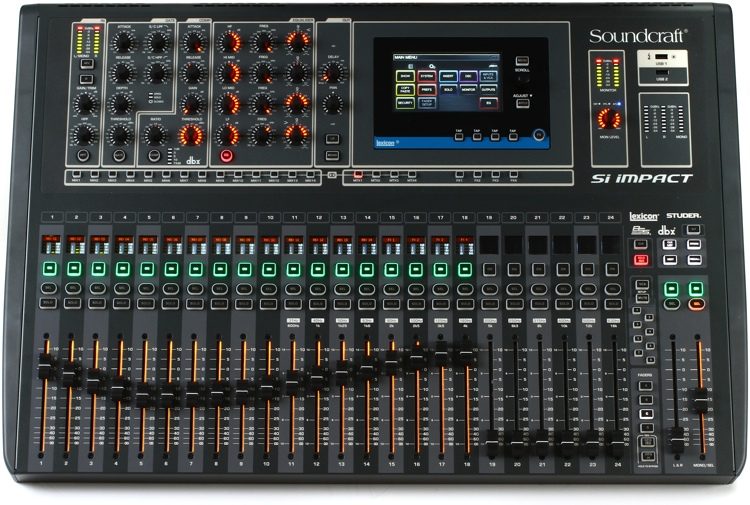 If you value the quality of British sound that became legendary in the industry, you can find it in this USB device.
Features:
32-in/32-outs
XLR/TRS combo jacks that can be used for instruments and lines
31 Output busses
The amplifier is equipped with a five-inch touch screen
The display helps to make additional adjustments and monitor the status of the mixer
Pros:
The mixer has 20 subgroups, each of which is activated at the touch of a button. After activation, the working channels are highlighted in different colors.
40 channels with DSP support (digital signal processing) are available for connecting external devices.
Each channel has its own screen showing the status, as well as a backlight that allows you to quickly determine the working group.
Each fader has a motor that allows you to automatically increase or decrease the volume when activating the desired group.
Cons:
Some consumers dislike its design. It's a matter of taste though.
---
MACKIE MIX5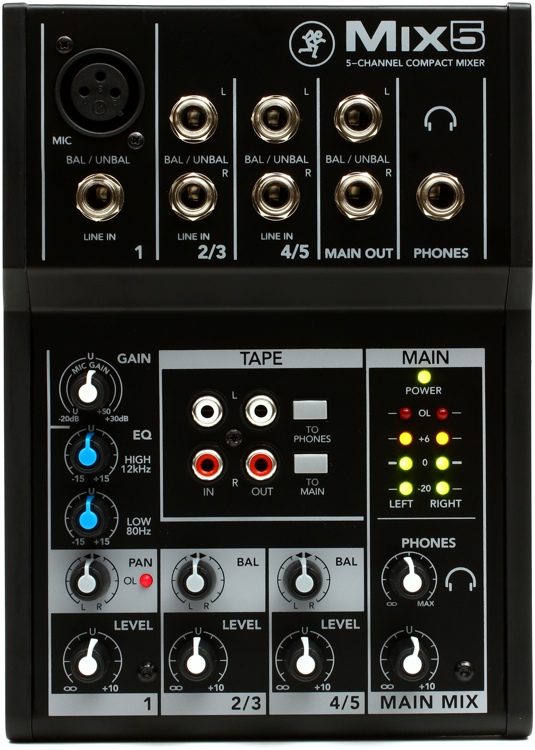 Looking for the best USB mixer under 100 dollars, don't skip this MIX5. This is rather practical and compact model that is very useful at times, especially when you need USB mixer for small parties.
Features:
32 balanced channels including 8 combo channels (TRS/XLR)
26 faders
The headphone output has a separate volume control
The handle with a scale of ten steps runs smoothly
A 48V phantom power supply, which allows the use of condenser microphones and various DJ equipment
Pros:
To adjust the sound quality, a two-band equalizer is provided for accurate tone calibration.
There is an indicator scale of LEDs, that warns about possible overload in the case of the device.
The controls and audio inputs/outputs are located on a metal plate, which serves as a grounding element, and also gives rigidity to the entire structure.
Cons:
The functionality is limited.
---
Behringer 802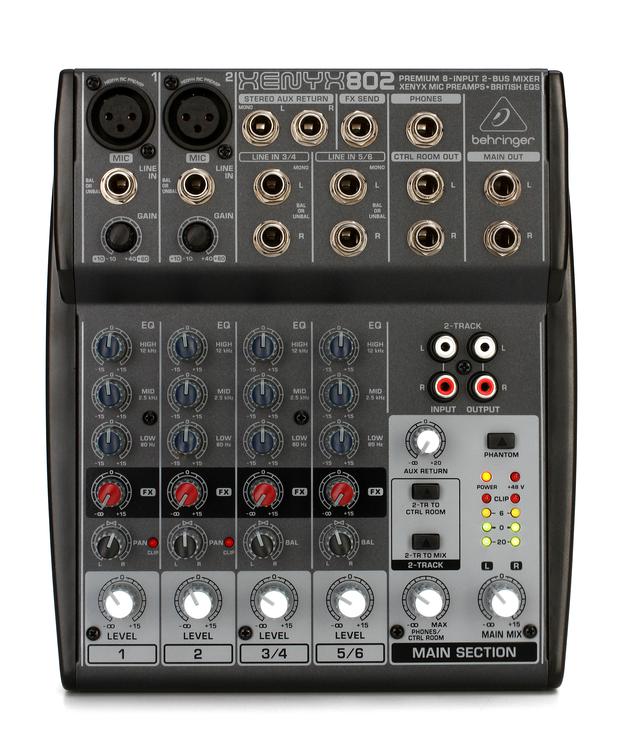 This is a convenient and relatively compact amplifier that is suitable for both amateurs and professionals.
Features:
2 Xenyx mic preamps
3 band EQ in neo-classic British style
Large headroom
USB audio interface
Pros:
Each volume control runs smoothly and allows you to calibrate the level of the supplied signal accurately.
The graphite component has increased its wear resistance.
The mixer provides an output to both the RCA connector and TRS (jack).
Sockets are securely fixed in the housing cover, which eliminates looseness or poor-quality connection.
A three-band equalizer is used for each input, allowing you to adjust the low, mid and high frequencies.
Phantom voltage is available.
The buttons are equipped with LED indication.
The USB audio mixer with price tag under 100 dollars is an excellent budget solution.
Cons:
Unreliable USB connector.
Some consumers complain of white noise problem.
---
SOUNDCRAFT EPM6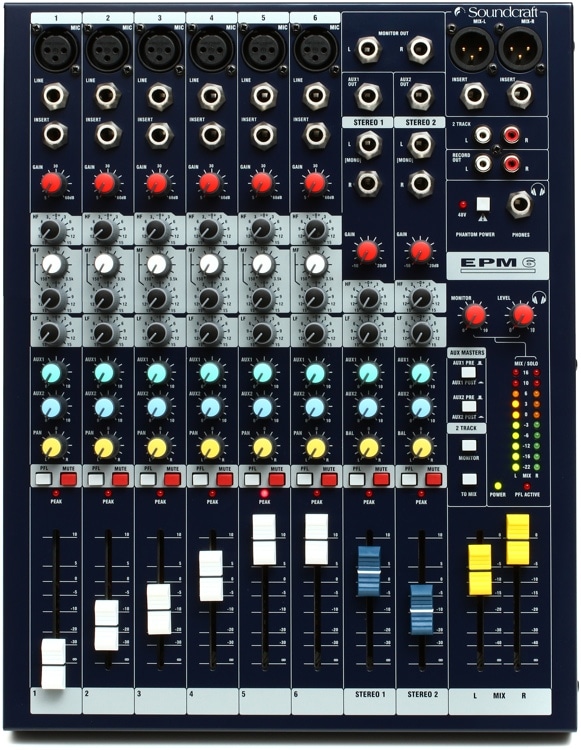 This is a powerful mixer for recording that can handle almost any task.
Features:
6 channels
2 aux buses that can be configured
3 band EQ
XLR sockets
1/4'' metal jack connector sockets
Pros:
The device uses smoothly working 60mm faders that deliver accuracy.
Using the regulator on each channel, one can change the power of the signal to the external effects processor.
The amplifier is equipped with a convenient signal strength indication. A scale of 10 paired LEDs helps visually determine the sound status.
The robust design is resistant to constant use.
Easy adjustment of balance between the right and left channels.
Cons:
The product is highly rated. Serious problems haven't been detected.
---
Hercules P32 DJ USB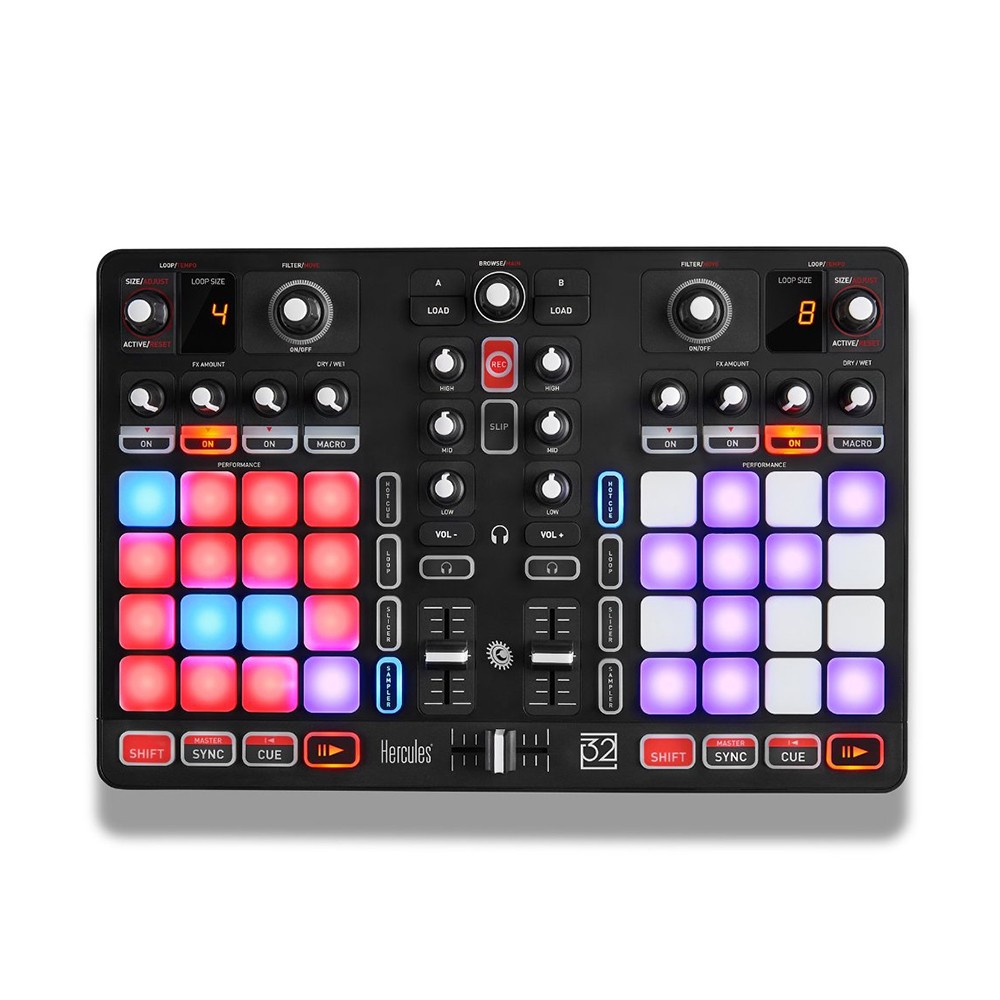 The innovative device P32DJ is one of the best on the market. Its main purpose is music but it can be used for versatile purposes. It can be admired by any DJ and people working with sound.
Features:
32 pads: two grids of 16 pads
The pads are backlighted
Pro-level software is provided for free
Pros:
The device supports a USB interface, which enables connection to a PC.
The mixer is plug-and-play, so it does not require the installation of additional drivers.
The kit includes an updated version of the DJUCED™ 40° program, in which the main sample package is preinstalled.
Two screens are installed on the front of the device (for each section), helping to determine the strength of the loop on one of the decks.
Cons:
Though the controls are intuitive, the device suits mainly professional users. It's rather expensive.
---
Best Mixers For Multi-Person Podcasts
Look for the devices with 4 mic-level XLR inputs in case you are going to have guests often or have a podcast with many hosts in it. Along with the models offered above, you can try Rode Rodecaster Pro, Behringer Xenyx Q1202USB, and Mackie PROFX8 V2.
Behringer qx1204usb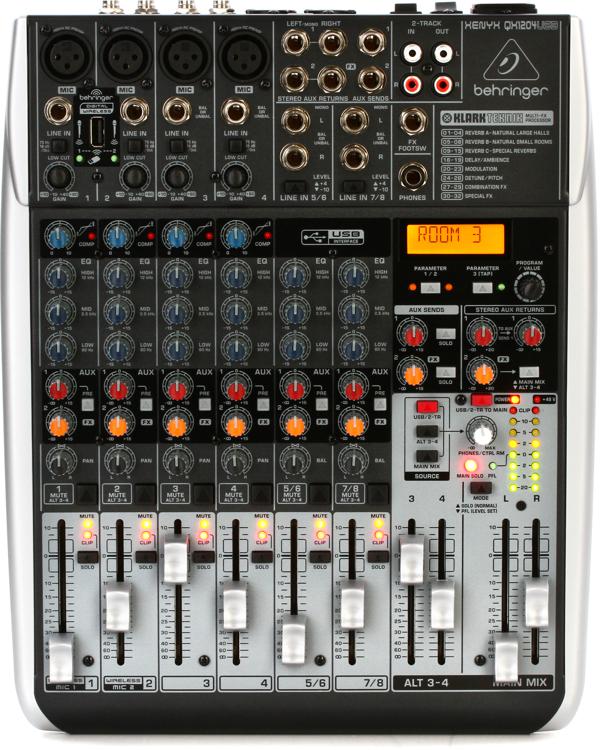 If you can afford more expensive device in the price range under 200 dollars, pay attention to this model. It's an excellent USB mixer for podcasting.
Features:
4 xenyx mic preamps
48V phantom
USB interface with 2 ins and 2 outs
Pros:
An audio processor is built into the mixing console, allowing you to use up to 100 different presets, including reverb, and musical tone corrections.
Convenient Pan/Bal controls on each channel contribute to finer sound adjustment.
Small microphone amplifiers with low noise were built into four microphone inputs.
The manufacturer's website has free software for working with sound in various fields. More than 150 virtual tools and plugins are available for download, which simplify work and improve the recording quality.
Cons:
This is a reliable device but it doesn't have extended functionality. If it's enough to use the basic features for your goal, then it will suit you. It's a good mixer for its price.
---
Yamaha Mg10Xu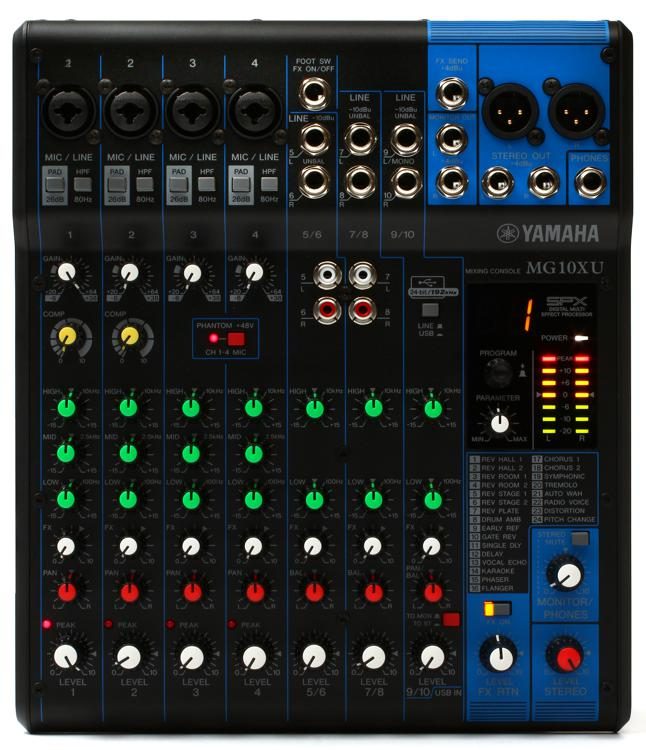 This can be a good option if you need a highly efficient mixer under $200.
Features:
10 channels
Class A D preamps
3 band EQ
Pros:
The model has an intuitive interface.
The robust build and sold construction.
High pass filter removing unnecessary noise.
Embedded digital effects.
Cons:
The consumers complain of poor support.
Some users say about the quality problems with USB line running from computer.
---
Conclusion
Though the focus was made on podcasts in this review, many models from the list above were devised for other goals as well. The intended use is specified in each description. The main goal of this article is to urge you to work with sound and enhance it to make the most of sound equipment and produce content of better quality.