Some people are talented and can sing beautifully. However, they still need exceptional recording hardware for a perfect result. They can enhance the performance significantly using supreme quality mics. So they need helpful guidance to discover the best USB microphone for singing so this review was written with this goal in mind.
How to choose your USB microphone for vocal?
There are things spoiling results, which is lamentable even if you use the best USB microphone for vocals. What are the reasons for it?
The plosives spoil the result. How to address such an issue? The folks acquire special filters, catching these sounds. It looks like a barrier which keeps a distance.
Sibilance issue is solved with special software tools. It also helps to sing at an off-axis angle.
The performance often suffers from the proximity effect adding warmth when used with instruments, but not with vocals. Therefore omni devices are preferred to eliminate the unwanted effect.
Bad acoustics of the room spoil the sound as well. The well-treated room serves the goal well.
Noise and mechanical vibrations deteriorate the result considerably. How to address this issue? The person may need a shock mount to reduce the level of self-sound. The vocalist also needs a device cutting off background noise. Cardioid pattern suits for it.
Even the style of singing is important. If this is something aggressive and you perform rock, rap and hardcore music, then dynamic devices are worth choosing. This type of hardware is selected to be used close.
The intended use
When you record your voice you may need one type of mic. However, when several people gather around a table to discuss something and you need to record it, the remarkable mic that serves you well for singing rap happen to be not suitable for it. And again you encounter the problem of inferior quality.  The best USB microphone for recording singing isn't capable to remove the problem.
When the intention is to utilize the mic not for vocals only but different purposes, it is better to pick a multifunctional device. The multi-pattern USB microphone is a nice option for universal use.
Your budget
The budget is an essential factor that can't be ignored. It is always possible to find the budgeted version of a quality-recording device. The review will not include some incredibly expensive models. We will try to find the best USB microphone for singing among low-cost alternatives and in the mid-range group.
Pickup pattern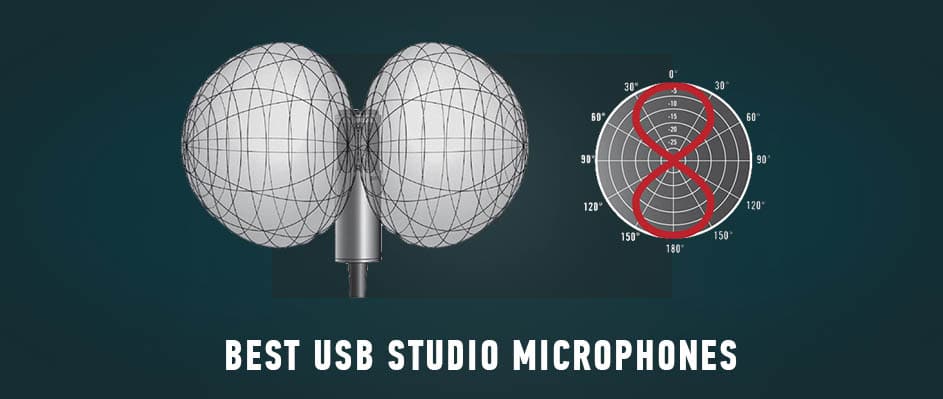 The recording equipment won't let you down. We are here to assist you with it and discover the best USB microphone for vocals. In the event, the voice isn't heard and it records the keyboard noise and mouse clicking, this isn't what was expected, agree?
Types of polarity patterns
Omnidirectional devices capture sounds in four directions
Unidirectional – mainly capturing the source before you
Bidirectional – picking source before and behind you
Instead, multipattern variants are sometimes chosen when best USB microphone for recording singing is needed. Though cardioid gadgets are preferred for such a goal, which is good for rapping, instrumental sources
Here is the list of top USB microphones for singing.
Blue Yeti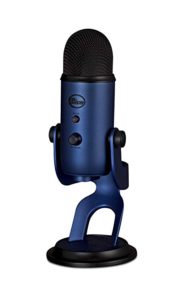 Blue Yeti has always been the king of streaming/podcasting equipment lists. In price-performance ratio, it can't compare with any other option. Including all capturing patterns, it won't make you refuse from your plans if you decide to change the format suddenly. You may also like a good selection of nifty colors.
---
Samson Go Mic Portable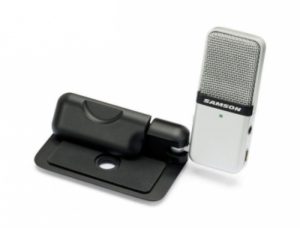 Samson Go is an excellent entry-level option for consumers who want to capture sound on the go. The portable mic seems to be a very convenient option that starts working immediately without any additional software. It is enough just to plug it in to make it function. This is a low-cost device that is highly demanded by people of different professions who face the necessity to capture sound. The hardware is usually purchased by gamers, content creators, and those who participate in the conference calls. Though this is far from being the best USB mic for vocals, try it too. After all, there is nothing more convenient than this miniature device with powerful characteristics. But the size still affects performance. First of all, it captures all and secondly, the device is far from being durable. It has omnidirectional and cardioid polar patterns.
---
Blue Microphones Snowball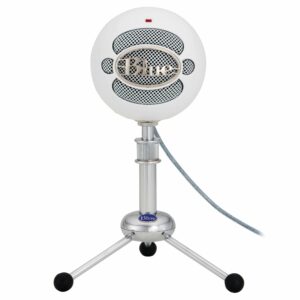 Blue Snowball USB is an incredible entry-level alternative. Provided with an adjustable stand, it offers two capture patterns (omni, cardioid). Being a remarkable solution for beginners who just try their hands in new activity without spending much money. If they succeed and decide to continue they will need a better recording quality. In both cases, they won't be sorry about spending too much dough. If you need the best cheap USB microphone for vocals, look no further.
---
Samson Meteor Mic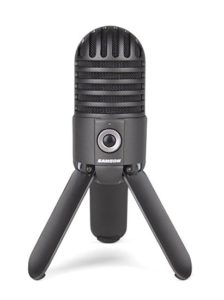 If none of them worked out to your liking, it's time to try Samson Meteor. The capsule does its work well. It reproduces sound perfectly to be referred to as the best USB microphone for recording vocals.
Always highly-rated, this hardware looks glamorous. It's an excellent option for portable use. The legs enable the positioning of the miс at any required angle. The tripod folds up easily and can be removed to the bag or even a pocket. The device is made of steel and will serve you for years to come. Comes with a velveteen bag protecting the hardware from damage and scratches, but it is not enough in case the Meteor is acquired for frequent transportation. Then one should purchase an additional case for such a goal.
---
Audio-Technica AT2020USB+
(Read review Audio-Technica AT2020)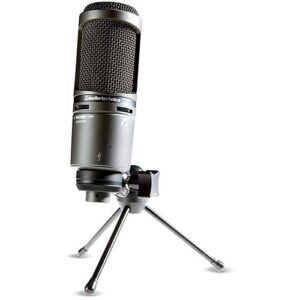 All large condensers offer good quality but AT2020USB+ offers truly superior. This is one of the best USB microphones for music vocals in the corresponding price segment. Using USB the customer can easily transfer the audio to PC. Though it should reject the noise maximally, this is not the case for the model. It is highly advised to use the treated space for recording. Then the listeners will hear a pleasant voice with warmth in it.
---
Rode NT-USB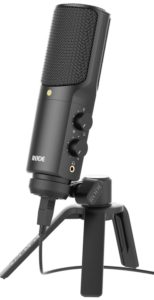 What's the best USB microphone for recording vocals? Can Rode NT become the one? Rode NT USB is a great option for diverse usage. However, the individual should care about the studio conditions at home to be able to get a clean sound. Anyway, there should not be any noise in the room. This option can be excluded if you have a big family and silence is really a problem in the household. NT does not have a great variety of characteristics, but the performance captured under ideal conditions is superb!
---
Blue Yeti Nano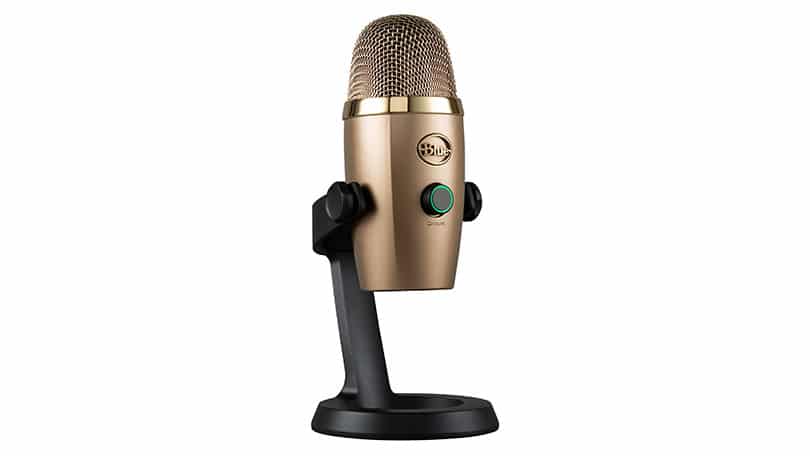 All beginning artists are interested if Yeti should be considered when buying the best USB microphone for recording vocals. After consultation with a studio owner, we threw light upon the problem. The devices are good for private use. In this case, it is really worth the investment. It is also possible to send demo songs recorded with the assistance of Yeti. However, a solid option is required in the event you want to release an album, for instance, when planning to make a vocalist career.
---
Shure MV51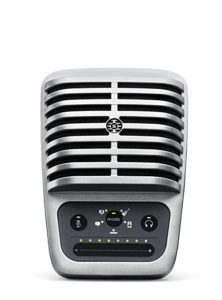 Many consumers looking for an appropriate digital mic, give preference to MV51, working perfectly with capturing applications/iOS devices. It is usually chosen as the best USB mic for recording vocals on the move. It is connected to an iOS device using a lightning cable.
MV51 presents some interesting modes geared toward specific mic's use. The customers state about decent quality and lack of hiss in the sound. Using the condenser for podcasting, switch on "speech" setting to get the utmost of it. You will highly assess its amazing tone. If you are going to move MV51 around, it is highly recommended to acquire the case through the body of the hardware is metal and will definitely last long. Love its retro look! You'll feel like Elvis Presley as you perform.
---
Apogee MiC 96k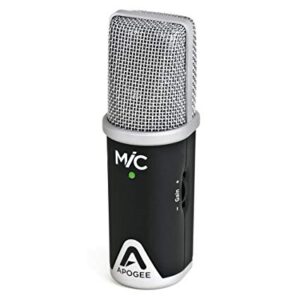 Apogee MiC 96k can boast of its exceptional quality. The consumers have discovered the brand when the first USB mics came into view. The model was a huge success then. But this model is an enhanced version of that hit. It improved its audio properties and became more flexible than it was before. As a result, the customers can enjoy one of the best USB mics for recording vocals. The cardioid device is convenient to use:
Lights inform of the status of the device (3 modes available)
The item is lightweight and, consequently, portable
Withstand included, it comfortably sits on the desk
The specs can be compared with Yeti's in similar equipment. The compatibility with Mac, iOS operating systems makes the mic universal. Besides, it includes several products: ADconverter and preamp, so it is rather economical.
---
Razer Seiren Elite
(Read review Razer Seiren Pro Elite)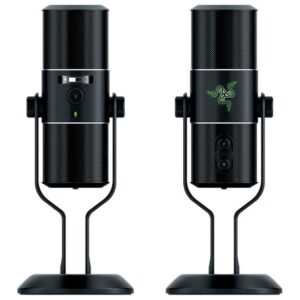 It is presented as a streaming device that was developed for gamers. This is an incredible pro-level mic for users who need to do voiceover work. It is a very good purchase taking into account that gamer wearing uncomfortable gaming headsets need a perfect standalone device. It's a must-have!
However, it can be a good alternative for the position of the best USB mic for vocals. The hardware is not expensive but isn't cheap either. Therefore one should make sure that it does not distort the sound and offers superior result not only when while streaming. Can it provide a good recording for the singer?
It removes background rumbles, not noticed usually as they are lower than human voice but affecting the quality of sound.
It prevents plosives.
Results in a crisp, clear signal.
Compatible with Mac, Windows.
If you're into vocal recording, it is better to apply the device in an acoustically treated space. It adds some richness to the tone.
---
Shure MV5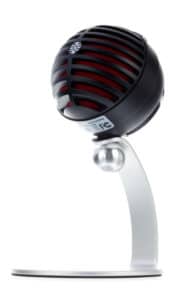 MV5 is very compact. It exceeds the expectation of users as far as sound quality is concerned. It's also worth pointing out the great aesthetics of hardware. Deciding upon purchase the consumers take a plunge based on brand reputation and then the performance just proves the statement – it belongs to the best USB microphone for music vocals, rapping so it's worth buying. Both the look and sounding are awesome. It fits the bill ideally especially when the one pursues perfection and convenience. The additional cords are not required for connection.
---
Advantages of USB Microphones for Vocals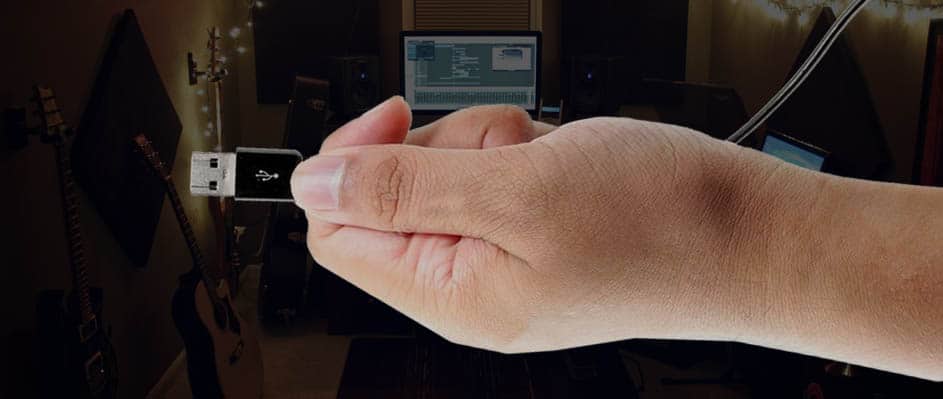 Is USB microphone best for recording vocals? The beginning vocalists find it convenient to use. Making a purchase, they most often choose the best USB mic for singing.
Here are several reasons why they select such hardware.
They obtain the result without delay. The vocalist actually has it immediately, evaluate it, then work further for a better result.
With the result at hand, the user posts it online or sends somewhere.
Plug&play variants are always preferred. Price is the main benefit of such low-cost equipment.
Besides, portability and simplicity are huge advantages of dealing with them.
The higher level of affordability makes such accessories hits and the manufacturers are aware of it, offering other excellent options on the market. The best USB mic for singing and rapping sounds quite professionally nowadays and even budget hardware amazes with quality!
Disadvantages of USB Mics for Vocals
Those who pursue a vocalist career can use the best cheap USB microphone for singing on a regular basis but at the beginning stage only. The performance can't be subjected to processing and XLR output is needed. It is certainly better to have both alternatives at disposal. The analog device is still preferable even when rap is recorded as it gives a quite different sound quality and better opportunities for the performer.
Conclusion
What is the best USB microphone for recording vocals? The answer depends upon the goals set. The consumer may need the best USB lapel microphone or the best USB mic for acoustic guitar and vocals. The conditions determine the result and you should take individual circumstances into consideration before answering this question as there is no universal respond. The singer can take the vocals and rap to a whole new level with the right approach. Hopefully, this review was helpful as it delivers enough information to determine the one.  Those who hesitate should explore all characteristics carefully again and consult the specialists to avoid mistakes.