The preamp is a device that prepares an audio signal before sending it to a power amplifier or to a recording device. In essence, the work of the preamp is to take a weak signal, for example, from an instrument or mic and amplify it to a linear level. In technical terms, the preamp raises the voltage without a significant increase in current. Thus, the preamp itself is suitable only for recording, but in order to hear its sound, it should be followed by a power amplifier, which increases both electric current and voltage.
Their types differ. It's either a separate device or part of a modular system. Though modern gear includes builtin preamps, the result is much better in separate devices.
The signal deteriorates as it goes via conductors, amplifiers and other devices. Each such journey affects sound badly and once it gets worse it doesn't recover anymore. Direct recording would be preferable. It contributes to clear and detailed sound.
Types of mic pres include:
Tube and transistor
Hybrid
Modeling
Coloring
Transparent
Transformer and Transformerless
Mic preamp under 2000 $
The acquisition of an external device is standard practice for any decent studio. However, it should be proven hardware. The consumers should purchase wisely to get the most of it. The devices below can be an excellent addition to equipment.
Grace Design Felix 2-Channel Instrument Preamp and Blender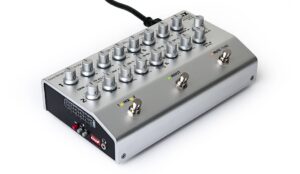 Those who seek reliable and consistent performance should choose the option. The 2channel item is combined with a blender.
Its benefits:
Sleek design;
Pristine sound;
Durable, hence roadworthy;
Versatile EQ section;
Impressive I/O capabilities.
---
Avalon V5 Silver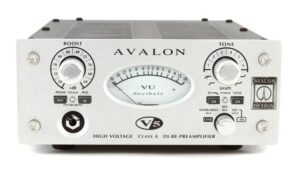 This is a fantastic mic pre with the following benefits:
Made of materials of superb quality;
Fantastic design and solid knobs controlling the performance;
Clear and transparent sound;
Pleasant detailed result with a sparkle.
---
Universal AudioSOLO/610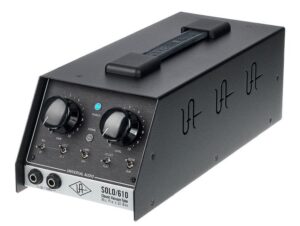 The lovers of vintage feel should consider this professional mic preamp. Being over 1000 dollars it's incredible pro-level solution. Assess its features:
High-end device delivers classic perfromance;
Enables easier structuring of gain due to constant control;
Smoothness;
Durability;
Convenience and versatility.
---
Microphone preamp under 1000 $
Despite the fact that the preamp is a completely utilitarian device, its influence on the quality of music is undeniable. This mainly concerns the sound quality that the preamp gives to the original signal. Some preamps work well for a guitar, drum or microphone, some for a whole soundtrack, combo or orchestra. Look at the list below to find the hardware improving your recording.
ART Digital MPA-II 2-Channel Tube

The hardware produced by the company for musical experts are of superb quality. This is a great microphone preamp for the money. Though this is not a pro-level device it performs on the same level. Examine its features before purchase to find out that the model:
Adds nice warmth;
Delivers excellent clarity without noise;
Capable of operating as stereo mic preamp; and as a tube microphone preamp when warm sound should be derived;
Handles overloads perfectly;
Constructed with DO.
---
PreSonus Studio Channel VacuumTube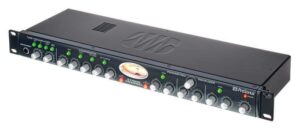 The model presented was made on the basis of winner of industrial rewards. Being a fantastic option in the category of best vocal mic preamp under 1000. It's definitely worth attention!
Lack of noise;
Warmth of sounding;
Metal enclosure;
Durable materials;
Exceptional clarity of sound;
Versatility of tones;
Excellent compressors.
Use its Studio Channel for source audio programming such as vocal performance, bass guitar etc.
---
ART VoiceChannel Tube Channel Strip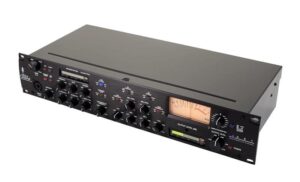 Universal device that suits any application. The person gets warm and clear sound. The benefits:
Excellent proven design;
Smoothness and cleanness;
Flexibility in terms of connectivity;
Easily setup hardware;
Direct connection using USBport.
---
Mic preamp under 500 $
It's hard to find superb mic and preamp combo and it depends upon the conditions of your work. Hopefully, the list presented below is helpful to find the most powerful and effective combination of your gear.
ART ProMPAII Two Channel Discrete Class A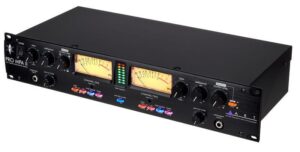 A wonderful piece of hardware for people working with sound. The items of this model feature:
Simple, sturdy controls;
Beautifully warm-up sound;
Amazingly versatility of tones;
It's really incredible for the money asked so it's a great buy!
The functionality is comprehensive for such a price range.
---
PreSonus BlueTube DP V2 2-channel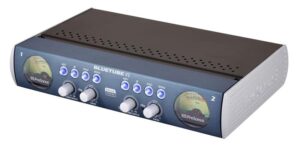 Made for experts on the road in need of portable mic preamp for their goals. Its features:
Cleanness and transparency of sound;
Warmth;
Smoothness;
The tone is shaped in a versatile way;
Dual-channel;
Durability;
Solid construction.
Looking through all features, it becomes evident it's one of the best for portable applications. It's not a single channel mic preamp. It's possible to use one channel for singing, the other – to record the instrument such as a guitar.
---
Warm Audio WA12 MK2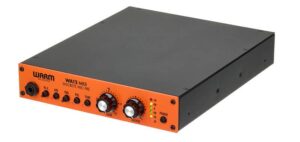 This is a mic preamp with a single channel. It can be an excellent preamp for electric guitar.
Pleasant and solid, rich sound;
The device creates special vibe;
It adds depth to the instrument even the plain one;
Low noise;
Robust design;
Excellent performance for all kinds of recording applications.
Many performers all over the world used the preamp for drums and were fully satisfied with their work.
---
Best mic preamp under 200 $
You can warm up the sound with preamp plugin as well which makes it more saturated. However, the joint work of all factors provides an astonishing result. Let's look at the best models in the next price segment.
Behringer Tube Ultragain MIC200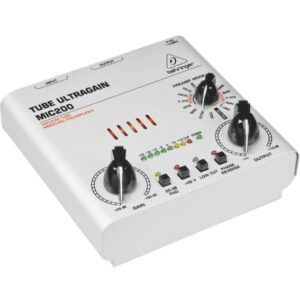 The company manufactures really cool models in this price segment. Therefore, the item is a great addition to your gear. This is the most universal mic preamp in the world as it works with almost everything! The consumers value mic preamp for:
Excellent preamplifier;
Adjustable filter;
Converter function;
Versatility of DIbox;
Capability of recordings customization;
Works perfectly despite the simplicity of the unit.
---
PreSonus TubePre V2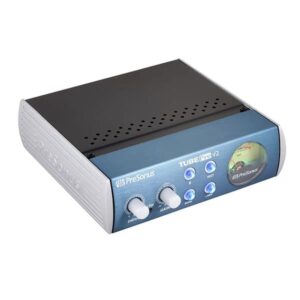 These are devices that focus on quality and durability first of all. It updated the technology for production of the hardware without increasing its cost. Now it's a pro-level item with dual mode gain.
Capable to amplify the signal without background noise;
Wide dynamic range;
Saturated sound;
Gentleness and warmth of sound;
Improvement of sound due to the use of special components such as 12AX7 lamp;
Small size enables easy installation on the rack.
---
DBX 286s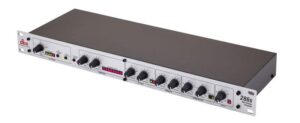 It's hard to answer the question: what is the best mic preamp for vocals? However, this reasonably priced item perfectly copes with the task. Its excellent filter removes the background noise smoothing out uneven tracks and enhancing them greatly. The features of the model:
The tracks become more crisp;
Power of four processors is involved;
It improves and shapes the signal making the sound deep;
An excellent option for all customers who record from home.
---
Microphone preamp under 100 $
Is it possible to find decent hardware under 100 dollars? You'll be surprised to see some rather efficient preamps that don't cost tons of money. The prosumers take advantage of their knowledge and buy such devices saving their funds. We decided to share this information with you as well.
ART Tube MP Project Series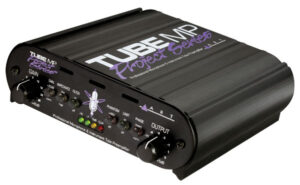 The item is impressive and can be used for different purposes. Though it's small, it's rather powerful. It's also worth noting the following features:
The clean output of the device;
Not so noisy as its counterparts in this price range;
Solves many audio issues;
High/low impedance switch.
---
Behringer Tube Ultragain MIC500USB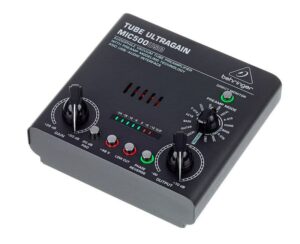 It's a device developed for condensers. It's especially valued for its connectivity as the user can connect it right to the computer and use the audio interface along with free plugins, effects, and software available on the site of the manufacturer.
---
Behringer Tube Ultragain MIC100 Audiophile Vacuum Tube Preamplifier with Limiter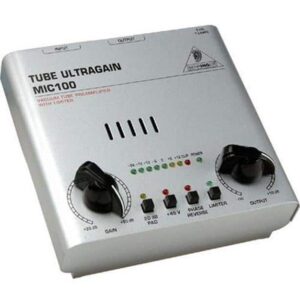 Don't let the low price of the item fool you. The value of this model is great despite its budget price tag. Click to compare the prices and reviews on Amazon to make sure that it's worth the purchase. The benefits:
Heavenly sound quality;
Low noise;
Warmth of sound;
Fantastic transparency;
Distortion of sound is excluded;
Limiter button helps to control the result (it's better to keep it in the green-flashing level).
---