Hello everyone! Today let's have a talk about smartphones. Rather, we will discuss their capabilities in the context of audio characteristics and how to achieve a great sound. The point is that we can afford a lot with the advent of the era of cellphones and mobile devices in general. Each phone can be turned into a portable voice recorder, a camera and even a tool for online broadcasts.
It is interesting that 10 years ago such technical capabilities already existed, but we did not take them seriously. These were nice additions to the phone and entertainment. The thing is that the implementation was weak on all fronts and inferior to pro equipment. Today, professional photographers are touting the iPhone's camera, and Stephen Soderberg has made an entire movie using several mobile devices. The breakthrough is obvious to the naked eye.
Now let's continue the conversation in the "audio" direction. So far, smartphones have not yet replaced professional equipment. Making reports and interviews requires additional tools, and today everyone can meet a number of specialized mics for such tasks. They have a convenient smartphone connection and automatic integration with mobile software. This is a reliable alternative to the built-in mic, which so far is suitable only for telephone calls. Perhaps everything will change in the near future, but today I insist that the person need the external solutions for mobile devices without fail. There are two main categories: Lavalier and Shotgun mics.
What everyone should notice while choosing best cell phone microphone?
The length of the wire. Please note that pulling the wire a few meters is inconvenient. A short wire will not work either. I prefer 2-3 meters.
The size. There is no direct dependence on size, but if the microphone is small, the audio quality will be poor.
Functionality. Pay attention to the functions. If there are not enough useful working elements, a person should not take the goods.
Compatibility. Some microphones are cross-platform; others can only exist on certain operating systems. Be sure to check compatibility before purchase.
Frequency. The best option is 60-15000 Hz. This option is suitable for every journalist. Singers need a bigger range.
All this will help with the selection, but I also chose some good microphone options for the smartphone. A list of features, pros, and cons is compiled below.
Best Lavalier Mics For Android
I suggest starting with lavalier mini microphones. What do we know about them in general? Lavalier microphones are known by compact size, tools to place it on clothes and a mostly low price. This category also has common disadvantages. They, almost always, are non-directional, and therefore extra noise while catching sound. In addition, those devices are suitable for phone recording, not making music. The reason is the limited frequency range. A person needs to have a 20-20000 Hz device in this case. But there are a lot of useful and even good solutions in this category.
Rode SmartLav+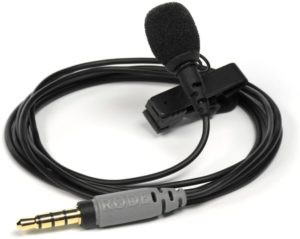 I think this model of microphone for cell phone recording is one of the best. There are several objective reasons why it should be used for recording blogs, interviews, and videos.
The sound quality is high. This mini microphone is characterized by good sensitivity, there is practically no third-party noise while using it. Its functionality is wide, and users can get files in any popular audio formats: MP3, AAC, FLAC and so on. A built-in phone recording app will help to do this. However, the model works efficiently with any other software.
Build quality is great, and this can be seen at a glance. Wind protection is easy to put on and take off. It holds securely, and the clothespin is made securely. It will not break when the person puts it on a second time. I did some small "mechanical" tests for the wire and mounts, and I did not find any breakdowns or deterioration in the quality of the device after that.
Yes, this option is relatively expensive compared to other devices in this category. But the quality fully justifies the price. And the price tag is not so prohibitive if a person looks closely. The mic is perfect for everyday professional tasks in a regular mode.
Features: omnidirectional condenser mic, 20-20000 Hz, JFET converter, 110 dB SPL maximum sound pressure level
Pros: high build quality, software included, high-quality sound without third-party noise, reliability
Cons: relatively high price
---
Shure Motiv MVL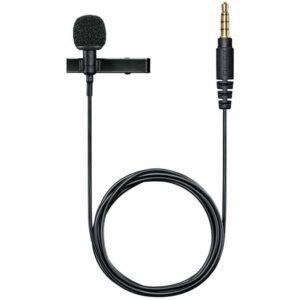 This mini microphone for cell phone is considered a convenient solution for speeches, lectures, interviews and so on. It can be used with cellphones and tablets based on both popular mobile platforms. Personally, I really like its functionality and reliability.
Shure MVL mini mic has a circular pattern and boasts a high signal to noise ratio. When using the device with an iPhone or iPad, a person can involve in the working process both the multifunctional proprietary application, which is available for free download, and any other third-party software.
It is cheaper than the previous model, and the quality of work remains decent at the same time. A foam rubber wind protection, a clip for attaching to clothes and a carrying case are supplied with the novelty.
Features: omnidirectional orientation, MEMS mic capsule, 45-20000 Hz, high signal to noise ratio 65 dB, 124 dB
Pros: protection against external interference and distortion, stylish design, useful accessories, compact body
Cons: unreliable clip
---
Audio-Technica ATR3350iS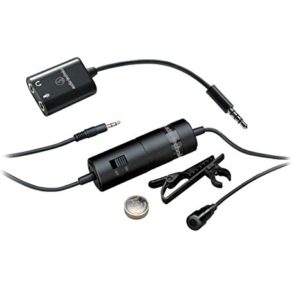 The base model is considered the industry standard for the portable mic category for interviews and similar activities. And this variation is a modification for mobile issues.
Most features are similar, and this is a solution of outstanding quality. I easily put this model in the top-3 here.
This cell phone microphone accepts frequencies from 50 Hz to 18 kHz, has a sensitivity of -54 dB and is omnidirectional. In terms of numbers, the characteristics are good, and this is confirmed instantly in practice. This model has some noises, but with a good location, speech is recorded as it should in the entire range of corresponding frequencies.
The construction quality is decent, but there are some inconveniences to be. Notice than, a clip is made of soft plastic and it may break. The user should be careful. The hardware parts itself is much more reliable. With all the controversial design features, the device provides great sound quality.
Features: best design for video recording, adapter for a wide range of phones, wind protection 50-18000 Hz, omnidirectional type
Pros: high sound quality, stylish appearance
Cons: some design inconveniences
---
Movo PM10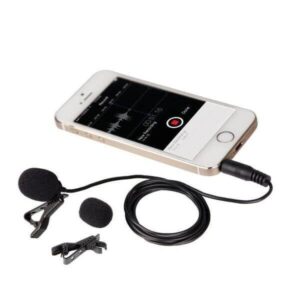 This mini microphone for cellphone should be attributed to the budget price category. It costs less than other user options from this list, but the price / quality ratio remains at a high level. This is the best choice for undemanding users and occasional tasks. The scope is universal and wide at the same time: recording interviews, videos, live streams, conferences. Third-party noise is minimal.
It is compatible with all current phones and tablets based on two most popular mobile software platforms. It does not require additional power and quickly connects to a cellphone. Separately, it is worth noting the case for transportation in the kit.
The design is simple and pleasant, it fits perfectly into any app and does not spoil the appearance. At the same time, it also eliminates inconvenience in the process of wearing and recording sound.
Features: 35-18000 Hz, 3.5mm TRRS jack (adapter included) is compatible with all current phones
Pros: reasonable price, reliability
Cons: sound quality is good, but not high enough in comparison with analogs from the list
---
Best Shotgun Mics for Android
A shotgun mics are a directional type solutions. It spared the cons that have devices of the options described above. These solutions can work directly in front of itself and cuts off the noises on the sides. This provides an extremely useful signal.
This kind of device is also can't be involved in the process of recording songs due to its directivity. It can't record reverberations and echoes which is useful for some working issues. But for everyday fieldwork (interviews, videos, streams) they are good. The main thing is to find a good model. Here I also picked up some of the best ideas.
Rode VideoMic Me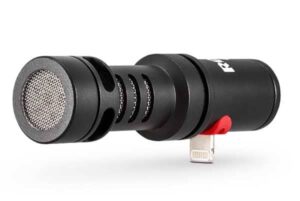 Need something solid and effective for every day? There are enough options, and many float on the surface in the tops of online stores. For example, this model. It is characterized by fast synchronization with mobile devices, efficient operation and high quality recording regardless of external circumstances. You need to try very hard to spoil the interview or making the film. The model also has simple connection and synchronization tools.
The difference between the sound quality of this microphone and the integrated solutions for smartphones is striking. Compactness plays a large role in the field. This device is not only portable, but also well thought out in detail. It is convenient to carry and use in any environment. Special attention should be paid to the equipment, which contains everything necessary for a working exit in the field and everyday use of the device without the risk of accidentally breaking something during transportation.
In general, I recommend it as the best option for recording video in any situations.
Features: cardioid type, 1/2 "standard capsule, 100-20000 Hz, 20dB-A equivalent noise level
Pros: compact size, light weight, convenient design for use with a cellphone, fur wind protection included
Cons: compatibility issues with certain smartphone models are possible
[amurlhttps://www.amazon.com/gp/product/B018KIJGU8/ref=as_li_tl?ie=UTF8&camp=1789&creative=9325&creativeASIN=B018KIJGU8&linkCode=as2&tag=techzelo-20&linkId=b5c5e3a5004d2e9ed9237657744e960a[/amurl]
---
Shure MV88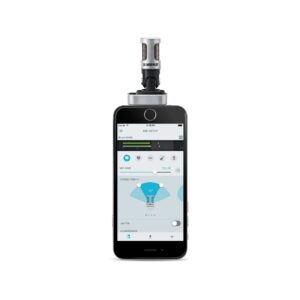 I think everyone have no doubt about the choice when hearing the word Shure. The same applies to this user option, which performs the tasks of a mic for cellphones and tablets at the proper level.
What was the aim of the developers of this model? They sought to ensure the perfect compatibility of an external microphone with an iPhone. Along the way, the developers provided everything necessary for comfortable compatibility with devices of the other popular platform. The result was perfect sound and practicality. The main connection is through the standard iPhone connector, but an adapter for connecting to Android phones is also provided. This does not entail changes in the quality of work or anything else. Sophisticated design allows you to position the direction with virtually no restrictions in any conditions. The interview or movie soundtrack will be recorded in full accordance with the creative idea. Third-party noises are virtually eliminated. Specialized software is supplied.
Features: special software, two capsules with four radiation patterns to choose from, limiter, compressor, 5-band equalizer
Pros: robust design, HD sound recording, sound capture in all conditions, versatility
Cons: high price
---
Takstar SGC-598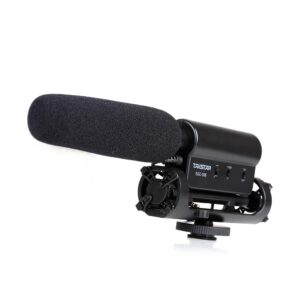 Who're looking for a cheaper option, but the sound recording quality should remain at a high level? There are also such options in the Shotgun category, everyone has the opportunity to save. For example, pay attention to the Takstar SGC-598. I believe that this is the best that China can offer in this category of equipment today.
This model cannot boast of portability, but it performs the main task perfectly. However, the model has a very durable case and is marked with high resistance to mechanical stress. Users value the sound quality that this model provides. Third-party noises are excluded. The manufacturer also added several useful filters that are located on the device. This is an integrated amplifier, increasing the volume of the signal, removing bass.
I would recommend this model to anyone who uses phone microphone regularly and is not very demanding on practicality factors in the field. It can withstand severe operation with decent quality of sound output.
Features: 50 – 16000 Hz, 100 hours of operation from 1 AA battery, built-in filters, aluminum case, battery indicator
Pros: great sound quality, reasonable price, durability
Cons: too large
---
Conclusion
I found many interesting options in the process of researching this category of microphones. Interestingly, there are no perfect microphones. But there are many models that provide HD sound. And each model has some personal small flaws: unreliable structural elements, a bit overpriced, and so on. I tried to collect exactly such, almost perfect microphones in the article for people who use equipment regularly and appreciate high sound quality as the main factor of choice.