Once coming to buy a USB microphone, you will be amazed by the number of available options. On the other hand, any modern customer may be really baffled by the vast choice of numerous USB microphones on the market. Our main issue is to help you find the best USB microphone for your needs through this guide. After reading our article you will figure out what is the best USB microphone in your case.
How to choose your USB microphone
Our guide lays out some significant tips you should consider to get the best USB mic. We would like to emphasize that we have prepared some reviews for the top USB microphones for recording from Audio-Technica, Razer, Blue. Enjoy your reading! Let's find the answer to the question of what's the best USB microphone we can to buy.
The intended use
Earlier than you start choosing a microphone, decide what is your object. Please, notice the following characteristics:
It's a very critical characteristic of all types of audio equipment. A device with a broader range is able to perceive more sounds: it is necessary for people engaged in vocal. In contrast, for gaming streams, this characteristic is a little less significant.
The type
Dynamic;
Condenser.
The type of microphone you choose determines its application. The first type of microphones block the background noise, therefore, they are perfect in clamorous rooms. Microphones of the second type often have a wider frequency range and are way more sensitive. Professionals prefer to use condenser mics for vocal and acoustic instrument recordings.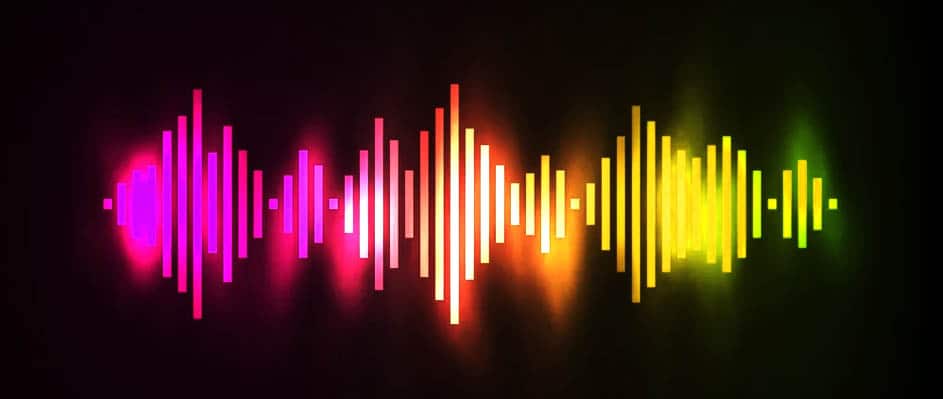 Your budget
USB microphones may be found in many different price categories from budgetary models for video chatting and podcasting (approximately 25$) to professional ones for musicians and voiceover work (about 170$). So, the number and quality of models available are determined mainly by your budget. Fortunately, most USB microphones are reasonably priced and very durable.
Pickup pattern
The pickup pattern shows the sensitivity to sound depending on the location of its source. Below you will see the classification of USB mics depending on the pickup pattern. Let's find best omnidirectional USB microphone.
1) Unidirectional:
– Cardioid.
– Hypercardioid.
– Supercardioid.
2) Bidirectional.
3) Omnidirectional
USB microphone with a cardioid pickup pattern is characterized by high sensitivity to sounds coming from the front. It also perceives side sources but worse than hyper – and supercardioid microphones. As for these two types, their coverage angle reaches 180 degrees. They are often chosen for recording gaming streams.
Bidirectional mics catch sounds from the front and back of the device equally well. They are likely to be used for recording duets and interviews.
There is another one type of microphones which gets sound from any direction. They are called omnidirectional. However, they are not suitable for gamers as they catch excessive noise such as clicks on the keyboard.
Blue Snowball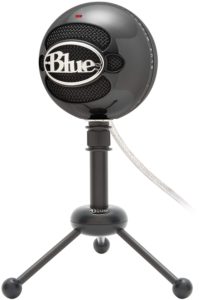 Assuming that you wish the best cheap USB mic this very model may be your best choice. Surprisingly you will also find its great performance no way inferior to more high-priced devices. The Blue Snowball allows you to choose one of three available patterns and comfortable height of the stand for any operation.
You will absolutely appreciate the audio material you get. Obviously, it worth its price.
Pros
It is the best budget USB microphone.
It performs amazing bitrate.
Shows an impressive performance for its cost.
Variable recording types thanks to selectable patterns.
Cons
The fidelity of construction struggles a bit
---
Rode NT-USB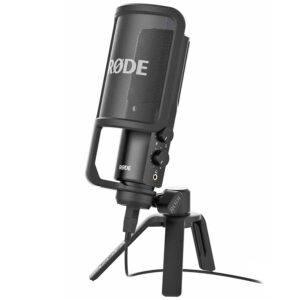 Rode NT USB is one of the best offers from the company's portfolio. It's a microphone designed by professionals and for professionals. Not by chance, it's more focused on musicians than gamers. Rode NT-USB has proved to be the best USB recording microphone.
It is perfect for any studio work: from recording instruments to vocals. To suppress external noise, the RODE NT USB is equipped with a pop-filter.
Pros
Perhaps the best USB computer microphone.
Best professional USB microphone.
Ready to use without additional software.
Performs good sound fidelity. It has astonishing frequency and sensitivity.
In addition to the microphone, you get high-quality components.
Cons
The model is slightly expensive.
---
CAD U37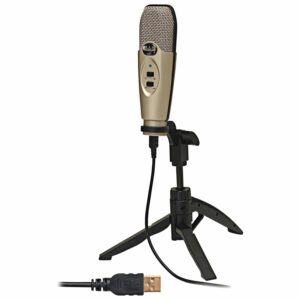 Make people think you have a personal sound recording studio just owning a computer with Windows or Macintosh operating systems and the CAD 37. This appliance records both instruments and vocals equally well. Recording audio tracks for videos is also its cup of tea. In brief, you will be satisfied with its clear sound in all conditions.
In the kit, you will also find a desktop stand and cable.
Pros
A ridiculously cheap model. It's recognized as the USB recording microphone best buy.
Worthy quality of audio material in different situations.
You need nothing except a USB port to connect it with your PC.
Best quality USB microphone.
Cons
Is sensitive to plosives.
---
Shure PG42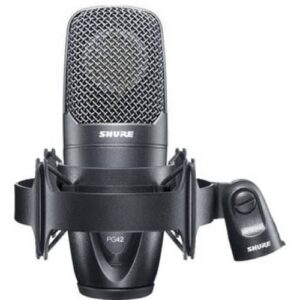 Shure (one of the most famous microphone manufacturers) has a studio-level model supplying digital sound to your PC directly through the USB port. The PG42USB is an exact replica of the PG42 vocal microphone, but with additional converter, preamplifier and headphone amplifier. Hardware monitoring can be implemented thanks to the amplifier for headphones and volume control. This is complemented by a pair of overload indicators: for the incoming and outgoing signals. Holder with vibration protection, connecting cable and aluminum case for transportation are also in the kit.
Pros
Best USB cardioid microphone.
A large membrane of the condenser capsule provides a wide dynamic range.
An easy plug-and-play formula of the device.
It is possible to adjust the sensitivity.
Cons
The price is above average.
---
Audio-Technica AT2020USB
(Read review Audio-Technica AT2020)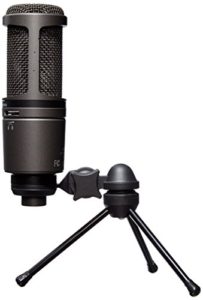 Lots of streamers recommend the AT2020USB by Audio-Technica.
As many other USB microphones, it has the plug-and-play formula, and immediately after coming home, you may start testing it, just finding one free USB port. This model is respectable on the market thanks to the presence of all required to operate: a headphone output, sensitivity control, and overload indicator. You also get an adjustable desktop and a couple of cables: USB for connecting to a PC and Lightning for iOS-gadgets. Last but not least, you will be delighted by its democratic price.
Pros
It is one of the best USB computer microphone.
Perfect bitrate is provided.
Construction is reliable.
A very broad frequency range.
Cons
The stand is rather rickety.
---
Samson Meteor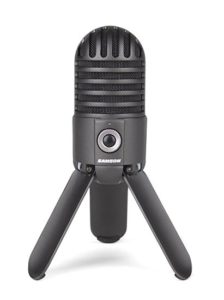 This is the most beloved low-end model created by Samson. This device is commonly used while recording broadcasts and podcasts. Meteor also attracts users with its unusual retro style. It is valued for its portability (its weight is 263g), and a number of useful traits. This model adapts to both PC or MAC and iPad and is automatically detected in the system. Headphone output with volume control helps to organize direct monitoring without delay. Transportation bag and USB cable included.
Pros
Catches attention by its attractive design.
Best portable USB microphone.
Performs an absolutely impressive bitrate.
Cons
The sampling frequency could be higher.
---
Samson Go Mic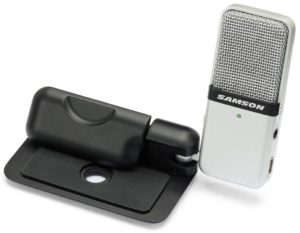 As you know, sometimes you possess a portable microphone nearby. Samson Go Mic can comfortably fit your bag or even a pocket. Moreover, the microphone must be not only small but also efficient. It's the finest description of our review candidate – Samson Go Mic.
A USB microphone with two selectable pickup patterns is presented to your attention. This mic also includes recording software (Cakewalk Music Creator). Samson Go Mic connects with Mac and PC.
Pros
Best USB desktop microphone in this price.
Very small, easy to transport.
The microphone may be easily fixed on the laptop or placed on the table.
Cons
You will have to set up software to get it working.
---
Apogee MiC+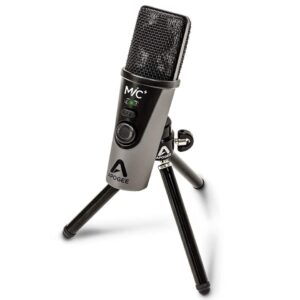 This model of a professional mic complemented with Mac, PC, and also iOS devices strikes users with its impressive resolution of up to 24 bit/96 kHz. This microphone with USB interface is positioned as a universal gadget suitable for vocals, instruments, podcasts, and interviews.
Pros
Best USB recording mic.
Connect to your computer or iOS device and use it.
You also get preamplifier and advanced cardioid capsule.
Output to the headphones provides to monitor sound during recording.
Cons
The cable length is not enough for comfortable work.
---
Floreon BM 800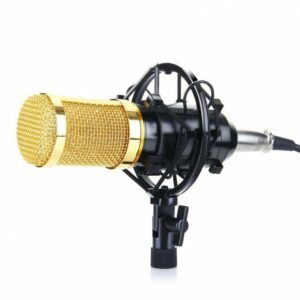 Assuming that you want to invest in an inexpensive and multipurpose microphone with many enjoyable functions, you should look at the Floureon BM 800.
This unit captures more audio details at low volume settings than any of its competitors. This microphone is perfect in case you have always dreamt of creating your own professional recording studio but wanted to save for the average musician, video blogger or podcaster. The durable construction of the device will also please its users.
Pros
Low price (about $15).
One from the top USB mics
Better for recording vocals, podcasts and instruments.
Unsurpassed protection for the internal components.
Cons
You need to check the labeled side is directed to the sound source because of the unidirectional pattern.
---
Blue Snowflake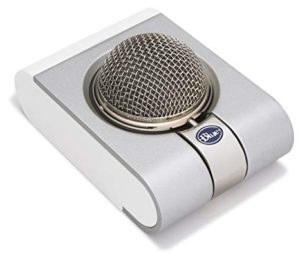 You need the Snowflake if you are looking for a portable and resistant upgrade to your computer's integrated mic. When you see Blue Snowflake for the first time you do not admit is going to provide such an impressive performance. However, starting to use this handy and affordable gadget, you will be pleasantly surprised by the clarity and detail while recording jams or song ideas. Moreover, after several tests, it was declared to be the best value USB microphone.
Pros
One of the best USB dynamic microphone.
An ideal upgrade to the computer's mic.
Good audio characteristics.
Cons
The vocal depth could be better.
---
Apogee Mic 96k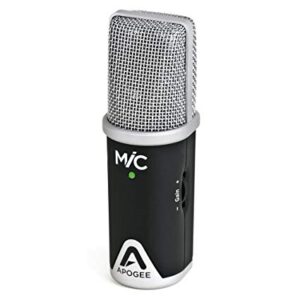 MiC 96k is not just a simple USB microphone, it's a three-in-one device enclosed in a single case. The functions of a microphone, a microphone preamplifier, and an ADC are blended in this small device. Designed specifically for use with iPhone, iPod, iPad, and Mac, this gadget allows you to get records of incomparable quality.
With Apogee Mic 96k you will always get excellent recordings.
Pros
The best quality USB mic.
It provides the highest possible sound quality and the lowest possible noise.
Great choice for interviews, voice-over recording, and podcasting.
Cons
Not really.
---
Audio-Technica ATR 2100-USB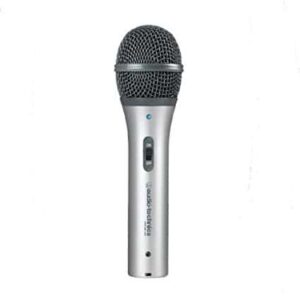 This appliance perfectly suits for beginners. Predominantly, it is equipped by two outputs: you can use the convenience of a USB microphone and the multifunctionality of the XLR device. Additionally, it has a 3.5 mm headphone jack and volume control and.
Professionals recommend this USB microphone for voice recording (especially podcasts). For its money ATR 2100-USB has a wide functionality and a reliable design, that makes it a very pleasant offer.
Pros
One of the best USB dynamic microphone.
Best USB headset microphone for recording
Almost perfect for its price.
Suits for singing, podcasts, game streams, online lessons, voice-over.
Is well-built overall.
Cons
The shock mount is too narrow for the mic.
---
Razer Seiren Elite
(Read review Razer Seiren Elite)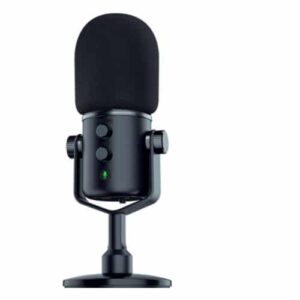 Razer is another respectful manufacturer of peripherals. And despite the profusion of competitors, it has its connoisseurs. Many professional gamers definitely appreciate the Razer Seiren Elite for its zero delays.
Talking about games, latency is a critical parameter: the smaller it is, the better. In practice, your team members hear you like you are talking to them directly. A high-pass filter eliminates excessive noise.
Pros
The favorite appliance of gamers.
Third place in top USB microphones
Reliable construction.
Cons
Inconvenient location of controllers.