Enhancement of audio quality is very simple nowadays since the number of devices produced for this goal is really incredible. This selection is going to offer the best iOS microphones that work with iPhone and other iOS devices. Here you can find iOS compatible microphone that will raise the level of your video and audio considerably. Good sound is one of necessary things for creation of high-quality content. But what is the best iOS mic? Is it possible to find an external microphone at reasonable price?
Let us look which iOS compatible microphone is good for your particular situation.
Movo PM10 Deluxe
Let us start with a small lav mic that is great for iphones. Nothing special is needed to make it function. Just connect the device to iOS gadget. It works without batteries. Those who are often on the road and create video-content will highly assess this microphone that doesn't take much space. It's incredibly compact and has a special case to protect it while traveling. The item comes with the necessary accessories included that raises the value of the product. It takes some time to figure out the optimal distance to get the best result. After it's done, the performance of the mic is superb.
Pros:
Compactness;
Much better sound than the one offered by inbuilt iOS mic;
Works without batteries;
Cons:
The cord isn't long enough for some consumers. Extension cable is required.
It takes some time to determine optimal distance for use.
---
Rode SmartLav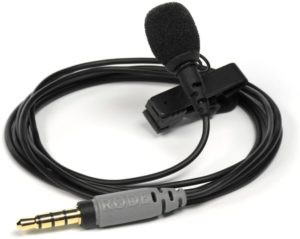 It's an excellent model delivering high-quality audio without effort. The device is very small and compact so it's convenient to use it in different recording situations. The durability of cable increases life of the product. It will serve you effectively for years if not abused. The wires are insulated well. The mic features very solid design. Rode product is the best iOS microphone meeting the demands of most users. The pickup quality is fabulous – it presents omni pattern and captures everything around. This is not just an iOS microphone as it works with other OS as well.
Pros:
Works fantastically for the price;
Small and easy to carry around;
Proven brand producing mics of exceptional quality;
Comes with accessories;
Has a special field recorder app.
Cons:
The cable isn't strong enough.
---
Blue Mikey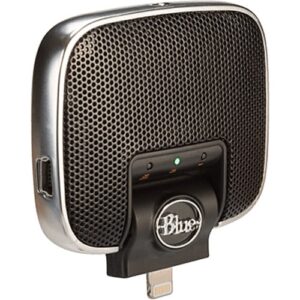 Those who value exceptional sound should purchase the microphone capturing audio perfectly. This is an excellent mic for diverse iOS devices. It's possible to regulate the gain manually though there is automatic mode as well. The performance of the microphone is superb. One can capture voiceovers, interviews, podcasts with it.
The sound is impressive. It really works very well for the voice. The condenser delivers the stereo sound. The customers assure that it belongs to the best iOS accessories.
It's rather compact and stylish. One can use the device on the road. It's also very convenient to use if you need to plug the guitar.
The mic is compatible with different recording applications but it doesn't have its own one. It's also worth saying that the microphone is released in two versions: one of them is for iPhone 4 and the other is manufactured for iPhone 5 and iPad. The mic has XY configuration enabling covering a wide-angle when capturing the sound – 230 degrees, in particular.
Pros:
High-quality sound;
There is a special jack to connect guitar.
Cons:
It doesn't have an app and users resort to third party products.
There's no possibility to monitor sound with headphones for some iOS devices.
---
Apogee MiC 96k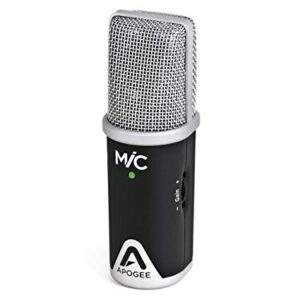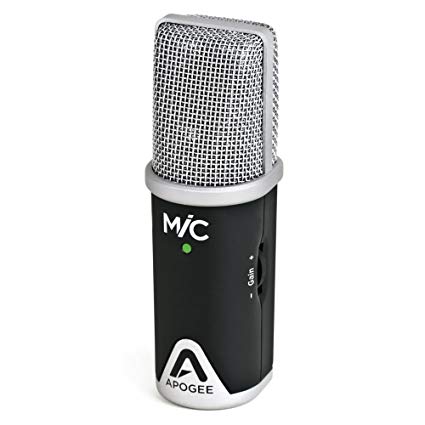 Those who don't mind using the mic of usual size with iOS devices can employ this product. It perfectly suits if you need the best iOS microphone for stationary use. Though portability is excluded in this case (just because it's not very convenient), the person recording sound can take advantage of amazing quality of the mic.
One can order the product with a stand, lightning and USB mac cable.
Pros:
Excellent sound;
High connectivity (including the possibility to connect to Macintosh products).
Cons:
Larger than other alternatives, hence not portable.
---
Shure MV88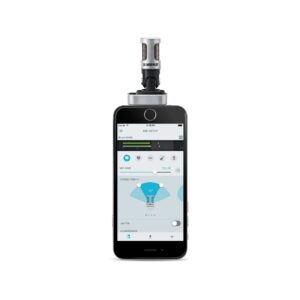 It can be hard to find iOS mic for smart devices that is able to cope with lows and highs equally well. Shure iOS microphone is capable to do it easily. As a result, we get a versatile Shure device at a good price. It's possible to regulate digital signal processing without problem and obtain fantastic recording. Though this Shure microphone is small its wide base makes the lightning connection problematic so the user has to remove the case.
Shure iOS mic has two capsules: uni- and bidirectional. The hinge of the mics contributes to flexibility improving the quality of recording.
Pros:
The build is solid;
The mic is versatile and voice sounds great in lows and highs;
The device is compact and portable.
Cons:
---
Zoom iQ7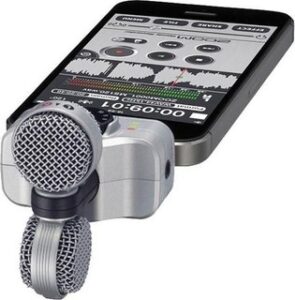 Mid-side positioning of the mics that are also able to rotate independently makes iQ7 an ideal device capturing sound from the front and sides. The consumer is capable to regulate the angle of recording and adjust the microphones to get the desired result. Therefore, it's the best iOS mic for many consumers. 90-degree width is selected to highlight the speaker's voice. When capturing of ambiance is required, the angle of capturing should be wider – 120 degrees.
iOS mic has its own app that can be downloaded for free. It increases the capabilities of the user and makes the mic handy and more convenient. If the consumer wants the mic of high quality instead of embedded iOS mic, he shouldn't pass it up. The item is exceptional!
Pros:
A clear detailed stereo sound;
Low weight;
Portability;
Though it may look flimsy, the build is solid;
Soft plastic saves the lightning connection.
Cons:
It may feel as cheaply made as plastic was used.
---
Rode IXYL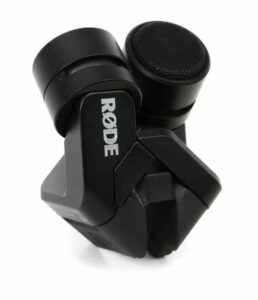 Capture voiceover videos, podcasts, and music with best iOS microphones such as this item. It's even hard to say when it works better as ZY construction enables fantastic recording results. Both microphones are condenser mics so they are very sensitive and capable to reflect all nuances of sound. Solid design is attained thanks to use of metal. A filter helps to get rid of unwanted noise. Use the windshield for outside work and high pass filter.
Pros:
Compactness;
Defined, clear sound;
It comes with a clamp and case.
Cons:
It may not be compatible with products manufactured by Apple.
---
Blue Raspberry Premium Mobile USB Microphone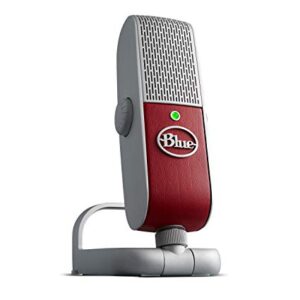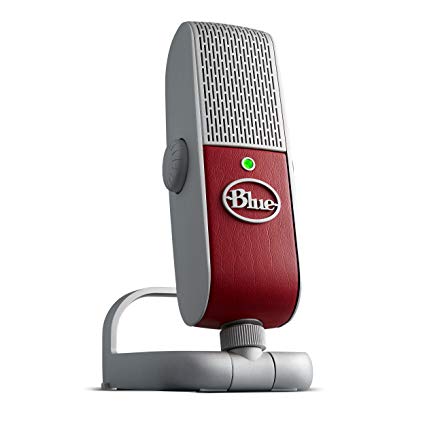 The device is designed to make voice recordings. It's possible to podcast and stream with it and get super results thanks to its unidirectional pattern and excellent construction. However, it shouldn't be restricted with narration only. For instance, it's superb for acoustic guitar. The focus is made on vocals thus removing peripheral unwanted sounds.
Its retro design is exceptional. It looks fabulous. It's just pleasant to have such an attractive device on the desk. It's not that compact as other mics in the list but its sturdiness doesn't prevent portability. It's compatible with Macs, PC and iOS devices.
The lightning cable is included in the package that also has a USB cord, a pouch, and a stand.
Pros:
Versatility;
Excellent sound;
Superb design;
Well-built.
Cons:
Expensive for many consumers.
---
Focusrite iTrack Pocket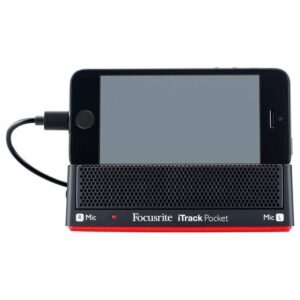 iTrack pocket acts like a cradle positioning the device at good angle to capture excellent sound. This is irreplaceable thing for bloggers, vloggers, podcasters and other people who value high-quality audio in their videos. There's free app for easier work with the device. It suits all iOS devices with a lightning connector.
Pros:
Clarity of sound;
It has a guitar input;
Great features for the money.
Cons:
iTrack doesn't charge the device when connected.
The app is no longer supported.
The user will have to remove the case from the device to put it into slot.
---
Movo Smartphone Video Rig
It's a wonderful device that keeps the background noise down amplifying the voice.
The device holds the phone securely. Customers complain that it's too heavy, but it wouldn't be so secure otherwise. The audio is clear. Though it can be used in a different way it's still better for narrations, not for music or instruments.
Pros:
It's easy to set up;
Comes with accessories (windshields);
Guarantees stability.
Cons:
Customers complain that it's too heavy.
---
Conclusion
There are actually tons of decent devices on the market and it's possible to find the best iOS mic to meet your demands. Sometimes audio effects make the videos popular so don't neglect this issue. If the models from the selection above don't suit you, keep on looking further. You'll definitely find a splendid microphone for your goals.