A mixing console is a central element in switching studio or concert equipment. All sound passes through the mixer, and the quality of the equipment determines the final sound quality.
What are the parameters for choosing a mixing console for a home studio? If we are talking about individual tasks, rather than recording a musical group at home, we will focus on a more or less specific niche of devices. The key selection criterion is the number of connections to the device. An example is the creation of music for commercials. Here the user will need 1-2 condenser microphones, a PC, and in rare cases, a midi keyboard. Therefore, for starters, a mixing console with a minimum number of inputs will be quite enough for us. This feature makes it possible to limit yourself to a democratic budget even when purchasing equipment from leading manufacturers.
But we consider only high-quality devices, of course. Here we will ignore the large studio mixers, which have an abundance of settings and a huge price. They can be used for local tasks, but not practical. And it will be too difficult to understand the settings, as this is the choice of experienced professionals. Examples of the best portable home mixers in the world are presented below.
Allen & Heath ZEDi 10FX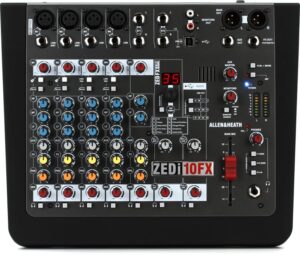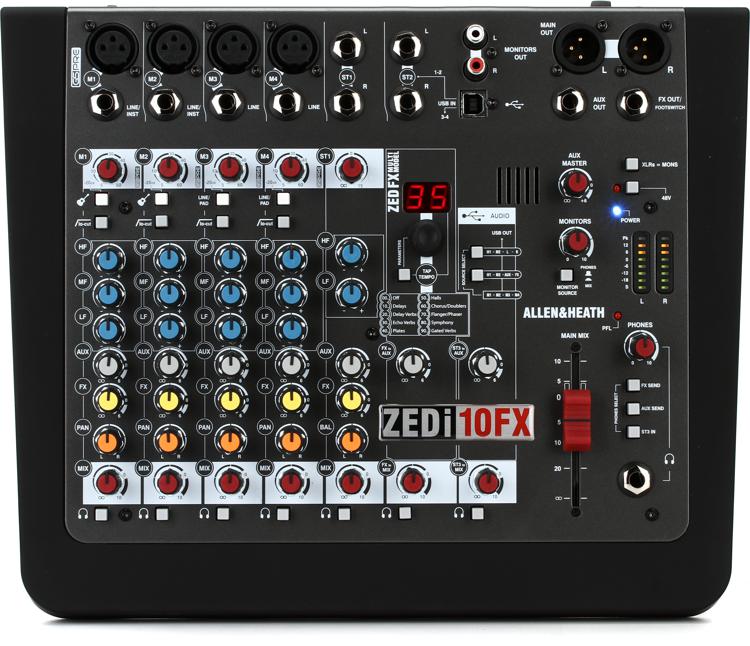 The Allen Heath ZEDi-10FX mixer is used for sound recording and live performances. The device features a compact case, a USB interface for computer recording, as well as an affordable price. The updated ZEDi-10FX effects processor delivers studio-quality modulation of reverb, delay, chorus, and doubling effects. Mono channels with separate XLR and TRS jacks allow the user to connect tools to the ZEDi-10FX without intermediate devices. GSPre preamps deliver optimum sound quality with low noise and maximum volume without overload. Efficiency of Allen Heath ZEDi-10FX is increased due to the use of 3-band and 2-band EQ in a stereo channel in each mono channel, large faders, and channel monitoring capabilities. The uniqueness of the ZEDi-10FX lies in its individual input boards, fixed-nut regulators, and power versatility.
Features: 4 mic / line inputs with separate XLR and TPC jacks, 4 GSPre mic preamps with low noise and large power reserve that provide "warm deep sound", 2 TRS inputs allow you to directly connect the guitar, without the need for a direct box low-pass filter on all mono channels
Pros: versatility, best sound quality, wide functionality in its category
Cons:

small but not the most portable solution from the list
---
Roland Go Mixer Pro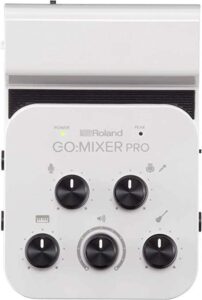 Video recording is a ubiquitous feature for modern smartphones and tablets. Nevertheless, mobile devices are not yet able to record sound quality. This is especially true for recording several instruments simultaneously. Roland has developed the compact GO: MIXER mixer, which is designed specifically for use with mobile devices.
Roland GO: MIXER Pro digital tool works with iOS and Android devices. The device can interact with a microphone, guitar, synthesizer and two other sources of stereo sound (for example, a drum machine) at the same time. The device is controlled by special controls, and a stereo output allows you to connect headphones or speakers. The device also has a special "Cancel Center" switch to remove a voice from a song that is played through the mixer. This is a great joy for karaoke lovers.
This is a portable home mixer for musicians and video bloggers. GO: MIXER runs on a mobile device without the need for additional power sources. The mixer boasts a small size: length and width are 9.5 cm, while the height of the device is 2.8 cm.
Features: a mixer for connecting to mobile devices, powered by a USB port or 4 AAA, cables for connecting to different smartphones included, 104 x 155 x 41 mm and 220 grams, up to 5 devices to be connected
Pros: Extremely portable mixer, best for work in the field, quick setup, support for iOS and Android devices without restrictions
Cons:

Highly specialized device
---
Art Pro Audio Tube Mix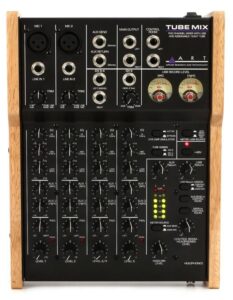 The ART Tube Mix is ​​a small, retro-style analog mixer for home. It has analog level indicators (volume meters), a lamp for warming the sound and decorative wooden lining on the sides. The model stands out for its unusual appearance and functions. In addition to this, there is a simple two-channel USB codec 16 bit 44 kHz inside for digitizing and playing back sound from a computer. The most widespread lamp, a double triode 12AX7, is used. (The model was invented in the USA, it was popular from 1950 to 1980 and stood in almost all sound equipment during this period and then ceased to exist. Since 1990, the production of 12AX7 lamps has been resumed for use in guitar preamps.) This is the best solution for home recording studios with a small work desk.
Features: five-channel mixer with lamp and USB interface, 3-band EQ on each channel, two buses AUX1 and AUX2
Pros: optimal functionality for simple recording tasks, portable dimensions, stylish case
Cons:

USB imperfect integration, noisy
---
Soundcraft Signature 22 MTK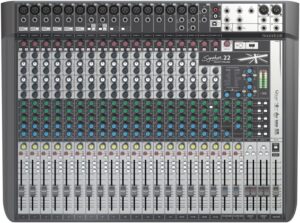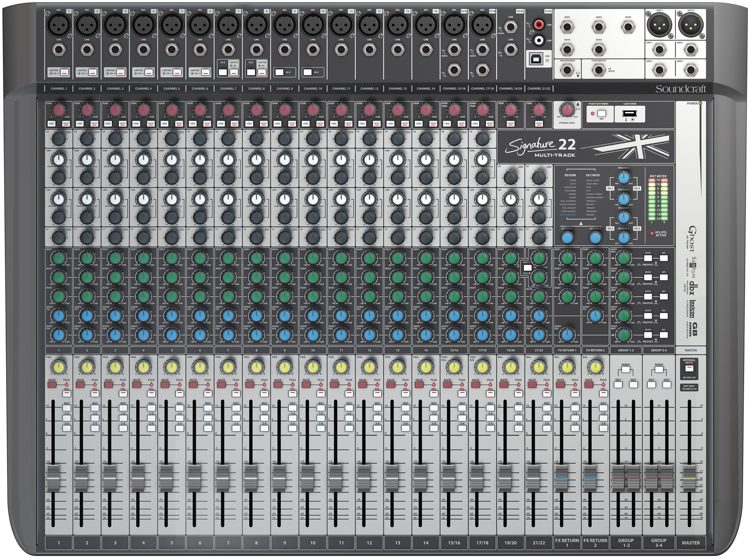 This analog studio mixer belongs to the newest Signature series. All line-up devices feature Ghost microphone pre-amplifiers, which were previously featured exclusively on high price console models. High-end preamps provide superior sound quality, an incredibly wide dynamic range with a perfect signal to noise ratio. The device uses Sapphyre Assymetric Equalizer from Soundcraft to align the instrumental and vocal elements of the track with high precision, as well as the worldwide known GB Series sound routing technology.
It contains a large set of extra Lexicon effects, as well as other additional working tools, as well as DBX limiters on each input channel. Consoles provide XLR and Hi-Z inputs that allow all the musical instruments to be connected to record audio. In addition, there is a two-input / two-output USB interface.
Also worth considering are the best-quality faders, GB Series audio routing, full-fledged Pre / Post switching on every AUX bus, groups with perfect routing and switching tools. Soundcraft Signature has a solid metal case and high-quality components as well as an internal universal power supply.
Features: Ghost Amplifiers builds great performance, studio-quality Lexicon sound effects, HighPass filters, and phantom power on each channel, Hi-Z inputs for all musical instruments
Pros: wide functionality, optimized for multi-tool concurrent recording, high reliability
Cons:

some functions may sometimes fail
---
Behringer XENYX 1202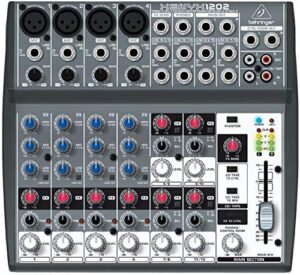 This is the one of the most budget mixers in its category. This remote is designed for a wide variety of operating conditions like all Beringer models. It is an inexpensive yet functional device that allows you to record and process audio from four monaural and four stereo channels. Sound is produced through two AUX buses. Two microphone connectors with built-in amplifiers convert the signal with minimal noise. Classic 3-band equalizers are implemented with tight rotary regulators that are not afraid of moisture and prolonged operation. In addition to the main mix outputs and the Control Room / Phones, the mixer has a dedicated CD / tape input / output for playback of any media and for direct mix recording.
Each mixer channel is equipped with its own FX Send switch, which provides a variety of audio processing for all signals separately. There is a 4-level display on the mixer console to control the output volume.
Despite its rich functionality, this mixing console is quite portable. The mixer is lightweight, allowing the user to take it on tour and use it to organize other field trips. The rugged case and the waterproofing of the basic controls ensure long and trouble-free operation of the device.
Features: Three-band equalizer on each channel, 4 LED volume indicator, Post fader link in each channel to work with external effect processors, 60mm log master fader
Pros: portability, versatility, affordable price, quality audio
Cons:

increased overheating, no equalizer at the linear inputs
---
Conclusion
Cool, high quality home sound is possible! And the listed models demonstrate this in the best way, filling the needs of different categories of users. And most importantly, all the equipment presented is not worth all the money in the world. The main thing is to deal with priorities and user tasks in order to make the right choice.