A mixing console is an electronic device designed to mix sound signals: summing several sources into one or more outputs. Using a mixing console, signal routing is performed. The mixing console is used for recording, mixing and concert amplification of sound. There are several main subcategories of mixers for their intended application. One of these categories is equipment for studio and concert tasks of DJs. Next, we will talk in more detail about the features of such devices and offer to the public a rating of the best DJ mixers in our opinion at the moment.
What does a DJ mixer do?
The DJ mixer is the fundamental, central element of the DJ setup. It allows the musician to direct and mix sound, creating unique compositions. Speaking clearly, this is the central element of the DJ installation, which consists of a number of knobs and switches to control the mix.
DJ mixer is on a par with studio and concert models. Usually DJ equipment has small dimensions, as it is not intended for large-scale stationary tasks. The DJ needs mobility on the stage and in the process of composing music, and huge installations with hundreds of switches are irrelevant here. Much more interesting look all new solutions for working with sound. In general, such a device helps control multiple audio signals simultaneously.
This is equipment that is focused on the performance of electronic and dance music of various genres. It is used in clubs, discos and various dance events. The sound that comes to the mixer is based on CDs, audio tapes, computer or laptop data, various digital storage devices, vinyls, and so on. A DJ uses a mixer in conjunction with headphones to track the mix before the music sounds to listeners. This is the defining difference in this category of devices.
A typical live performance console has 24 inputs. More compact solutions are possible. A larger number of inputs characterizes already stationary models for studio work with sound. A DJ console is focused on 2-4-8 inputs most often.
How to choose the best DJ mixer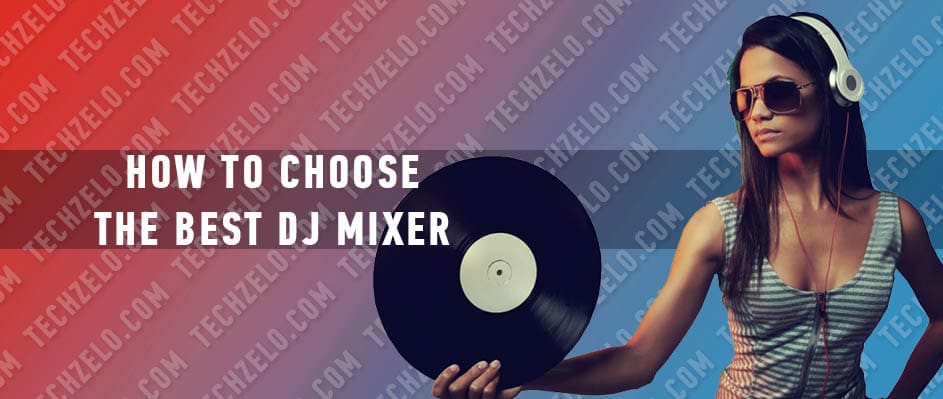 The mixing console is the link between the input and output devices, which is constantly involved in the work. High quality of this installation element is very important. The DJ console must have a crossfader, the CUE function (listening to the track in the headphones), and it is preferable to have a three-band equalizer (often have a two-band).
According to the form factor, DJ consoles are divided into built-in wreck (19 " rack) and desktop, which differ in shape. But besides this, there are many models that can be installed in a wreck or kept in the workspace. The built-in remote control is suitable in cases where you need to save a lot of space. In all other cases, it is better to purchase a regular DJ console.
Another distinguishing feature of the consoles is the number of input channels (2, 3, 4 or more). Initially, two channels are enough for a musician. It should be noted that many models have the ability to switch between inputs. For example, a user can connect two CD players and two vinyl players to a two-channel mixer and switch from one sound source to another. A mixing console for a DJ can have one or more microphone inputs, which can be very useful when working in public.
More expensive consoles may have a built-in effects unit, which significantly increases the price of a mixing console. The effects block gives more opportunities for the DJ to work, but is completely optional at first. Different models of DJ remotes provide various additional features, but they are not used very often.
At the entry level, the gain control, a three-band equalizer and a volume fader for each channel, the crossfader, the headphone volume control and the MASTER / CUE ratio control for the headphones will suffice. A signal level LED (both MASTER and CUE at the same time) is also useful. It is enough to have a simple two-channel mixer with the ability to switch line / phono (CD and vinyl), the MASTER output and the REC recording output. Having a mic input will be a good addition.
Now let's check the best and the most popular DJ mixer solutions.
Pioneer DJ DJM-750MK2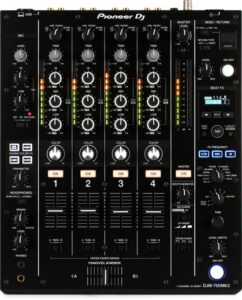 Pioneer DJ DJM-750MK2best sound quality dj mixer adheres to standards for the layout of Pioneer mixer elements, but also has a number of new and unique sound effects for DJ work. It provides a new feature called BEAT COLOR FX which inproves the effect parameters depending on the signal on channels separately. Sound Color FX provides a block of 4 effects that can be associated with the input of each of the available channels. There's also a USB DJ input. Beat Color FX is needed to choose Beat Color FX or Sound Color FX immediately and prepare sound tracks for work. When Beat Color FX is work, the user can simultaneously change the Sound Color FX and Beat Effect tools simultaneously. The Beat Effect block adds 13 different effects that are easily combined into dozens of unique sound solutions.
Construction of the best usb dj mixer Pioneer DJ DJM-750MK2 mixing console is marked by wide functionality and hi-end components for perfect sounding. This DJ mixer has a built-in 24bit / 96kHz USB sound card with 4 in/outs. It  can work with various sampling rates, the ASIO / standard and is applicable for recording a mix. USB port is located at the top of the mixer, which makes it convenient to connect it to a laptop. This is a state-of-the-art working solution that delivers an incomparable DJ experience.
Features: MIDI Signal, 3-Band Equalizer / Isolator, Beat Color Effect, Built-in 4-Channel Stereo Sound Card, 3 Sampling Frequencies
Pros: best build quality, very accurate and responsive faders, the best budget value for money for everyday devices
Cons: no digital outputs
---
Allen And Heath XONE DB4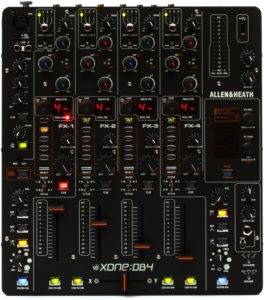 This model is quality dj analog mixer. This model has four stereo channels and one microphone channel. The device is suitable for both beginner DJs and professionals. XONE DB4 boasts the presence of a Xone filter with resonance control, a three-band equalizer, a crossfader with 3 envelope settings and an X: FX function. It is also worth noting the system of VCF filters, which includes low and high frequency filters, a band-pass filter and a "mild to wild" resonance regulator, and an FX loop that allows you to connect an external effects processor.
Features: three-band equalizer (+6 dB / total kill), microphone XLR-input with a two-band equalizer (+/- 12 dB), independent Booth output on 2 × RCA connectors allows user to connect control monitors, a separate 2 × RCA output for recording
Pros: high build quality, outstanding functionality
Cons: relatively high price
---
Roland AIRA MX-1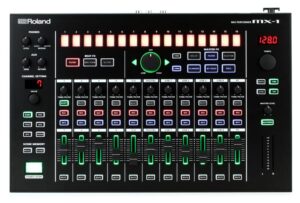 Roland Aira MX-1 is a mixer designed for use with a wide range of other Aira products. Roland position this device as the most optimized mixing tool. The Aira MX-1 is not intended for independent playback of sounds, but it is ideally suited for use with other devices as a digital mixer. Six analog modules are used for mixing, and assignable controls and sliders are used for control.
Aira MX-1 is developed in a style similar to other products of the line, however, the manufacturer deliberately refused to color the device's edging in standard green. This is implemented specifically to emphasize the multifunctionality of the product. Among the characteristic features of the MX-1, one can note the use of the Scatter trademark, the presence of DJ-style filters and the possibility of step-by-step programming using a special 16-step sequencer made in TR-style.
The sequencer of this tool is easy to configure, can work with music templates recorded on other devices and provides a quick and convenient implementation of performance capabilities.
Features: 18-channel mixer with FX step control, Step-by-step control of FX bit effects has three different implementations Filter, Slicer, Side, Chain, 6 types and 48 variations Master FX
Pros: analog and digital compatibility, many offline modes, best flexibility of user capabilities
Cons: one stereo channel for Aira TR-8, limited equalizer options
---
Numark Scratch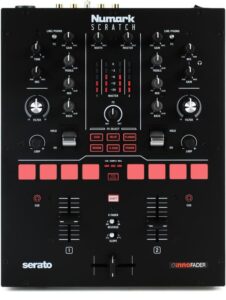 Numark Scratch analog dj mixer is a professional 24-bit dual-channel device that is comparable for both classic mixing and scratch. It has the built-in crossfader with reverse function and curve settings, 8 pads, encoders with instant loop capture and program effect start buttons. To top it all off, it comes with Serato DJ Pro and is compatible with Serato DVS. The pad mode is very convenient for setting cue, loops and easy start samples. The mixer has 6 specialized user effects, which can be configured for each channel separately or for both, adjusting the settings from Dry to Wet. The mixer provides the highest sound quality thanks to a 24-bit circuit with a three-band equalizer and a special low-pass / high-pass filter for each channel. Fast and convenient grip of loops is now easy with Loop Encoder. The mixer has main outputs on XLR connectors and unbalanced outputs on RCA connectors for easy connection. For each channel, there are unbalanced inputs on RCA connectors with line / phono switches, as well as a microphone XLR / TS input.
Features: 2 channels, 24-bit digital audio quality, Built-in Innofader with reverse function and curve settings Serato DJ Pro with DVS license, 6 software effects
Pros: best versatility, wide functionality
Cons: need preconfiguration and study
---
Reloop KUT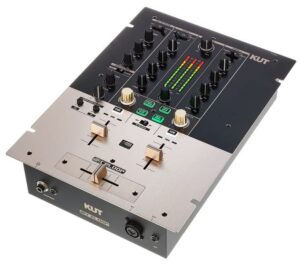 Reloop KUT is a two-channel best dj mixer designed for vinyl fans and scratch fans. It has a dynamic effects section with 7 different effects. The mixer has the latest faders with non-contact technology for accurate and fast playing. Here's the built-in USB bus, and the user can easily record personal mixes on a PC / Mac. This mixer is DVS compatible and has a 3-band equalizer with different modes. KUT usb dj mixer is equipped with a Kesington lock, which protects the device.
Features: Non-contact Fader for better work, high-end crossfader and linear faders with smooth motion, best dynamic effects, adjustable fader curves
Pros: optimal solution for playing vinyl and scratching, portability, responsive faders
Cons: not supported by any of the main DVS programs
---
Behringer NOX404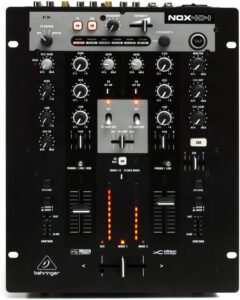 BEHRINGER NOX404 is a 2-channel analog dj option designed for both beginners and professional DJs. Moreover, the entire NOX series of mixing consoles is designed specifically for direct connection to a computer. Moreover, there is no need for additional drivers, since the use of equipment with computers under Windows and Mac OS X does not require any drivers and programs. Also, the NOX404 PRO MIX mixing console is equipped with a non-contact VCA crossfader, USB DJ input and premium amplifiers. Built-in effects processor has assembled 12 high-quality effects that will add exclusivity to any audio signal.
Features: Premium 2-channel DJ mixer for the most demanding DJs, Built-in USB DJ interface for recording / playing digital music of various formats for Windows, MacOS, 3-channel channel equalizers with full kil-filters and 10-segment channel indicators with peak hold function
Pros: wide functionality, high build quality, stylish design
Cons: low volume in the headphones, very high sensitivity of the faders
---
Gemini PMX-20 4 Channel Mixer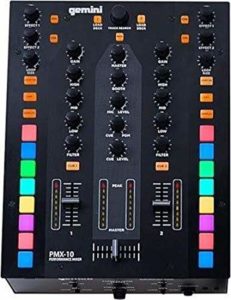 Gemini PMX-20 4 Channel Mixer console uses Gemini patented MIDI and Innofader Ready Crossfader, designed specifically to improve sound quality when you have a wide selection of sound sources (vinyl turntables, CD players, samples, effectors, microphones). Gemini technology minimizes background noise and eliminates the possibility of sound punching through channels while providing clear, transparent, literally color-coded sound. In the manufacture of the console, many components inherent in the high-tech industry were used, which include epoxy glass boards that guarantee the durability and strength of the entire system. This applies to all components of the mixer, from the Penny & Giles crossfader to the XLR connectors. All of them are made at the best level.
This is a multi-channel solution that may seem redundant at first glance. But this is the main advantage of the DJ mixer over other devices. Firstly, it is possible to connect more devices to it when it is relevant, and secondly it helps to ensure a reliable and uninterrupted mix in case the sound in one channel suddenly fails while playing music.
Features: 4 Channel Mixer All Metal Professional DJ Controller with RGB Performance Pads, MIDI and Innofader Ready Crossfader, Includes a Full Complement of Professional I/Os Including Samples and Unbalanced Master Output, The PMX-20 is Redefining the DJ Mixing Experience with Our 4-Channel Mixer DJ Controller. Designed To Meet the Demanding Needs of DJ's, Performers and Scratch Addicts Everywhere. From the All Metal Chassis the Innofader Ready Crossfader, This Controller Packs a Punch
Pros: ease of use, high functionality, reliability, a large number of channels
Cons: lack of some useful user options
---
Korg KM-402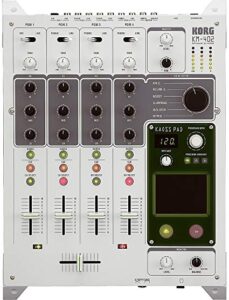 Korg KM-402 has all-integrated effects that have proven themselves in an earlier version (KP3 KAOSS PAD). These are solutions widely used by DJs around the world. About a hundred effects and unlimited scope for creativity when creating your own DJ presets are guaranteed for everyone. The FX RELEASE function deserves special attention, providing smooth attenuation of the reverb tails and delays when changing presets and effects, as well as independent operational access to the control of the effects of each channel through the "KAOSS Button". A 24-bit digital mixer that delivers impressive levels and unprecedented quality. Six independent types of equalization guarantee tremendous flexibility of tuning the sound for a specific application, and a programmable crossfood provides detailed tuning in accordance with the task at hand. An additional inlet / outlet section protection system ensures trouble-free operation of the KAOSS MIXER in the most severe road conditions.
Features: 4 channel DJ mixer, the best integrated effects from KP3 KAOSS PAD, FX RELEASE, separate control of the effects of each channel, 24-bit digital mixer
Pros: versatile, flexible user settings, high-quality and diverse palette of effects
Cons: relatively large weight, not very convenient dimensions of some functional elements
---
Vestax PCV-275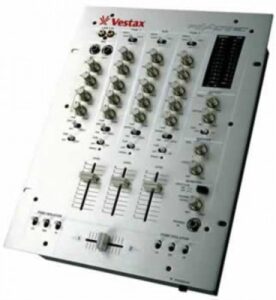 Vestach PCV-275 is an excellent budget mixer, which has already become a kind of "classic" from Vestax. The stunning functionality of each channel and the PCV crossfader resource for 2 million movements. This is a universal, full-featured solution for DJ concert activities, which is available at a reasonable price. All the necessary user functions for devices of this class are also presented, and a wear-resistant housing designed for everyday transportation and life on the road deserves special attention.
Features: Interchangeable CF-PCV crossfader model with over 2 million movement positions, 3 phono and 6 line inputs, 3-way isolator completely cuts out each frequency range
Pros: favorable budget price for this category, stylish design, rugged case, huge flexibility of settings
Cons: non-standard dimensions of the case, low build quality of individual structural elements
---
Gemini PS-828X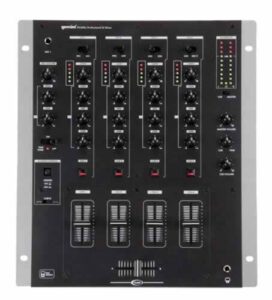 Gemini's budget 4 channel dj mixer PS-828EFX remote control significantly expands the capabilities of the company's previous model with an integrated effects processor that offers a choice of three types of processing assigned to each channel: Flanger, Filter and Transformer. Effect parameters are adjusted using the dial on the front panel. For mixing audio signals, the console offers a pair of stereo channels with phono / line input switching, one channel with the ability to select one of two linear stereo sources, as well as one channel with switchable microphone / line inputs. All stereo channels are controlled by three-band equalizers with a sensitivity of -30 dB. Additionally, the Gemini PS-828EFX offers a microphone input on the front panel with a master control and a two-band equalizer. A removable Gemini RailGlide crossfader can be connected to the device.
Features: 4 channels, 7 linear RCA inputs, 2 phono / line inputs, 3-band equalizer with frequency cut -30db, removable front panel with the ability to connect a removable Rail Glide crossfader, RCA outputs to Master and Record
Pros: ideal proportion of affordable budget price and quality, ease of use, convenient use of the crossfader, reliability
Cons: relative lack of effects
---
Conclusion
As you can see, the range of pros and cons of DJ mixing consoles varies from model to model. This means that this category of devices has atypical advantages and disadvantages. But the range of devices is very large, and novice musicians will be able to find high-quality equipment at a low price, and professionals will fill their needs with high-performance equipment, or non-standard solutions. Everyone will find a way to make their own music in a club or studio!