Life in digital world changes people greatly. On the one hand, development of the world contributes to globalization. People become more open and available. On the other, it interferes and doesn't let them concentrate on work. Noise in the street, in the office becomes a great obstacle when they work or have rest. Therefore, noise reduction is a very acute problem for modern society. No wonder, this feature is implemented in many devices including microphone headsets.
What is a Noise-Cancelling Microphone (and does it matter?)
The sound engineers pay much attention to this feature when they design and develop construction of microphones. It determines how good the sound quality is. The design is aimed at filtering of ambient noise. There's special technique using a couple or even more mics for noise reduction. One of them is located to be close to the source of sound (user's mouth). The other microphone receives background noise. When the ambience is noisy, both microphones accept similar amount of noise. However, the first microphone always accepts the better signal therefore the device focuses on it suppressing the ambient noise. This is a widespread technology used for noise cancelling.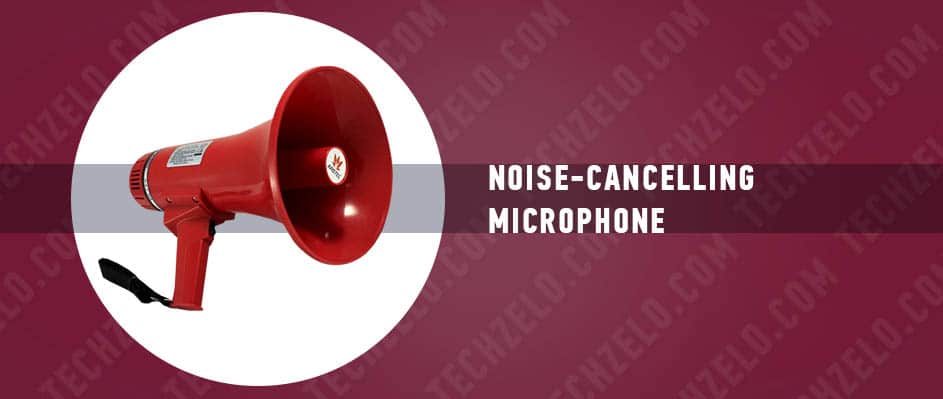 Where technology is used:
Calling center gear;
Aircraft pilot headsets;
Headsets for drivers of race cars;
Video gaming equipment.
Selecting the gear, one should see the difference between passive and active noise cancelling. It's not always easy to understand how these notions differ but the discerning customers still try to explore these features to buy the right headphones. They can be easily confused choosing between active, ambient and adaptive noise cancellation.
Passive noise cancellation is the capability of device to block out noise due to physical design of earcups. The shape is important. Noise is cancelled effectively when headphones Strong passive noise cancellation helps to remove undesirable background noise.
Active noise control is used for cancelling of low-frequency noise. Contrary to passive voice cancellation, it works differently – via powered electronic circuitry.
The 6 Best Noise-Cancelling Microphone Headset
People traveling much on work or for pleasure can achieve more with noise-cancelling devices. They are able to work on the move without discomfort. People speaking around them, transport passing by don't interfere with them thanks to great achievement – noise-cancelling technology. They can easily contact people on phone and communicate effectively with one of those microphone headsets available on the market today. We have selected the best ones and included to this guidance.
Audio-Technica BPHS1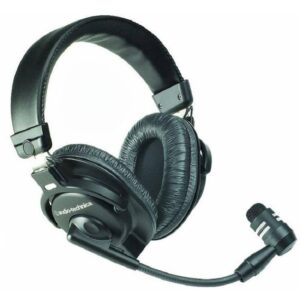 Time flies fast and technologies evolve even with bigger speed, but some revolutionary models come to the arena to stay long. The AT model presented here refers to such headphones. Many called the device best noise cancelling microphone headset as it was first released in 2009 and since then remains a hit. The range of its applications is really extensive due to fantastic broadcast quality. All users are impressed with its noise canceling feature therefore the headset is so popular.
Noise is one of the issues that interfere with superb sound therefore the developers of these headphones primarily addressed this issue.
Wireless headset canceling background noises is in high demand at present. With millions of creators over YouTube and video streaming services, trying to make video or stream of high quality such products are sold out fast. But excellent performance is rarely achieved with standard webcam or in-built microphone. The quality of such video is very poor. However, the person can get quite different result with investment. For instance, the model under consideration combines the best noise cancelling microphone with best incredibly clear sound.
As for its look, the device looks standard – simple headphones with microphone. But plain appearance hides the pearl, presented in its functionality. It's absolutely black with exception of metal headband. Created as workhorse, the device doesn't impress audience. The headset is worth buying as microphone excels in performance. The same can be said about audio. All noise is eliminated while using the device. For me such look is even better. It looks more professional. Such feature as XLR jack only contributes to this impression. It enables fine-tuning and versatility of the device.
The microphone sounds fabulous and can be placed on any side of the face. As it was said already, the headset with best noise cancelling microphone removes the echo. Comfortable ear pads sit on ears perfectly.
The soft strap is used for adjustment.
---
Turtle Beach – Elite Pro Tournament Gaming Headset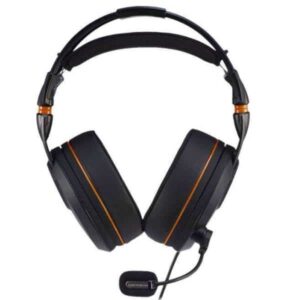 The company presented the headset for demanding gamers. The buyer doesn't have to ask for accessories as the manufacturer has cared about all in advance. The headset has marvelous sound and it's incredibly comfortable. The engineers use proprietary Aerofit ear cushions. Gamers with glasses will appreciate the "ProSpecs Glasses Relief System"- a technology reducing pressure on glasses. There's special hollow in the cushions to insert the arms.
Separately audio controller Elite Pro T.A.C is offered enabling microphone customization with noise cancelling feature. Like the headset itself, the T.A.C is used on PC, PS4, XboxOne. The device also offers audio settings needed for games of different genres. Elite Pro T.A.C. is, actually, a full-fledged external USBsound card.
It's an excellent gaming headset for consumers refusing to spend tons of money on such equipment.
The headphones with a mic seems a bit awkward but person wearing them completely forgets about them. I doubt that it's the best noise cancelling microphone, but paddings on ear cups are so thick that it contributes to noise cancelling characteristic. The soft cushions conform around the head thus making the game session very convenient. The gel in the padding was an additional element that encircles each ear molding around it.
---
Razer Tiamat Over Ear 7.1 Surround Sound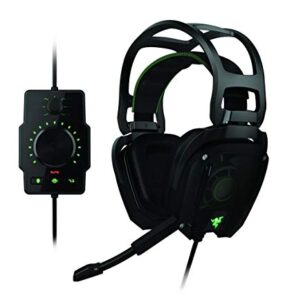 The main issue of usual gaming device refers to lack of bass. However, the problem was eliminated in this model. This gaming gear offers high quality sound, making it truly impressive, as it performs it in 7.1 playback format. This is unbelievable! Those who bought the device, pointed out fabulous quality of microphone headset. Users who are going to obtain a real 7.1sound, should know about the integration details with the playback function in 5.1 or 7.1 surround sound and 3 input jacks. It's unattainable with one jack for stereo sound, meaning that the person won't hear 7.1 sound in headphones.
Huge, pleasant cups with a soft headband sit perfectly on head without squeezing it. The microphone is hidden in left earcup. There is a special niche in the plastic rim of the cup, where it can be removed when not in use. The mic goes down and then bends towards the mouth. The green Razer logos at the base of the headphone cups light up when used, thus creating additional appealing effect. It's pleasant to use the stylish headphones with microphone.
The benefits of the device:
Great, powerful sound;
Excellent ergonomics;
Comfortable fit;
High-quality, reliable cable;
Good sound isolation;
Best noise cancelling headphones;
Comfortable ear cushions.
The drawbacks of the model:
A rather specific condition: 7.1soundcard for computer;
Bulky headphones;
High pricetag;
There're better alternatives for listening to music.
---
Jabra UC VOICE 550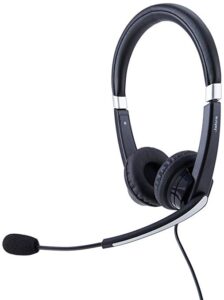 This is a very convenient device for Skype business calls. The callers hear clearly everything what is said though they don't consider it the best noise cancelling microphone but it performs its work well. Taking into account the fact that headphones are lightweight and convenient, the person can use it on a daily basis without any tension. This is a USB headset with best quality of sound. The quality of Bluetooth connection doesn't disappoint as well. The interlocutors don't have to worry about being disconnected during the call. It works even better than some wired devices.
The ear pads are soft. There is no pressure upon the head. One just feels the cups touching ears gently. Besides, it's easy to adjust the headband conveniently to tailor to the needs of each user. One can swing down the mic arm without effort. The headset includes the buttons 'mute me' and 'mute them' that many users find very useful. The cord is long and convenient.
Many people started using PC for receiving call. With best voice clarity, the headphones of this type are even more preferable than landline wired phone or cell. Sometimes the broadcasting sound is even obtained. The overall experience of numerous reviewers is overwhelmingly positive. They are all impressed with its performance.
---
Mpow 071 USB headset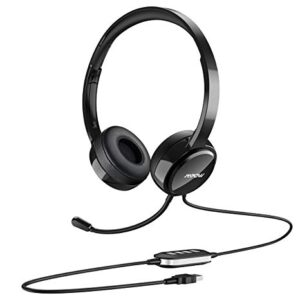 Every customer is surprised to hear the price tag of these headphones but the performance doesn't disappoint. Probably, because the person doesn't expect much from it? Anywhere, the consumers seem to be happy to get such affordable device and ready to purchase it repeatedly. Even with minor drawbacks, the user forgives everything to it as it's the best in its price category.
It doesn't feature some sophisticated technology but noise doesn't bother the customers who use it actively on a daily basis in the conditions of urban environment. If it's able to suppress the noise of the city, it means a lot. A trustworthy, lightweight item is a must have for any person who wants buy the device and enjoy freedom of movement, listen to music and receive call at the same time. This is an inspiring, convenient and democratic approach. Though this is not a good solution for audiophiles, it's still a hands down favorite of many people. They buy it again and again. Reasonably priced solutions conquer people's hearts. This segment should develop and offer more extensive selection of devices similar to this modest and elegant headset with USB connection. Plug it into your smartphone and stay connected with your relatives and friends!
---
Logitech Stereo H650e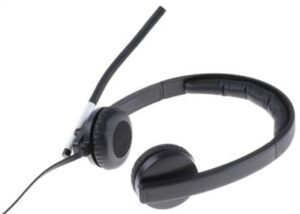 The lightweight device is a perfect option for business purposes. The headset comes in black and silver and looks rather stylish. This model is an excellent buy for all consumers who want to look professional. It fits perfectly. The ear pads of the device are cushioned and are more convenient than most alternatives. The employees can wear the headset long without feeling tired. The audio is great. When call is received everything is heard clearly. The microphone boom swivels easily so one can adjust the result, moving it either closer to the mouth or farther from it. Flexibility of a boom allows to bend its shape to make it more convenient for users. The noise is cancelled without effort when the device is used.
This stereo device is connected via USB. A little panel with controls is built into a wire. It's a superb web conferencing solution and many highly assessed this gear.
The person feels convenient when speaking on the phone or listening to music with help of the device with fantastic noise reduction.
---
Conclusion
All pieces of tech presented here are highly praised for their performance. Almost all are hits. If you need to work or relax listening to music, playing the game, and want to drown out your surroundings, the headsets presented above will be very useful and will help to achieve it without effort. They were designed with this goal in mind. Sound engineers have managed to succeed in this direction. Test them out to make sure how they work!