When do mixer sizes matter? There are several criteria by which to characterize. Firstly, there are no large-scale requirements for complex studio work. The user can refuse bulky devices, where most of the functions will be excessive to perform current everyday tasks. Secondly, small mixers are looked for in situations where there are simple studio needs (for example, for streaming) with minimal functionality requirements. And the workplace may be limited. Thirdly, when a sound engineer or musician takes a mixing console on the road. It is important for him to create high-quality and diverse sound during the stage performance, but the criterion of portability is decisive. For these and other tasks, there are a number of compact mixer models with effects. Well-known world brands offer audio equipment in this category, and the issue deserves detailed consideration. We've put together some cool models of these audio mixers for customers to explore.
Behringer Xenyx 1202FX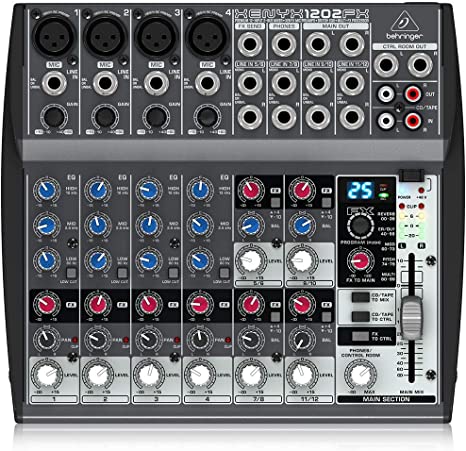 A good example of best small mixer that combines a decent price and an outstanding set of custom features for all occasions. Behringer Xenyx 1202FX has 12 inputs and an FX Send link controller in each channel. Designated CD/tape inputs for flexible routing are also implemented in this model.
Xenyx's innovative microphone preamps have already become widely recognized, noting for their audio quality, transparency, stock overload and speakers with an elite external microphone preamp. The neoclassical "British Equalizer" will add to the warm expressiveness and musicality of the 1960s-1970s. Xenyx FX Mixers have a new 24-bit studio-quality effects processor. There is 100 first-class and practical presets available.
A well-thought-out design that eliminates noise during operation deserves special attention. Variety in sound provides a studio-grade 24-bit stereo effect processor with 100+ presets. It is also worth noting the stylish design and shockproof housing.
Features: compact twelve-channel remote with superior sound quality and flexible routing, high-quality Xenyx microphone pre-amplifiers with optional phantom power, external effects processor connection,
Pros:

portability, reliable assembly, a large set of effects
Cons:

design complexity
---
Alto Zephyr ZMX52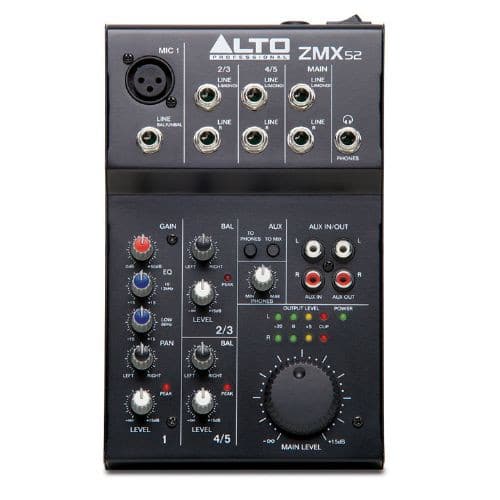 Zephyr ZMX52 is a miniature five-channel small mixer with all the necessary I / O and an equalizer for solo concerts and home/multimedia studios. It contains a single mono channel with mic input (with phantom power), balanced with TRS input and 2-band equalizer. This tool also has a pair of stereo channels with balanced TRS inputs. In addition, there is a separate stereo input for an external player. So, this is a perfect compact multifunction mixer.
In general, users note that this model is convenient in transportation and use, which is determined by a thoughtful design and shockproof design designed for life "on the road." High connection flexibility is also noted, as for devices in this category. The ability to visualize the workflow simplifies the work with the device significantly.
It can be used during live performances, working with videos, as well as in a large recording or miniature home studio. That is, in any situation, this small but high-tech mixer will be for you an excellent tool for high-quality sound mixing.
Features: 5 channels, microphone inputs 1 x XLR, 2 line inputs, main outputs 2 x TRS, 2-band equalizer
Pros:

lightweight and dimensions, robust design, flexible switching capabilities, high sound quality
Cons:

relatively simplified functionality
---
Allen & Heath ZED-6FX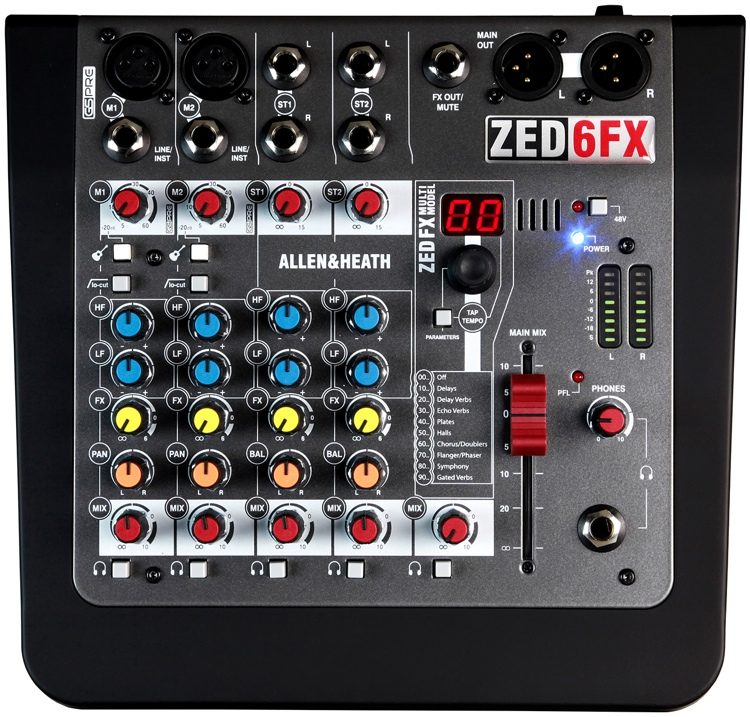 Allen & Heath ZED-6FX is implemented in a compact package and has six input channels, plus an integrated effects processor. Among the key technical characteristics of the device, it is worth noting a pair of microphone/line inputs with separate XLR and TRS jacks, a pair of stereo inputs on jacks, monaural TRS inputs with the option of direct connection of a guitar, a cut-off low-pass filter on two mono channels. For condenser microphones, 48V phantom power is provided. There are also 2 GSPre mic preamps with low noise and high margin, which provide "warm deep sound". Each stereo and mono channel has a 2-band equalizer. In addition, we mention the robust steel case and the universal built-in power supply. Over 100 high quality presets are available. All this at a very affordable price.
Features: 1 x 60mm Master Mix fader, 6 channels, 2-band equalizer per channel, 24-bit Multi-effects with 100+ presets
Pros:

best sound quality, quality assembly, thoughtful interface
Cons:

limited equalizer, few microphone inputs, no monitor output
---
Mackie Mix5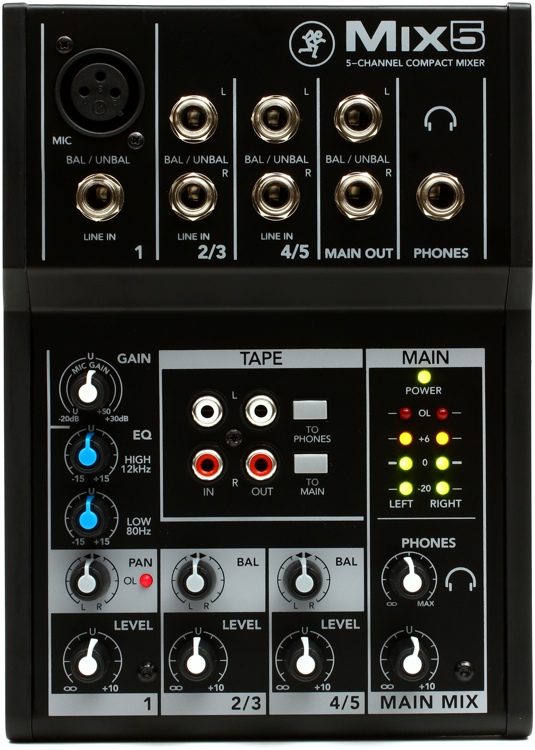 Mackie Mix5 belongs to the category of compact mixers. This is another alternative to bulky studio remotes for universal use. They are needed for use by musicians "on the road" for a quick connection between a couple of instruments and a microphone. Alternatively, such an audio mixer is useful at home – for example, to mix several tracks. If a user has good active monitor speakers at home, they would like to connect a stationary computer, laptop and vinyl player to them without the help of expensive receivers or amplifiers. Mix5 copes with this task perfectly.
The remote is quite small, comparable in size to the iPad Mini. The front panel is made of a sheet of metal coated with matte black paint with a small texture. The side parts are made of plastic with a kind of decorative similarity to the ventilation holes.
There is a four-segment dual indicator of the overall sound level, as well as a power indicator. The power supply is external and is connected by a proprietary three-pin connector. Unfortunately, the remote control does not have a power-off button. The layout of the remote control is typical for compact models. The group of connectors is located on top of the front of the remote, and on the rear panel, there is only a power connector.
Features: 5 channels, 1 mic input (linear with studio-grade audio), 2-band equalizer, phantom power for condensate microphones
Pros:

clever design, range of user capabilities, robust housing
Cons:

noise from phantom power on channels is possible
---
Small Mixing Board Feature Comparison
All of these models have approximately equal sets of positive and negative characteristics. To illustrate, we have selected here proven and well-peer-reviewed equipment from leading brands of audio equipment. Buying such audio mixers, users can rely on portability, convenience of everyday use in any environment, a large number of effects. At the same time, there may be some inconvenience in the assembly, which is typical for budget models from time to time. It is worth considering the fact that compactness leads to the obvious absence of a number of functions, which creates certain inconveniences for more ambitious and complex user tasks.
Conclusion
Any of the listed models of small-sized audio mixers have sufficient functionality to satisfy the basic needs of a musical group on a tour for live performances or to complete simple studio tasks at home. All this is complemented by interesting effects in large numbers. That is, it is worth studying each model in more detail in a personal order to make a final decision. But the choice, in any case, will be of approximately equal quality. It's all about user taste.