What is important in the negotiation process and in business conferences? It is important that each side of the conversation and each individual participant have the opportunity to express their opinion, make suggestions, and be heard by all. It is also important that a comprehensively meaningful polylogue is established.
And now let's try to understand what is required to achieve a result in this case. First of all, we are talking about human qualities and the organization of the communication process. Only strict regulations and openness to discussions, willingness to give the floor to every person leads to success. And not just success, but a critical discussion of each issue or idea. Testing the topic for strength is the key to success. The same is true for the clarity of factual reporting.
There is another side to the issue that is more prosaic. We are talking about technical equipment. Multimedia boards are designed to demonstrate ideas and are a key component of meetings and presentations in our time. Video calling keeps you full contact with partners who are not in the office or conference hall. And so on.
And it is also important that every person in the room can speak clearly. And for this, we need specialized boundary microphones. I propose to talk about them in this article.
What are the boundary microphones?
The boundary microphone is designed specifically for conferences and events of the negotiation format. It has a special design for such purposes. The best boundary microphone is characterized by the presence of a capsule, which is located extremely close to the surface of the wall, ceiling, floor, partition, and so on. It usually has an omnidirectional pattern. This allows you to capture the hemisphere of sound around. That is, the design provides real sound acoustic space in an almost perfect format. Sound reflections are virtually eliminated, and this helps to achieve purity.
I note right away that such microphones are not needed in individual cases. For example, there is no need for small rooms where you can get by with other types of standard sound input equipment. That is, here separate microphones and speaker settings for each person are not needed. It's quite a different matter in large meeting rooms. The equipment of such premises with boundary mics is a mandatory standard.
In general, let's focus on best boundary mic options that deserve your attention. If you plan to equip the conference room with a set of microphones of this type, then you can safely choose from among the models that I supply below. I tried to choose all the best and not only the most expensive at the same time.
The best boundary microphones
Crown PZM30D
This condenser boundary microphone is a manufacturing standard for this category of equipment. Such microphones can be safely selected if there are no clear requirements or preferences. Decent sound quality, ease of use, and reasonable price are offered, regardless of the scope: speech, individual instruments, or music performed by the orchestra. The model is characterized by high frequencies and uniform polar response. The user can adjust the sound of the microphone according to the situation using the built-in switches that are displayed on the body. Simple design fits well into the space of the workroom.
Features: Hemispherical polar pattern, 20-20000 Hz, 150 dB Max SPL, black color
Pros:
universalism;
reliability;
high-quality output sound.
Cons:
a slight response is possible in some cases.
---
Audix ADX60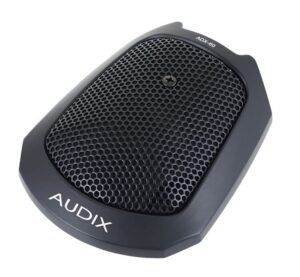 Moving on. I suggest you pay attention to another universal version of the best boundary tool for a wide range of tasks. It is used to voice music, theater, wedding ceremonies, work in conference rooms, sermons in churches, and so on. The model is characterized by a high sensitivity index. It sensitively generates sound in accordance with the distances and specifics of the surrounding space, due to which it sounds good in any acoustic conditions. The frequency range is wide enough to use it comfortably for all everyday tasks, where you need a good and distinct sound in a large space. Designed in such a way that it is convenient to position it for any tasks and needs. For operation, a phantom power of 9-52 volts is required. Included, the microphone is equipped with a 25-inch microphone cable and a phantom power adapter (aps-910).
Features: perfect for live sound, recording productions, theater ceremonies, wedding teleconferences, a conference room? 50-18000 Hz, aps-910 and cable included
Pros:
flexible settings for a wide range of tasks;
robust design.
Cons:
boundary microphone price is relatively high.
---
Audio-Technica PRO 44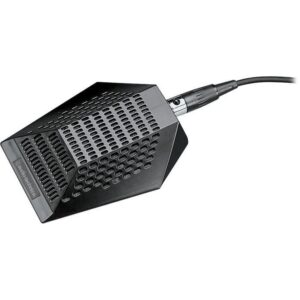 This is another one best boundary microphone option to choose from. The unidirectional polarity of this microphone provides a wide range of possible user options. Among other things, it is purchased for installation in conference rooms, departments, and so on. A smartly designed, low-profile design adds practicality. Sound quality is considered one of the best in this price category. Strict design in black color fits perfectly into the "office" design. The case is made of impact-resistant materials, and this expands the scope of the device, as well as its relevance in the market. Also, this condenser boundary model is characterized by the availability of autonomous electronics to avoid the need for external power sources. A wide range capacitor with a minimum weight membrane is responsible for a high level of performance.
Features: Cardioid Polar Pattern, low profile, strong case, phantom power
Pros:
versatility;
mechanical resistance;
clear sound.
Cons:
requires pre-adjustment for a specific use situation.
---
CAD U7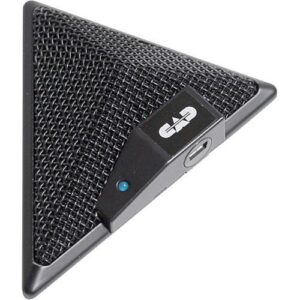 Another portable and very versatile boundary microphone for all occasions to your attention. The developers thought through every aspect of the device in order to make the microphone catch speech perfectly accurately and convey the understanding of what was said to all listeners without reference to the environment of the room. This is an important aspect of conferences and business meetings with a large number of participants. At the same time, the microphone will be useless for any tools, and this should be considered when buying. Everything necessary for work is supplied, for example, a USB cable. This best boundary microphone is considered one of the most budgetary in its category, but without compromising the overall quality of operation.
Features: 360 sound coverage, USB cable included, speech frequency response, low profile
Pros:
versatility;
portability;
speech quality.
Cons:
unsuitable for playing instruments.
---
Shure MX391/0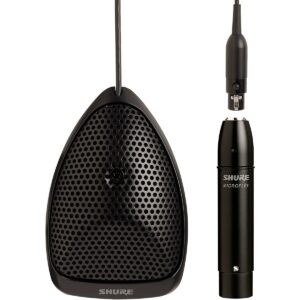 I continue with the best that I managed to find on Amazon, with your permission. Shure MX391 can be considered an unobvious, but extremely effective best boundary microphone. And this model deserves such a status, even taking into account the fame of the brand. The thing is that judging by the surface, there are no differences from other good models right away. But if you dive deeper into the technical specifications, there is a lot of interesting things. It is made in such a way as to ensure clear sounding of speech in a wide frequency range, and this solves the issue of audibility for rooms of any scale. If you listen carefully, the sound can be described as "better than good." It is also worth noting the equipment of the device: high-quality silent membrane switches and LED indicators for transmitting sound over long distances. A cable with a 4-pin connector is supplied. The price of this boundary microphone for different tasks is not much higher than analogs, but this is a good investment for durability and efficiency. A large number of users emphasize this.
Features: 4-meter cable with 4-pin mini-plug included, the flat vocal frequency response for unobtrusive appearance, rubber strain relief
Pros:
stylish appearance;
reliability;
accurate sound transmission over long distances.
Cons:
microphone price is above average for this category.
---
Crown PCC-160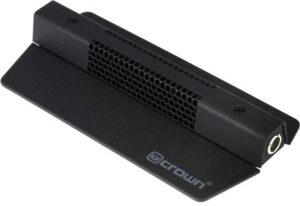 It's time to move to the higher category, and here I was also able to choose for you the most optimal options in terms of price and quality. This is a fairly expensive model in the category of condenser boundary microphones, but it has impressive functionality for all occasions. The manufacturer has implemented a bass tilt switch for individual working situations, a built-in phase noise suppressor that most models are not equipped with, and much more. The super cardioid polar diagrams provide clear sound capture within the "visibility" of the microphone. The accuracy of the transmitted speech will be very high at the same time. Third-party noises are cut off automatically. If the user chooses the best, he needs to overpay quite a bit for a high-end product, which is the Crown PCC-160.
Features: phase noise and extraneous noise suppression system, supercardioid polar radiation pattern, 40-18000 Hz operating range, adaptability for the largest rooms (for example, theaters)
Pros:
accurate sound capture;
boundary microphone for large scale speech coverage;
the almost complete absence of phase and third-party noise.
Cons:
reasonable high price of this ic.
---
Beyerdynamic BM43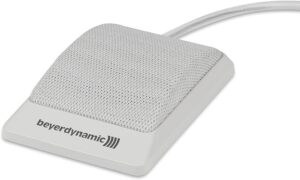 Let's move on to portable solutions that can always be at hand. This model will not cost too much, but it will provide decent sound quality and clarity of the negotiation process in any condition. An important feature is a practical portable design. This boundary microphone is designed for small-scale events, such as small round tables, studio conversations, and video conferencing. That is, he is for any talk in a chamber setting. This best boundary mic is equipped with a built-in noise reduction filter, which provides high definition sound from a distance. The microphone is used to mix speech, and the lightweight and pleasing design is a nice addition to the overall low-key magnificence that the device makes.
Features: 40-2000 Hz operating range, speech mixing capability, Half-spherical polar pattern, RFI-proof due Studio technology
Pros:
Cons:
not suitable for large-scale events.
---
Samson CM11B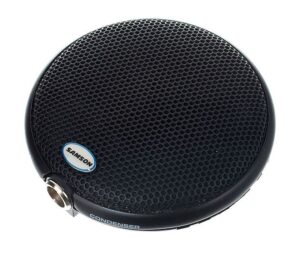 This best boundary mic provides clear sound capture in the range of 180 degrees. In accordance with the user concept, this equipment is focused on meetings of the small or medium format of 6-12 people at a round table. The manufacturer paid due attention to the design of the microphone, and it is characterized by a low profile. The user will be visible during the conversation. An important technical feature is the built-in high-pass filter and the ability to control bass. The microphone removes vibrations from the surface that is natural for conversation and ensures a clear voice in all situations. This boundary microphone requires phantom power but comes with a 30-foot cable. It will be a useful addition to workflows. This is not a super-powerful solution in general; it provides decent performance and distinctive sound for small-scale tasks in everyday use. And consider more than a decent price.
Features: low profile, high-pass filter, bass control, vibration reduction, 3-foot cable included
Pros:
reliability;
sound clarity;
stylish design.
Cons:
this boundary mic is not for big events.
---
Crown PCC170SW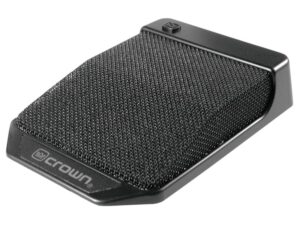 We are almost close to the finish line, but a couple of cool solutions in my pocket are still in stock. I suggest everyone pay attention to this smart and extremely universal model, which is able to provide the purest sound of speech in almost any environment.
The developer has set the task to create a solution that does not recognize compromises. That is, users should not take into account the number of speakers, the scale of the room, the specific application of the boundary microphone. This model is designed to cope with everything that may be needed.
It provides loud and clear sound and works with an extended frequency range. It is worth noting that the dimensions of the microphone capsule are quite small. This leads to the fact that the frequency response will be transmitted smoothly. Phase interference during operation is excluded. Among the additional functions, a set of LED lamps is also noteworthy, which falls to 70 dB if the device is turned off for an improved power system.
This microphone is an uncompromising solution for professionals.
Features: reduction of background noise and acoustic environmental factor, CROWN PC technology, programmable silent working membrane switch
Pros:
clear sound;
wide functionality of this boundary mic.
Cons:
---
Movo MC1000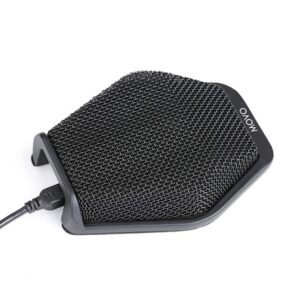 Almost done. However, the list would not be complete without this interesting boundary mic model. A simple and practical, but the stylish design will be taken into account at a glance. It is characterized by the presence of three capsules and a super cardioid polar diagram. The scope is universal, but more often it focuses on online tasks: webinars, business negotiations, group conferences. This does not mean that it cannot be used offline. The only thing is that it may not be suitable for work in the largest rooms.
The sound capture radius is 180 degrees, and the capture distance is up to 6 meters. The sound quality of speech remains high and accurate at the same time, and third-party noise is cut off automatically. This is a stylish, practical, and very reliable solution for business negotiations for every day.
Features: best boundary mic solution for video calls, long capture distance of clear sound, convenient integration with all popular software for video chat
Pros:
reliability;
sound clarity without third-party interference;
stylish design.
Cons:
focused on video conferencing, and not suitable for large-scale offline events.
---
Conclusion
My searches and market research on boundary microphones have shown that understanding the unique aspects of individual models is an important role in the success of a choice. There are a lot of really high-quality solutions available that will last a long time and provide excellent speech sound. However, none of the models will provide 100% universality. Nevertheless, the boundary microphones listed above are a reasonable cut of the capabilities of this category, which will help everyone to choose a worthy device for any needs. For example, large-scale conferences, small meetings, and video chats. Mutual understanding between partners will always be found!