Customers need special gear to create fantastic podcasts. Or it can be a digital mixing console for live musical performances. The device can be universal to suit different situations.
But one should understand what to purchase to apply the device properly and take the most of it in different cases. What mixers are more appropriate for narration tasks? What type of mixing console is better for live gigs or worship facilities?
It's important to select the proper gear to meet demands. Pay attention to different categories and budget selecting the right console. There are two kinds of mixing consoles: analogue and digital ones.
Those who are on a tight budget can be interested in the analog mixer that is much cheaper and not so sophisticated as digital device. It's effortless to understand what to do intuitively dealing with such type of gear. However, analog devices aren't so flexible in comparison with digital equipment. It will probably suit the demands of your home studio but not enough for professional application.
The choice of the right device depends upon the needs of user though there are other aspects worth considering.
Mackie Mix8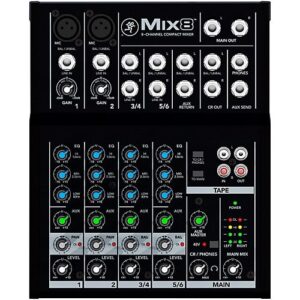 We will start the survey with analog mixer that is often advised for people with limited budget or those who need the device of this kind at home but not ready to spend a lot on it. It offers the range of simple features and will suit the music performers, authors of songs and street musicians. It's also good for rehearsals and small events. It's robust and small enough to be placed into the backpack. The consumers use it for acoustic sets or recording of duo and trio bands. It can be a great acquisition for home studio.
Features:
8 channel device
6 inputs
Phantom power to be used with condensers
2 additional channels employed for stereo equipment
Equipped with high quality components
Indicators of level of signal
3-band EQ
Pros:
It is highly reliable with low noise
Sound signal of studios quality
Solid build
Compact and portable device
Cons:
Some customers complain of noise
---
Allen and Heath ZED-10FX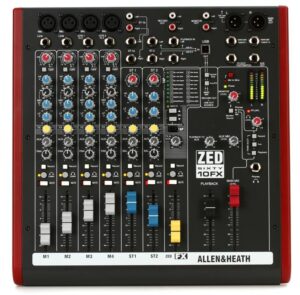 The line is the most popular one among similar products manufactured by this brand. It's a bestseller. It's ideal for singers and small bands, sound engineers and production studios. Being a dream of any guitarist, it's a good solution for home studio. The USB connectivity makes the item very convenient. DAW recognizes the connection at once. 10FX is very flexible, hence irreplaceable for live performance. The most common configuration is when 2 channels are used for vocal sound, inputs 3 and 4 for lead and bass guitar while the first stereo pair is employed for a laptop or keyboards.
Features:
2 channels
2 AUX on each channel (1-FX, one is available for sends)
3 band EQ with mid-range filter on mono channels
2 band EQ on stereo channels
Integrated FX processor with 16 algorithms that can be applied
Pros:
Compactness
48V phantom power making the sound warmer and more transparent
Impressive flexibility
Noiseless performance
The sound is excellent
Cons:
Audio interface is only stereo.
---
Mackie Pro FX12v2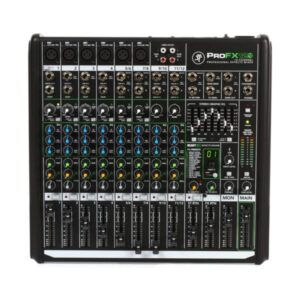 Those who need the analog gear for smooth work should select this product. This is an analog mixing console for versatile use.
It includes a range of characteristics required for live recording delivering studio sound.
Features:
Equipped with 16 effects
12 inputs
6 preamps
Embedded USB interface, set up easily through PC/Mac
100 Hz low cut filter
48V phantom power
60 mm faders
Pros:
6 low noise mic preamps
Comes with Tracktion recording software
Very solid design according to "built-like-a-tank" technology
Cons:
There is only one main output
Line level inputs provide insufficient gain for wireless microphones
---
Yamaha EMX5014C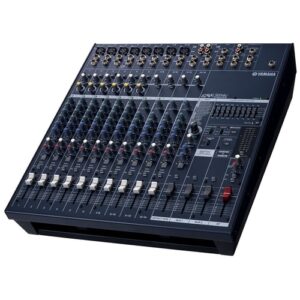 This analog console combines everything necessary in one compact portable device. This is a highly efficient mixer equipped with digital effects. It's a rackmountable item for your home studio and It's very versatile. It came instead of its predecessor EMX5000-12 model, but offers higher quality and larger functionality. It's also more convenient featuring more goodies than you can get somewhere else for the price. It's powerful enough to cope with 2 monitors and 2 mains. The device can be used at home or at smaller churches where instrument tracks are played instead of live musicians for vocalists singing over performed music. Any instrument can be incorporated at any time if necessary. It's wonderful solution for a small fee and a great option for home studio.
Features:
8 mono inputs
4 stereo inputs
12 inputs
2 power amplifiers
Solid build
3 band EQ
Pros:
Exceptional clear sound
Simplicity of use
Effective compression
Excellent EQ presets
The possibility to customize own presets
Cons:
Some customers think it's expensive.
---
Presonus StudioLive AR 16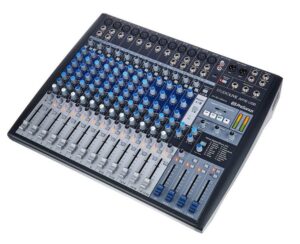 Mix and record live at your home studio with this device.
Features:
Includes 8 mono and 4 stereo inputs
60 mm fader
2 inputs for instruments
1 stereo channel with RCA
Bluetooth 4.1 input
A stereo effects engine with 16 effects
Pros:
Direct instruments connection (no need to route instruments via external gear prior to their connection)
Full integration with advanced software
Great for home application
Integrated USB
Sleek looking design
Compact
Convenient for navigation
Cons:
Some users noticed small latency
The faders are cheap
---
Zoom live track L12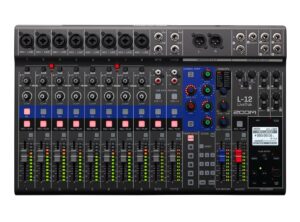 This piece of gear is a combination of many devices therefore it presents wide functionality. It's excellent for use at home – the consumer buys just one item instead of several ones. It's universal and used for live sets as well. It's possible to use it with PC, iOSgadgets creating mixes. USB connectivity makes the device very convenient. It's a perfect acquisition for your home studio.
Features:
12 channel device
iOS compatibility (lightning is required)
8 high quality micpreamps with low noise level
3 band EQ with mid-range/low-cut filter on each input channel
Pros:
Capability of recording to DAW and SD
16 inbuilt effects with possibility to customize them
The device inludes talkback mic
Compactness
Cons:
There are some problems with recording in 96 KHz
---
Allen & Heath QU-SB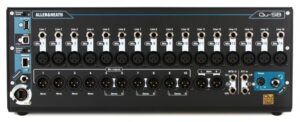 The device is presented in compact rackmountable format. This is an app controlled rack mixer that doesn't have a usual top panel hardware control surface. The connection is performed via Ethernet. Though the system doesn't have wireless router, it's not a big problem in case you're planning to use it at stationary studio. It can even be wired into your home network.
Features
16 line/mic inputs
4 mono and 3 stereo outs
4 built-in effect processors
The capability to expand the system up to 38 ins
USB connector
Network connector
Pros:
The effects are configurable
Comprehensive digital mixing functionality
Smoothness of EQ processing
The design is solid and sturdy
Excellent for live use
Cons:
The system doesn't have own wireless router.
---
Soundcraft UI 16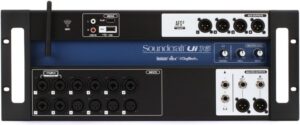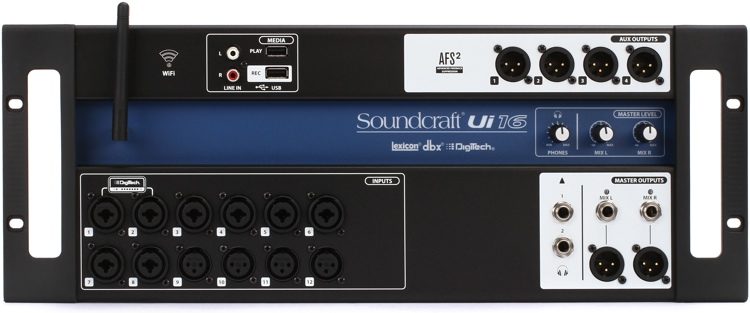 This digital device is easily operated. One doesn't need technical knowledge to get digitally mixed track done remotely via wireless connection. The control is done with mobile gadget. This is the model with fantastic concept behind it but is its implementation good enough? The customers have a chance to check it. This is a budget mixer with lots of useful features and incredible flexibility.
Features:
12 ins
In-built USB media player
Recording to USB driver
2 USB ins for importing and exporting files
HDMI output
Cross platform architecture supporting remote control from 10 devices
4 band EQ
Pros:
Easy control
Excellent sound
Transportable thanks to robust design
Detailed adjustment of sound
Output channels equipped with low cut filter, compressor and noise gate
Cons:
The consumers complain of Wi-Fi dropouts
Designed with flaws
---
Mackie DL32R

It's also a rackmounted device with capability of control from iPad with help of special app. The mixer was made for use at large venues.
Features:
32 channels
The inputs are equipped with advanced mic preamps Onyx with wireless control
Headphone jack
USB-B interface for computer connection
Pros:
Capability of recording to external media
It's an excellent solution for home studio
Cons:
The recording is performed only at 48kHz.
---
Behringer X AIR XR18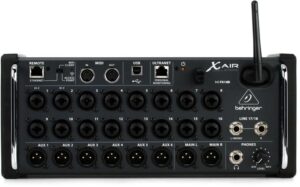 Compactness and low weight are two huge benefits of this device. Made as a stagebox, this form gives the owner the possibility to place it anywhere he wishes. It's rack-mountable and this is very acute in the conditions of limited space at home. It's not a problem to place it even in the smallest room.
It doesn't have faders, buttons as other devices. The users can work with sound from different points. A standard remote control can be placed anywhere. Forget about running wires. This flexibility is another thing that is highly appreciated by customers.
X Air Series Mixers include four digital mixing consoles. If one form is a stagebox the other is designed as a desktop model with a special stand for iPhone, iPad or some other tablet.
Features:
18 ins
16 mic/line channels, 2 line channels
8 outs
A headphone out
Midas mic preamps
Pros:
Embedded USB interface
Inbuilt wi-fi router
The capability to control it from mobile iOS/Android devices
Very sturdy
Cons:
The consumers haven't mentioned any.
---
Conclusion
You'll have to pay more for digital mixing console, but the freedom it gives is worth the money spent. It's packed with lots of features you will never find in the analog console. Therefore, it gives more flexibility to the person operating it. At the same time, they are more complicated so it takes time for the person to learn to use it properly. For this reason, usually, pro sound people deal with them. The mixing console for home studio is simpler but much depends upon the level of consumer. Technically savvy customers are free to choose what to use. They can cope with digital and analog models without effort.