The Japanese brand Yamaha has a long tradition of developing and producing musical instruments and equipment. "Development" is the keyword here. The company invests heavily in the creation of new components and devices that create trends in the music field and create an army of imitators and followers from among other brands. This also applies to the category of mixing consoles. Today, in the Yamaha product catalog you can find genuine diversity in all price and functional categories. Everyone can find a digital, analog or powered mixer that meets the smallest needs. Our goal now is to tell everyone about the best models of Yamaha mixing consoles and help make a choice.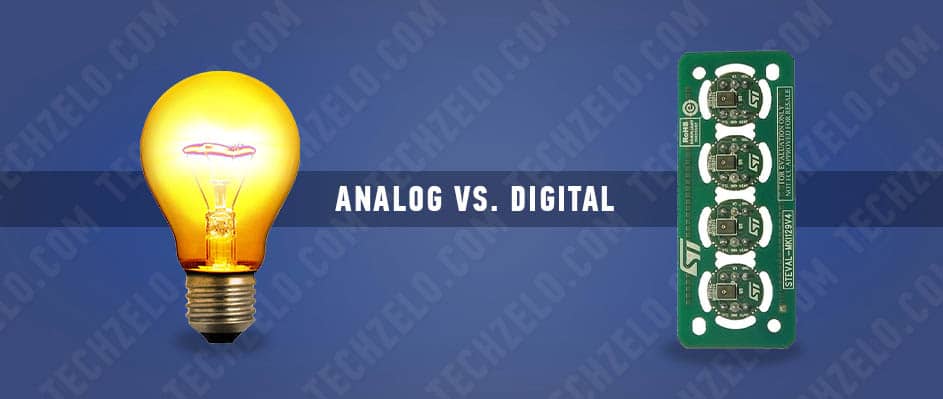 Analog Mixers
Yamaha AG06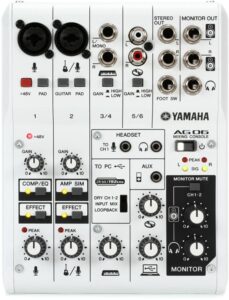 A series of AG mixers are designed for those who actively broadcast on the Internet, create podcasts and online broadcasts. The six-channel USB mixer Yamaha AG06 is the main model of the series. The mixer is lightweight and compact. The dimensions of the device are 155 × 63 × 202 mm, the weight does not exceed one kilogram. The AG06 fits easily in a bag or backpack, which will appeal to mobile musicians, often forced to move from place to place and work in the field. The AG06 model is equipped with 6 input channels: microphone combo XLR, instrumental combo XLR, line mono/stereo jacks for connecting other devices and mono/stereo AUX. The first and second channels are equipped with gain and volume controls, the third – only volume. Using the knobs, you can also adjust the volume level of the computer or AUX device, the sound volume in monitors and headphones. Four outputs: stereo output, output to monitors, a pair of headphone outputs. XLR input connectors are equipped with D-PRE preamps. The company's engineers strictly differentiated the use of the first two inputs of the Yamaha AG06: CH1 is designed to work with vocals, and CH2 is for the guitar.
Features: 6-channel mixer / USB audio interface, built-in virtual guitar cabinet 2-track audio and 24-bit / 192kHz playback, D-PRE preamps, LOOPBACK function for streaming
Pros: portability, a lot of inputs and outputs, podcasting inputs section, convenient connection of smartphones and tablets
Cons:

phantom power (+ 48V) is available on only one channel, inconvenient DSP effects, inconvenient indication of the incoming signal
---
Yamaha MGP32X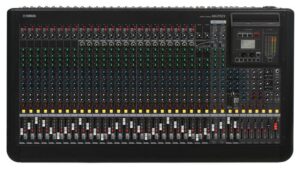 The 32-channel mixing console YAMAHA MGP32X is equipped with a host of new interesting features and will be in place for most sound engineers in the studio and on stage. Based on many years of working experience in developing purely new premium analog equipment, YAMAHA experts have developed new Class A mic preamps for expert use in High End recording tools. Using Darlington's inverse circuitry, the new D-PRE mic preamps provide rich, smooth sound. This gives the YAMAHA MGP32X mixing consoles a great advantage over the consoles in its class. X-Pressive EQ provides analogue authenticity, emphasizing the uniqueness of the expressive sound of classic analog equalization modules.
Features: 24 microphone inputs with 48V and HPF phantom power on each channel, 32 line inputs, D-PRE preamps, X-Pressive EQ equalizer, 1-knob Comp compressors
Pros: performance, sound reproduction of vintage analog mixers, robust and stylish housing, precise control
Cons:

no foot-switch for FX
---
Yamaha MG10XUF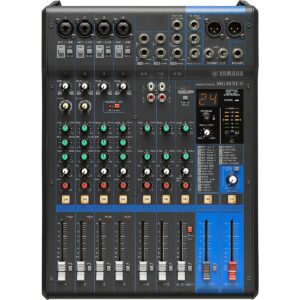 Yamaha MG10XUF is one of the latest models in the Yamaha MG series. It is equipped with discrete D-Pre microphone preamps, upgraded compressors and a 24-effect DSP processor based on SPX algorithms. Also, the device is noted for the presence of a dual-channel 24 bit / 192 kHz audio interface for the USB 2.0 bus. Like other models in the series, the high-quality MG01 operational amplifier developed jointly with the manufacturer of semiconductor devices specifically for the consoles of this series, is presented here. The model is equipped with digital multi-effects Yamaha SPX processors with a choice of 24 effects. SPX will help color your mix by adding depth to your speech programs and atmosphere in a live group performance. In particular, quality reverb and delay expand the spatial scope of the sound with genuine realism and naturalism.
Features: D-Pre Microphone Preamps, High-Quality Operational Amplifiers, Phantom Power and Discrete Decrease Sensitivity, Built-in SPX Effect Processor, 24bit / 192kHz USB Audio Interface
Pros: high sound quality, a good set of effects, stylish design
Cons:

not for a beginner
---
Powered Mixers
Yamaha EMX7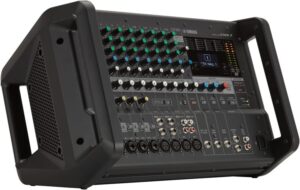 Yamaha EMX7 capabilities will suit those musicians, artists, and DJs for whom sound quality and ease of use are paramount. The model is the latest part of the EMX series and differs from earlier models in the increased number of channels, as well as the increased output power of the built-in amplifier. The developer also offers advanced functionality that includes a powerful DSP effects processor and acoustic feedback suppressor, a 9-band GEQ and a set of presets for use with various Yamaha speakers.
Features: high-performance 2-channel Class D amplifier with overload protection, 12 input channels (4 mono channels and 4 mono/stereo), 3-band equalizer on each input channel, 9-band graphic equalizer, presets for working with various Yamaha passive speakers
Pros: high performance and functionality, practical design
Cons:

good sound quality, but there are better counterparts in this niche
---
Yamaha EMX2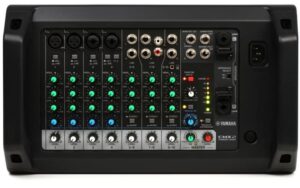 The model is a combination of a mixer and an amplifier, which is designed to connect speakers. Yamaha EMX2 is one of the best solutions for non-professionals, making it easy and convenient to carry out fairly complex tasks. Also noteworthy is the combination of impressive functionality and portability (as well as low weight). This model is great for sound engineers who spend a lot of time on the road. It is possible to connect up to 4 microphones for playing vocals and musical instruments.
Features: 10 channels, 4 phantom powered XLR mic inputs, 1-Knob Master EQ control, Four Yamaha branded reverbs with four effects each – Room, Hall, Plate and Echo, Three-position EQ knob, Feedback Suppressor Feedback Suppressor
Pros: portability, built-in amplifier, flexible switching capabilities
Cons:

monitor section requires powered monitors
---
Yamaha EMX5016CF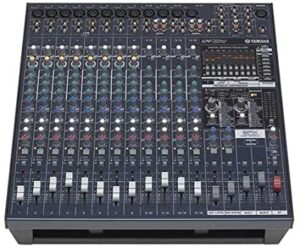 Yamaha EMX5016CF is a compact mixer + amplifier, has the functional characteristics that provide the best quality sound required in a live sound environment. Yamaha EMX5016CF can be used on large venues both indoors and outdoors.
The mixer has 16 input channels: 8 mono mic/line inputs plus 4 stereo pairs that function as mono mic or stereo line inputs. Such a system allows you to connect a larger number of microphones or line signal sources if necessary. Each microphone channel is equipped with a 3-band graphic equalizer.
The mixer capabilities are greatly expanded by a large number of additional input and output connectors, and it is possible to connect additional devices or integrate the mixer into large installation systems. And although the Yamaha EMX5016CF is equipped with all the necessary built-in effects, the presence of AUX and EFFECT connectors allows you to route the signal to external processing or monitoring systems.
Features: 8 mono and 4 stereo input channels, 2×500 W power amplifier (4 Ohms), 4 AUX lines on each channel, 2 SPX effects processors (32 bit with 16 programs), compressor for mono channels
Pros: high power output, versatility, portability, wide functionality
Cons:

lower reverb quality compared to stand-alone devices
---
Yamaha EMX5014C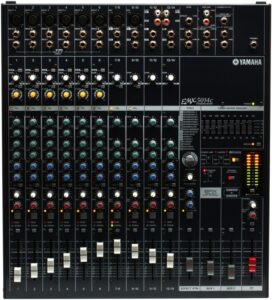 YAMAHA EMX5014C is an amplifier mixing console that combines the mixer, amplifier, graphic equalizer and digital effects in a compact and mobile device. There is no need for complicated setup and hundreds of wires. The user just need to plug and play! The whole system is optimized, so getting great sound in any environment is very simple. Excellent sound thanks to painstaking design and choice of components. Active mixing consoles of the EMX series are equipped with a forced-air cooling system that increases its reliability and maximum power even in difficult conditions.
Features: Output power: 500W + 500W / 4 Ohm, 350W + 350W / 8 Ohm, 14 channels, effects processor SPX 32 bit, compressor on mono channels, FCL system for searching and removing feedback
Pros: favorable price, outstanding effects, thoughtful design, wide functionality
Cons:

relatively unstable channels
---
Digital mixer
Yamaha RIVAGE PM7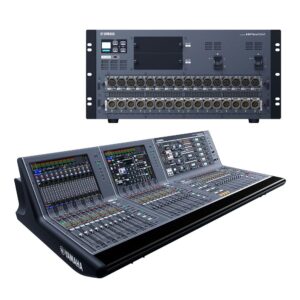 RIVAGE PM7 digital mixing console is based on the popular CSD-R7. It is probably the best Yamaha digital mixer, and it features an integrated DSP processor and also includes rack I / O modules, a network card, and the CSD-R7 console. The sound level meets the standards of the flagship Yamaha RIVAGE PM10 system at the same time. The consoles of the RIVAGE PM series have the function of automatically mixing the microphone signal.
RIVAGE PM7 is equipped with 120 input channels, 60 mix buses, 24 matrices and a set of 48 plug-ins for realizing any sound tasks. To control river modules, the CSD-R7 console can work with several types of audio networks simultaneously. The device can be connected via the TWINLANe optical network and used with 256 audio channels simultaneously. It is also possible to work with 5.1 sound and broadcast monitoring. The CSD-R7 console is equipped with a large number of assignable buttons, touch controls and 3 groups of 12 faders that work together with 2 large touch screens located on the top panel.
Features: 120 input mixer channels, 24 matrices, 8 analog XLR inputs/outputs, buses: 60 mix, 2 stereo, 2 cue, 1 mono
Pros: sound is close to the best analog mixers, wide functionality, and flexibility of settings, a number of effects
Cons:

price, for professional use only

Also see this item:
---
Yamaha RIVAGE PM10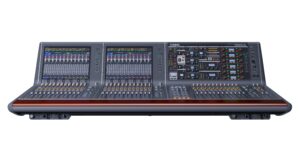 RIVAGE PM10 is Yamaha's innovative development in its niche. This is a large-format and wide-functional digital mixing system, which has the status of the flagship product of the company. The Yamaha RIVAGE PM10 includes a CS-R10 control panel, equipped with two 15-inch touchscreens, has 38 faders and 48 user-definable buttons, as well as 16 encoders. There is also a DSP-unit DSP-R10, which has two slots for MY-boards and four for boards of the HY line. Also worth mentioning is the RPio622 Patch Box, the three available types of RY Patch Cards, the HY256-TL Patch Card with TWINLANe, and the HY144-D Patch Card with Dante.
Among other features of the new items, it is necessary to note the completely new hybrid microphone preamps that provide natural and clear sound in accordance with the proprietary philosophy of "Natural Sound". Noteworthy is Silk exclusive processing function, which has switchable "Red" and "Blue" modes and a "Texture" knob, which helps shape the sound at the input stage, adding "shine" or density as needed.
Features: hybrid mic preamps, Silk processing function, 4-band parametric equalizer on input channels, two virtual instruments for dynamic sound processing
Pros: high-quality sound, extremely wide functionality
Cons:

price, for professional use only
Also see this item:
---
Yamaha CL5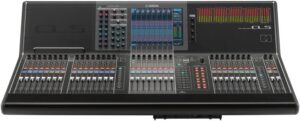 CL5 digital mixer is a professional-oriented console manufactured by Yamaha. This model belongs to the top devices in its category, they possess the most advanced technologies with the ability to update and reference sound quality. The main features include a software mechanism that provides the sound engineer with the ability to customize a unique sound. You should also take into account one of the best mixing digital console control and menu navigation interfaces in the industry, many sound processing functions (24 BUS buses, 8 studio plug-ins, 46 effects), a convenient control interface with a large touch screen, analog ports (8 inputs and 8 outputs XLR), wireless control using a computer or tablet.
Features: contra logic interface, NXDT104 Dante automatic error recognition and correction system, amplification compensation function, automatic mixing, a set of studio plug-ins, 46 studio stereo effects, quick output of information about all parameters for used groups and channels
Pros: colossal scale of user capabilities, convenient automatic functions for studio and stage activities, attention to detail
Cons:

single defects in the functioning of individual functions and effects are possible
Also see this item:
---
Yamaha QL5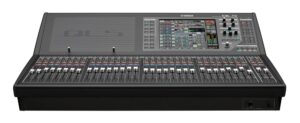 The QL series was originally focused on compactness with a wide range of professional capabilities. QL5 is the best line mixer, which combines in one device all the means of mixing, processing and routing signals necessary for small and medium-sized live sound systems, speech broadcast systems at corporate events, installations and much more. The model has 64 mono and 8 stereo mixing channels, as well as 16 mixing and 8 matrix output buses, 32 inputs / 16 outputs. The device can be mounted in a hardware rack. This digital console maintains high purity of audio signals throughout the signal path and provides a reliable sound foundation for the full use of first-class embedded processors.
Features: large touch screen with excellent viewing angle and visibility during the day, touch-and-turn control with customizable control channels, integrated Dante network with primary / secondary ports for backup or serial circuit 2 MY card slots for additional I / O expansion or processing
Pros: high degree of reliability, a wide range of user capabilities, fairly intuitive controls
Cons:

limited selected channel controls
Also see this item:
---
Yamaha TF5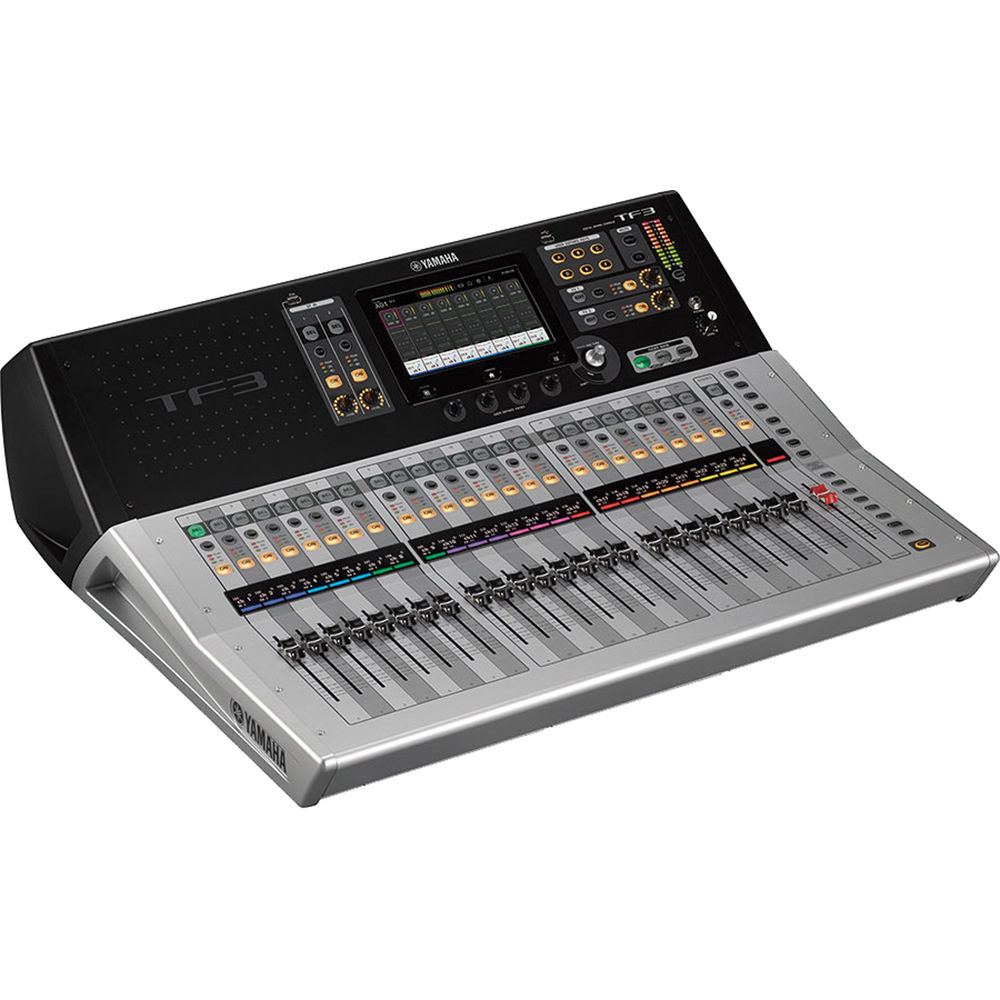 Yamaha TF5 digital mixer is the epitome of cutting-edge innovation, smart controls and elegant design in one device. This model has 32 combined microphone / line channels with D-PRE preamps, 16 outputs on balanced XLR connectors, 8 DCA groups, 100 mm motorized faders on all input channels, 20 Aux buses, large touch display with additional physical controls; expansion slot for connecting NY64-D cards. An important feature is the base of ready-made QuickPro Presets for connecting Microphones Audio-Technica, Sennheiser and Shure, which allows user to optimize the sound in accordance with the densities of the connected audio equipment and significantly save pre-setup time. The innovative GainFinder function of this digital tool provides an opportunity to set the needed signal gain level for each channel easily and quickly, which is very important when working at live concerts. This Yamaha digital mixer is equipped with a built-in USB interface with support for multi-track recording of audio material on a PC and a digital signal processor.
Features: TouchFlow Operation, 1-knob Comp and 1-knob EQ for perfect sound, GainFinder setting optimal gain levels for individual input signals, parametric equalizer and dynamic processing for each channel
Pros: Intuitive user interface, wide range of user options, stage functions of automatic tuning
Cons:

no internal routing (aux to XLR), periodic delays are possible
---
Yamaha PM5D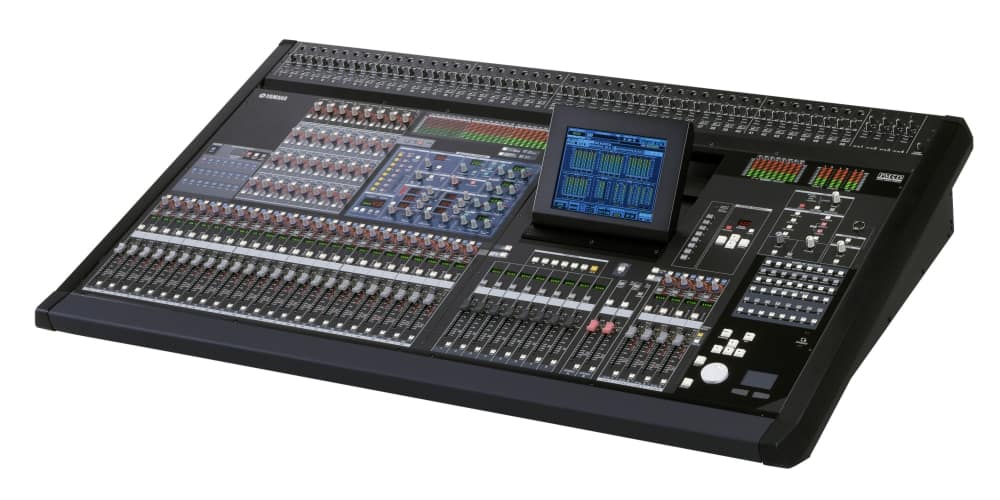 PM5D is Yamaha's professional line mixer. This is the representative of the top-end series of mixing consoles, which have the most advanced technologies with the ability to upgrade and reference sound quality. The advantage of this model in the analog circuit of the processing of incoming signals, as in classical mixers. Each signal has inserted in / out, which can be used for different inserts and clean outputs. Among the key technologies, it is worth noting high-performance preamps, special connectors for direct connection Insert in / direct out (a digital switching circuit allows you to assign them to any direct inputs/outputs), a set of studio plug-ins that can be set simultaneously on 8 AUX, and 8 effects processors also available.
Features: High-performance preamps, Insert in / direct out, DSP7 integrated circuit, VCM processors, Yamaha analog circuitry from the legendary PM series, one of the best control and menu navigation interfaces of the mixing console;
Pros: User convenience, stability
Cons:

a device for skillful professionals only
---
Yamaha DM2000VCM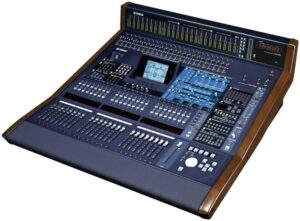 Yamaha DM 2000 VCM is the top professional digital console that fully meets the requirements of the present day. An important feature is a flexible integration with Nuendo and Pro Tools, the ability to multi-channel digital broadcasting (including via the Internet). Versatility creates a large number of analog plug-ins, REV-X reverb processors and various high-tech user elements. It is worth noting that this Yamaha digital mixer was marked by compliance with the THX pm3 surround sound standard as the very first of all. This is a proven solution for true sound professionals.
Features: High-fidelity 24-bit / 96 kHz sound, outstanding functionality for working with channels, great I / O expansion options, an upgraded sound environment control environment with the option of dedicated bass control, the ability to work with Nuendo or Pro Tools
Pros: software integration features, flexible user functionality, high sound quality
Cons:

professionally-oriented equipment only
Also see this item:
---
Yamaha 02R96VCM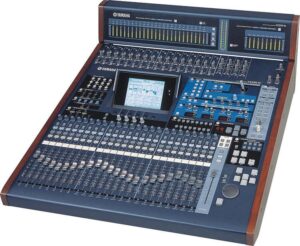 The YAMAHA 02R96VCM line mixer is a completely redesigned original 02R model that has received DM2000 mixer level sound quality as well as a full suite of advanced features and specifications. The second version has not only advanced audio processing options, but full compatibility with additional effects. Yamaha 02R96VCM digital mixer supports 24/96 format. Due to the unique combination of low cost and functionality, it is suitable for small studios, radio stations, theater halls. This mixer includes 56 inputs for connecting signal sources. Each input is equipped with a parametric equalizer, gate, and compressor. The device also has 18 tires (8 tires of additional equipment, 8 mixer buses, and a stereo bus). This console has four built-in multi-effects processors, thanks to which the user can open the whole variety of high-quality sound. At your disposal will be a multi-band compressor, modulation of new versions and a reverb. It is possible to use special expansion slots for connecting mini-cards of the YGDAI series.
Features: 40 channels, 12 mic/line XLR / Jack inputs + 4 line Jack inputs, 4 effects processors, surround panning, dynamic processing in each channel
Pros: the convenience of work, the flexibility of functional equipment, good sound quality
Cons:

relatively sophisticated interface
---
Yamaha 01V96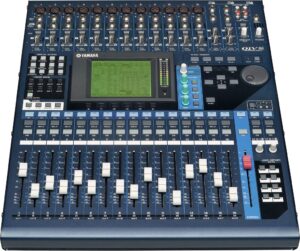 Yamaha 01V96 line mixer does not lose the flagship models in terms of capabilities, but due to the small size and convenient format, it becomes indispensable in the studio. 24 inputs, 12 of which are mic, can be expanded up to 40, 8 digital inputs, AD / CA conversion 24bit / 96kHz.
High-quality effects allow not only frequency, phase and amplitude operations, but also dynamic processing. And all this in one device and the user gets rid of many additional devices. The large LCD display provides all the necessary information. 01V96 has the ability to perform surround panning in 6.1 formats and it is equipped with a memory for 99 scenes.
Features: 99 memory scenes, 120 libraries (44 + 76 user), compressor (36 + 92), gate (4 + 124), equalizer (40 + 160), channel allocation (2 + 64), Analog inputs: Ch. 1-12 Balanced XLR, Ch.13-16 Balanced 1/4 TRS Jack, Ch. Insert 1-12, 2TR In, Analog Outputs: Stereo Out, Omni Out 1-4, Monitor Out, Ch. Insert, 2TR Out, Phones
Pros: Ease of use, high sound quality, stylish appearance
Cons:

few microphone channels
---
Conclusion
Yamaha is rightfully one of the leaders in the niche of digital, analog and powered mixing consoles. Their range fills the needs of all categories of potential users. All models represent an adequate ratio of price and quality, and very expensive models are characterized by uniquely limitless functionality. In general, Yamaha products should occupy one of the first places in the search and selection of a high-quality mixing console for various purposes.