What should one do to achieve the good sound in the home studio? It is certainly necessary to create a fully treated space to succeed. However, the choice of a condenser mic is of primary importance. These microphones have different parameters but one feature unites them all. The devices present a wider frequency and quicker transient response in comparison with their alternatives. As a result, the sound is natural and pleasant. The listeners point out clear and transparent voice after recording endeavors. It means that the search for the best condenser mic is worth the effort taken.
What to Look for in a Condenser Mic
There is a range of things one should regard if you want to find the best condenser microphone for home studio. First of all, its sensitivity is important. No matter what instrument you play, it provides an excellent result as long as it is recorded with a condenser. The intended use should be considered along with connectivity (USB vs. XLR models). One should not forget about polar options, the capability of the hardware to suppress the surrounding noises and other features described below.
Diaphragm Size and Sound Pressure Handling
The diaphragm is a vibrating component in the capsule.
It can be:
large,
small,
middle-sized.
The size of the diaphragm determines the quality of sound. The sensitivity of larger diaphragm is higher hence the sound changes considerably. At the same time, the frequency response in such mics is limited.
Small diaphragm devices are able to deal with higher SPLs. Such devices feature a smaller sensitivity that helps to solve the problem of proximity effect.
Polar Pattern and Background Noise Reduction
The polar pickup pattern defines the area of certain shape where the particular mic catches the sound, while the noise beyond that zone is, on the contrary, reduced. Each mic has its own pattern but there are multipattern mics that can change their polarity in accordance with the user's needs. Depending upon the shape and direction of a pickup, the following widespread patterns are distinguished: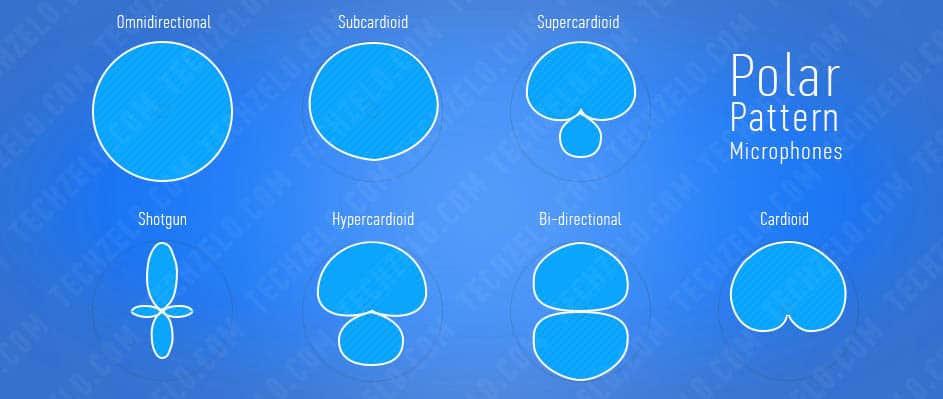 Cardioid
Supercardioid
Hypercardioid
Omnidirectional
Bidirectional
Figure-8
The most common is the first pattern as it captures everything in front of it, while the external noise is reduced. This mode helps the source not to bleed with other sources and sound separately. Therefore it is often used by vocalists and musicians playing the particular instrument. You will not hear the undesirable ambient sound then. As for less directional recording equipment, it captures sounds coming from all sides, the sounds of environment therefore often used when it is necessary to reflect the atmosphere with all its sounds.
USB vs Non-USB
As it was mentioned above, connectivity helps to make the mic universal. The USB port makes the device universal and easy to use. Hence plug&play devices conquered the market. Consumers give preference to convenience. They can get the performance in a digital format immediately. With modern developed technologies, USB devices provide excellent quality. However, this does not mean that non-USB devices are inferior to the products with USB. All professional equipment is produced with XLR connectivity. You can read more on this subject below.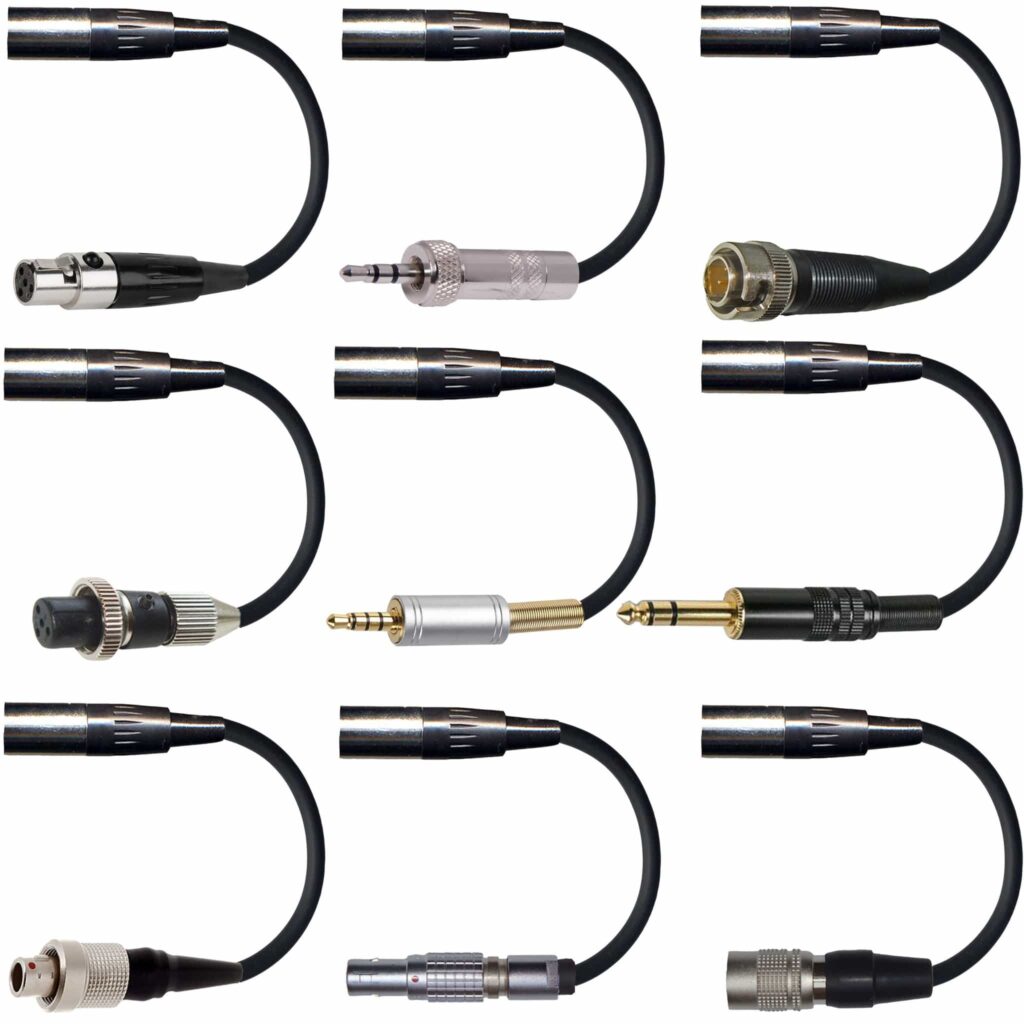 Choosing the best condenser mic for you
It's a challenging task to find the best condenser as too many parameters are regarded to determine whether it suits or not. Some of these factors have already been discussed above, while the other issues are provided below.
Let's get to find the best condenser microphone for home studio.
Price range
The price range is one of the first questions asked by the consultants when the consumer wants to purchase the mic. The price differs considerably and, for the most part, determines the quality of the hardware. However, it is possible to find the devices of supreme quality at an affordable price. It is easier to find such a device if you define your goals easily.
Connectivity
USB microphones are very widespread at present. However, more advanced specialists want to have the possibility for further manipulations – to be able to improve the sounding. Therefore they prefer microphones with XKR port. It provides more professional sounding, but its pricetag's more expensive. Besides, it requires the purchase of additional equipment such as a power source to make it function.
Intended application
The task's challenging when multipurpose recording equipment is required. Consumers face serious difficulties in trying to embrace everything. So, which mike suits the goals perfectly? Dynamic? Ribbon mic? Or, probably, condenser? It depends upon the instrument recorded. One type of mic is preferred for vocals, while the other captures orchestra flawlessly. SPL parameter should not be neglected too. In the event the sound is too loud, consider it as well. The device should be capable to cope with such pressure; therefore microphones with higher SPL should be looked after.
Additional accessories
Pair the mic with other additional accessories and get a million dollar sound! Sometimes a small addition can radically change the result. If the mic comes with accessories, the solution becomes more luring for customers. Those who aren't going to spend additional funds should check out their capability to use the equipment without additional monetary expenditures.
---
Audio Technica AT2035
(Read review Audio-Technica AT2035)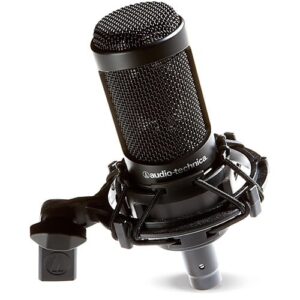 When is it right to select AT2035? It's a perfect solution in case natural sound is needed. AT2035 is equipped with the huge diaphragm, therefore the objects are recorded naturally. It's the best condenser mic for a home studio if used correctly, for instance, with shockmount isolating the sound and reducing unneeded vibrations, which spoil the result. However, this accessory is acquired additionally. Those who look for an upgrade and want a better option with XLR output instead of USB-product, select this hardware. It really sounds professional at rather a reasonable price.
---
Studio Projects B1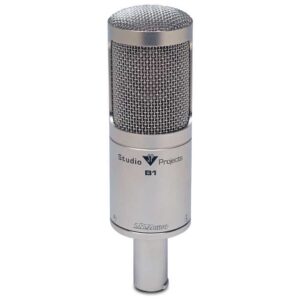 Those who look for the best condenser microphone, shouldn't neglect less expensive options. Sometimes there are real gems among them. Studio Projects B1 is really worth your close attention as it's a great buy for the money. The customer understands it at once when receives the parcel. It's very well packaged. Apart from solid and expensive packaging, the body of B1 looks solid and well-built. The sound suits home-recording needs perfectly. The consumers are even more impressed with it as some time passes. However, the shockmount looks flimsy. That's the weak point as it is delivered with the hardware, so, probably, one should look for different accessory instead.
---
Rode NT1-A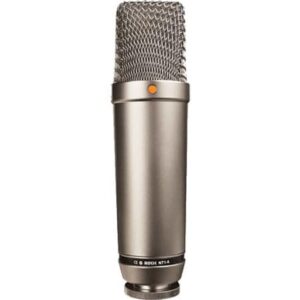 NT1-A provides the clear sounding thanks to the size of its diaphragm. Perfect sensitivity and detailed capturing is guaranteed. Consumers are mesmerized with the result. The shockmount and pop-filter that deals with plosives flawlessly are included during purchase so it's often called the best condenser mic for home recording. It's definitely a good device for a decent cost. It suits the voiceover projects and users who start out recording vocals. It's necessary to have a well-treated space to deliver good performance. The durable warranty is luring. The manufacturer assures it'll function for 10 years minimum. Not bad, agree?
---
Blue Microphones Bluebird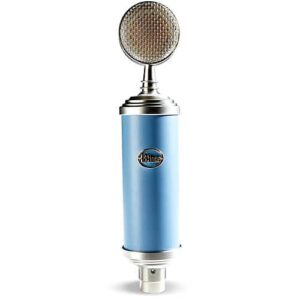 It looks like a high-end thing from some elite manufacturer. It's really superb – often referred to as the best condenser mic for home studio recording especially among people for whom aesthetics is important. And it delivers it. Not only with the way it looks but the way it reproduces sound. A warm retro sounding reminds of the past – it's not every day the listeners hear it in the digital epoch. Bluebird can make its daily experience. Comes in different color versions.
---
AKG C214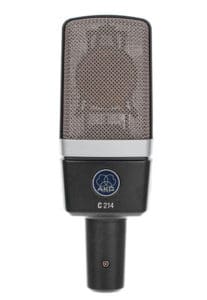 Many of those who tried ACG 214 called it the best condenser microphone for home recording. The device gives distinct clarity to voice, unlike its contenders. Providing the impression of thickness it works on vocals, string, and percussion instruments perfectly. Equipped with a remarkable filter, it delivers awesome sound. When used for field recordings, it also demonstrated the great result. It's an excellent option when various instruments should be recorded in the studio. It is produced by the company that started its work over 60 years ago in Vienna and since then it has been demonstrating technical excellence thus earning even more enviable reputation.
---
Avantone Audio CV-12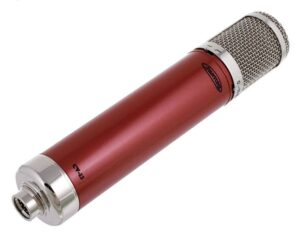 Some consider CV12 the best recording condenser microphone, saying that it beats more expensive options and exceeds higher-priced microphones in quality of sound. Undoubtedly, the tube device CV12 is a solid performer for its price. Many consumers love its excellent design. The performers liked how it sounded on vocals, string instruments. The hardware arrives in a rather impressive aluminum case with a foam interior hugging all accessories tightly, while CV-12 has its own box made of wood.
---
Rode NT5 Matched Pair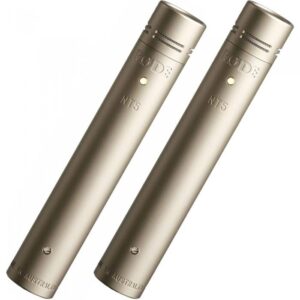 The users are just blown away when they hear NT5. Many of them describe the pair as clean and smooth, saying about the result the pair provides. NT5 is sold as a pair to deliver stereo sound. The devices look slim and nicely designed.
When used with tube preamp, it is able to produce the sound similar to the one delivered by very pricey mics (above $2k), which is a good characteristic of the best condenser mic for recording. The purchase comes in a solid protective case. The mic's clip is made of sturdy, thick plastic.
---
Samson C02 Matched Pair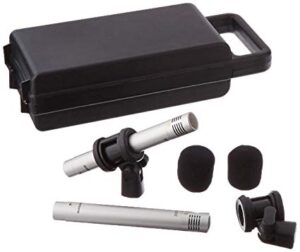 Samson C02 small diaphragm pair provides almost professional sound when used on vocals. However, it's especially good for consumers who are going to use it live on acoustic instruments. It actually shines there! It's not compared with expensive mics but CO2 is capable to perform its tasks in a small studio setting.
It's relatively inexpensive. This is the best condenser microphone for the money!
More advanced consumers will need more professional sound as this one will not deliver the quality up to par, but it'll be perfect for the beginners.
---
Shure SM81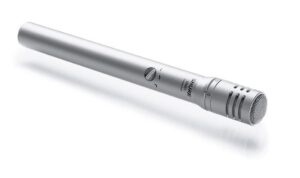 SM81 – the best condenser when it's necessary to employ a microphone for studio records of instrumental performance. With numerous alternatives on the market nowadays, still few of them are able to beat Shure in the issues of quality. It doesn't distort the sound and provides low end of good quality along with the consistency of highs. The level of sensitivity could be more enhanced for the price offered, but even with these omissions, it's a great offer. It delivers detailed and crisp sounding. The body of the device with solid construction is built to last.
---
AKG Perception 170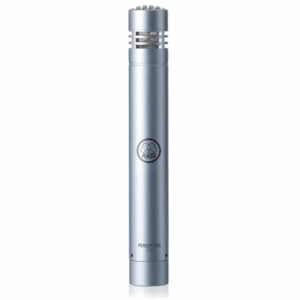 Those who think that cheap means crap are mistaken. The item reviewed here just proves it. To understand the point, they should try this small diaphragm condenser microphone for a home studio with a quite low pricetag. It features a rugged metal construction being lightweight at the same time. It has a cardioid pattern and doesn't distort the sound delivering the pristine clarity. The result received contains some warmth. Its sounding is characterized by well-defined and rich low end.
---
Shure KSM141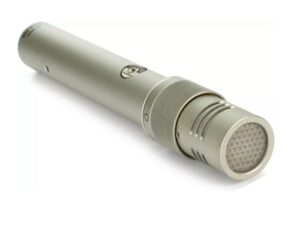 Like most devices with the small diaphragm, KSM141 sounds natural. This is the condenser with dual diaphragm mics and omni pickup that can be easily switched to cardioid without compromising quality. Reproducing the live sound of musical instruments, it provides an extraordinary result. Look at its price to make sure that this condenser mic is the best buy within its price range.
---
Studio Projects C4 Matched Pair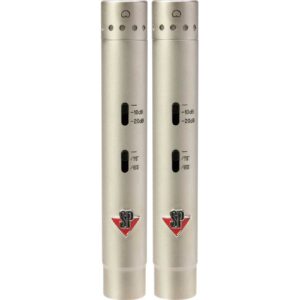 C4 matched pair is a unique product with interchangeable capsules and, consequently, versatile modularity. Its universal character makes the customers choose the product without hesitation for almost any goal they pursue. The recording condenser microphone with solid, low noise body is suitable for capturing of instruments and vocals. Being a cardioid device, it's perfect for close miking of the particular instrument in case it bleeds with other instruments. This is how the sounding of a certain instrument is highlighted.
It comes with additional accessories, which is a huge advantage. Many consumers are attracted by the stereo bar. The reviewers point out that this condenser microphone is an optimal choice taking into account lots of options included.
---
Neumann U87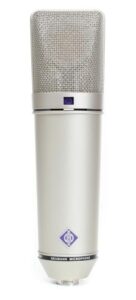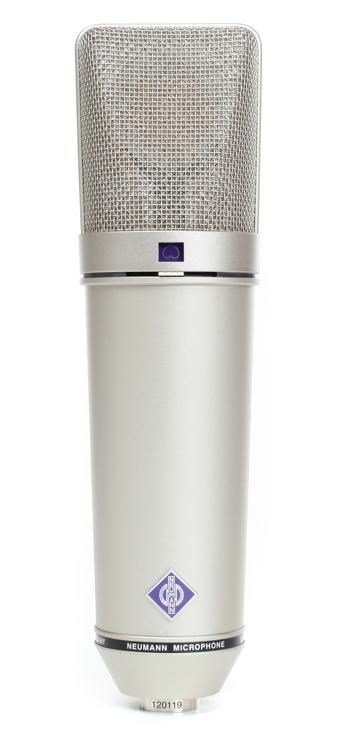 Any vocalist would be happy to own this high-end mic with 3 pickup options easily switched between each other. If you ask what is the best condenser microphone, many consumers will name a famous Neumann brand. It earned an impeccable reputation among musicians and vocalists and remains on top of ratings despite a high price tag of its hardware. No matter what kind of music you perform, it always provides a superb result. Whether it is classical music, pop or rap… It entered the highest league, the upper echelons of quality and absolutely worth the price paid for it.
This is certainly always better to make a recording in favorable acoustical environments. You will get unparalleled quality then. The model is going to be the jewel of your studio collection.
It presents one of the cleanest signals you've ever heard. It suits almost all recording situations. Those who long for supreme sound and can afford this condenser microphone, U87 can become the best buy. It copes with any project imaginable and does it with ease! However, if you want to take full advantage of it, you should acquire high-quality preamp and ADC. Bad devices can deteriorate the quality of sound and when that happens the mic is blamed.
---
AKG C414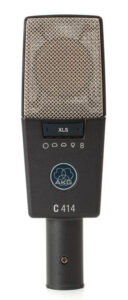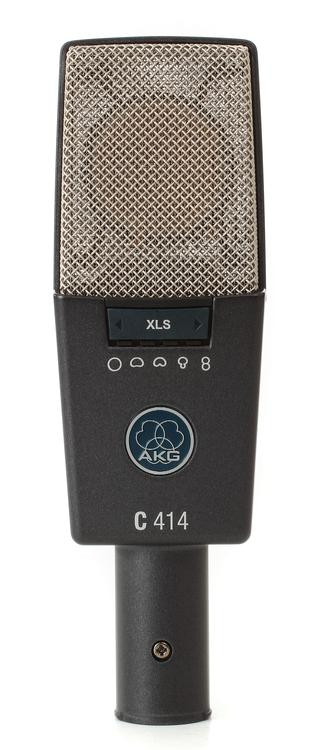 C414 is a household name for recording studios producing music of all types. This is a multipattern condenser mic for home studio and it serves its goal perfectly. The result is incredible and delivers amazing vocals. The device is great for the rookie and the expert musician or vocalist. The LEDs help to identify the setting with ease.
---
Neumann KM184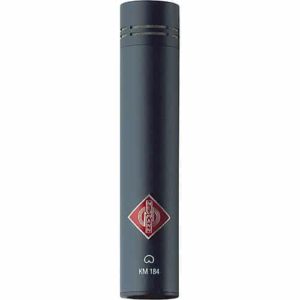 All audio experts advise the purchase of Neumann mics as something absolutely exceptional. KM184 is not exclusion. This small diaphragm condenser is sold as a stereo set of two mics. The microphones are miniature and lightweight. The hardware has 3 pickup options that should be used with knowledge. It is recommended to use the mic in an isolated space not to let the noise of surrounding interfere with the quality of the recording. It will definitely be a good solution if you need a good condenser microphone for a home studio.
---
Earthworks QTC50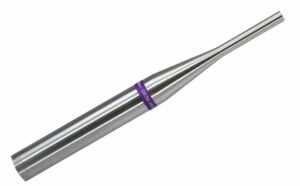 Being a flagship mic of the company QTC50 it is suitable for various audio projects and records the vocals and instruments without coloration. Though it is not cheap, the hardware has a range of benefits. Its application for almost all instruments makes the device a very practical tool. Even if other equipment used by you is not balanced well, it functions effortlessly and delivers a smooth result. The slight modification of capsule used by its predecessor made the sounding fresher.
---
Telefunken U47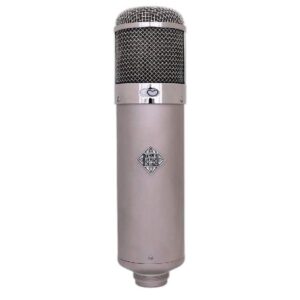 U47 is a great mic with omni and cardioid pattern. The capsule of the device includes the membrane with a gold-covered plate to improve the quality of the result. The metal tube looks solid and reliable. There are not so many reviews of the mic across the web and this is explicable as this is a premium option. This is hardly a solution when you need to purchase the condenser mic for home studio recording as it provides the sound of professional quality. The hefty price is justifiable. Telefunken is the best choice to buy The item has been produced since 1946, so it's retro providing high quality for you. It provides cool retro style and warm unforgettable sounding for real audio experts who are able to assess it. U37 is best condenser mic for home studio!
---
Neumann M149 Tube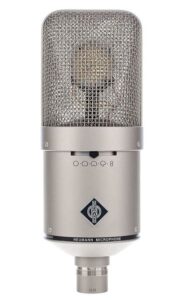 Sometimes the blind vocal listening can be useful for testing. Something of the kind was organized previously for the studio owners and M149 with a nice open sound demonstrated the flawless result. When such experiments are arranged, it's evident at once that the retro-mic is worth attention. Equipped with excellent response, it's especially good for male vocals. It gives shivers down the spine when such sounds are recorded. Pay attention to this tube device with 9 directional options, which can be adjusted to almost any recording situation.
---
Blue Microphones Bottle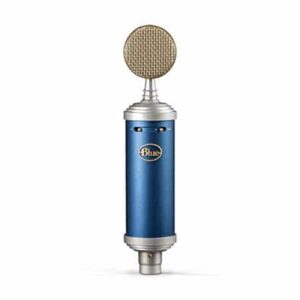 Blue Microphones Bottle is equipped with interchangeable capsule system. This is the whole studio contained in one condenser microphone. No wonder, it's so expensive. But the price is worth it. The capsule system delivers a wide range of patterns. It means that it is almost always applicable. You just need to pick the mode properly. It may take some time to learn to determine the best tonal characteristics and pattern option. Swapping between its capsules will help to find the unique sounding. The experiments are highly welcomed.
The mic reproduces the sound accurately, so it's great when you need condenser mic for home studio recording. It looks vintage and cool.
---
Conclusion
There are absolutely diverse mics in the selected presented above. Its price range varies from below $1,000 to over $10,000. Though we all want to make the best buy, choosing the condenser microphone, the financial aspect shouldn't be principal. There is a range of other characteristics and all of them should be equally considered. The quality of sound should play a key role when we select the equipment for home studio recording.