When special equipment is required for the conversion of analog audio into digital format, then the person should acquire an audio interface for it. There is a huge assortment of such gear in online and offline stores that differ greatly between each other offering a variety of characteristics. For instance, in a number of inputs and outputs, quality level, in-built mic preamps, and other features.
In comparison with the internal soundcard, the consumer can enjoy a better quality of sound. Sometimes consumers need to convert XLR to USB for simplicity.
It's really hard to guess even for an expert what is the best audio interface for a consumer if there is no explanation of what exactly is needed. The guidance should be very detailed to consider all possible situations and offer alternatives for different circumstances in life. In this connection, the main feature we will focus on is the size of the interface or the number of I/O jacks. At first, we will regard small-sized gear, and will gradually move to bigger units that have more inputs. We will also pay attention to the compatibility of interfaces with different operating systems. The customer should be sure that the audio interface works with Windows and Mac OS. All models presented here come with USB 2.0, though some of them are USB 3.0 version.
If a podcaster makes the recording alone, it's good enough to start with 2×2 models. Those who have MIDI gear aren't able to use USB for connection. There is a special section in the article dedicated to it. When two or more podcasters need equipment or numerous people in the discussion should be recorded, then the 8 input section meets their demands perfectly.
Solo / 1 XLR
It can be not easy to distribute the items to put them into different categories. Sometimes even devices with a couple of ins can be referred to this section because they feature one XLR input.
Focusrite Scarlett Solo (2nd Gen)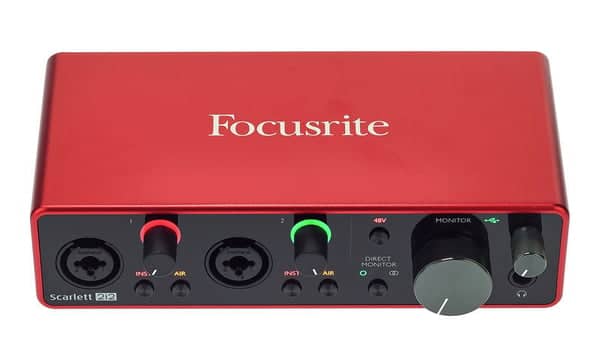 This device with a huge glossy knob in the middle looks rather stylish, so many people like its appearance. Besides, it performs it's work well.
Features:
+48V phantom power;
USB connection;
Lack of latency;
Solid construction.
Pros:
Excellent performance;
Basic model without extra confusing features;
It has a separate line/instrument input.
Cons:
It's not suitable for mics that need phantom power.
---
Steinberg UR12 USB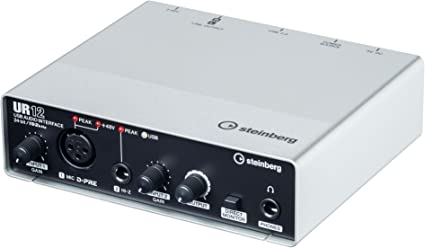 The model is suitable for consumers who need an audio interface for podcasts of good quality. This is the device with entirely integrated capabilities to provide clear sound and flexibility.
Features:
1 Class-A D-PRE mic preamp;
Support of +48V phantom power;
1 XLR and 1 instrument input;
USB-powered for recording with mobile.
Pros:
The cross-platform feature makes audio interface compatible with any device;
USB 2.0 connectivity;
It's a rack-mounted solution;
Feature stable drivers;
The interface can be used with any software;
Includes an excellent converter for the best audio.
Cons:
Some customers complain of drop out issues.
---
M-Audio M-Track 2X2 C-Series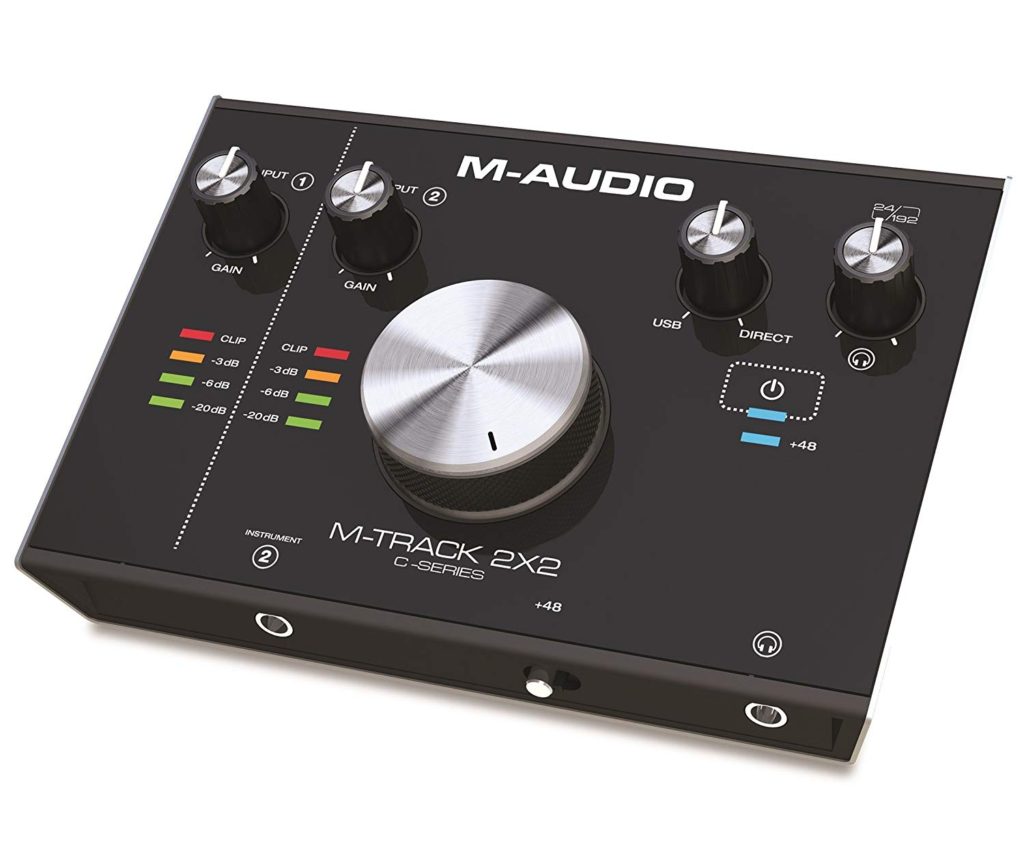 In case the interface for mixing and recording at a reasonable price is needed, this is an excellent variant for any consumer. Solid built is one of its benefits, therefore it is recommended for all those who need reliable equipment.
Features:
+48v Phantom power;
Excellent USB connection;
XLR, TRS input;
Instrument input.
Pros:
The noiselessinterface provides pristine sound;
Rugged construction;
Excellent audio
Cons:
The interface is perfect quality despite hardly noticeable delay;
Some consumers say that the interface stops working entirely in case the cable is intertwisted a little.
---
2×2 (2 in / 2 out)
The hardware device for audio recording and mixing should provide the required number of ins and outs to deliver the sound processing of the appropriate level. The podcast will run smoothly with the best audio interface 2×2 that will suit not only for solo performance but when the other person is invited to perform a duo with a host.
Focusrite Scarlett 2i2 (2nd Gen)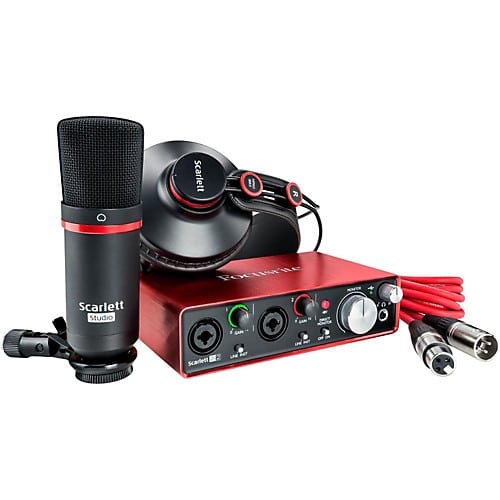 This audiointerface starts this section and is worth regarding, as any audio device from this brand. The device has plenty of useful features and it's possible to monitor the recording for podcasting.
Features:
Scarlett mic preamps with lots of equal gains;
Compatibility with Windows 7+, macOS
It comes with software included.
Pros:
The capability to convert smoothly;
Lack of latency or its low level;
Easy monitoring;
Clarity of the signal;
Solid build quality;
The compactness of device;
Natural sounding.
Cons:
The device works flawlessly and most reviews are positive though some consumers assure that it functions worse on Windows.
---
Mackie Onyx Blackjack 2×2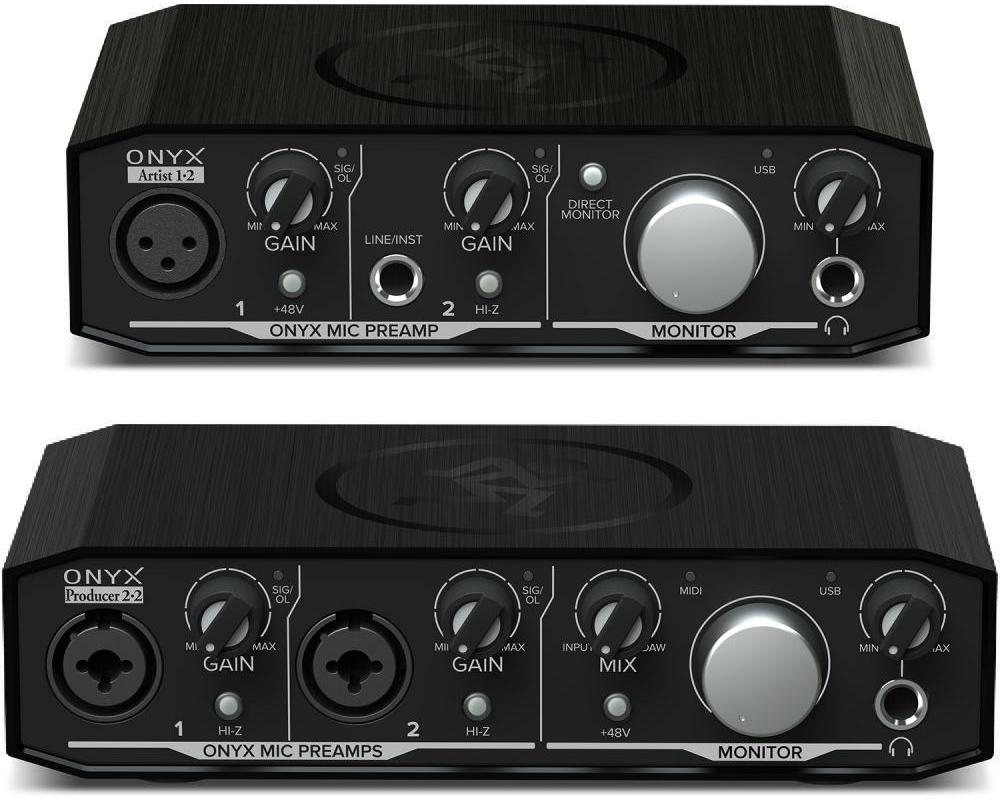 In comparison with many other units of this kind, this interface is extraordinary. The customers assessed its design positively. It's made at an angle making the design stand out from other similar products. The interface gives the feeling of clarity to the consumer. The customers love its simple design and features so, hopefully, the device will work in a great way.
Features:
Onyx mic preamps;
Tracktion 3 software is added to the device;
Compatibility with DAWs;
Premium quality converters.
Pros:
Analog hardware for easy and efficient monitoring;
High headroom;
Almost zero latency;
Fantastic preamps at a reasonable price;
Excellent signal;
Quality of construction.
Cons:
Despite positive reviews, some say that the device doesn't live long. It just stops responding.
---
Behringer U-Phoria UMC202HD

It's always great to have the device in the right budget segment. Fortunately, the company producing this audio equipment provides reasonably priced gear, so this model is one of such items. The range of features it offers is rather impressive for the price tag. Just look at its features!
Features:
Pro-level audio quality resolution;
+48V phantom power;
2 inputs and 2 outputs;
MIDAS preamps.
Pros:
Compatibility with any recording software;
Low latency monitoring;
Compatibility with popular operating systems;
The purity of sound.
Cons:
The reviews are mostly positive except those who recommend more expensive products saying that it was hard to find the working drivers.
---
2×2 with MIDI
The use of MIDI is rather limited as musicians and record producers work with electronic instruments when producing popular music. The connectivity issue made electronic gear popular and entailed the fast expansion of sales, hence the production of such instruments and music software. MIDI appeared at the dawn of the PC era when samplers and digital synthesizers were introduced. MIDI technologies brought new creative capabilities and contributed to the revival of the music industry. Using MIDI the person can create sophisticated arrangements. The development of this standard reduced recording costs and helped to establish home recording. If you need an interface with MIDI, the list of suitable devices can be found below.
Zoom UAC-2

It's surprising but some devices are not so widespread despite their feature-rich characteristics. The device is rather affordable and can enter the top-lists of mixing devices. Looking for an audio interface, pay attention to this device.
Features:
2 combo inputs;
2 ins and 2 outs USB 3.0;
Low latency;
+48V phantom power per unit.
Pros:
Excellent connectivity;
Advanced Loopback function;
Pairing with any DAW;
Fantastic sound;
Low-cut filter.
Cons:
In some cases, problems with gain adjustment arise.
---
Tascam US-2×2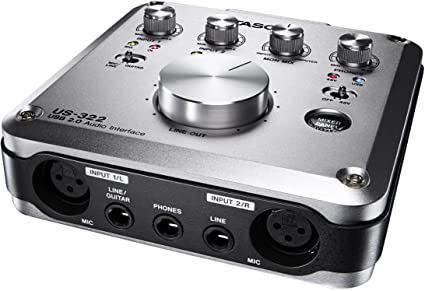 Those who don't have tons of money at disposal and want to acquire a descent audio interface for mixing and recording sound should explore this model. It's definitely worth regarding. Just have a look at its design. Its slightly angled design looks rather stylish. Directed upwards it looks nice. Apart from its, appearance, it has many useful features.
Features:
2 ins and 2 outs;
NE5532 op-amps;
Embedded drivers enable compatibility with Windows, Mac OSX and iOS;
XLR/TRS inputs.
Pros:
MIDI in and out help to connect different instruments and equipment;
High-quality components;
A choice of DAW apps;
No distortion;
The noise isn't heard.
Cons:
Poor work of Windows drivers spoils the good impression.
---
Steinberg UR22MKII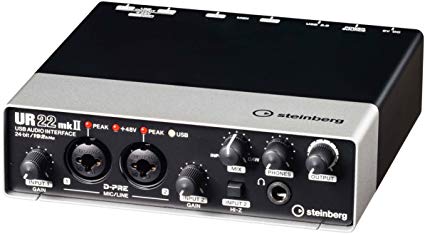 The model is developed for mobile recording, Use USB2.0 for powering and connection of interface. 5v DC can be employed for iPads. Provided with MIDI I/O, mic control, phantom power, and other useful features, it also can be connected to electrical guitar.
Features:
2×2 USB2.0 unit;
ClassA D-pre mic preamps;
Capability to connect to iPad, Windows, macOS ;
Includes popular software.
Pros:
The unit is compatible with any music software;
Lack of coloring;
Ergonomic as presents convenient standard rack-mounted version;
Amazing sound;
Flexibility;
Full integration opportunity.
Cons:
Customers complain of screeching noise when wrong drivers are installed so the consumer should think about the right drivers received from Yamaha/Steinburg.
---
2×4 (2 in / 4 out)
The consumers who need models with 2 inputs and 4 outputs should look through the list of the units offered below and select the audio interface for your pod casts or some other needs.
Focusrite Scarlett 2i4 (2nd Gen)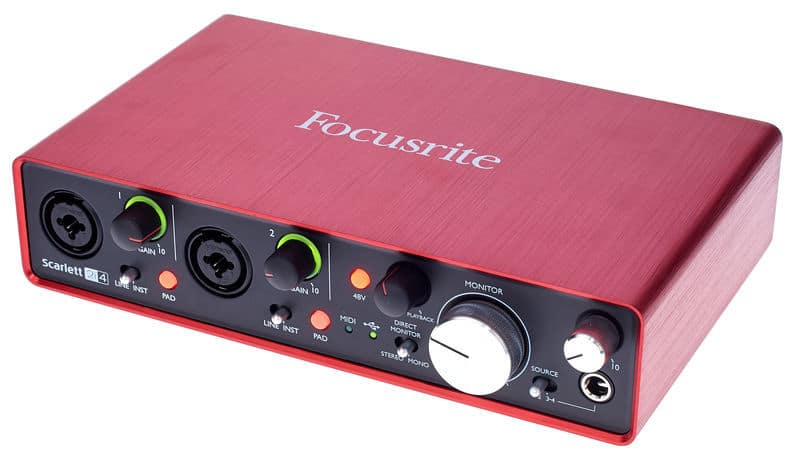 The second-generation unit has the same sleek interface as the first-gen but here the interface is provided with a new driver that reveals the full potential of the built-in hardware. The audio interface is the most versatile among USB models and is ideal for those who create a mix of several signals.
Features:
2 mic preamps;
Super low digital delay;
Midi in/out channel;
Four high-quality analog outputs.
Pros:
USB power makes the interface versatile and convenient;
Capability to record voice or studio-quality instruments anywhere;
An exclusive version of Pro Tools|First and Ableton Live Lite;
Natural-sounding device;
Preamps with a large number of adjustments.
Cons:
According to the opinion of users, the option is great for light use only. The more advanced model should be acquired for more serious work.
---
PreSonus STUDIO 26

The model is powered by a USB bus, so it's suitable for mobile work with a laptop. The biggest difference in the power of the headphone amplifier. The chassis of the unit is all-metal. There is nothing plastic. The walls are metal and made from thick-walled cast aluminum, top/bottom/rear panel – 1mm sheet of steel. The design is very sturdy, completely ready for daily use.
Features:
4 line channels and a stereo headphone output;
A headphone output is placed on the rear panel;
Line button switches the TRS input mode from guitar to linear;
Inputs 1/2 can work in three modes: microphone, guitar, linear.
Pros:
LEDs are visible from afar;
The impedance of the guitar input is higher than in other models;
Phantom power is turned on simultaneously for both XLR inputs;
Two virtual inputs can be used for online broadcasting on the Internet.
Cons:
The device is more suitable for mobile recording. Those who are going to make a studio recording should acquire different devices – more expensive ones, for instance, Studio 68 model.
---
Steinberg UR 242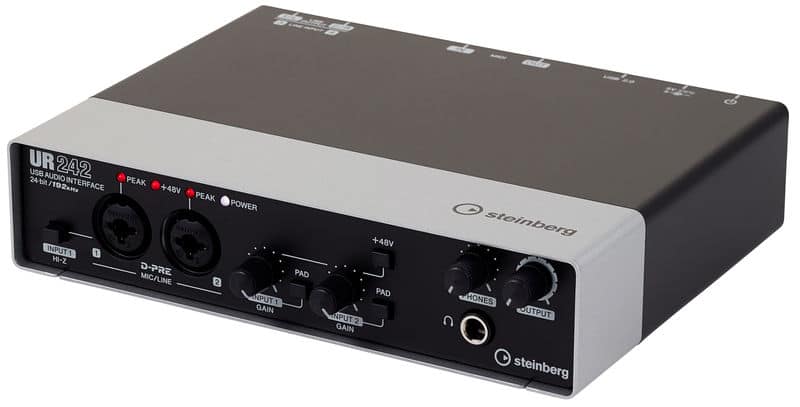 Why is this model so successful? First of all, due to the affordable price – the company directly competes with the cheapest models from other manufacturers. Also, the faith of consumers in the Steinberg brand helps in it as well as our knowledge about the high experience of Yamaha engineers working over electronic stuffing of sound cards, especially in branded amplifiers, D-PRE. We should not forget about complete Steinberg music software as well, so we can start working immediately, and the possibility of further upgrade to one of the full versions.
Features:
Loopback function;
Balanced inputs and outputs;
Proprietary microphone preamps D-PRE;
Phantom power + 48V.
Pros:
Robust metal case;
Compatible with iPad;
Two microphone inputs and they are implemented on combined XLR/TRS connectors;
Separate headphone and line-out controls;
MIDI input/output.
Cons:
Not all like the fact that there is no power supply from the USB bus.
---
4×4 (4 in / 4 out)
Those who need a device with 4 XLR inputs should consider the models in the list below.
PreSonus STUDIO 68

We have already covered a similar audio interface in the different sections above. There we mentioned that that model is not suitable for studio recording. This model resembles it much, but it's more powerful and has more connections. The model is suitable for DJ work.
Features:
4 XLR combo inputs;
Mic preamps D-PRE;
2 balanced 1/4″ line outs;
2 balanced 1/4″ outs;
headphone jack;
Phantom power + 48V.
Pros:
Solid metal case;
All inputs and outputs are fully balanced;
Full-fledged separate drivers for PC and Mac for all latest OS versions;
Excellent sound.
Cons:
Not suitable for mobile recording.
---
Tascam US-4×4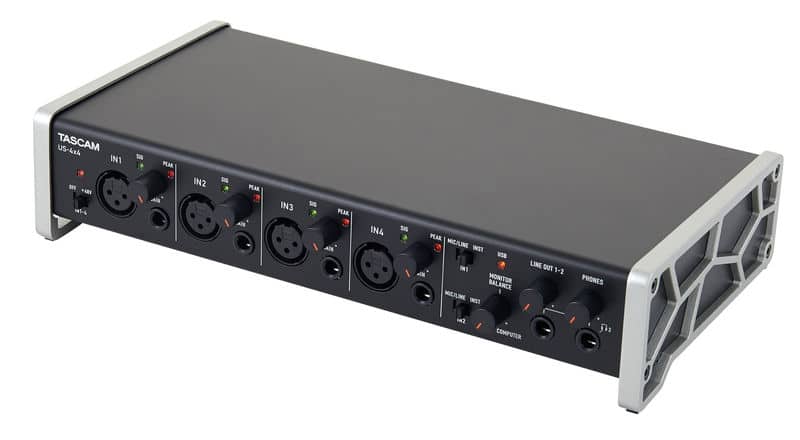 The consumers are impressed with the performance of this reasonably priced device.
Features:
4 input channels;
MIDI in and out;
DAW apps to select;
XLR/TRS inputs.
Pros:
Capability to mix input signal and processed;
Low latency allowing you to play real-time;
Capability to connect high-impedance headphones;
Installation on win 10 and win 7 without problems;
The sound is clear, transparent.
Cons:
No serious glitches have not yet been noticed with the exception of windows drivers' problems.
---
Steinberg UR44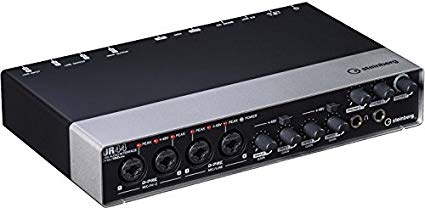 The number of inputs allows the user to record small groups. The model differs quite significantly from the previous entry-level UR22 not due to an increased number of channels, but hardware DSP and internal components.
Features:
Support for operating modes up to 24 bit 192 kHz;
Combo XLR/TRS connectors;
Phantom power;
MIDI input/output.
Pros:
Strong metal case;
Beautiful design;
Superb sound;
Free software;
Compressor, equalizer on each channel;
dfpMixFx control panel, which controls the built-in hardware mixer.
Cons:
There is no power supply from the USB bus since the iPad will not be able to feed such an interface on its battery for a long time.
---
8+ Inputs
The rack-mounted models with 8 inputs can also be desktop options.
MOTU 8pre USB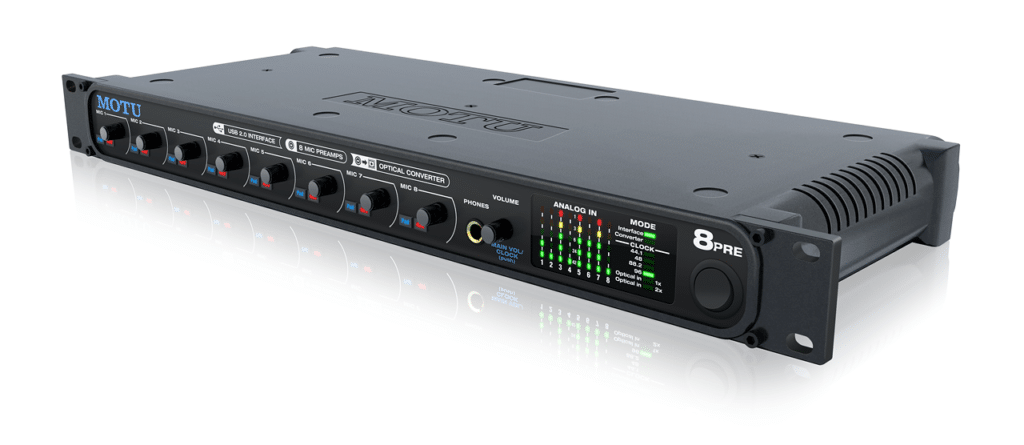 Those who want to have a great audio workstation should select the unit with awesome performance. This is an excellent model for musicians.
Features:
16 inputs;
8 channels of ADAT optical I/O;
Lack of monitoring latency.
Pros:
The possibility to make separate monitor mixes for headphones and outs;
No processor drain on PC;
Cross-platform compatibility with different OS;
100% pristine sound;
Excellent AD conversion quality.
Cons:
Some customers said about the poor quality of customer service.
---
PreSonus AudioBox 1818 VSL

It's one of the most famous devices because it offers so much for the price.
Features:
18 channels;
Diagonally displaced controls;
Rack compatible model;
Inputs in front of the device;
Compatibility with Windows and macOS.
Pros:
Studio level versatility at a low price;
Rugged and durable construction;
Great build quality;
Efficient work of preamps and converters.
Cons:
Some consumers have problems with plugins and the installation of software.
---
Tascam US-16X08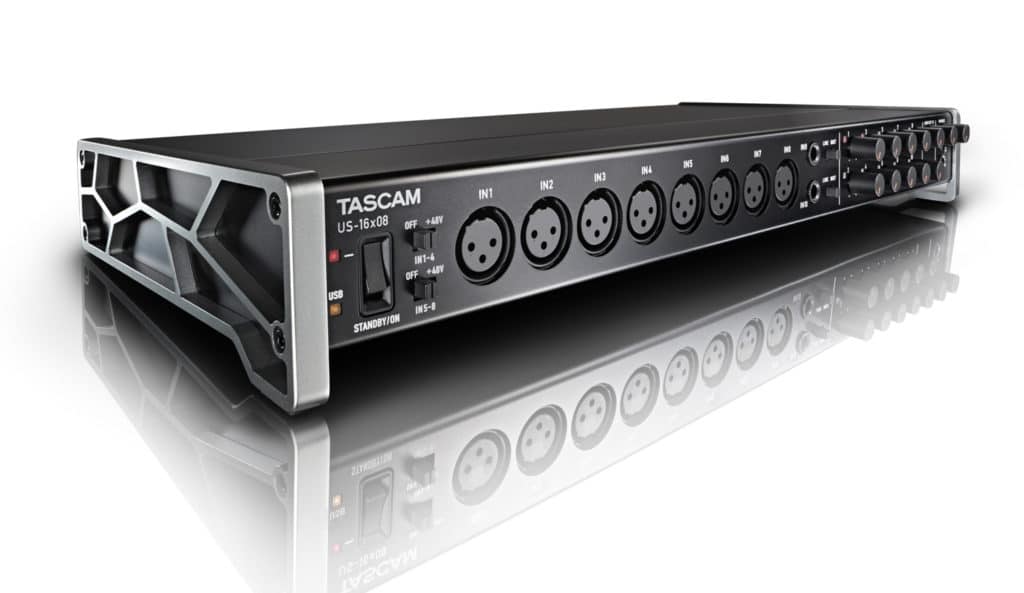 Many people love this model, especially, at this price range. Look through its characteristics to make sure you need it.
Features:
Metal case;
ASIO support;
Low noise preamps.
Pros:
Decent build quality;
Quality components;
Great transparency;
It's possible to name mixer channels.
Cons:
There are no other digital in- or outputs besides USB.
The unit was unstable before but after the release of new drivers, it improved the performance.
---
Conclusion
As you see, there are rather different units that can be useful for recording. It's up to you to determine which of them will be suitable for you. Will you use the gear for mobile recording sessions or will work in the studio? Find the interface with a logical arrangement of inputs and adjustment knobs to make the work effortless, convenient and pleasant for you. But what is more important the result should be superb!