You need a mic for the studio. Let's immediately try to figure out what this means, and immediately move on to the ranking of the best options of this category available on the market today.
The price range of microphones is large in general. The price difference between two separate models may differ by the presence of excess zero at the end (and even more), and the devices do not look fundamentally different at the same time. But we choose mics, not in appearance.
If you are faced with the problem of buying irregularly and do not have a deep understanding of mics in general, it is important to understand the functionality and factors that provide differences in sound. Indeed, there are several main categories of microphones. If you need equipment for talking on Skype or Zoom, karaoke with friends, streaming, or online games, then you should pay attention to budget solutions. Their capabilities will be more than enough, and top-level devices will simply be inappropriate. It's like hammering nails with a microscope.
This cannot be said about the recording of music and speech for professional purposes. In this case, it is important to achieve a high standard. When it comes to a commercial product, it should sound perfect. The same thing is about any music in principle. And here, expensive professional studio microphones come to the rescue. They are characterized by the best build quality and consumables, as well as the flexibility of settings for specific user tasks and conditions of use.
However, here you should not rush to give extra money. Everything is not as an ultimatum as it seems at first glance (but it's also not worth chasing the cheapest solutions). Devices of this category cost quite a lot in general, but you should not chase the most expensive ones. You can find solutions in the perfect combination of reasonable mic price and quality that meets professional recording requirements.
Let's start this excursion.
Rode NT2-A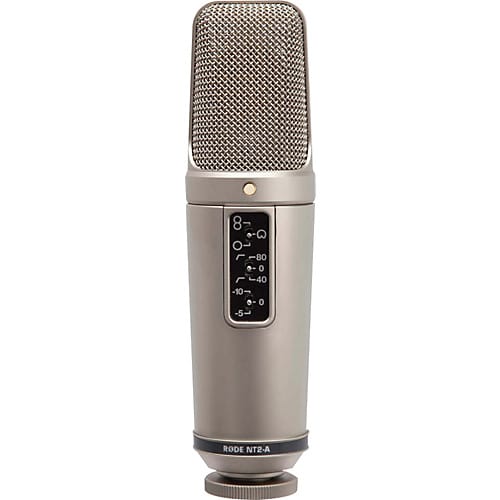 This model builds on the legacy of the iconic Rode NT2 (studio microphone professional) from the world-renowned Australian manufacturer of audio equipment. Rode NT2-A focuses on the capabilities and technical characteristics of cult mics of the mid-twentieth century, and it provides expressive warm sounding without unnecessary outside noise. One can easily imagine how Frank Sinatra sings into such a microphone somewhere. Or Johnny Cash (choose which legend you like from those times). But at the same time, the mic is characterized by full compliance with modern quality standards for the assembly, equipment, and functionality of professional studio microphones. Therefore, the vocalist will be able to sound along with the stars of already modern music. If only to reach them with mastery of vocals. In any case, this dualism of Rode NT2-A captivates many people.
Among the functional features, it is worth noting the double large diaphragm with a three-position directional switch, an attenuator, and a low-cut filter. I add to the conclusion that the microphone is quite versatile, and it can be used for instruments if necessary. Mic price is quite affordable, as for this category of equipment.
Features: 25 mm HF1 gold-plated capsule, three directional switch options to choose from, three-position low-pass filter, three-position attenuator, external anti-vibration mount
Pros:
outstanding quality;
high noise reduction;
the reliable and stylish metal body;
decent price.
Cons:
not all types of mounts are supported.
---
Sennheiser E845-S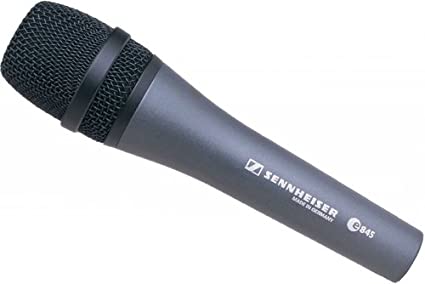 Another solution that deserves attention immediately. This is because the German company Sennheiser is one of the most famous manufacturers of audio equipment and, first of all, mics. This option belongs to the Evolution Series category. It is a professional vocal recording solution. Working with instruments is not applicable in this case. Also, it is actively used on stage and during conferences.
The main distinguishing feature of the device is the extended high-frequency range, which provides readability and openness in vocals. This allows you to distance the vocals from instruments without a clear break at a concert, for example. The supercardioid radiation pattern promises to cut off excess noise on the sides of the microphone, as the sound is shot at a fairly narrow-angle. Nevertheless, thanks to it, on the opposite side from the capsule, a zone is formed from which the signal can enter the mic, so you should make sure that the E 845-S is not sent to the monitor to avoid feedback.
The package includes an MZQ-800 microphone stand holder and a signature black fabric cover with a zipper for easy transportation. The model has an on / off button. Moreover, at the bottom of this button is a latch, with which it can be fixed in the "On" position.
Features: best-specialized solution for recording vocals, super-cardioid pattern, 40-16000 Hz frequency range, optimization for working with high-pressure sources
Pros:
reasonable mic price;
ignoring third-party noises;
high vocal accuracy;
reliable metal body.
Cons:
there are a couple of slightly more balanced solutions for the scene in this price category (but we are talking in an article about other things).
---
Behringer C1U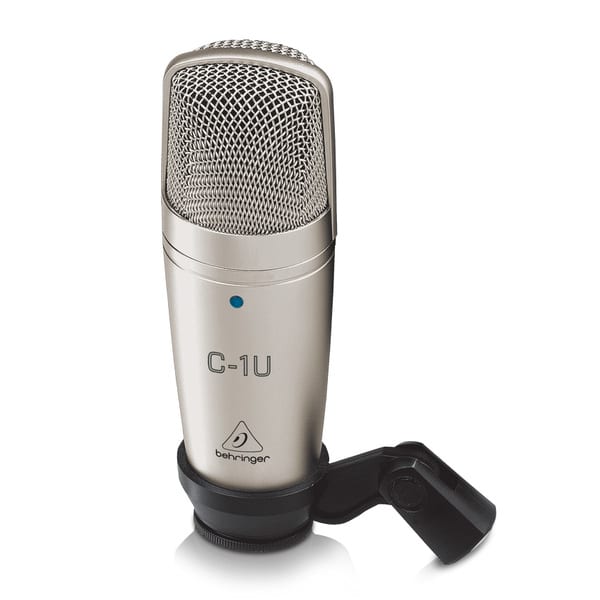 Let's go through the assortment of the German brand a little further and consider the Behringer C1U. This is a budget solution for its category. It can be used to record vocals and instruments in the studio, as well as streams and podcasts. The mic looks beautiful, and it is optimal for active everyday use. The microphone has a metal die-cast housing; it is shockproof to prevent distortion and damage to electronic components. The input stage circuit is a transformerless FET.
It is characterized by a built-in USB-interface. The mic captures many details and provides outstanding clarity. It is important to clarify that when connected to a computer, it does not require a preamplifier or auxiliary interface. The user can connect the mic directly to the computer to organize a small home recording place. It is versatile, and is equally good for working with vocals and any musical instruments.
And I also like that Behringer C1U contains free software for recording and editing, including more than a hundred effect plug-ins. This is all that is needed to create a studio close to the professional level, right out of the box.
Features: condenser microphone USB, cardioid pattern, direct connection to a computer via USB, ASIO drivers with ultra-low latency
Pros:
inexpensive;
convenient for a home;
high sound quality for undemanding studio tasks;
versatility.
Cons:
it is difficult to configure the software for PC-mic use in some cases.
---
Audio-Technica AT4040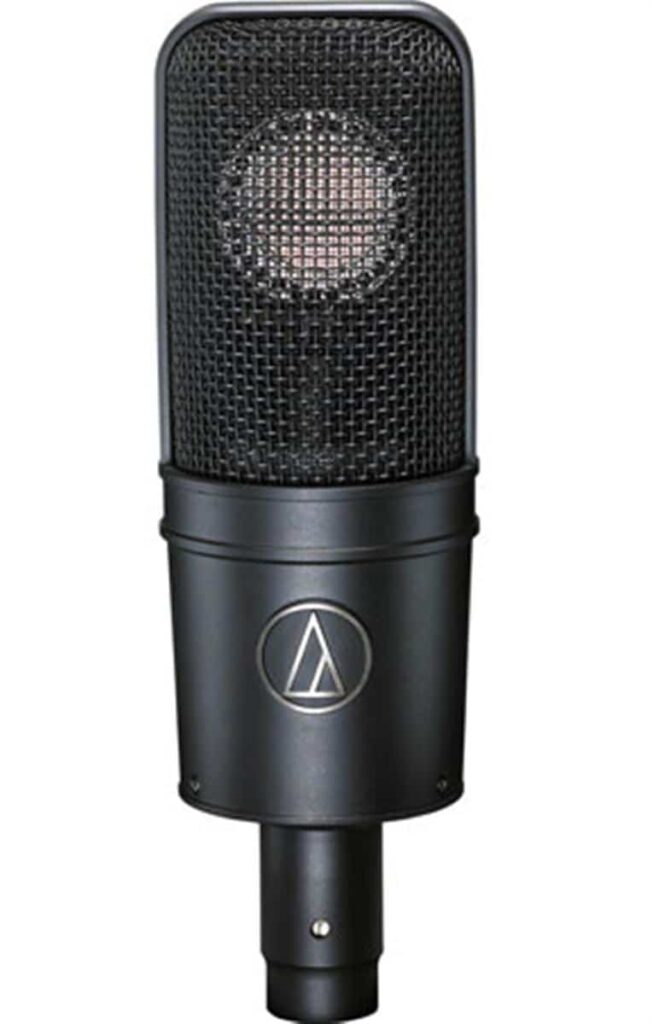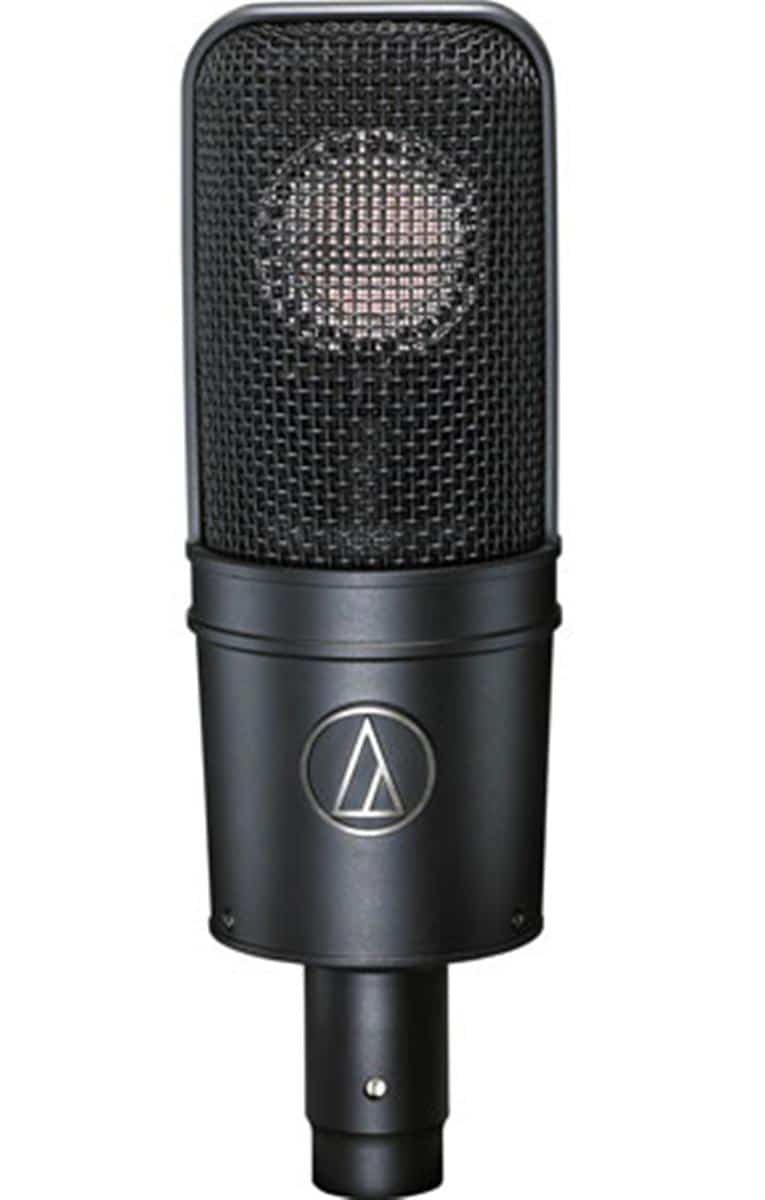 Perhaps the best dynamic model, this is the best solution for voice and vocals in the studio. I found information that this model prefers a number of popular music artists and bands while making music. Among others are Limp Bizkit and Red Hot Chile Peppers. It is also in demand for making podcasts, broadcasting, voice recordings. Let's try a little understanding of its features and advantages from a technical point of view.
So, Audio Technica AT4040 is a cardioid studio condenser microphone. It has an advanced large aperture, specially designed to produce natural, even characteristics. AT4040 is characterized by a low level of perception of external noise. These characteristics determine the versatility of the device.
Features: for speech and vocals in the studio, capacitor type, cardioid orientation
Pros:
high fidelity voice recording;
flexible settings;
high strength design.
Cons:
high price;
but the microphone is worth the money.
---
AKG Pro Audio C214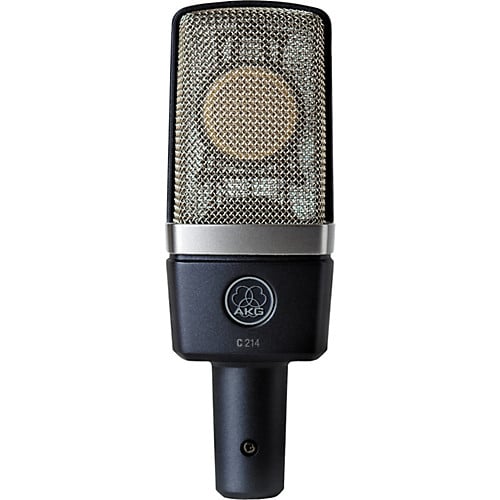 This is one of the best cheap condenser microphones. Despite the price tag (relatively inexpensive, in fact), this is an effective recording studio microphone. Typically, the mic is used to work with vocals as well as acoustic guitar. An important feature is a special timbre, which the mic builds during the working process. This is precisely the model that catches the attention of a large number of musicians and engineers. The voice turns out warm and "tube", as they say. The kit comes with an anti-shock suspension ("spider"), wind protection, case. The clear proof of its success is one of the most known studio mics for today. Perhaps this is the best alternative to expensive studio vocal solutions today.
Features: Studio condenser microphone, cardioid pattern, anti-shock shock ("spider") + wind protection + case included
Pros:
unique timbre;
high-quality vocals, and acoustic guitar;
the inexpensive price for its category and features.
Cons:
not suitable for almost all musical instruments.
---
Rode NTK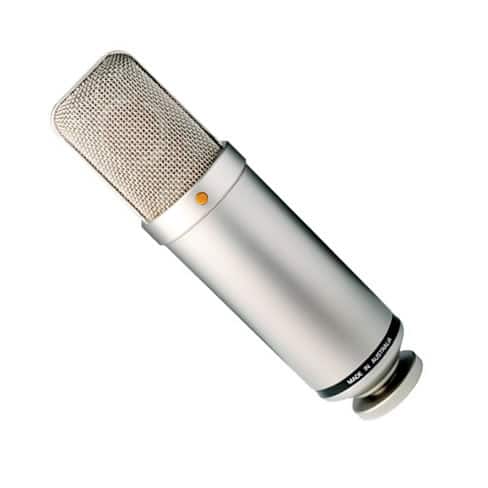 Rode NTK is a professional studio microphone with its own power supply and a lamp inside. This is a ribbon mic, a rare type of devices. It provides excellent detail and volume. The tube design does its job and adds a characteristic soft, "warm" color. The distortion of the high frequencies is insignificant, otherwise the characteristic is smooth. The manufacturer also took care of the build quality and consumables, and this tool is made in a very durable case made of thick metal. It will withstand even the most active daily use, and strong blows will not be scary. The main thing is that you should take care of reliable stands.
Features: external power supply included, built-in lamp (warm tone guaranteed), 10 years warranty, optimal for vocals and acoustic instruments in work
Pros:
high build quality;
high-quality expressive vocal;
high-strength construction.
Cons:
too bulky power supply;
very high price (but worth it).
---
Felyby BM800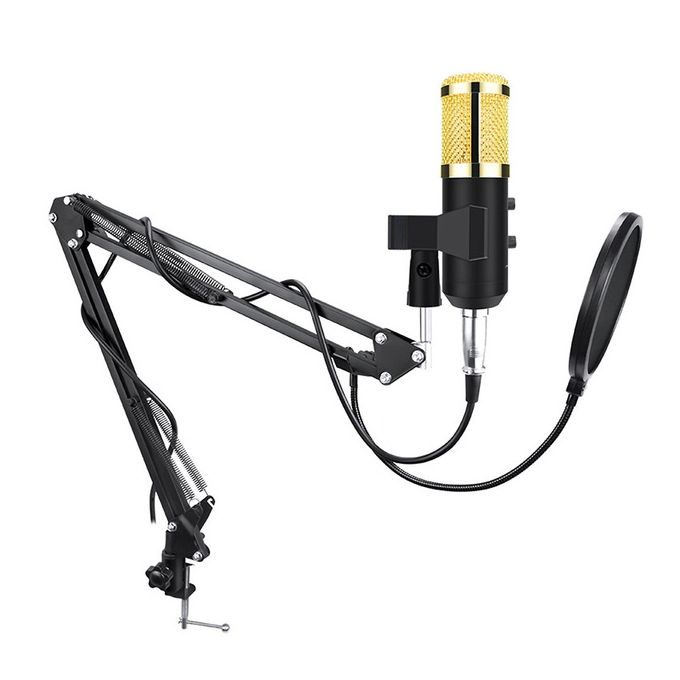 I propose to consider further the best budget solutions that will satisfy the studio needs of professionals. This model is suitable for both karaoke lovers and those who want to find a professional workhorse. It connects to any device through a standard cable with a 3.5 mm jack. The kit also includes equipment (sound card), a stand and a pop filter. Thanks to this, the recording is high-quality, without unnecessary noise. The stand is strong enough, it can be adjusted to suit you. The body and grille are made of metal. In the reviews, users note the high build quality, the strength of the materials. Two-color options are available to choose from: silver or black with gold.
It is also worth mentioning the availability of tools for online broadcasts, which expand the range of urgent tasks of using the device. For example, there are built-in effects for online broadcasting on YouTube and social networks. There are also disadvantages in this case. For example, the proposed sound card I mentioned above. It is not too good, and you need to buy a new one immediately, just believe me. Customers are also advised to purchase additional phantom power for the device. Otherwise, the sound will be quite quiet, and when adding decibels, extraneous noise will appear.
Features: universal solution for professionals and amateurs, auxiliary effects for online broadcasts, stand and pop filter included
Pros:
clear sound without outside noise;
versatility, reliability;
low price;
a wide range of equipment.
Cons:
low quality of the proposed external sound card (included).
---
Felyby BM1000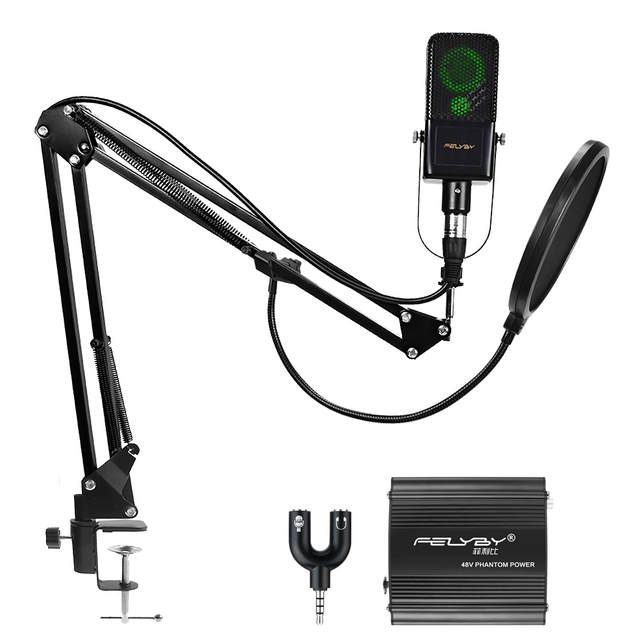 And one more effective tool for professionals, which pleases at a very affordable price. Options are also minimal. The user can only access the stand, in addition to the mic. If you pay, you can get a full-size stand, mixer, and amplifier. The microphone sensitivity reaches 38 dB, the resistance – 2200 Ohms. The frequency range is in the range of 20-20000 Hz. An important design feature is an advanced noise reduction system so that the sound is especially clear and rich. A green backlight provides an indication when phantom power is connected.
The reviews note that this studio microphone is easy to connect, it is convenient to use. All components of the device are made of strong and durable materials. The recording quality is good even if you do not use phantom power. There are no complaints about the sensitivity, the sound is not hard.
The device can be used to connect to mobile devices or a PC directly to create a home recording studio. Stylish appearance adds a feeling of special comfort during use. But this is my personal remark. It just looks very good.
Features: affordable professional solution for the expert and home tasks, connecting to mobile gadgets and PCs, the minimum configuration, which can be expanded at the request of the buyer
Pros:
high quality;
versatility;
affordable price;
high noise reduction.
Cons:
the stand from the kit is not very reliable.
---
Rode NT1A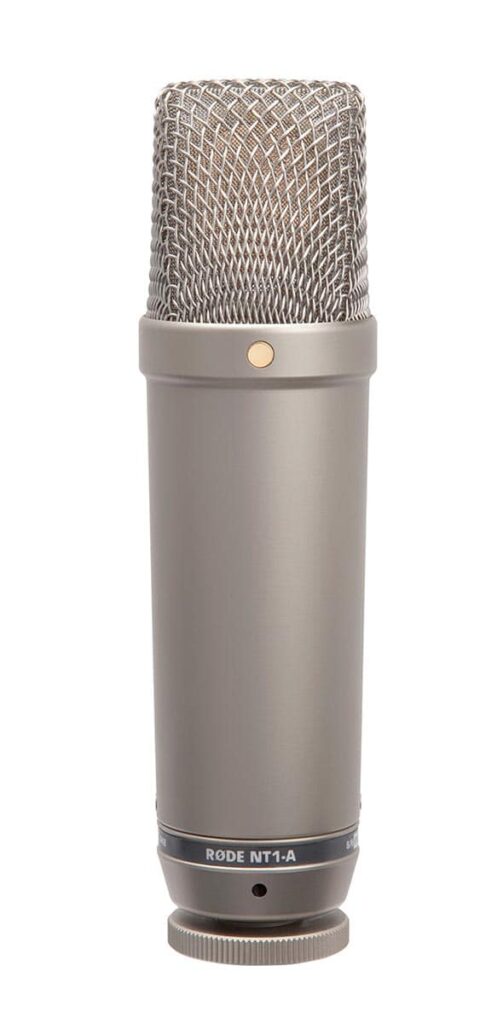 I present to your attention another 100% professional tool for the studio. The main feature of this solution is the most budget price in its category. This is an extremely budget product in the line of an outstanding manufacturer (and, possibly, the best of its kind), which is focused on vocals in any conditions in the first place.
What can a user count on? First of all, it is the purest sounding and a minimum of distortion in any conditions. An important role is played by the excellent build quality and consumables: 25 mm capsules with a gold-plated membrane, transformerless circuit, gold-plated contacts. The mic is fully equipped, and a person subsequently does not have to buy anything. There is an anti-shock suspension ("spider"), pop filter, removable cable, case / case.
The shockproof case is designed for active use, and it is made of high strength metal.
Features: budget professional microphone for vocals, fully equipped
Pros:
excellent value for money;
outstanding equipment;
durability;
reliable brand.
Cons:
---
Zingyou ZY-007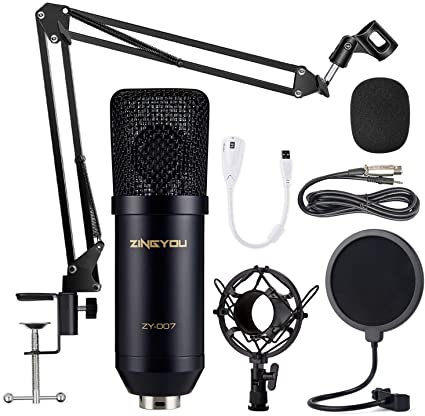 Almost finished. I want to point out another outstanding condenser microphone for professional use. The brand is still little known, made in China, but this company has the potential to grow into something more than an acceptable alternative to more expensive and long-known market players. And this model serves as the best illustration of that.
As you understand, this is an inexpensive (relatively) professional high-quality studio mic with an emphasis on a more affordable price tag in the first place. It can be used in the studio to record vocals. However, the range of urgent application tasks is wider. These include working with musical instruments, podcasts, online broadcasting, among other things.
The package includes a shock absorber, pop filter, adjustable mic pendant scissor bar, windproof bubble cover, power cord, sound card. These are all accessories that the user may only need. The sophisticated design allows you to capture the sound most accurately in front of the microphone and ignore third-party noise.
Features: affordable universal solution for professionals, maximum accessories, cardioid pattern
Pros:
high quality;
efficient;
minimizing side noise;
a large set of useful accessories;
reasonable price.
Cons:
there are better solutions in this category (but at a higher price).
---
How to choose a vocal microphone?
I have listed the best devices in a given category. This is an expert, but subjective opinion. There are many alternative options. Therefore, if you have a desire to search for the best solutions on your own, I suggest talking further about the main criteria for choosing studio mics for recording vocals.
Things to consider before buying
It all starts with the fact that you need to give one simple (or not so) answer: why do I need a vocal mic? "For vocal use" is a too obvious and extended answer, so you should think deeper. In this article, we talked about choosing a vocal mic. It's about the most expensive professional recording solutions. Also, the question may be about the selection and purchase of a reliable "workhorse" for professional concert activities. You can pay attention to the budget models for everyday practice and even just for karaoke (lovers of singing with friends will appreciate).
The best situation is when a person has the opportunity to study the capabilities of several vocal microphones in practice. You can sing the same vocal part in several mics to understand which sound is best suited. If a person is at a loss, a store employee should help solve the problem.
However, the Internet offers a much wider range of products than any offline music equipment store. For this reason, the scale of sales in this niche is large. If the equipment does not fit, it can be returned. This is the policy of almost all online audio equipment stores. In addition, you can always find vocals for every interesting device.
Where to start your online searches? When a person determines the purpose, he can begin to compare the technical characteristics in accordance with user tasks. For this, classifications by type and individual characteristics should be taken into account. It is also important to differentiate models by type of connection connector. It is worth paying attention to additional useful functionality, coupled with a complete set. And affordable budget as a key factor of choice, of course.
Different types of microphones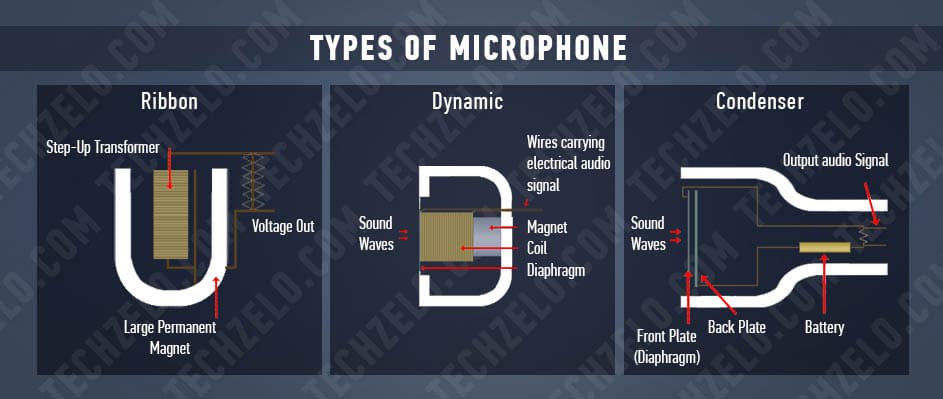 Here we look at several classifications that are the basis for the selection. We have already spoken about the areas of application. These can be devices for the studio and the stage, podcasts, and karaoke, recording vocals and talks on Skype, and so on. Now let's talk about other classifications.
Another simple categorization of equipment by scope: studio, hand, and head models. The first ones are needed in the studio, and they have any dimensions. The latter should have a convenient design for live performance. Still others are used live when the vocalist's freedom of action on stage is most important.
According to root technology, there are three types: ribbon, dynamic and condenser microphone tools.
These ones are used at rehearsal points, studios, and concert venues. This is the simplest and most budget type; found in practice most often.
Condenser microphone. They have a more complex device. they are used as recording microphone options to get the better and cleaner sound that a dynamic option will not provide.
This type is very rare, but thanks to an incandescent lamp, the sound takes on a warmer and softer sound. It is usually used only for recording vocals. Ribbon mics are very fragile.
I also want to mention two important subcategories of devices for functional purpose. They cannot be included in this classification, but they deserve attention as separate classes of equipment.
First of all, these are radio options. These are kits consisting of a mic, transmitter, and receiver. They are used to transmit sound from a distance and allow you to free the vocalist from the wires. This is very useful on stage when the mobility of a performer is very important.
USB mics for vocals. They are characterized by the ability to directly connect to a computer. Typically, these are low-cost streaming and podcast solutions. However, here is another area of ​​application. They are part of a small home recording studio. Such a microphone will be enough to create a simple demo recording in decent sound quality.
Now let's talk about connection types.
XLR vs. USB vs. Wireless Connections
I have identified three main categories in this case.
HLR connector is the basic connection standard for vocal (and any other) mics. All top-end equipment is tied to this standard. This is exactly about studio mics for expert use. Mics with this connector are generally flexible in setting and provide high-quality sound.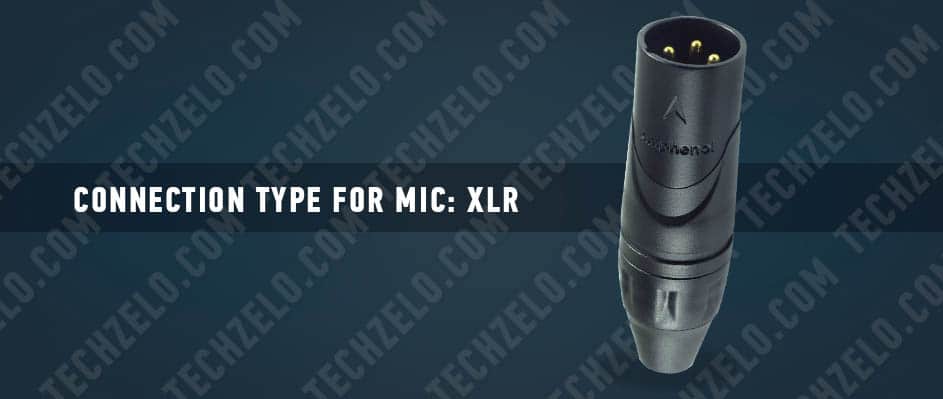 USB microphones are connected directly to the computer. They are designed for undemanding tasks in general and are cheaper. Professional studio equipment does not correlate with these devices, but today there are quite a few models with decent sound quality. They can record voice at a basic level.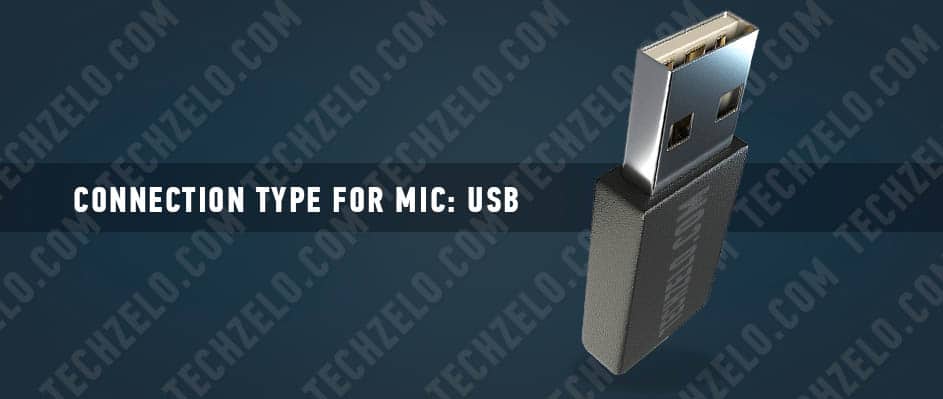 Wireless devices have already been briefly described by me. They are applicable for all situations when the user needs to get rid of wires. Top models provide outstanding sound, but such microphones are not applicable to the studio.
Extra features
Here I will not be attached to specific opportunities. There are models that offer fast high-frequency trimming tools, or, for example, provide extremely warm vocals. These features should be taken into account taking into account the user's tasks. They are indicated separately. Also, equipment may differ in configuration. One manufacturer may offer a recording microphone only, while another also adds a pop filter, case, stand, and so on. But this should not be a determining factor in the purchase.
How much should you spend?
This question again rests on the expected tasks of using the device.
Recording a demo, karaoke or everyday vocal practice at home allows the use of budget models with decent sound (but no more). As I said, USB mics here are perfectly acceptable. Buying expensive studio models for this situation is redundant.
Equipment for the stage and everyday use costs about 50-200 dollars almost always.
But professional studio tools to equip a workspace can cost from $ 200 to infinity. There is no limit to perfection. But it is not necessary to clutch at the most expensive models, as many compromise solutions are presented here.
Conclusion
I hope this guide will be comprehensive for you. I tried not to overload the text with technical details in order to convey the main meaning. And he picked up a universal set of models for all occasions. Thus, everyone can choose recording microphone for their own purposes. But if you have no experience with this at all, then I recommend that you contact your store consultant first. There are many nuances, and this purchase is in any case not cheap. Good luck!