There are many kinds of microphones in the market these days. Practically each task covered with the separate device. The essence of the lavalier microphone is to record a single specific voice and to filter all the others. It's widely spread at television, various educational courses, presentations and theaters. Most cases it is clipped to clothes therefore lavalier mic supplied with clip or clamp.
Small and qualitative lavalier microphone is almost irreplaceable. It appears simply as head and mount. Most of the lavaliers are built based on a capacitor technology and works as a studio microphone, but the recording quality depends on the features and price. Lavaliers divides into wire and radio transmitted. Second stays more expensive but free the user from the recording device closeness. It is important the wider frequency range the better and deeper the sound.
To not to mistake choosing the mic we offer to meet our best lavalier microphone top. This rating absorbed all the tests, reviews and feedback outcomes. We outlined different types of the mics like the best lavalier for the smartphone or the one for the professional application.
The benefits of a lavalier microphone
Lavalier microphone is a compact device convenient in use. Such a microphones mostly purchased for high-quality voice transmitting, but it is not suitable for recording vocals, guitar or other instruments, for this purpose there are special microphones with necessary characteristics.
However, the lavalier microphone is comfortable, lightweight and almost unnoticeable on clothing. The most popular colors of such devices are black, solid and gray.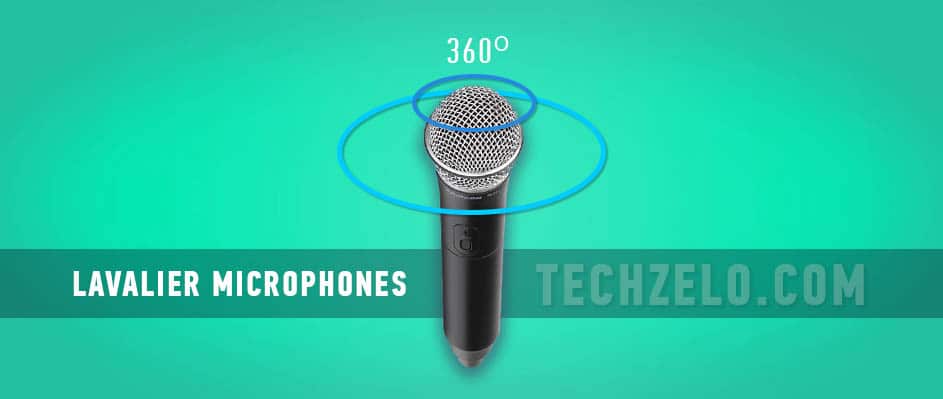 How to choose your lavalier microphone
First is to define the type of microphone you need: wired, wireless or the one for smartphones. Here the wireless mostly comes with the price of ~500$ for initial device. However, for the wired ones you can choose within the range of 50$ to 300$. Next with reference to quality, you would better to choose condenser type of mic.  But if you seek the quality with the condenser type you would be needed to have an additional uncomfy power supply. Next and not that far behind in terms of quality is an electret capsule type of mics not demanding any additional power supply.  Let us then define what lavalier microphone is the best from the 11 top lavalier microphones list below.
Wireless Lavalier Microphone System Movo WMIC50
Movo WMIC502.4 GHz is a wireless lavalier microphone system working in 2.4 GHz frequency band.  It has been developed for various applications, best for filming and performances. The kit reveals with a lavalier microphone, 2 earphones and wind protection foam, transmitter with belt clip and internal antenna and receiver with camera shoe or tripod mount. Receiver earphone features second isolated microphone to communicate with the transmitter headphone (audio does not pass through to output). System works on a range up to 50 meters.
Worst disadvantage, witch all customers claims, is the power supply does not provide enough working time. A transmitter and receiver powered by two AAA batteries each (not included). It works not more than 4 hours. It is not enough, especially if shooting is planned for the whole day.
Sennheiser ME 2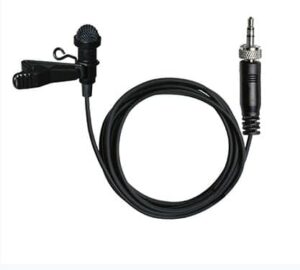 Sennheiser ME 2 is best professional lavalier microphone with a circle polar pattern which quite a convertible one for a various applications from voice-overs and recording of the human voice and musical instruments. The head construction of a microphone prevents noise from feedback and significantly improves clarity. High price of the device is mostly explained by the wide frequency range 30-20000 Hz that stands for a high speech detailing and clear sound reproduction. Design of a lavalier allows easy attach it to clothing as the clip is stands aside of a microphone. You can find the microphone in Sennheiser wireless kit, especially with Evolution G3, for such an application you would find the kit 3.5mm jack adapter. This Sennheiser ME 2 is also considered as best buy and top rated lavalier microphone despite the comparable high price but the quality and abilities it gives.
---
Sony ECM 77B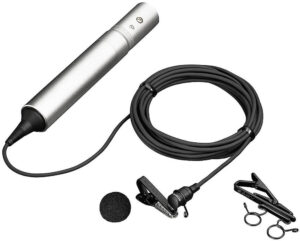 Sony ECM 77B is a best xlr lavalier microphone within this review. It is a miniature condenser type microphone of 1.5 gram, which is considered as the world smallest one within a row of working in 40 – 20000 Hz frequency and 90 Db dynamic ranges. It is a cycle-polar microphone with an omnidirectional response and -52.0 dB sensitivity with ± 2 dB unevenness. SONY specific 3-pin XLR interface which could be used as a power supply case with AA-battery which runs up to 5000 hours and weighs 121.5 gram, phantom power supply of 12-48 V could be also used. The mic is mostly used in a professional field of podcasting and filming with the smallest and lightest head compare to the competitors. You can find it released in two colorways.
---
Tascam DR-10L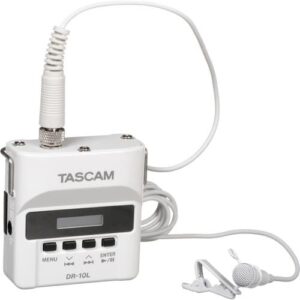 Tascam DR-10L is a portable SSD recorder with the kit lavalier microphone. This is a budget device designed for on the run operator's work. The recorder is running for 10 hours with a single Evolta battery. Easy to read OLED screen, headphones output, USB-port for the quick computer connection and chunk of safety features as to close the file if the battery off or discharged or limiter to prevent any distortion is not the full list of smart functions of the recorder. DR-10L could be considered as one of the best USB lavalier mic thanks to the one port on board. It also poses the option to run a low quality record to protect the file from the source volume jumps. It records the WAV with the 48 kHz/24 Bit quality and support microSD or microSDHC memory cards.
Back to the lavalier microphone, it complies with the standard range of professional requirements and smoothly runs on a 20 – 22000 Hz range with the 88 dB sensitivity.
---
BOYA BY-M1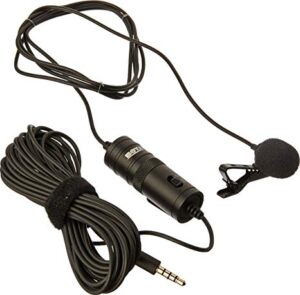 Boya BY-M1 is a condenser type omnidirectional lavalier microphone developed to capture sound for video suitable for podcasting and reporting. It is supplied with 6 meters cable and two connector types: 3.5 mm and 6.3 mm jacks, battery is placed in a separate housing which could be removed. The package is compact and supplied with the nice bag making transportation of the device quite convenient. The sensitivity of the mic is 30 dB allows catching even quiet sounds carefully with the kit wind protection foam. The working frequency range if 65 – 18000 Hz quite wide for the traveling device. So the mic is rather convertible and could be used not only with DSLR and cameras but with external recorders as smartphones and pads.
---
Sanken COS-11D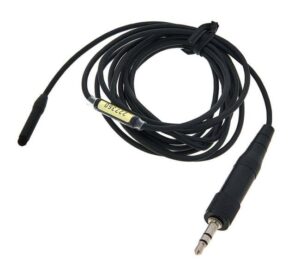 Sanken COS-11D is electret – type omnidirectional lavalier microphone. Updated version of the best electret lavalier microphone mostly oriented to work within the system. With 20 – 20000 Hz frequency range it provides clear sound capture quality.
Incredibly miniature microphone and lightweight (only 10 g) that meets the high modern requirements for audio recording and sound reinforcement in theatres, film and video production. It is not sensible to surface noise (extremely annoying with finish recording). Considered as the best lavalier microphone for active applications. Mic utilizes 2.1 mm cable. Available in two versions: as a microphone for radio systems and a wired one. And the wired version considered for the best one. There is a wide range of accessories available for purchase.
You can find it in three different colorways: solid, gray and black.
---
Audio-Technica ATR-3350
(Read Audio-Technica ATR-3350 review)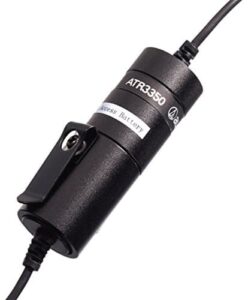 Omnidirectional condenser microphone Audio – Technica ATR3350 is developed in "Speaker" style. This device is actively used by sports commentators, video capture which require small mic size and its invisibility. This model is easy clipped to closing. Low-profile design provides minimal visibility of transmitting device.  Thanks to 6 meters cable and 3.5 mm jack, the device is easy to plug into most cameras. Additional power supply is included into the wire. If you want to use the microphone with iPhone you would be needed to purchase an adapter. Omni directional diagram and high senility of -54 Db provides high-quality circle pattern capture. The kit includes a clip, batteries and windproof foam. Audio – Technical ATR3350 could be considered as a best cheap lavalier mic for the one less than 50$.
---
Sennheiser EW 100 ENG G3-A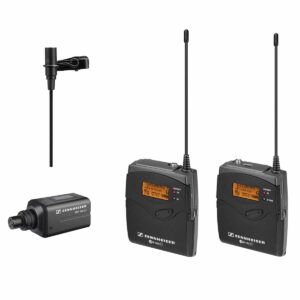 Portable German radio system Sennheiser EW ENG G3 is a perfect solution for establishing video capture sound channel both outdoor and indoor and the best lavalier mic for video recording. Could be definitely considered as one of the best professional lavalier microphone system. The kit includes belt portable transmitter SKP 100 G3 equipped with XLR socket which allow to turn wired mixers and microphones into wireless ones. Simple button click synchronize transmitter and receiver. Of course you'd find the miniature omnidirectional lavalier microphone ME2 within the kit. Both transmitter and recorder protected with the solid metal body. Back to lavalier you'd find all the best in class parameters in the kit, but it is also quite convertible with the various Sennheiser equipment, so you'd be able to tune your system as much as you like and need.
Sennheiser EW100 is widely spread across sound recording studios, concert activities, TV and radio journalism, at television and lecture halls, various interviews.
---
Audio-Technica PRO 70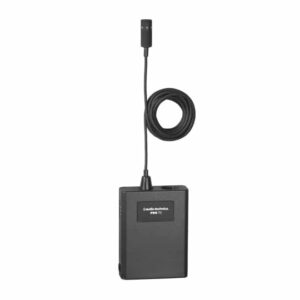 Condenser type cardioid directional lavalier microphone Audio-Technica PRO 70 is a pretty smart chose as you'd be supplied with the guaranteed articulated full range for vocal and instrumental capture. Microphone PRO 70 have power supply XLRM output and is a perfect device for guitar capture with the AT8444 mount. There is also mid range filter switch in the system which is comfy for the instrumental capture. One more reason to use the system in the instrumental and stage capture is the weight with 8 grams for the lavalier microphone and 134 grams for the power supply unit of 10.2 mm diameter and 22 mm length. The kit consist of AT 8411 clip, AT8444 instrumental mount, foam windscreen, 1.8 meter cable, battery and protective case.
---
Pyle Pro PDWM96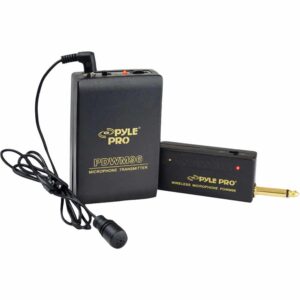 Pyle Pro is the best inexpensive lavalier microphone wireless system. It doesn't cost crazy as Sennheiser system from above but still suits as an effective solution for audio capture. Despite low price it provides clear sound under a stable signal in 20 ft range outdoor/open space without any signal degradation. The kit consists of lavalier microphone itself, transmitter, battery, and receiver and it's smallest in class.
¼ inch receiver could be easily connected to any recording device as camera or tuner. The mike is equipped with 1/8 inch mono jack which is also quite convertible.
However this best budget lavalier mic system can be a good solution to get your job done without any choice flour.
---
Azden EX-503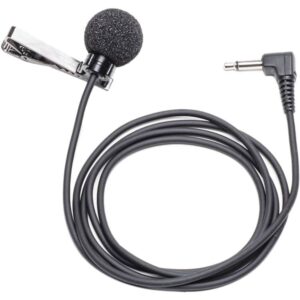 Microphone Azden EX-503i has been developed to obtain studio-quality sound from your smartphone or tablet.
Microphone compatible with the TRRS headset jack equipped devices and well-recognized by all the audio capture apps form iOS and Android. It's ideal for lecture, interview and dictation capture.
Azden EX-503i is equipped with capsule omnidirectional and very sensitive lavalier microphone. The lavalier clip itself made of metal. Sound quality is ensured with the -35dB senility @1kHz frequency.
So the lavalier microphone Azden EX-503i is well made to be best lavalier mic for a TRRS-equipped smartphones.
---
Lavalier Mics: What You Need to Know
You need to realize the audio is much more important than video cause watching something is a much easier and forgiving way to receive information than audio. That's why it's so important to capture good audio when your filmmaking.
Let's us look at lavalier microphone, or lav mic or lob mic. Lav mics are tiny little microphones that can be easily clipped on a subject or hidden places to capture great audio. It isn't so much used when it comes to narrative films but they're particularly great when it comes to documentaries, especially when you filming people whether they are sitting down or walking somewhere. Anyhow you can even hide the microphone if you have the target to get naturally environmental video.
Therefore you need a comfy device with high-quality sound recording abilities to fulfill your duties or hobby.  Besides it's also rather important to not to forget the usability and comfort of the device, thus the type of connection rather various plug-ins or radio systems should be defined beforehand you'd hit the market.
In conclusion
Perhaps the best scenario to pick the microphone is to hit the best practices with investigations, users, or even friends. Try to read users advice wherever it published or any professional reviews. This sources would certainly provide you with the opportunity to make the right choice. Anyhow you can rely on our review of the best lavalier microphones on the market. Besides, try our related links for the lavaliers reviews in the concerned threads.