It's rather tricky to find the right mic among the microphones compatible with PS4. There should be the right ratio among the functionality and price tag of the device. The good news is that such gear doesn't require ideal quality. It's enough to discover the device with quality of sound appropriate for gaming.
Choosing the microphone PS4 gamer has to be very careful. Usually, gaming headsets are offered for such customers. Some people prefer to use separate devices instead of using gaming headsets because they almost always contain some flaws. It's hard to find the device that combines ideal headphones and microphone. Some consumers look for universal devices. They want to get the mic compatible with different systems if they play Microsoft Xbox, PlayStation, and PC. The choice is more challenging with extensive list of requirements. We have selected the best equipment for those who look for PS4 microphones.
KLIM Voice Gaming USB Desk Microphone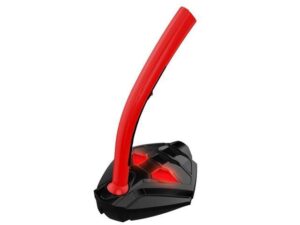 A desktop microphone with excellent filter removes all noise and concentrates on the sound of the speaker. The mic doesn't require installation. It's USB microphone that works immediately after plugging in. It's possible to use it with any operating system as it's compatible with almost any. It's made solidly of plastic and then reinforced with metal. A good build of the device contributes to its durability and length of service. The stand of the microphone makes the gear stable. It was nice, bold contemporary design with LED illumination. It can be comfortably positioned on the table thanks to the neck's flexibility. The device is equipped with a mute button.
This is an ideal variant when you need a gaming mic. The headset can be very uncomfortable and tiring to wear. As a rule, KLIM doesn't require some adjustment to use with PS4 but if it happens, it can be done easily.
Pros:
It's solid;
The sound is great;
It is inexpensive;
It's compatible with
Cons:
Some customers faced problems with incorrect work of the device.
---
Razer Seiren X
(Read review Razer Seiren Elite)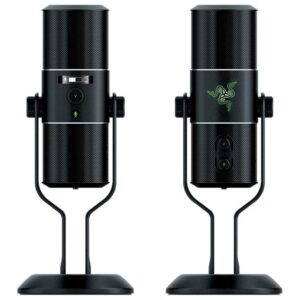 Clarity of voice is one of the benefits provided by this device as it has cardioid pattern that picks up voice at smaller angle, however, with higher result. The mic rejects all noise around the person making only the speaker's voice clear. The device features an anti-vibration effect thanks to the embedded shock mount. Compactness and nice design make the item alluring. Use it for streaming or communication while playing PS. It can be very useful when you just start streaming. Some consumers assure that the mic provides the studio-quality without using the studio.
Pros:
The metal is solid;
Excellent price tag;
It features convenient mute button;
It functions much better than other condenser mics.
Cons:
It's not compatible with some devices.
---
CMTECK gaming microphone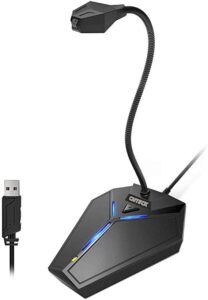 This strange looking device is sold at affordable price, but what's more, it delivers the sound quality that the inbuilt mic can't provide. PlayStation gamers who are not ready to spend a lot of gaming gear will be happy with such an alternative. The design was developed with ergonomics in mind. It really doesn't take much space on the desk. The gooseneck design makes the mic convenient to use. This USB microphone is known for its sensitivity as this is a condenser. It means that it picks up sounds easily (the device features omni pickup) but the soundcard with technology of noise elimination helps to enjoy clarity.
Pros:
Affordability;
Decent sound quality;
Cons:
---
Fifine PC Microphone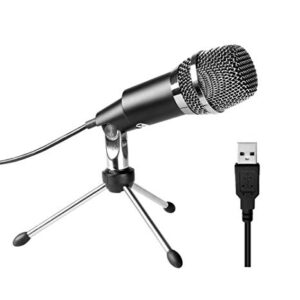 Gaming is not the only activity that can be improved with this mic. It also performs a good job when podcasting or streaming is needed. Thanks to smoothness of sound, the voice sounds better. It acquires some warmth. The microphone can be used with windows/mac.
The installation of drivers is not needed to start working. Those who want to hear the result can connect the headphones to it. There is a special jack. The mic comes with a metal stand that is detached. It makes the device portable.
Pros:
Comes with USB cable;
The build is excellent;
Cons:
---
Turtle Beach
The mic with extraordinary design features a superb sound quality. If you plan to stream professionally, this is going to be a great choice. It functions as a professional device, picking up high definition sound. It's possible to hear the result with headphones. One just need to plug them into it. There is a mute button that in fact works as a button that helps to choose the direction of pickup.
It's also possible to download free software enabling the use of more options. Being compatible with different platforms, the mic is very versatile!
Pros:
Versatility;
Capability to customize voice;
Fabulous voice sound.
Cons:
The price is high;
Picks up noise easily.
---
In conclusion
With right approach, you can decide upon the choice of the gaming microphone easily. There are a lot of high-quality mics compatible with PS4. Online reviews explain how they function and what flaws they probably have. You should only weigh all the advantages and their drawbacks to decide upon the item you really need. Find the one with a balance of good price and quality, with features that meet your demands perfectly.