You can notice without my hints that today there are many specialized new models of microphones. Some are clearly oriented to the studio, others are used at concerts, and others are intended only for journalists and bloggers. Such models existed before, but today the emphasis has changed in this direction. At the same time, the number of universal devices in the total mass is thinning. Most of them are old successful models. However, we do not pursue new developments in most cases, but quality and reliability. If this simple thought resonates with you, and you also need a reliable universal microphone for all sorts of tasks, I suggest paying attention to a good and trusted market player named Samson Go Mic.
Device purpose
Samson Go Mic is speech oriented. At the same time, this mic has a wide scope and will have to place in several niches at once. It is clear that you can't record music in the studio with him, and you won't sing at the concert, but the use of the device is quite wide.
Who will he have to place? For those who produce content. For example, the creators of video blogs and podcasts can safely put it into service at home, and at the exit you can be calm about the sound quality in the speakers, speakers and headphones of the listeners. If gamers do not risk buying an inexpensive gaming headset and require maximum sound quality, then an alternative to buying an expensive headset can be just a high-quality microphone. And here Samson Go Mic rules. This model is also useful for conferences and online calls, which is especially valuable in the realities of 2020.
Build Features
Samson Go Mic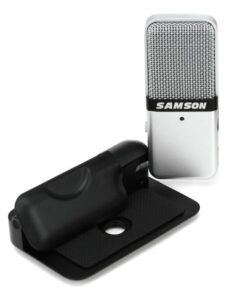 ---
Construction's quality is impressive at a glance. The cast galvanized base, which is equipped with a shock-absorbing gasket, immediately attracts attention. This blocks the rec capsules from even the very low vibrations. Additionally to the shock absorber function, the base is also a clip for PC monitors and a shell for the mic itself. This is in addition to the attached zippered bag.
Behind the windshield is a pair of 10-millimeter capsules that are insulated from the inside by mechanical stress. They can rec cardioid and omnidirectional polar diagrams equally. The switcher for them is located on the inside of the mic housing. Here, users can make a choice between a cardioid, a cardioid with the addition of 10 dB or an omnidirectional pattern.
LED light is a great additional tool for notifying users about power on and off; It flashes red when the noise level is too high. In addition, there are 2 inputs on the outer edge of the recording module. One is for the 3.5mm headphone jack, and the other is for the mini-B USB power supply.
Setup and preparation for work is extremely simple. Usually it's enough to connect the mic using the cable from the kit and press the record button.
Users do not have to worry about finding the right XLR connector and adapter, or about a stable USB interface. It is ideal for users who do not need high-end studio recording quality, and ease of use plays a major role. The cable is in the kit is well-armored and seems resistant to abrasion, which makes sense because it is predominantly a road-based mic.
Sound Quality
In my opinion, the sound quality is very decent, but not excellent. In the end, do not complain about the device for an average price of less than $ 40. Background noise is captured in any recording mode, and this should be taken into account immediately. However, the -10dB setting is very convenient and helps to fine-tune the perception of external noise by the microphone.
But in general, for people who are searching for a solution for their business calls and gaming voice chatting, this is the best and totally affordable choice. Voice is more isolated in cardioid mode, and will surpass most built-in computer microphones.
The cardioid mode is required for podcasting or any situation where the target sound source is directly in front of the mic. Omni-directional recording mode is optimal in case the mic should become part of the surroundings.
Conclusion
If someone looking for a convenient tool for working with video blogging or podcasting at an affordable price, then this is a great starting option. The microphone is qualitatively better compared to any microphone on a smartphone or computer and is extremely easy to use. Again, its use is not limited only to the production of content, and gamers will find it also very flexible application in real-time online game format.
The sound quality is objectively at an average level, and the device will not work for the most demanding tasks. This is a 100% entry-level microphone that famously fits into the tasks and requirements of a wide range of users.
Features & Characteristics
universal voice recording solution
optimal for content makers, gamers and online conferences
cardioid and omnidirectional diagrams together
high build quality
ease of setup and use
frequency range 80 – 18000 Hz
sampling frequency 44.1 kHz
16 bits