Like any other device, microphone technology does not stand still and is constantly evolving. New models are getting better, more technological, more practical, and more efficient. However, there are certain exceptions to this rule. Everything is not so simple and not unidirectional in this belief. This is not the same story as for, say, TVs and television in general. What do I want to say? Let's step back a bit towards and look at microphones' history points.
The first mic was part of a telephone created by Alexander Graham Bell in 1876. It provided a hopelessly mediocre sound, but the technology was more than a breakthrough for its time. Subsequently, Thomas Edison stood behind the creation of the first full-fledged microphone sometime later, in the same 19th century. This is a cardioid mic. As you know, we still use cardioid microphones as one of the main types of equipment.
Since then, the niche has developed, the sound quality has improved. There were new opportunities for microphones. For example, somewhere in the 1970s, there was an opportunity to get rid of wires on the stage, and in the 21st century, practical microphones with a USB connection were created (insert into the computer and use). All in accordance with the growing needs of users and the capabilities of manufacturers.
However, the basic technology for 150 years of history has not changed much. New variations have appeared, but the root ideas are exploited today. This is an important sign. And if you look closely, throughout the history of the mic, cult models have appeared on the market that are still remembered and revered. Were they worse than modern devices? I am more than sure that most decisions of the 1930s or 1950s are not worthy of the attention of the modern user. But individual pearls have always been found. They are loved for their special combination of technologies, which provided a unique, recognizable signature sound. There are those who have become a cult subject due to their memorable appearance and design.
Most of them are not produced. But demand remains. What to do with him? Manufacturers republish the classics or create new models based on established solutions. Whether new products are good is a subjective question, but they are worthy of attention.
And I tried to collect in one article those "classic" microphones that are worth considering and tasting if you are looking for something really worth considering. At least you don't lose anything. As a maximum, ensure the solution of personal tasks for years to come. Only that which will serve you well and for a long time is here. Let's go watch the mic vintage!
Pyle PDMICR74GL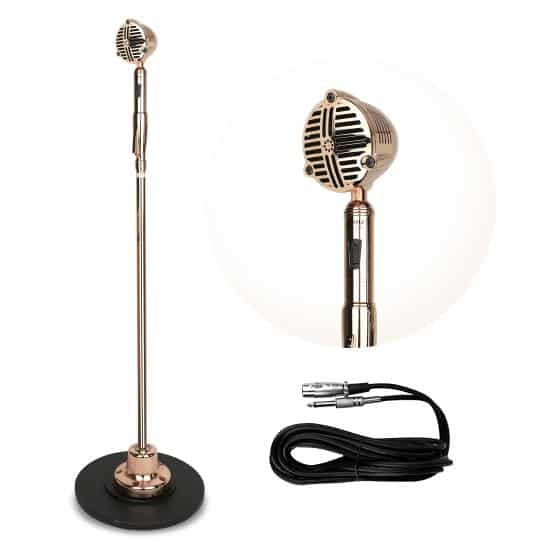 This is a pure vintage thing. One glance is enough to see in this classic microphone pictures from black and white pop videos of 80-90 years ago or something like that. The developers did their best to provide a special concert atmosphere with the help of this device. The audience will be impressed and conquered unconditionally. It is important to note that this model is a set of a microphone and a stand of the corresponding appearance. You'll only produce the full "old school" impression on the public. It is worth noting that vintage accents are made only in the direction of the design. This is a high-tech, modern solution that only pays homage to old concert microphones.
A lot is quite traditional: for example, cable connection, XLR connector (3-pin). But also here you can note the built-in cable management, the ability to adjust for height and a reliable metal base. The microphone is mounted tightly on the stand, but it can be rotated 360 degrees. The location of the mic can also be conveniently adjusted to the needs of a particular person.
Features: microphone + stand, true retro style, flexible stand height adjustment, 360-degree microphone rotation, built-in cable adjustment
Pros:
stunning appearance;
manufacturability;
ease of use on stage.
Cons:
no cord to connect to the amplifier;
individual plastic parts.
---
Neumann U87 Ai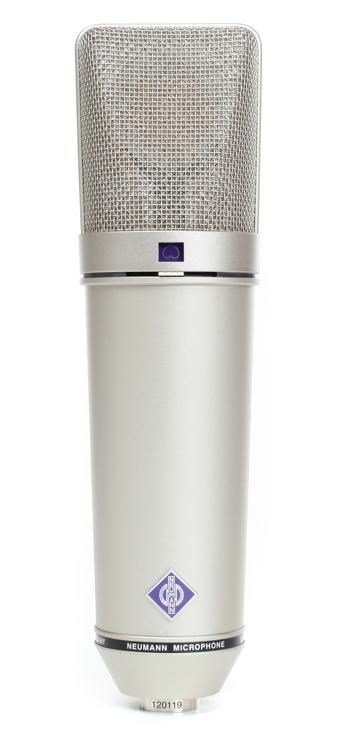 Neumann U87 (1967-1986) is an immortal classic vocal recording studio, which is still used today. The developer continues to release new devices with changes that do not spoil the main splendor. The latest model is called the Neumann U87 Ai. It is important to add that the model is universal: it is also used for studio recording of acoustic guitar, piano, strings (especially cello and double bass), wind and percussion instruments, and background sounds. Everyone especially loves the mic (both the new and the old version) for its unique, memorable, very high-quality sound.
It uses a capsule with a large double membrane, which provides three radiation patterns: circular, cardioid, and 8-shaped. The latter are switched using a selector located under the protective grill.
The latest model has been repeatedly awarded prizes at modern specialized exhibitions, and this is at least one of the decisive reasons why it deserves attention. The price is very high, and this microphone should be considered as a means of equipping a professional studio. Otherwise, its capabilities will be redundant.
Features: circular, cardioid and 8-shaped patterns, for recording vocals, musical instruments and sound space, unique sounding
Pros:
outstanding uniqueness of high-quality sound;
versatility;
reputation;
manual assembly.
Cons:
---
Pyle PDMICR42SL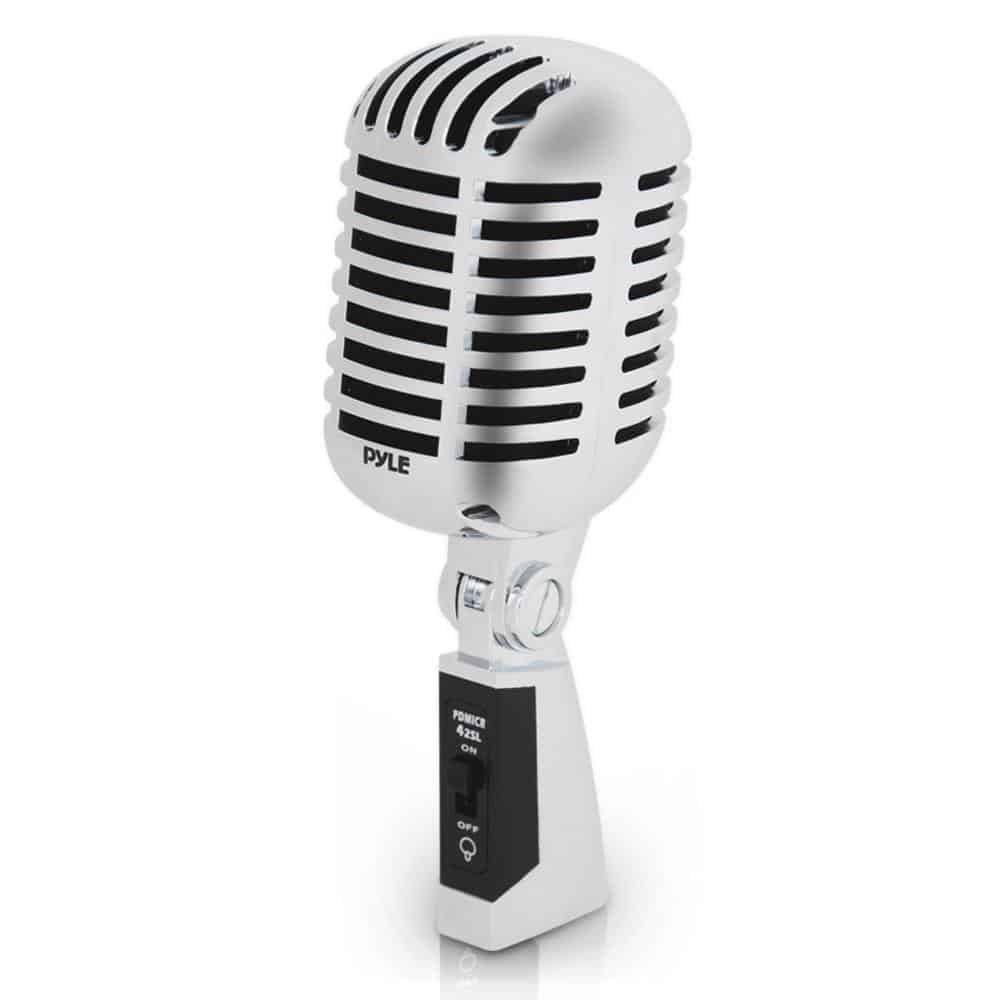 Another outstanding classic styling. One glance is enough to recognize this mic and want to take possession of it. Necessarily, in the set, to the pleasant feelings of contemplation, an outstanding personality of the past who sings is added. For example, Elvis Presley. It was he who influenced this style of microphone as one of the fundamental in design and desirability.
And what else is the developer of the new model ready to offer the consumer? I explored the possibilities, and I can honestly say that this is not just a beautiful dummy. Everything is quite interesting from a technical point of view. For example, the developer ensured the implementation of a full-fledged built-in pop-filter that suppresses third-party noise and clears the sound no worse than an external analog. It is also worth mentioning that the sound is pure in itself. An important component of success is not trivial copying of a design, but its technical features. The developer clearly conveyed the direction of the sound, which makes it convenient for various vocal and speech tasks.
The tilt angle is very flexible. Three color options are available: traditional silver, black, and red.
Features: flexible tilt adjustment, verified distinguished retro design, built-in pop filter, clear sound direction
Pros:
high quality and purity of sound;
stylish appearance;
versatility.
Cons:
plastic elements easily lose their original appearance in some places.
---
Neumann U47 fet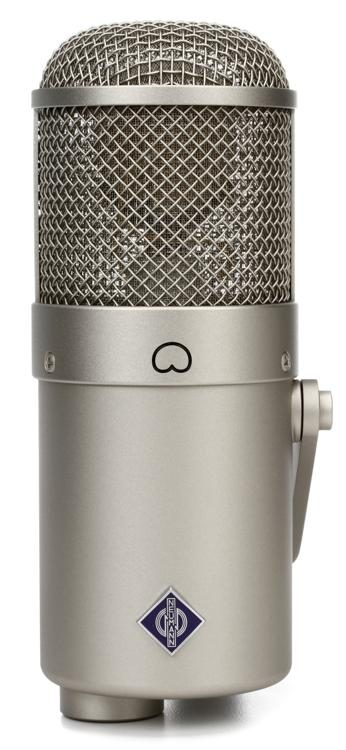 Another legend of several generations that is available on the market today. Neumann U47 fet was one of the iconic 1970s classic studio microphones that almost defined the sound of an era. This is a classic that sounds interesting and relevant even today. But the developers could not ignore the opportunity to add a number of technological innovations and updates.
Why is sound good? The fact that it is very smooth and expressive. No comparisons to anything. Enough to hear once to understand. The developer provided a unique clarity and expressiveness of sound, which made a space impression in the 1970s, I am sure of that. It was usually used for vocals and speech due to the lamp design. By the mid-1980s, trends had changed, and the model dropped out of the company's product line. But demand remained, and over time, output was resumed with changes. Interestingly, they began to use it more actively for working with musical instruments. It turned out expressively and originally.
The design of the new version is preserved inaccuracy. The condenser capsule has a large aperture. The large output transformer is responsible for the continuity of sound. The dynamic range is very large – 119 dB. Settings are very simple and intuitive. Even a child can adjust the location of the microphone head to suit their own needs. In general, the tilt angle adjustment is very flexible, but the fixation in the given position is reliable. There is an additional output attenuation switch.
Features: an accurate and improved copy of the classics of the 1970s, a unique tube sound, additional control, and tuning tools
Pros:
versatility;
convenience, and ease of tuning;
stylish vintage sound.
Cons:
---
Shure 55SH Series II

I propose to look at another interesting version of the "Elvis microphone", which allows you to feel the legend of the world of sound. But, of course, an excursion into the past is possible side by side with updated technologies.
What good is in this model? A trusted manufacturer who decided to release his own reading of a win-win classic. Shure is a guarantee of decent quality by default. Also noteworthy is the approach to the elaboration and detailing of the design, which is conveyed not in "general strokes", but in all the details. This is the thing that a person wants to own, just own, and then everything else. It is this feeling that arises in the first place.
The sound is universal, and the user can use it to work with vocals, speech, and recording / scoring of musical instruments. However, this model was created for vocalists in the first place. A cardioid pattern ensures clear sound even in adverse conditions. Also, noise is reduced due to the shock absorption system, which suppresses vibration. The positioning adjustment is very flexible.
Features: for stage and studio, for vocals, speech and instruments, cardioid pattern, recognizable Elvis design
Pros:
stylish appearance;
reliability;
flexible adjustment of the angle of inclination;
suppression of third-party noise and vibration.
Cons:
inconvenient switch location;
weighs a lot.
---
AKG C414 XLS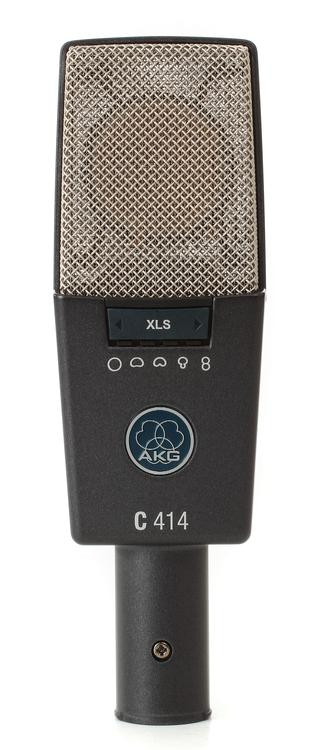 AKG was the first manufacturer to come up with a mic capsule design with two fixed plates that act as an electrode. The principle of operation of any condenser microphone is unchanged: one lining of the condenser is a fixed plate, the second is a movable membrane. This is usually a thin gold-plated polymer. The innovation here is that the capsule of the AKG condenser microphone consists of two plates and two membranes. The advantages of this design are obvious – you can change the radiation pattern without losing the sensitivity of the capsule. The AKG C2 was the first in 1952, and the AKG C414 was one of the best developments in the future. It was used to record or sound the vocals of soloists and live instruments, for classical music, as an overhead mic for removing a drum kit, for recording ensembles and more.
A successful model is developing today. AKG C414 XLS is the latest stage of development. It is used to record vocals or instruments, providing in each case the perfect clear sound quality with expressive detail. There are 9 polar patterns to choose from, which determines the maximum flexibility of the device. If necessary, the user can use three attenuation switches of -6, -12, or -18 dB. Several filter settings are also available for different conditions of use. This is a technological solution of our day, which keeps the traditions of the original microphone in full.
Features: 9 selectable polar patterns, recording vocals or instruments in the studio, set of additional sound control filters
Pros:
purity and detail of sound;
versatility;
a large number of settings for a unique performance.
Cons:
---
Monoprice Memphis Blue Classic Dynamic Microphone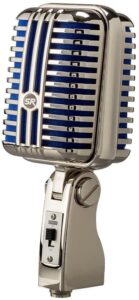 A fairly simple solution for undemanding users who need an affordable stage mic in a classic mid-twentieth century design. This model incorporated the best of design than the concert microphones of the 1940-1950s were famous for. Stylish finish, high-quality materials, detailed forms: this is all you can count on. And the splendor is felt at first sight, as for me.
But this mic does not just play a decorative role. The developer integrated modern elements and solutions so that the user sounds in the spirit of the present, but with a touch of the charm of the past. The mic accurately picks up sound from the front and cuts out noise on the sides. Also noteworthy is the shock-absorbing system, which blocks interference from vibrations and prevents sharp displacements of the microphone during singing on stage. The housing is made of zinc alloy, and the appearance of the microphone wears out very slowly. Many analogs in this niche cannot boast similar, unfortunately.
Features: robust zinc housing, outstanding mid-twentieth-century design, smart features for stage use
Pros:
reliability;
durability;
impact resistance;
sound capture without third-party sources;
thought-out shock absorption system.
Cons:
build quality is imperfect but quite acceptable.
---
Royer Labs R-121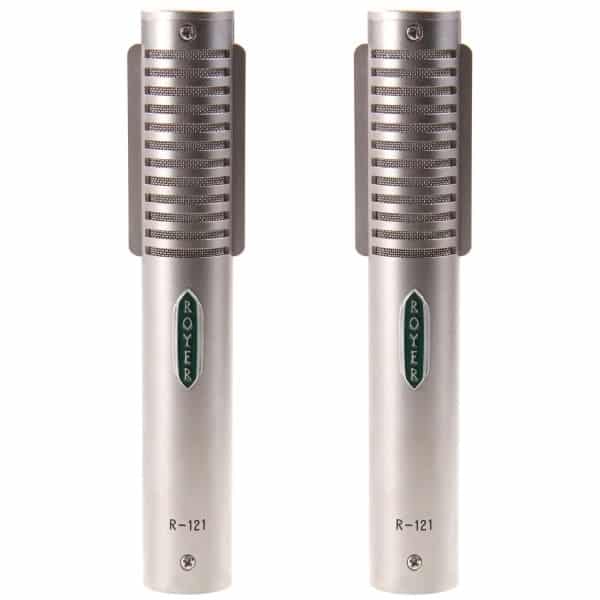 The recognizedclassic microphone of the 21st century. This ribbon model of the microphone was released in 1998 and retains wide consumer interest. It provides high-quality sound at the level of the best dynamic microphones, plus a characteristic "warm tube" sound. Users can count on high accuracy and realism when transmitting vocals and speech. If necessary, they can record musical instruments in a very interesting timbre.
A special plus deserves the high build quality and consumables that were used in the manufacture of the device. This is a durable product that will last a long time. It is also compact and portable.
The developers are proud of the unique ribbon converter, where the ribbon element is located closer to the front of the microphone. This allows you to save additional space for movement along the main magnetic field; the full frequency response during recording with a high sound pressure level is maintained.
Features: high SPL, low residual noise, portable design, unique patented technology of the modernized tape converter, the absence of high-frequency phase distortion
Pros:
stylish design;
reliability;
durability;
high build quality and consumables;
warm and expressive sound.
Cons:
the sounding is not for everyone.
---
Shure Green Bullet 520DX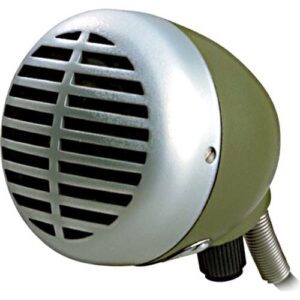 Another very iconic design from the past from Shure. Style and embodiment are simply mesmerizing at first sight. The manufacturer managed to achieve the ideal spirit of the antiquity of the mid-twentieth century, transferring the technological effectiveness of our time. This is a non-standard solution due to several factors, but buyers will be found in large volumes.
This is a wired model. However, it is easy to mount on a stand. The mic is ideal for concerts and studios for individual tasks. A useful design feature that I want to pay attention to right away is a convenient volume control on the case. This gives maximum flexibility to the vocalist on stage during the singing process.
The model is very sensitive (omnidirectional), and it is able to provide expressive sound at the output. The user needs to be careful with capturing third-party noise while doing so. It is possible to connect a mic to the computer with a special adapter. There is a dynamic cartridge with improved response characteristics. Overall, this is a very reliable and effective solution.
Features: Custom vintage design, an original instrument for the stage and studio, a special volume control knob for flexibility of use on the stage, an updated dynamic cartridge with an improved response
Pros:
expressive vintage design;
outstanding user features;
usability.
Cons:
captures third-party sounds periodically.
---
Electrovoice RE20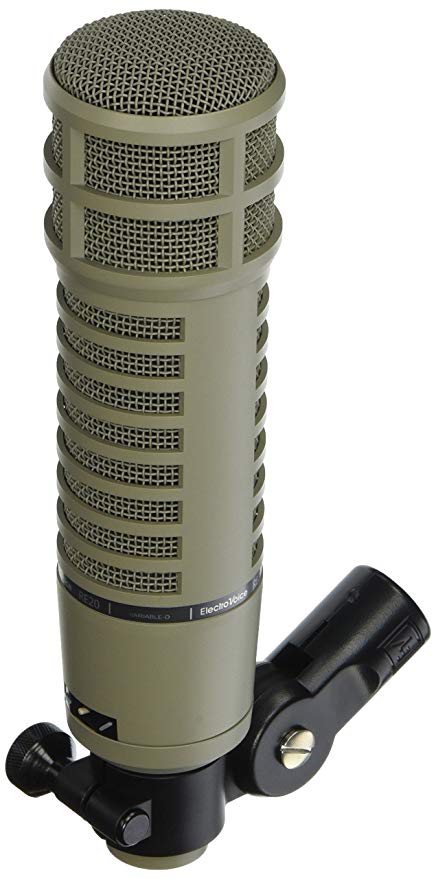 The iconic model of a microphone for broadcasting, which provides accurate and expressive translation of speech in any environment. Third-party sounds are cut off as much as possible. Popularity in this area is achieved due to the smooth and linear characteristics of the voice, which "save" practically in any situation. An important feature of the mic is Variable-D technology. It reduces the degree of tone shifts with the proximity effect. This means that a person who speaks into the mic may not be able to do this in the immediate vicinity and will be heard. If necessary, the model can be used to record musical instruments in the studio, and this provides an unusual, but attractive sound. Most often, a mic is used when working with drum kits and acoustic guitars. The case is made in an all-metal format, and this is a powerful protection against any external influences. An additional system of protection against external vibrations helps to suppress external noise during operation. In sum, all this makes the model super-efficient in many tasks.
Features: model for broadcasting and recording musical instruments, soft speech reproduction, full metal case, Variable-D technology
Pros:
high-strength case;
expressive sound of a voice;
high quality of assembly and materials.
Cons:
---
Conclusion
This top 10 models and the whole market as a result of my research showed certain trends associated with the niche of classic microphones. The demand for vintage equipment is large, but not absolute. At the same time, classic microphones can be divided into two categories: these are copies of the vintage design of the mid-20th century (often for stage use) and updated versions of old models of professional microphones for studio work, which have certain, widely recognized technical characteristics. Whatever the case, manufacturers in each case seek to create an alloy of the traditions beloved by many people and modern technologies that ensure that audio equipment meets user standards of our time. In summary, all of the above models deserve equal attention, and you can find even more cool solutions outside this article if you wish.