China has long been a symbol of substandard goods. This trend is gradually changing amid an economic boom, and Chinese brands are increasingly offering world-class equipment in various categories. This also applies to audio products. Often, these are quality products at a low price. They outperform established brands in terms of quality/price. There are many successful products in the budget category.
For example, let's talk today about the Saramonic UwMic9 radio system. It has everything you need to gain widespread acceptance of users in the near future and to crowd out market leaders. So, the package includes two transmitters and one receiver. There is also a single transmitter version. If desired, the user can purchase, connect, use a lapel transmitter, a hand-held radio microphone, or an XLR unit.
The radio receiver is designed for 96 channels in a wide frequency range (channels are divided into two groups). It is worth noting the economical approach to production since the manufacturer gives the user only devices in the box. Additional accessories, such as covers, need to be purchased as needed. At the same time, everything you need is there: the package includes 2 transmitters, 1 receiver, 2 cables for camera connection (mini-jack and XLR), 2 lapel microphones, studs for attaching to the belt and fasteners for the cold shoe.
Build quality is high, and attention to detail, taking into account situations of active use, pleases attention. The cables are thick and durable, the connectors have a strict fixation, foam rubber wind protection with a rubber frame is easily fixed and can be removed.
Wireless Lavalier Microphones System Review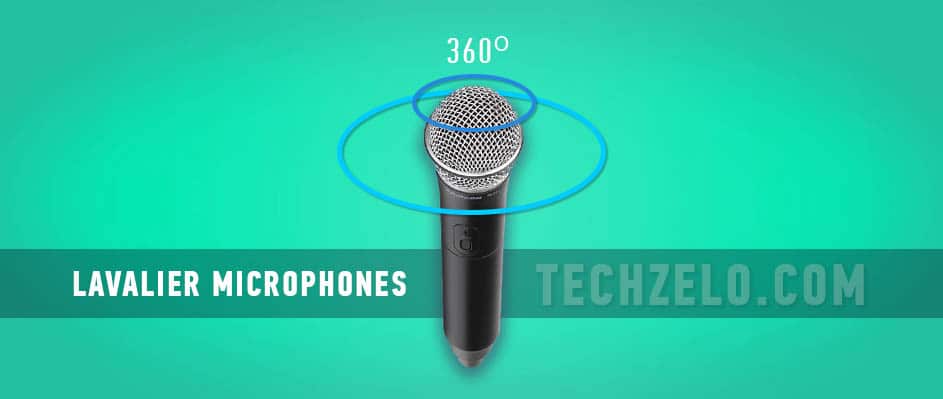 Each device is powered by 2 AA batteries, there is no USB connection. The Chinese manufacturer has placed the receiver and transmitters in shockproof all-metal cases, and this is a good move. We have a fairly inexpensive solution that perfectly withstands difficult operating conditions in the active mode and looks stylish at the same time. The only thing is that the weight of the devices is relatively large. This does not interfere with daily work.
The menu has a full set of standard settings. In the receiver, in addition to the standard frequency selection options, you can lock the power button, set the sound level at the output, and set the backlight time.
Characteristics and features
for lavalier microphones
stylish and reliable all-metal housing of receivers and transmitter
connection via 3.5 mm jack
40-18000 Hz frequency range
powered by 2 AA batteries
simple and flexible system settings
Saramonic UwMic9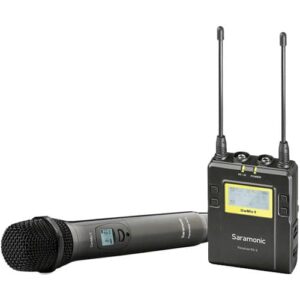 ---
An extremely useful function for recording two channels simultaneously is the ability to transmit a signal in stereo when different stereo systems are displayed on the left and right channels. This allows you to work with each signal source separately at the installation. Mono sound is also available.
A convenient and bright screen shows the signal level and sound level on the channels. Here's also presented device synchronization via infrared.
On the transmitter, by pressing the volume button, you can mute the sound. This option can be disabled. 3 power modes are also available.
Interference is present when working at a fairly large distance, but their degree is not so great in comparison with proven premium devices. As for the price, the manufacturer estimates the goods are slightly more expensive than other Chinese manufacturers but significantly cheaper than the goods of well-known brands.
If desired, the buyer can look for decent Chinese solutions in the cheaper price segment, but he risks wasting time. Here, Saramonic UwMic9 offers a very reliable balance of price and quality.