A good desktop microphone shouldn't be expensive. This is acute for this model that provides all necessary features required for the amateur and even an expert from a reasonably priced mic. It's hard to say what is the best activity for it. It records the game stream equally well as it records the musical performance. The versatility of Yeti Blackout microphone is undeniable. Of all microphones Yeti deserves special attention this Blackout Yeti review will tell you about it.
Blue Yeti Blackout – Design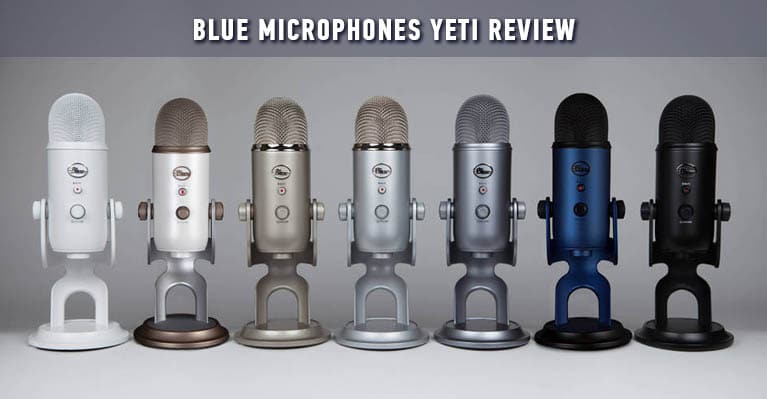 Blue Microphones Yeti Blackout is perfectly built. Its exterior is fully made of metal, therefore, it's so weighty. The buttons and knobs are plastic. The black mic includes the base attached to the device and it's also made of metal, therefore, it's rather heavy compared to other microphones. There's mini-USB jack at the base with headphone jack. The base is threaded and enables attachment of Blackout Yeti to any standard stand. Additional knobs on the other side help to select the gain and pattern of 4 variants available in this model.
However, if you are short of space on your desk, this microphone is not the best option. It's big and requires space.
The design is made with convenience of users in mind. It's possible to angle the Yeti the way needed for convenient performance.
Easiness of use could do it portable device. However, there are two things that are in the way of it. First of all, the device is large for being portable. And secondly, it's not compatible with tablets and smartphones.
Blue Yeti Blackout – Technical Parameters
The proprietary tri-capsule design helps to attain the output of pro quality. It's possible to record whatever you want using bi-, omni- and unidirectional mode. There is also stereo mode as well for more dimensional sound. Though the novice may seem confused, the description of each pattern is given clearly. So the user can determine with ease what exactly to use.
Though settings are not that impressive for pros but are highly assessed by amateurs who don't have to guess what to do in this or that recording situation. There is headphone jack enabling listening to the voice during the recording and control the situation in real-time. It also easy to take control of the situation thanks to the mute button and gain control. It's not problematic to establish consistent balance and remove the sources of unwanted noise during recording using these tools. If you want to clear the throat or make the pause during the recording session, come on – no problems with it! Zero latency control monitoring along with volume control are highly appreciated among the consumers.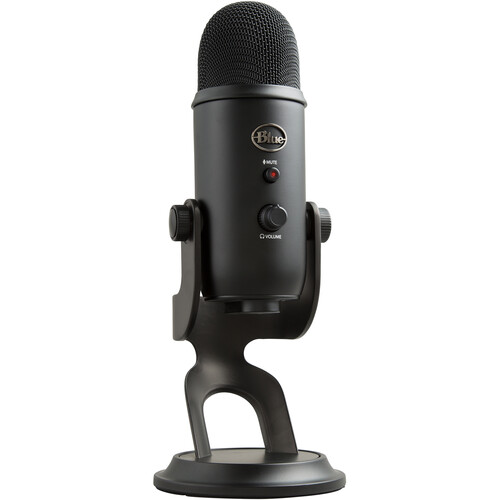 Performance
The non-savvy users are glad to enjoy plug and play setup. It's not a headache to start using Blackout Yeti. It's compatible with Mac and Windows. The users are also free to choose the application for voice recording – the result is superb no matter what it is. Installation of drivers is not required. It's not necessary to configure the setting in a sophisticated way, so the use of Blackout model is incredibly simple as in the case with any Blue Yeti.
The quality of sound is incredible in Blackout Yeti and features noticeably good depth and detail. The sensitivity of microphone is astonishing and is prone to capture the ambient sound you would want to reject such as computer noise even in the neighboring room. However, the voice sounds clean and beautiful. The level of sensitivity can be adjusted.
The recording made by this Yeti is not professional as it's limited with 48kHz/16-bit parameters, therefore, professional musicians will purchase other hardware. However, modularity of the mic is excellent for all users. It's possible to get the most of the device depending upon the situation.
Those who want to acquire the mic to use without fuss should pay attention to Blue Blackout model. It is strikingly beautiful and stylish. The sound is fantastic with it!
Conclusion
Being one of the most recognized models Blue Microphones Yeti is loved among bloggers, streamers, and podcasters all over the world. The review of Blackout Yeti actually resembles reviews of other Yeti editions as they are actually similar in characteristics with exception of pro-model with more advanced features. This is certainly not a cheap device compared to other mics reviewed by us but the price is justified due to its solid build, simplicity of installation and capability of versatile use.
Review Summary
Reviewing this microphone, it's easy to get tons of information about users' impressions. It's so popular among consumers. It's really a universal device that sounds perfect. The mic can be used for diverse goals: recording of the vocals, voiceovers, webinars and online conferences. Blue Yeti performs everything ideally without distortion. It's easily connected to studio gear thanks to headphone output. Taking into account all benefits of the device, the price is rather good. The stereo mode is additional advantage of the gear. The microphone is great for beginners as it solves all technical questions that can arise on any stage from installation to setup and use. Excellent performance is guaranteed with it.