It's very important to deliver quality content when you stream or podcast. It won't be successful without this component. Therefore, it's necessary to have high-quality equipment to deliver the best streaming audio. Let us look what exactly is required for streaming to attract the audience and perform better than other streamers or podcasters. It would be great to use a professional dynamic or condenser microphone. The second option is more preferable. The performer should have a floor or a table microphone stand. Audio gear should include good full-range headphones or active speakers with the right tone transmission (active monitors). And the last but not least important thing is the internal soundcard, miniature mixing console or external USB/Firewire sound interface for connecting a microphone and subsequent recording. The choice of interface depends on the type of recording device. A condenser typically requires +48 V phantom power. So, as you see there is much to explore in this issue. We will cover just one of the items in this article – choice of the best audio interface for streaming. It can be a rather complicated question for non-savvy consumers as there are so many interfaces of different kinds on the market, but if you want excellent sound in your streams, the question is worth exploring.
Why do customers want to buy an audio interface?
Any streamer wants to perform well, especially, when the person earns his living on it. It seems that there is enough to have a computer and some software program like Cubase, Reaper, Sonar or some other. After all, there is in-built audio card in it. Why is an audio interface needed then? Let us look how external audio interface differs from the in-built audio card. Apart from headphone jack, the embedded audio card usually has 1 stereo in and 1 stereo out. This is not a pro-level quality and it tells upon the result. Besides, connectivity problems arise. Consumers don't have problems with USB but it's impossible to use XLR connection then. Buying an audio interface for streaming, one can solve all problems. Best quality is guaranteed then. You will have to buy an audio interface for your activity if you want to get the best audio. There are different connectivity alternatives for users of interface, while the process of conversion delivers excellent sound without noise and latency.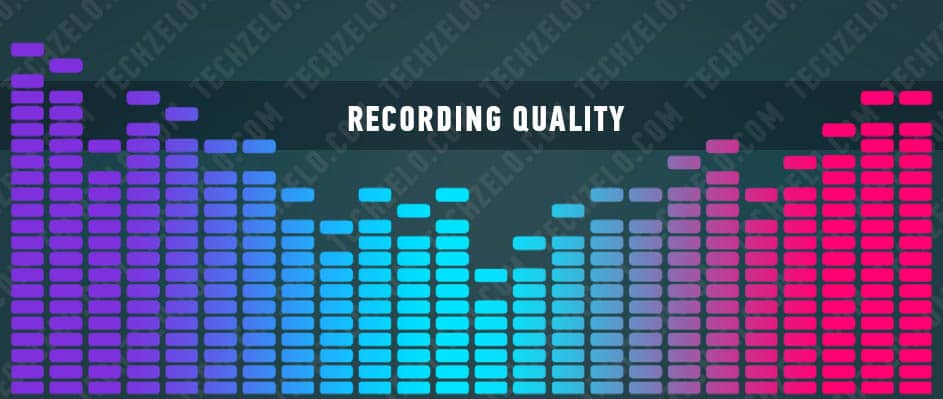 What features to look for in an interface?
It was not a big problem before. One could just insert the interface into a PCI slot or Firewire connection. The other gear with lots of ins and outs was incredibly expensive, so folks definitely knew what to choose as they couldn't afford professional equipment. Now it's all different. Many people who do not work in the sphere of sound can purchase audio interface for streaming audio, podcasting or just for fun. The price even for best audio equipment is reasonable, while the quality of sound increases considerably.  The audio interface is provided with all necessary features, provided with excellent connectivity, USB and low latency so the person doesn't have any technical issues when he needs interface for streaming or some other activity. So, what should one pay attention to when making a choice?
Quality of converters.
Low latency.
The number of inputs and outputs.
It's important what you want to record. For drum kit, for instance, you need more inputs than mics. When you play the guitar and sing to it, you record two sources simultaneously. There can be different situations and you need to look what you are going to record.
Type of inputs explained
An audio interface can include XLR input and ¼'' jack. The combination of inputs in one port is applied for smart design. It helps to save space in the devices, but at the same time it's possible to use only one of them at a time and simultaneous use is impossible.
¼'' jack is needed for connection of instruments but one can use it with streaming and podcast devices. It's possible, for instance, connect the wireless lav mic that feature ¼''male ends.
The XLR port is needed to connect the mics. They are of standard size that is used internationally therefore there is no need to worry about the suitability of the cable.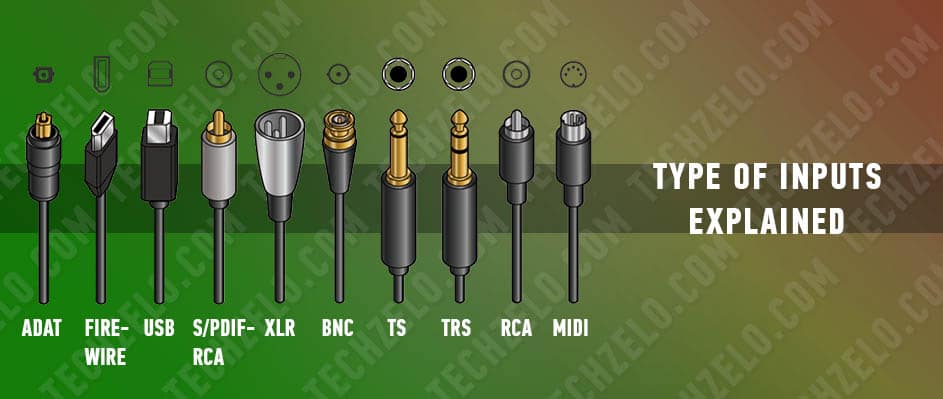 Type of outputs explained
The following types of outs are found in devices. Line out is the main one enabling connection to interface. ¼" jacks are used to connect the device to the left and right speakers. The volume knob located on the interface controls the output.
The other popular type of output is Thunderbolt port. It enables incredibly fast transfer speed and a low level of latency. Now Thunderbolt 3 version is used that is two times faster than Thunderbolt 2. In order to understand its efficacy, you should know that its speed is 8 times faster than USB3. Many modern Macs are supplied with it to be able to support high-end audio interface.
Firewire is a type of output delivering more consistent data in comparison with USB. It is known for its reliability but it is seldom accessible for users.
The widespread type of output is USB. There are three versions of this connection that varies depending upon the bandwidth. The benefit of this output is that it uses USB buss power that is used for phantom power.
PCIe or Peripheral Component Interconnect Express is a type of output in computers. It makes the audio interface an internal component of computer. It is connected to the motherboard via PCIe port.
Important features
There are some other essential characteristics that were not regarded above but still, they matter when you select the best audio interface. It refers to phantom power that is needed for connection of condensers. It may not be so important for streaming and podcasting but it comes with almost every audio interface. It's not recommended to use the phantom power with ribbon mics known for its fragility. These microphones can be damaged then. Dynamic microphones can be used either with phantom power or without it.
The other important feature is direct audio monitoring that gives the capability to hear the sound coming via the audio interface input almost without latency. ¼'' female jacks are made as to the interface ports. Sometimes 3.5mm jacks are used.
There are headphones that are equipped with 3.5mm male end and come with ¼'' adapter giving the possibility to use it for any audio interface.
Focusrite Scarlett 2i2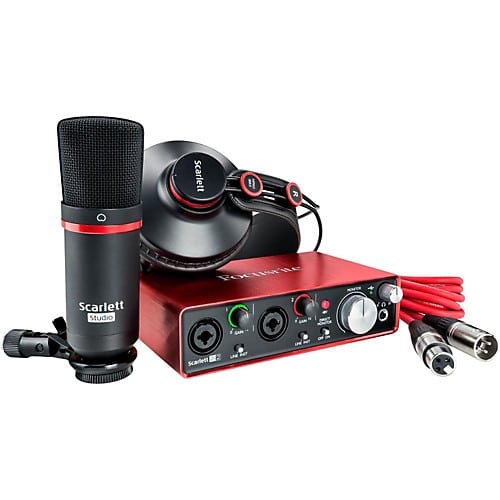 The entry-level streamer or podcaster can acquire this audio interface for its work with sound. Even the professionals use it for their goals. It is provided with 2 XLR ins enabling connection of two mics, which are necessary for podcast. Supply with mic preamps gives the capability to boost the mic's output when it enters the DAW or out.
It offers phantom power therefore you won't face obstacles using a condenser. It includes basic Pro Tools that removes the problem with software. The person can start using it at once.
Features:
2 mic preamps;
2 instrument inputs;
Headphone output.
Pros:
Excellent quality build;
Convenient use;
No additional drivers are needed.
Cons:
Some consumers complain of audio cut-outs.
---
Focusrite Scarlett 18i20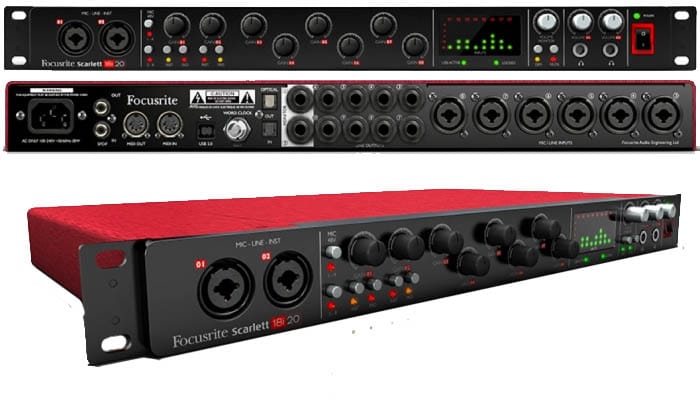 Those who need an audio interface for excellent performance, should consider this model.
Features:
18 ins;
20 outs;
10 1/4-inch balanced jack outputs;
ADAT;
2 discrete headphones outputs.
Pros:
Stylish appearance;
Free plugins for mixing sounds;
MIDI in/MIDI out.
Cons:
The drivers are not provided in the box, so it can be annoying to install the software for it.
---
Universal Audio Apollo TwinMKII Duo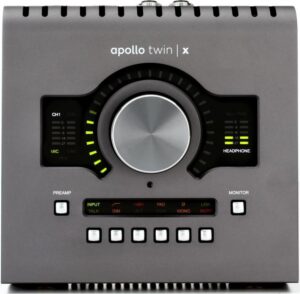 The consumers love this alternative much. This audio interface can be an excellent device for streaming. It is appreciated for its AD converters of best quality. The gear is equipped with embedded plugins alleviating manipulations with sound and making it superb!
Features:
2 premium preamps;
2 lineouts;
2 analog monitor outs;
Pros:
High-end A/D and D/A converters;
It offers tonality and feel of recordings made with analog devices;
Real time UADprocessing.
Cons:
Lack of useful step-by-step tutorials.
---
M-Audio M-Track 2X2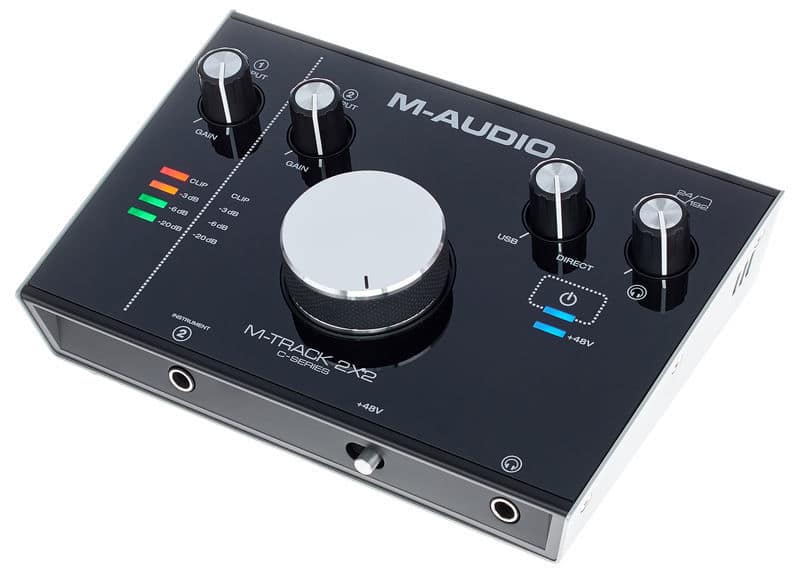 Those who need an audio interface for low noise performance, can resort to this option. This device is rather intuitive and easy to use. It's possible to record two channels simultaneously using XLR and instrument input. Also, the software delivered with device allows you to start using the item at once.
Features:
+48v Phantom Power
XLR/TRS combo and 1/4" instrument input
Durable metal chassis;
1/4" headphone out;
Stereo 1/4'' outs.
Pros:
Quality components are used for it;
Central stylish volume control;
Software bundle;
Convenient and ergonomic design;
The interface looks professional.
Cons:
Some consumers say that audio interface just stops working for no discernible reason.
---
Arturia AudioFuse 8Pre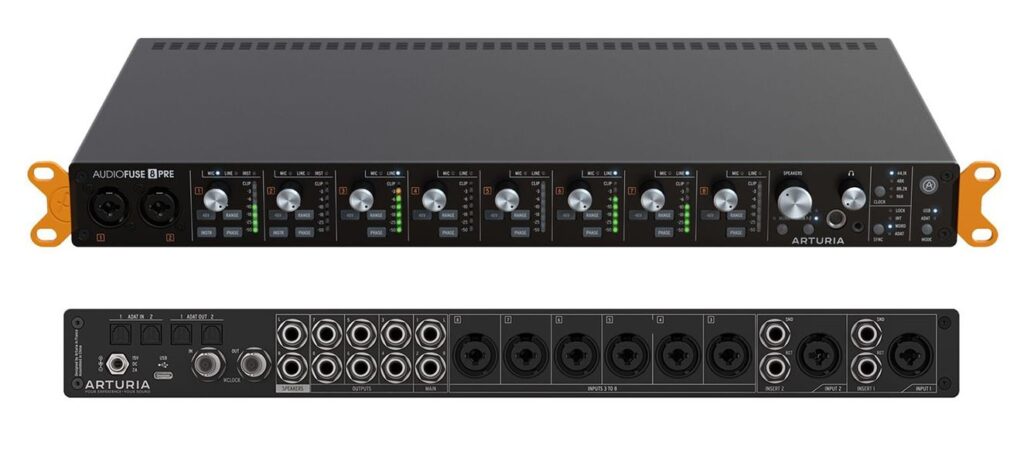 It can be hard to select the appropriate device among numerous goods offered in the market. This device doesn't let the consumer hesitate. There are so many excellent features in it. The consumers love its compactness, and lack of noise and coloration in audio. This is a rack style interface.
Features:
8 channels;
USB 2.0 compatibility
ADAT output;
DSP with low latency mixer.
Pros:
Components of premium quality;
Awesome design;
Works great with ADAT.
Cons:
Some consumers don't like that line inputs are on combi jacks.
---
Conclusion
How to select the best interface to stream and podcast online? It depends upon your requirements. Those who need a fast setup to start working without delay select interface provided with software. The choice of the device is determined by the way you are going to act: either alone or as a part of group.
But no matter what the situation is, the equipment should provide the result of meeting your requirements.