Mac has long established itself as the best and most popular platform for creating music. This is a combination of internal technical factors and exclusive software that opens up unlimited creativity and maximum possibilities for users to express their own personality. But computer and software are only important links in a large system, which also includes external hardware. For example, microphones, musical instruments, and audio interfaces. High-quality sound recording to a computer is not possible without the last category of devices mentioned since the technical capabilities of even the Mac are not designed for this level of load. And users have to make equipment choices. And the choice is very large, and getting confused in the entire range is easy. How to choose the best audio interface for Mac? We conducted a study and are pleased to offer a list of the best devices in this category in our opinion. We will also pay a little attention to the main criteria for choosing an audio interface for Mac at the end of the article so that users can explore the entire available equipment market on their own.
Universal Audio Apollo Twin X QUAD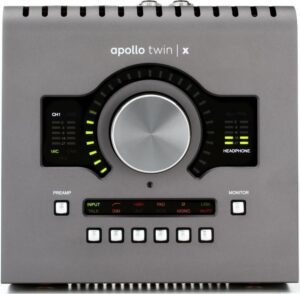 We present to the attention of the user a compact audio interface, which is characterized by affordable price and functionality, which is comparable with the capabilities of more expensive models of the product line of the brand. The model has two Unison preamps, which model the features of various analog solutions, 4 DSP processors that allow a person to use effects in a zero-delay mode without the participation of a computer's CPU and an integrated talkback microphone. The device is equipped with eight functional buttons, general volume control and LED indicators.
Features: Thunderbolt audio interface for Mac/PC, Unison mic preamplification, equalizers, tape recorders, microphone preamps, and almost zero-delay guitar amplification plug-ins,
Pros:

outstanding quality, perfect assembly, portable dimensions
Cons:

high price, difficulty setting for a beginner
---
PreSonus AudioBox USB 96

This is an updated version of the well-known PreSonus AudioBox USB interface. This is a best audio interface for Mac as a start-up solution, for little money, for a home studio, podcast recording, on-the-go sound recording. It has everything the user needs to record vocals, instruments, connect midi-equipment, monitor, and work with audio.
The preamps effortlessly outperform any USB interface. It has a high dynamic range, low noise, and high output, which will provide clear, full and rich sound. Also, it has pro ADCs, so the digital conversion is as high as possible. It is powered via the USB bus, letting the user take it wherever the owner goes. No piles of equipment and a bunch of wires, because just plug the AudioBox into a USB port and start recording. There is no plastic here. The tool is made in an all-metal case with metal handles and is ready to withstand all the hardships of the road. A person can simply throw it in a bag from a laptop and the device will always be at hand for any purpose.
Features: 2 front-panel input channels, each with high-quality microphone preamps, 2 combined microphone / instrument inputs, individual channel level controls, 48 V phantom power for condenser microphones
Pros:

reasonable price, acceptable user specifications, all-metal housing
Cons:

requires preliminary preparation for work, too complex software setup
---
Universal Audio UAD-2 Satellite Thunderbolt Quad Core

This tool is one of the greatest choices for significantly improving the use of DAW and the opportunity to use many great UAD plugins. This interface is one of the best models for Mac computers with Thunderbolt, and it is probably the best audio interface for Mac in different cases. At the highest frequencies, the proposed audio interface is able to show increased performance and a fairly small delay when compared with the similar FireWire Satellite solution. The plugins include high-end emulations from various well-known developers. A very fast Thunderbolt interface connects to Mac. It is possible to cascade connection with any Thunderbolt equipment. The connection is through the Thunderbolt 2 port. Processors use those plug-ins and provide a significant increase in DAW performance. Unlike previous models with the same solution, the processors of the new line show better performance at high sampling frequencies and have a lower delay. The devices are presented in the form of separate blocks, which are placed in metal cases of compact sizes. This is an easy and powerful way for Mac users with the Thunderbolt interface to improve their system and launch large mixes filled with well-known UAD plugins.
Features: availability to use a lot of popular (sold separately), huge amount of compatible plug-in formats, the ability of cascade connection, fanless design for silent functioning
Pros:

silent, easy setup, many plug-ins, portability
Cons:

relatively high price
---
Zoom Tac-2R

This audio interface for Mac was created for the Thunderbolt bus. It has two audio channels. The device is made in a compact metal case. It provides extremely low signal delay and does not require a separate power source, and specialized control software is involved to control all interface functions. This software is a free Macintosh development specifically designed for this device. A person can set the set of options he needs while using it and apply perfect sounding effects such as reverb and echo. Its functions also include a high-pass filter, phase reverse and automatic gain control for all the input channels. Also, it has a special tool, which allows user to combine input and recorded signals with no delay. This software has three memory banks for user settings and a quick switch between them.
Mail panel contains universal mic / line inputs, which can also be used as instrumental for connecting guitars and basses. Both inputs have sensitivity controls and clipping LEDs. Also on the facade, there is a huge volume level controller and a TRS-output for headphones with a dedicated amplifier and level control. At the back, there are a couple of balanced outputs on the TRS connectors, a Thunderbolt port, a MIDI I/O, as well as a hardware monitoring toggle switch with Mono and Stereo modes.
Features: Thunderbolt audio interface, 2 I/O, Hi-Z switch, gain control on each input channel
Pros:

versatility, portability, high sound quality
Cons:

low headphone volume
---
Focusrite Clarett 2Pre Thunderbolt

This audio interface for Mac is developed for the Thunderbolt Bus. This device combines the new design of the preamplifiers with the latest Thunderbolt solution, which provides exceptional sound with an unrivaled interface delay of up to 1 millisecond.
This audio interface is a perfect tool for recording guitars and vocals because it gives the highest audio quality. 2 brand new mic preamplifiers replicate the impedance and modeling resonance of the traditional ISA and provide outstanding audio clarity. Since the dynamic range is the greatest in this class of interfaces, users can confidently enjoy the totally clear conversion with this compact lightweight interface.
The model has two combined (linear / microphone / instrument) inputs, an eight-channel optical input, and four linear TRS outputs, as well as one independent output for headphones. The device already has 4 analog combo inputs and the same number of linear TRS I / O. Also available is an optical input, a dual-channel digital interface, and two stereo headphone outputs.
Features: Clarett preamplifiers provide exceptional clarity and signature sound, new potentiometers provide linear gain control, outstanding dynamic range
Pros:

extremely low signal delay, stylish appearance, crystal clear sound quality, ease of use
Cons:

no Thunderbolt cable included, need for an external power source
---
Audient iD4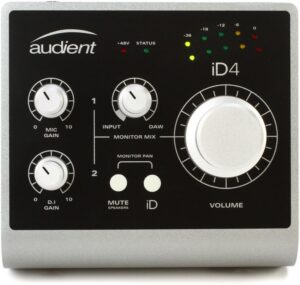 Audient iD4 is a compact and inexpensive audio interface for Mac for the USB 2 bus. This is the youngest model in the range of the British manufacturer. It has only two input and two output channels and is positioned as an affordable solution for a small home studio and use on the road. The all-metal robust housing gives the audio interface durability and reliability during touring performances. The novelty is made in a very compact case, but at the same time provides the sound quality of large-format mixers.
In the back of the case, there is a USB power connector, audio + stereo speaker connectors, a combined input with a phantom power switch. In front, the user can see D.I. input and dual headphone output.
Gain controls for 2 inputs plus a monitor mix between incoming and DAW signals allow the user to achieve almost zero delays. In addition, it is worth noting the color illumination for measuring sound level, as well as large volume control, which is also designed to control the strength of the backlight when pressed. The speaker mute button is useful for microphone recording. The volume control can perform the function of managing the software: this means that when the user mouse over certain buttons or faders in the DAW, it scrolls them left or right, up or down. This function works for all pages that can be scrolled. The recording level with this audio interface is very high and accurate.
Features: high-quality analog-to-digital and digital-to-analog converters, discrete instrument input for direct connection of guitar, bass and other instruments, Mic / Line combo input with a preamplifier working in class A, extra functions to simplify the recording process
Pros:

cheap price, high sound quality, simple use
Cons:

operation problems with Windows, unreliable USB port, specific preamps' sounding
---
M-Audio M-Track 2X2M C-Series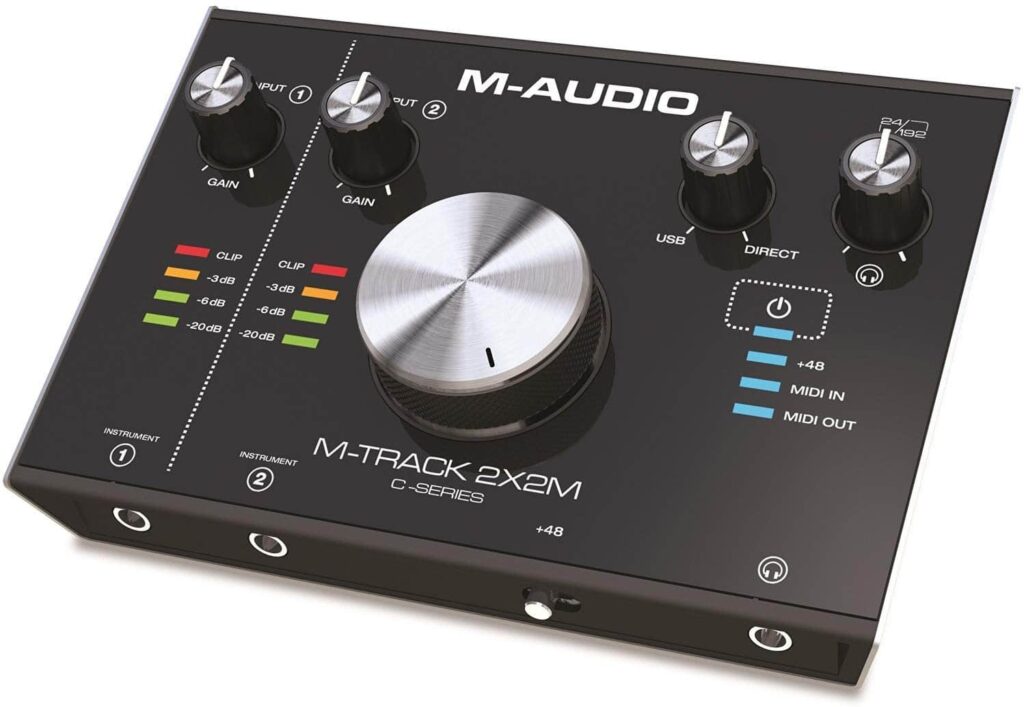 The main distinguishing feature of the model is an additional microphone and instrument input, as well as MIDI I / O in comparison with other devices of this product line. The device is characterized by a very affordable price in its category with praised hardware elements, which provide outstanding clarity and overall sound quality. Two cables are included for connecting. In theory, the connector and cables are certified for a higher power. In practice, it all depends on the power of the computer and the interface. There is still no hardware processing in the interfaces, as this is the budget M-Track series. However, there is an impressive set of licensed software that will appeal to novice musicians. The case is based on a sturdy aluminum chassis. The rest is made of plastic. The top panel is glossy; the box is protected from scratches by a film. The interface looks very beautiful, while all the controls here are thought out and are at hand. The large volume knob has a rubber ring. Headphone output and monitor output are separate. There is hardware input monitoring.
Features: USB connection, two analog output channels, and connectors, 1 independent headphone output, two microphone inputs, four input jacks, two XLR input connectors
Pros:

appearance, assembly, best audio quality, thoughtful interface
Cons:

fine-tuning of preamps is required for high-quality work, unstable sound at low and high volume levels
---
Steinberg UR44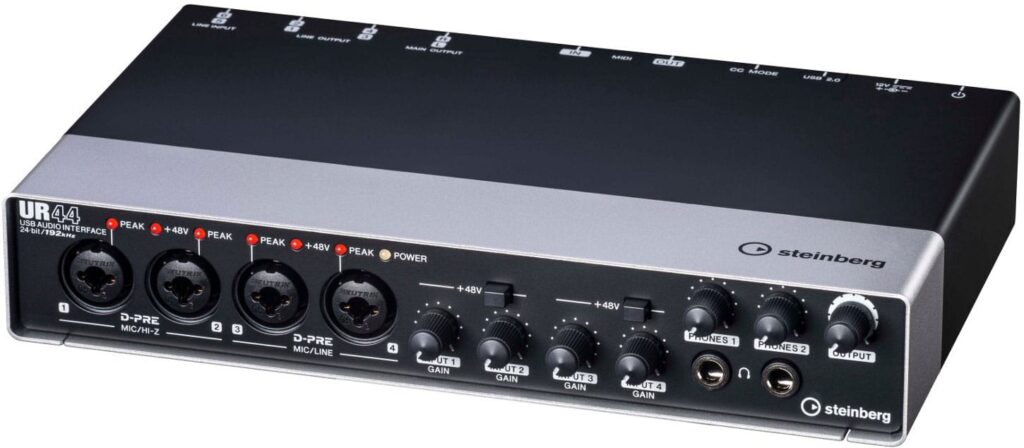 Steinberg UR44 is a USB 2 pro audio interface for Mac with 4 microphone inputs that feels great at Mac. Such a device is optimal in order to achieve a good record of a small group at home. The device is characterized by a durable metal and shockproof housing, support for a wide range of working modes, combined XLR / TRS connectors, the presence of phantom power and MIDI I / O. It is important to note that there are no digital inputs / outputs. It boasts hardware effects controlled from a Steinberg Cubase sequencer. The price is slightly higher than some of the models from this list, but the level of the device is slightly higher. Of great interest is the control panel, which controls the built-in hardware mixer. Two independent mixes MIX 1 and MIX 2 are sent to two independent headphone outputs. On each channel, a person can turn on the effects: compressor, equalizer, and a large knob allow to choose a creative preset from those prepared by the manufacturer for different user scenarios. Each channel has a send to the reverb. Yamaha microphone preamps are used here. Indication of the level is in the program panel of the card. For visual control of the input level on the device, PEAK overload indicators are provided. In addition, the device is equipped with a power indication and the inclusion of +48 V.
Features: USB 2.0 audio interface, 48V split phantom power, built-in effects deliver no-delay monitoring, four class A preamps, cast metal body
Pros:

stylish appearance, reliable assembly, a lot of I / O
Cons:

quiet headphone output, no RCA line-in for line-level devices
---
Focusrite Scarlett Solo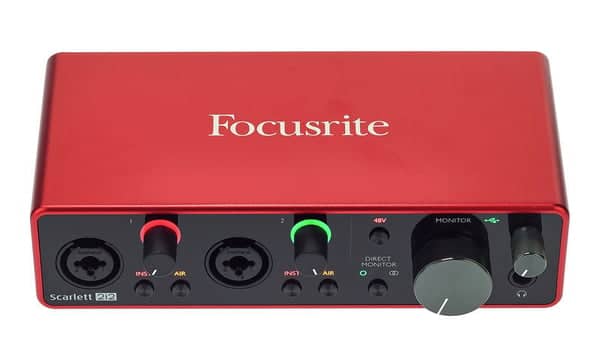 Check this audio interface for Mac too. This interface for recording studio-class music on Mac and PC is the simplest solution of its kind, which will especially please songwriters and guitarists. A person can take it everywhere because simply by connecting a mic and a guitar everyone can start rec with the great sound quality as the entire Scarlett line. It is compatible with all popular software.
What are the key features of this model? The user can easily record high-quality audio. It is enough to connect the mic to a natural-sounding Scarlett preamp, and the guitar directly to the newly developed input, both of which capture studio-quality audio, and the recording will sound in full accordance with the idea. Each person can also record guitar and vocals in separate tracks at the same time. A very low level of delay allows a person to impose effects during the working process in full real-time mode. And this device is compact and reliable enough to be able to take it everywhere. The sound level is comparable to large mixers. Converting a performance to digital audio and vice versa is a decisive part of the working process. For more than twenty years, the manufacturer has been producing the leading class of converters and the best converters are installed on Scarlett Solo. The user has the opportunity to enhance any quiet moment without outer noises.
Features: two pairs of I / O, 48V phantom power, compatible with Mac and PC, a large set of software for work
Pros:

best audio purity, reliable assembly, powerful phantom power
Cons:

the slight inconvenience of using the interface when connecting to a computer and preparing for work, a sometimes slight distortion of sound during operation is possible
---
Apogee Duet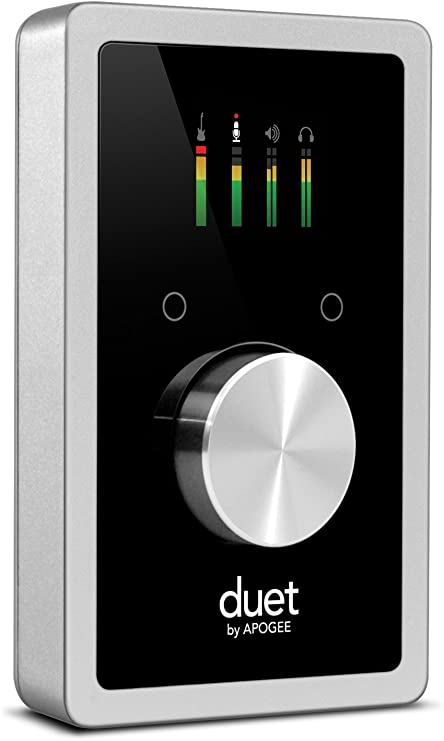 USB interface for Mac Apogee Duet is the most popular, recognizable and sought after product of the brand. The Apogee Duet case is completely metal, consists of two aluminum cast halves. The large level knob is also completely metal. Appearance is one of the best, if not the best of existing interfaces, very harmoniously complements any Apple technique.
Duet can be safely powered by the USB bus. However, for working with low-sensitivity headphones or for supplying + 48V phantom power, it is recommended to connect the supplied AC adapter to the included 15 W. On top is an OLED screen with high readability of information from any angle. The two circles between the screen and the rotary volume knob are the touch buttons. Everyone can assign different functions from the list to them. By default, the left button clears the peaks at the meters, and the right button makes MUTE in the speakers and headphones. Pressing the volume knob selects an adjustment channel. The level change step is 1 dB. A very important feature of Apogee Duet is its independent headphone output. A person can assign a monitor output to channel 1-2, and a headphone output to channel 3-4. This allows user to put a separate phonogram in the ears of the performer. It also makes Apogee Duet suitable for DJ activities. The maximum gain of 75 dB allows a person to connect absolutely any microphones, including mac dynamic and tape models. For guitarists, the high input overload capacity and the impedance of as much as 2 MΩ may be interesting.
Features: USB 2.0 audio interface for Mac / iPAD, 2 combo analog inputs, 2 balanced line-outs, 1 independent 1/4 stereo headphone output, 2 microphone preamps up to 75 dB gain, OLED display
Pros:

reliable assembly, stylish appearance, ease of use, perfect connection with the Mac, high sound quality
Cons:

weak connector, it is often difficult to find suitable drivers
---
How to choose the best Audio Interfaces for Mac
The main several models are presented at the choice of the user above. Further, we propose to develop the topic and briefly outline the most important criteria for the selection of equipment in this category, which should be taken into account in a deeper study of the devices available on the market.
General recommendations for buyers are obvious: proven manufacturers and a thorough analysis of reviews on the reliability and compliance with the parameters and sensations that anyone can expect from the selected product.
If we talk about the technical component, then there are a few root points.
DAW and OS Compatibility
It is important that the connection is simple and fast. And this is especially important for beginners. This applies to the reliability of the cable connection to the computer, as well as software settings. It will be ideal if the device is automatically configured when connected. It is also worth paying attention to the configuration of the switching tools supplied with the device. The main tool for connecting most devices is the USB port, but the same Thunderbolt connector can be an advantage. It is also worth clarifying the issue of integration with DAW.
Knobs and Meters
It is also worth exploring the device control system. In other words, the user needs to understand what is available for work and how to use it. If the functionality is intuitive, this is one of the key benefits. Otherwise, difficulties in work are possible. A pro will figure it out, and a novice will spend extra time and effort on mastering sophisticated functionality. This situation can be avoided. It is best to simulate the application using the example of tasks that the user plans to perform and understand how this relates to a set of knobs, switches, and buttons. Reliability and build quality also play an important role here.
Number of inputs and outputs
Everything is quite simple here. Audio interfaces are usually not designed for dozens of input and output ports, and they cannot be used for complex studio audio recordings. However, 4-5 port models are useful for the uncomplicated recording of a small group. If the device is of high quality, a very decent result is obtained. A person can also find two-channel models, which are enough, for example, for podcasting, streaming and similar non-resource-intensive goals.
Conclusion
All that needs to be said about the audio interfaces for the Mac is said above. Rather, we have collected all the basic information. If the user wants to know more, he should delve into the question. If the task is to find an acceptable solution for personal purposes, a well-selected device catalog is selected above, and the main selection criteria are indicated. We wish everyone a successful selection and acquisition!