Being a beginner is hard. It's a very uncomfortable feeling not to be capable to do something. The person working over the task isn't experienced enough for it. Just for this reason, the person doesn't want to spend much money on work and this additionally complicates the task. It is challenging to create something worthy when the funds are limited.
This article can be helpful for people at this stage. It's possible to select a decent interface even when there's little money in your pocket. Don't be afraid to try new things due to the lack of experience in the sphere. Some people can explain what to do and how to solve problems. It's possible to prevent mistakes and purchase the best device to achieve the goal!
Top 10 Best Cheap Audio Interfaces for Beginners on a Budget
The world is full of possibilities and we should learn to take advantage of them. We may need special equipment to do the things we truly love. Exploring technical possibilities, the beginners often feel vulnerable. They can be easily thrown back to the beginner's phase if they don't succeed. We help them to reach the goal faster, not to start the activity over and over again. With a good piece of advice, the person will be able to focus on his/her potential without thinking about technical difficulties. A cheap audio interface that delivers marvelous performance will reveal your talent fully to the world.
Mackie Onyx Artist 1×2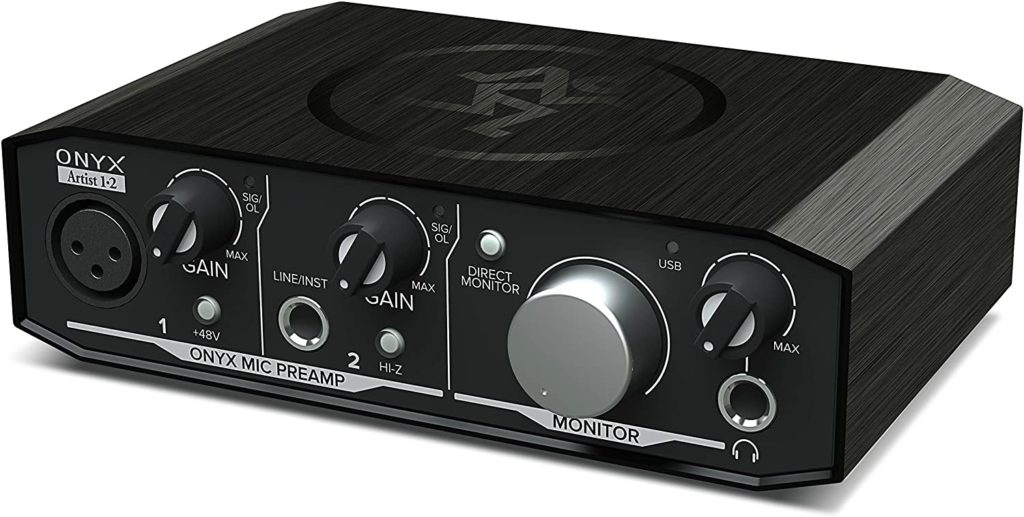 The device of this producer is a suitable entry-level audio interface for the money. It was developed by American company Mackie that passed through the rebranding procedure so it's known as LOUD Technologies nowadays. Even though there are a lot of cheap interfaces from other famous brands on the market, it became a good addition to the assortment of such devices. The same can be said about the rest electronics manufactured by this company, for instance, mixers or studio monitors which also sell well despite the fact that the market is well saturated. The models from Mackie are rather interesting and attract attention at once. It's a fantastic solution for creative people who have to compose music and songs while traveling. Those who need a portable audio interface that would be an affordable audio interface at the same time, it can be an appropriate alternative.
Features:
Onyx preamplifiers;
+48V phantom power;
2 inputs and 2 outputs;
1 TRS input with line/guitar switch.
Pros:
The bus-powered interface is excellent for portable application;
Direct monitoring of analog input features zero latency;
Excellent sound quality.
Cons:
There is no power off or input mute.
---
Mackie Onyx Producer 2×2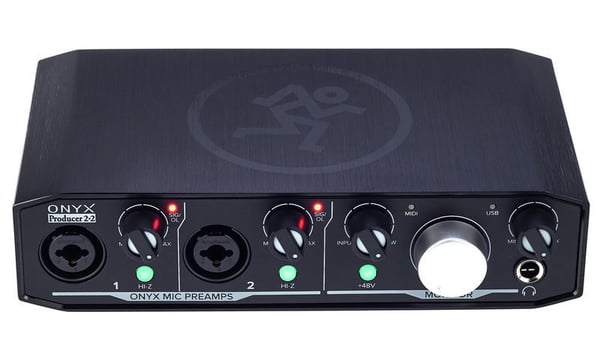 The difference from the model above is in a number of Onyx preamps. Here the consumer can find two of them. The same refers to the number of input channels. The device is more powerful and it tells upon the weight making the audio interface heavier. Besides, this model has a MIDI input/output. In all other characteristics, this 2×2 audio interface resembles the Artist model. It also has a seamless aluminum body and beautiful design that is made thoroughly.
Features:
Onyx preamplifiers;
+48V phantom power;
2 inputs and 2 outputs;
2 TRS input
Pros:
Bus-powered interface turns the unit into a perfect portable device;
Direct monitoring of analog input features zero latency;
Fantastic sound quality.
Cons:
There is no power-off feature.
---
PreSonus AudioBox USB 96

Those who want to acquire a low budget audio interface, this is the best option. Though its specifications don't differ from characteristics of other entry-level devices, some features are highly assessed by users. The device delivers bright sound, which is really incredible for an inexpensive audio interface. The musicians like the fact that the device features separate MIDI connectors. This is rather convenient for work. The front panel looks in the same way as it was before on the device preceding this one. All functionality was preserved there and it has the same knobs as previously.
Features:
Microphone input;
Balanced input impedance;
Phantom power;
Guitar input.
Pros:
Separate MIDI connectors;
USB bus-powered, comes with a cable;
The device has its own proprietary drivers that work with iOS, Mac devices and PC;
Comes with software and plugins for recording or creation multi track mix;
It's the best in terms of portability as this portable audio interface as it is simple and light;
Low latency input/output.
Cons:
The consumers faced some complications with plugins. Many found the task rather complicated.
---
M-Audio M-Track 2X2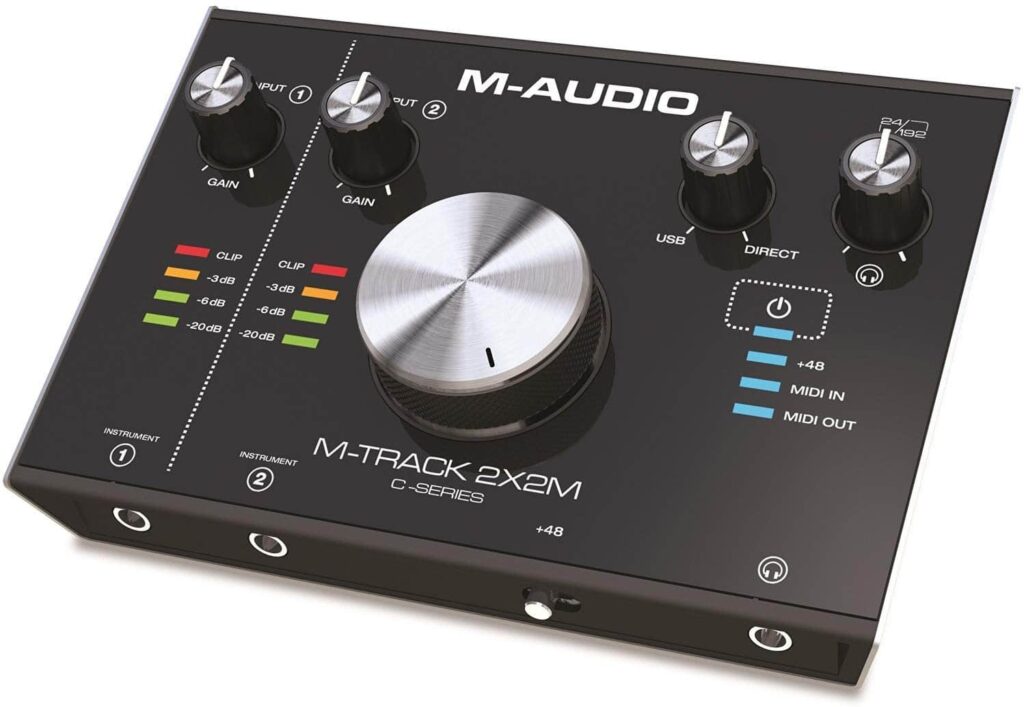 There are a lot of budget models on the market, but they are usually devoid of certain features therefore they are cheap. The same can be said about this unit. This is an affordable audio interface, but it doesn't have such a feature as MIDI in and out that are necessary for a sound professional to work with audio. The previous items released by this company were quite successful so the manufacturer decided to continue the trend and added some pleasant features to this simple audio interface. This refers to the support of USB-C port and 192Hz. As a rule, the company releases a couple of models and one of them is more advanced. It's a pity the MIDI feature was removed. The musicians were very upset about this news. However, those who need it so much can acquire 2x2M model instead. This is a more advanced version of the described item. It's possible to record audio in stereo mode with it.
Features:
XLR audio interface has a combo switch (XLR/TRS);
Made of metal and has a rigid design;
Headphone output;
Stereo
Phantom power.
Pros:
Sleek design;
The capability of stereo audio;
Transparency of sound without coloring;
Good software bundle;
Excellent resolution.
Cons:
Lack of MIDI input/output.
---
Tascam US-1X2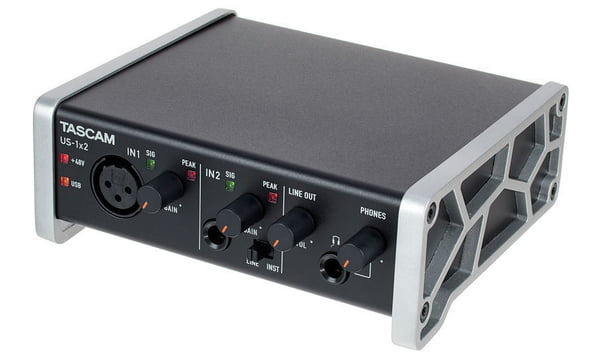 The product was offered to consumers at the exhibition in 2017. However, it's not out-of-date at all as people might think. The pricetag became cheap but the device can still be used for better performance. This is an excellent product for personal recording. It enters US-series and though its connectivity capabilities are limited, it's a great home audio interface. It's rather comfortable to use the device thanks to the convenient location of the stereo line ins on the back of the device. It is really one of the best if we look at its value for the money. Just look at its features to make sure that it can be referred to as the best audio interface in its price category. This equipment is often recommended to a beginner. Sometimes the audio interface is selected for its angled design. The device comes with a cable and a popfilter that are provided free of charge. The person buying it is devoid of some software perks, but if it's not a problem, this is a great solution.
Features:
Line input switched to an instrument;
Unusual design;
High quality mic preamp (UltraHDDA);
The volume is controlled separately;
Phantom power.
Pros:
Nice design;
Excellent, smooth audio;
Low price;
Easy iOS connection.
Cons:
It doesn't have bundled software.
The customers also complain of horrible drivers and bad technical support of the company.
---
Steinberg UR12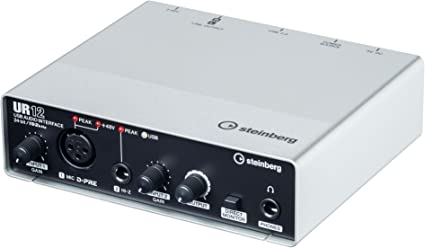 The device is absolutely metal that can boast of its durability and anti-corrosion capability. Made of high quality components it has flawless build quality as well. Besides, this is a small audio interface. Taking into consideration, all factors that were mentioned it's an ideal device for the musician on the road. The products manufactured by the company never disappoint its users. The unit equipped with USB2.0 is excellent for outdoor use. The audio interface is manufactured with the use of unique D-PRE technology. It has a range of other impressive features as well. The pro-level interface becomes even more affordable with this equipment. It is really one of the best for the money.
Features:
2 inputs and 2 outputs;
Support of ASIO 2.2 standard;
48 V phantom power;
MIDI input/output;
This interface has one mic output.
Pros:
Compatibility with iPad;
Micro USB power;
A very detailed sound;
A great interface for Garage Band.
Cons:
Though it offers Cubase software, this is a limited version and should be additionally downloaded.
---
Peavey USB-P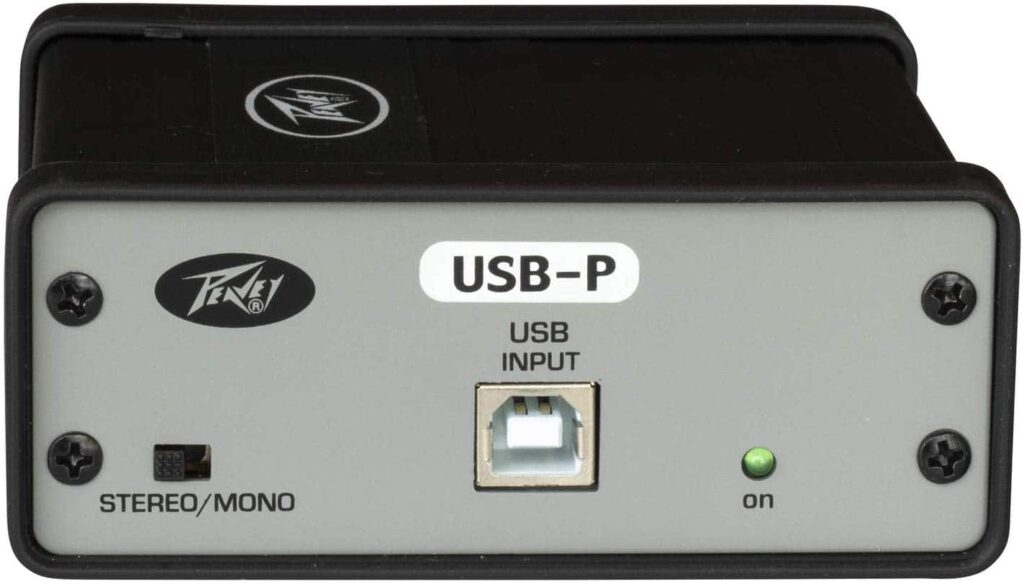 It's always challenging to connect an audio system to a computer, but this is not problematic with this device. It's actually a format converter that is USB-powered and used for playback only so the functionality is rather simple. In case this is what you need, it performs its task perfectly. It's the best among simple devices that functions with Mac devices as well with special tuning on your gear. There are XLR outlets for those who want to run the stereo. Those who think that such a simple unit is suitable for home recording only are mistaken. It can even be used for live performance. The interface can be used for sending feeds in stereo or mono modes to the members of the band on the stage.
Features:
USB compliant device;
2 XLR connectors;
Basic design and functionality.
Pros:
Compatibility with Mac;
Smooth work;
Solves the problem with a hissing sound;
It's best if reliable equipment is required;
Low noise interface.
Cons:
---
Behringer U-Phoria UM2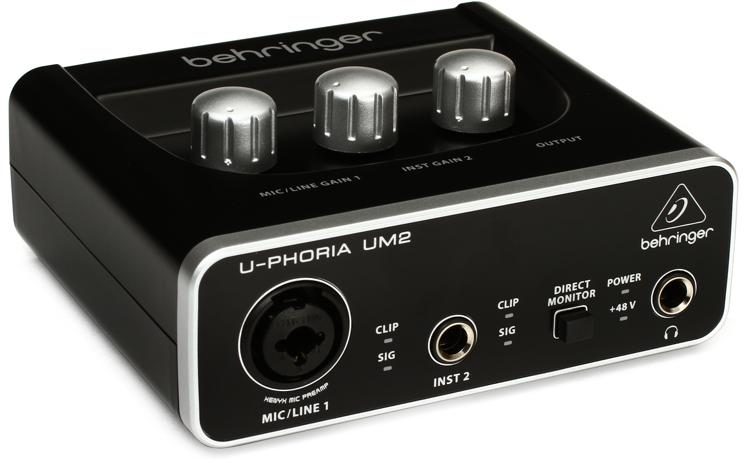 This is a 2×2 device with XENYX mic preamp. The device is well known for its MIDAS preamps that work brilliantly and provide an excellent result. The level of recording is considered to be semi-professional. There are 2 inputs in a unit that can be used for connection of instrument also. This is incredibly easy to use gizmo that should be always at hand of the person dealing with sound. It's not hard to operate this audio interface even for a beginner. It is even recommended to start with something as simple as that. In case of doubts, there is detailed guidance telling what to do. This device can automatically detect Mac. This low latency audio interface is perfect for recording, so use it for your vocal sessions without hesitation.
Features:
2 ins and 2 outs;
Very low latency;
Support of any OS.
Pros:
USB port;
The best audio interface in performance and functionality;
Provides precise and pristine sound;
Created with a focus on flexibility;
Developed to cover the needs of solo musicians.
Cons:
Multiple users complain about drivers' problem.
---
BandLab Link Series BLB-01100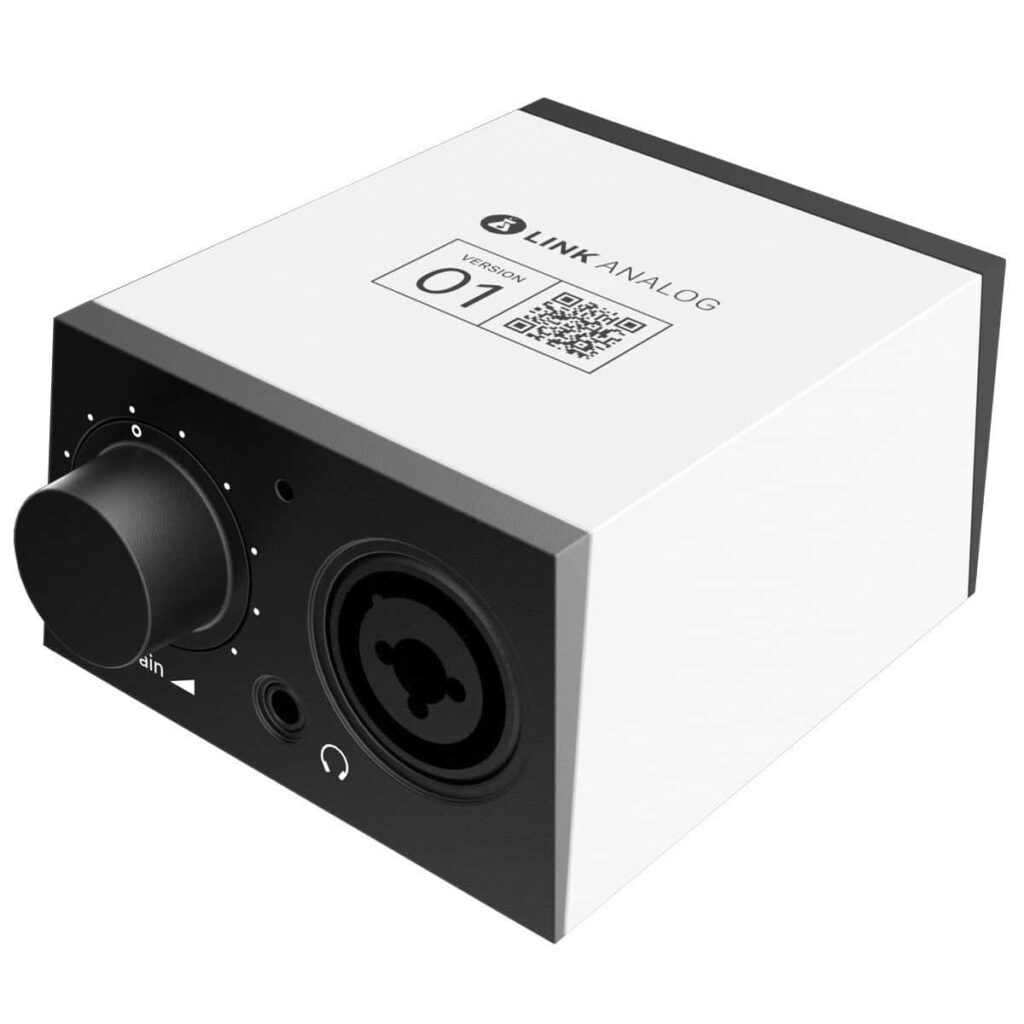 Immediate availability and lightness are the biggest benefits of this portable device. It's the best among plug and play models that can be taken anywhere with a user. The creative person doesn't have problems with gear on the road any longer especially when one of the popular mobile apps is used such as Garage Band or BandLab. Using the app, the person gets access to the extensive selection of sounds and effects. The model is equipped with components of high quality, for instance, Neutrik Combo Jacks and BandLab's cables.
Features:
Micro-USB charging port;
Inner rechargeable battery;
TRS out;
XLT combo input;
TRRS connection;
A headphone out.
Pros:
The adjustability of gain knob;
Compactness and portability;
Free access to the library with plugins;
Internal battery decreases noise.
Cons:
Though the product is solid and cheap, its limited functionality creates obstacles for users.
---
Lexicon Alpha

Numerous inputs of the unit make this interface irreplaceable. It has two stereo outputs on the rear panel of the device and the input for XLR mic. This is great equipment for the price. Therefore, some negative reviews people come across online are just connected with higher expectations. There can't be features of $300-device in a cheap model. It can be used in a professional studio as it performs its task well. However, it's a fantastic piece of gear if you acquire it for your home studio. The design looks cool in any color setting. It can be a great addition to the audio equipment of the person.
Features:
TRS instrument jack;
2 ins and 2 outs;
Separate headphone output;
XLR mic input;
Two sets of stereo line outputs;
Pros:
Excellent connectivity;
Provided with software;
Clarity of sound;
Professional mixer features;
The capability to record two tracks simultaneously.
Cons:
Undesirable complications due to the drivers;
Lack of phantom power and MIDI connection.
---
Conclusion
All customers want to economize some money when they purchase audio gear. However, they understand that a wrong purchase can affect the finances badly and not bring to the desired result. Therefore, a careful choice is very important. Select the right audio interface to be able to save some money and get excellent audio mixes!