The interest of the public in podcasts, vlogs, and other accessible content has increased considerably within the last several years. Numerous non-savvy users also want to try their hand in a new popular activity. However, the consumer needs to be equipped with the right hardware before starting a new venture. The newbies can begin with the purchase of a USB mic for home recording.
Why it is more convenient than using the device with XLR plug?
It does not need to be connected to audio gear as XLR-version.
It does not require the installation of software (unless you decide so).
It does not require the purchase of additional hardware.
The USB devices are plugged directly into the computer. Consequently, you can obtain the result faster.
The digital conversion is not problematic as it seems to be an embedded feature.
How to choose your USB microphone for home recording?
It doesn't matter whether the customer is an enthusiast or a professional working in the studio, the chances for success are slim without the appropriate equipment. The mic with USB port alleviates the task. However, it is still incredibly difficult to determine the best USB microphone for home recording.  A great variety of products is presented on the market and all of them feature numerous characteristics. How should the folks figure out what set of features suits them? Though this is challenging, this can be done with the right guidance. There are mics that stand out from the rest so you need to find and compare them with other models to get the most impressive recording. Let us look at what factors should be considered.
Your budget
It is clear that expensive models can boast of a bigger set of features. Being more powerful, solid, flexible and versatile, such devices can be used for many purposes, and each time the result is going to be superb. The models produced by the famous brands are like elite representatives of this race. They are more reputable. When you hear some big name, it sounds like a guarantee of quality. And the brands, certainly, charge for it. However, it is possible to attain the quality of sound nowadays even using the budgeted options. The technological progress introduced new rules and many options became accessible for non-professionals. So any amateur has a possibility to purchase a decent reasonably-priced microphone for home recording nowadays.
The intended use
Just like the previous point, it's another determining factor. It is important to know exactly how you are going to utilize the mic in order to discover the most suitable variant.
Some mics are good for podcasting,
Others work perfectly for the vocals.
Different sources require usage of absolutely different mics.
The intended use helps to narrow down the search.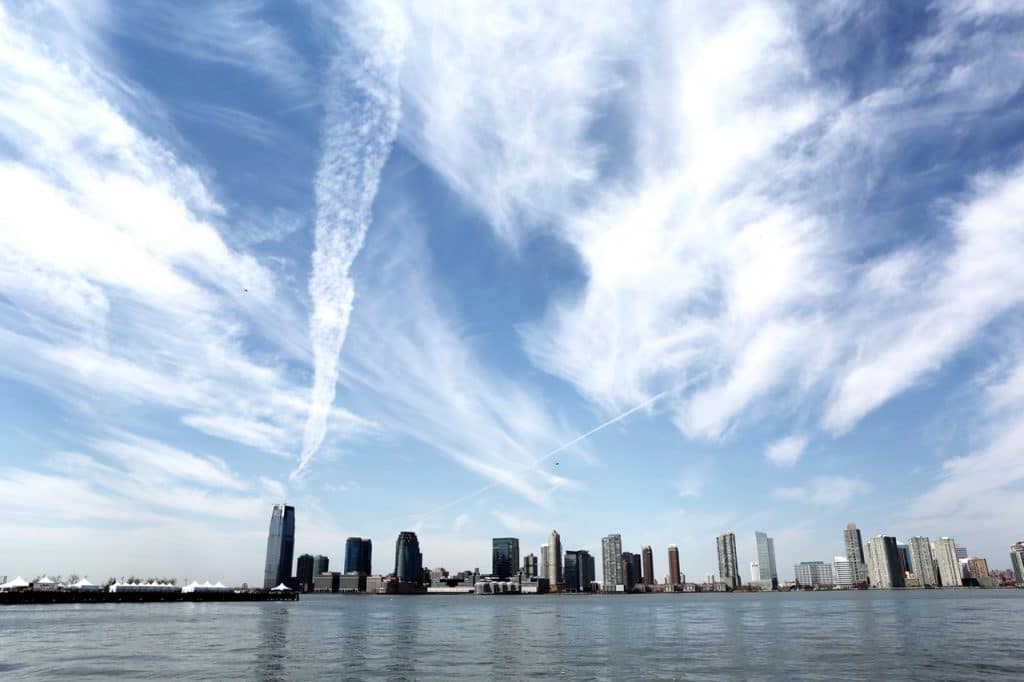 Preferred pickup pattern?
How are you going to utilize it? It depends upon your activity, the conditions of a place at your disposal. All these factors affect the choice of pickup variant. The options are presented below.
Cardioid/Unidirectional
The right solution for picking up sound from the front area. Cardioid mic suppresses noise other parts thus focusing on the main source only that faces it. The sensitive area is shaped like a heart, hence the name. This is a must-have if you try to derive the result in the untreated space.
Omnidirectional
Omni pattern is a good choice for capturing everything around. The omnidirectional mic records all accurately, therefore, the device is convenient when you need to record numerous voices in the room. it picks up sounds from its different parts.
Bi-Directional
It is also called 'figure-8'. Buying bidirectional mic, remember about the zones in two directions that are very sensitive to noise – the front and rear.  The mic does not pay attention to the noises at the side.
Popular USB microphones for home recording
Apogee MiC+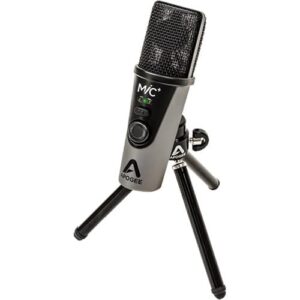 Forget about the old school mic! Everything functions differently now so there is no necessity to stick to the past. Apogee MiC+ is able to compete even with pricey USB mic for home recording by performance.  In contrast to them, it's a ready-to-use device. Consequently, it is effortless to utilize it for many reasons. Doesn't this mean that this is a perfect microphone for home recording? And it's not the only advantage. It is an incredibly portable solution, so you can enjoy the quality of performance everywhere!
It is lightweight and small and who does not like compact things? Especially when you are on the road and need more space in your travel bag. Test the abilities of this mic for home recording to see a worthy purchase.
---
Apogee Mic 96k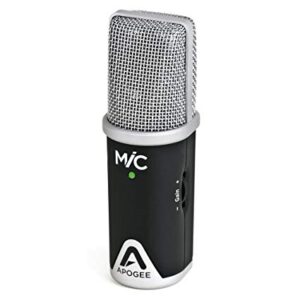 Being compatible with Mac or iOS devices, Mic 96k is a flawless option.  Try using it for auditions, to capture your masterpieces, voiceover work, and many other things. It will exceed your expectations in many aspects such as ease of use, build quality, and easy setup. It definitely deserves the praise.
Sometimes it works even better than most complicated equipment.
People spend thousands of dollars on home-recording gear, but the solution can be simpler and not so expensive at that! Mic 96k is equipped with a USB cable so it's rather universal.
The musician with the iOS-based device shouldn't skip such a possibility!
You should not worry if something doesn't work properly. The customer service works flawlessly.
---
Rode Podcaster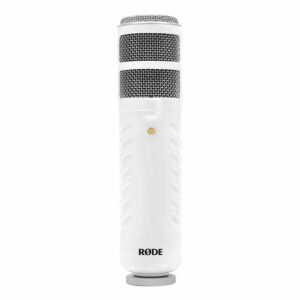 Rode Podcaster is not the best solution for professional use. However, it suits perfectly when you need a polished sound despite its amateur sound editing. The customers do not have to spend thousands of dollars any longer – the mic is much cheaper but is able to derive a clean sound, rejecting at that rear and background noise. It struggles with rumble perfectly. Those who want to get rid of mechanical vibrations can use the shock mount. The device features compatibility with almost any operating system. Take advantage of this opportunity.
---
Audio Technica ATR2100 for home recording
(Read review Audio Technica ATR2100)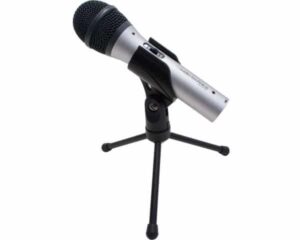 Many customers consider ATR2100 the best USB microphone for home recording. The biggest advantage of the device is that it has both outputs for more convenient use. It means that you can get the analog and digital result using USD and XLR buttons. This is not a condenser, therefore you should be ready that the mic picks up additional sounds in the room. It is good when you want to record the environment but can create some problems for musicians recording performance in the untreated space. So, the quality depends upon the goals set. The sound reproduction is accurate. If this is what you need, the model is worth trying.
---
Blue Microphones Yeti for home recording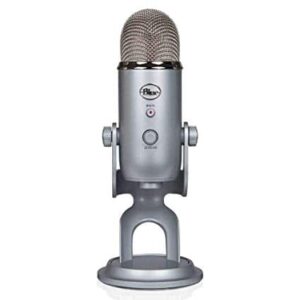 The customers value the convenience, therefore, Yeti is the right choice for those who want to connect the device to the computer. You do not even need an SD card to do it. The setup features simplicity so you can get a file with sound directly to your computer thus economizing time considerably.  The instruction booklet for Blue Yeti series sent with a purchase delivers the guidance on its use.
---
Blue Spark Digital Lightning for home recording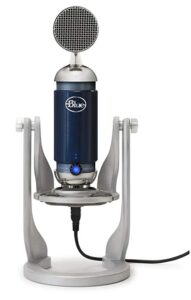 Hence it's a condenser, consumers acquire it to capture vocals and instrumental performance. The condensers reject background noise perfectly. It is easy to control the volume with it using a special knob on the mic. Special indicators demonstrate that the volume is being controlled. They are blue when this mode is on, and turn red when the input is controlled. The same button has a mute mode. One should press briefly to activate it. This USB microphone for home recording is delivered with a desk stand. In case you are going to use it for vocals, additional pop-filter is required.
---
Blue Snowball iCE Condenser USB Microphone for home recording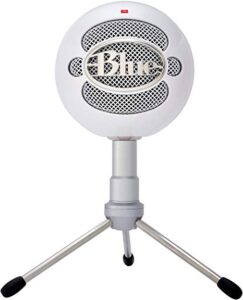 Super clear sound becomes available for you with Blue Snowball iCE Condenser that looks peculiar.  Multiple consumers point out that in this price group this is the best USB microphone. Home recording has acquired a new level of quality with it. You do not have to acquire anything else to get the result. You just plug it in and it starts working without delay. There are also negative aspects as well. For instance, adjustment of sensitivity can be necessary not to let the device pick up everything you do not want to. But the result is worth the effort taken – you can sure there is no weird background humming.  It is also worth saying that the ball core is rather heavy and comes attached to the stand.
---
Blue Snowflake for home recording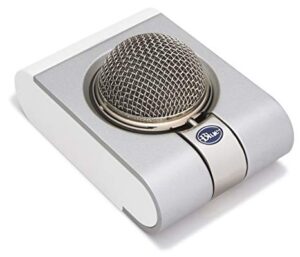 Those who love the quirky design will highly evaluate this model. It looks really cute. Put it on any surface or clip to the top of the laptop to enjoy the convenience of use.  Equipped with a mini USB plug, it can record the sound immediately.
It comes with a solid and well-made base, which is used more often by the customers due to lack of appropriate adjustability on the top of the laptop. Customers find it inconvenient when it just dangles because the laptop monitor is too thin while the computer monitor is too thick. Despite these shortcomings, the Snowflake provides clear of defects performance, so many users are happy with having it in their home studios.
---
Blue Yeti USB Microphone for home recording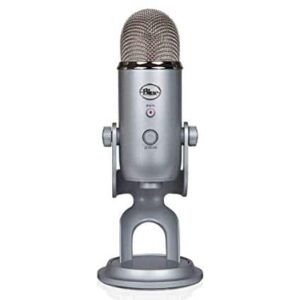 Exuding charisma of retro atmosphere, Blue Yeti USB mic looks seriously with its metal construction. Taking into account the quality of sound it delivers, the price-tag is reasonable. It is still many times cheaper than high-end models reaching $1000. It has a smaller alternative, which does not support some modes such as stereo, for instance, which you may need for podcasting projects.
A big number of consumers refer to Blue Yeti as the best USB mic for home recording. You will hardly be able to take it with you as a portable option unless you travel with your laptop. But even if you do, the item is rather bulky to be transported. Find other options instead.
---
CAD U37 USB Microphone for home recording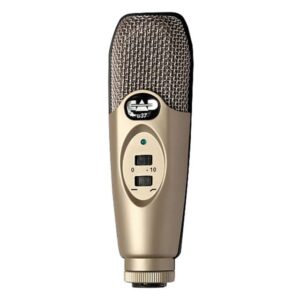 The model often enters the top as the best USB microphone. Home recording equipment develops at a breakthrough speed and presents decent quality nowadays. Sometimes it is not quite clear that this is not professional stuff.
This USB mic for home recording is one of the most suitable options in case you love the warm sound. The condenser is equipped with a large diaphragm that enables such sounding. You can be sure that the source sound is isolated from all undesirable rubbish noise in the background. Pay attention to the symmetrical position of the performers to provide a superb result. Though there are better mics for home recording, this one deserves the highest grade for being able to cope with many challenging tasks though the model does not belong to high-end mics.
It comes with a neat tripod stand.
---
Floreon BM 800 USB Microphone for home recording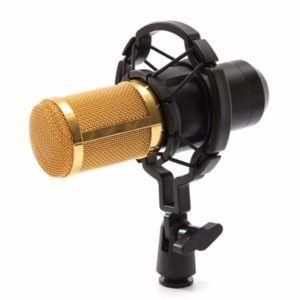 Consider the BM 800 if you want to purchase the best USB microphone. Home recording equipment became affordable and its price keeps on dropping, while the set of features expands. As a result, non-savvy users are able to deliver the result they could not even dream about before. At the same time, the endless list of features makes the task too complicated. We have to find the way out in the labyrinth of characteristics and start looking for reviews telling us what to do. The BM800 is a really fabulous alternative for amateurs trying to record podcast, vocals and acoustic instruments.
It has a solid build protecting its components from physical damage. It is also provided with a shock-proof mount, which eliminates mechanical vibrations. The mic is unidirectional and phantom powered therefore provides exceptional quality capturing the performance. If you are not obsessed with studio-level quality, it is the best USB mic for home recording.
---
Rode NT USB Microphone for home recording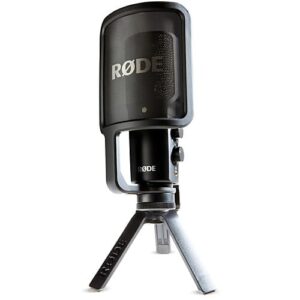 Rode NT is a nice mic with narrow metal body and impressive, serious look. It comes with a faux-leather carry bag.
The benefits of Rode NT
It includes the windshield
It has a pop-filter
It is compatible with any recording software
The sound is great thanks to these characteristics.
It is recommended to acquire the shock mount additionally, however, this is not obligatory and you can do well without it. It is the best USB microphone home recording for this price.
Some tips for beginners:
It is better to have a sound isolated space to use the Rode NT because it is able to pick up all unwanted details that you do not generally hear, but the quality of recorded vocals is fabulous. Even the experts point that out. If you have a quiet place then it is worth choosing this USB microphone for home recording.
It is recommended to register the mic on the site of the producer to get the extended warranty, which can be very helpful if something happens.
---
Shure PG42 mic for home recording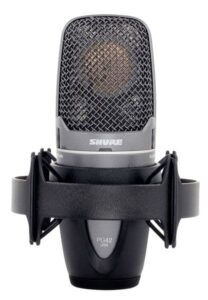 PG42 is an excellent mic that comes with a hard-side carry case, USB cord, and a microphone cradle. The condenser with large diaphragm delivers fantastic sounding that features warmth and clarity.
It is highly recommended to choose this USB microphone for home recording as its cost-to-value ratio exceeds all expectations. It adds some depth and richness to your voice and reproduces the sound beautifully. Though it may seem a bit expensive for you, it is really worth the price with all the features it provides.
---
Samson Go mic for home recording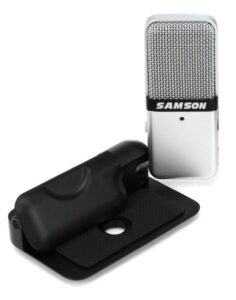 The customers are overwhelmingly impressed with the quality when they buy Samson Go. All admit that this is an incredible deal. As you can guess by its name, this is not just a mic for home recording, but the device that can be taken anywhere.  It is compact, lightweight and has a metal case. It is very convenient as it can be easily clipped on the top of your laptop monitor or on any flat surface. The pickup is either cardioid or omni so it encompasses the whole room. Compatibility with popular operating systems makes the model universal.  This is incredible that such a small mic turned out to be a superior USB microphone. Home recording is incredibly easy with such a device in your pocket.
---
Conclusion
All mics described above can be used without delay. They are equipped with numerous options and provide exceptional quality. If you choose a good microphone, home recording becomes a piece of cake!