Twitch streams have long ceased to be weekend entertainment aimed at a small audience of viewers. Games are a subject of tremendous interest today, which is confirmed by the monetization figures for online games, e-sports competitions, casual mobile games and so on. This is a gigantic industry, and online streamers are one of its most trending components. To ensure the proper quality of online broadcasting, you will need a high-quality mixing console. It is important to provide a high-quality user experience to a wide audience of viewers. Otherwise, technical inconvenience will create a wall for recruiting an audience, no matter what quality content is offered. And the question of good equipment for those who set the most daring and ambitious goals in this matter is very relevant.
What is the Best Audio Mixer for Streaming
The audio mixer for streaming on Twitch should correspond to the specifics of this type of activity. This means that the choice should be made taking into account several narrowly targeted user factors. You can find the best mixer in online stores or physical stores of sound equipment and musical instruments. Usually, store specialists are ready to help with the choice.
But there are several questions that a potential buyer faces initially. They can be answered immediately. And then move on to the main criteria for the selection of equipment.
Firstly, the price. The user does not need large-scale studio solutions in this case, and he can buy a reliable portable model of an audio mixer for streaming, for example, for $ 100-200. Some specialized models have advanced functionality and are somewhat more expensive. This is the best and right price range for this category of devices.
There is also the issue of the number of channels. On the one hand, the more the better. On the other hand, the portability of the device may lose, and the price may be too high. It is important to decide on their needs. If the user streams and uses only voice for this, a 2-channel system is enough. If the user adds effects in the form of background sounds and other things, then larger-scale solutions will be needed. Do you plan to develop the quality and complexity of your own streams in the future? The answer to this question leads to the answer to the number of channels.
And this list of factors can be continued.
How to Choose the Best Mixer for Twitch Streaming
Now let's pay attention to the key technical factors in choosing equipment in this category.
A number of options to configure. This is an important factor to choose from. On the one hand, the scale of settings in comparison with studio models needs a minimum. On the other hand, the absolute minimum is also unacceptable. Gain control options, flexible equalizer are very useful. And the simplicity of settings is also important so that even a complete beginner can cope with this task. Non-sound engineers come to streaming, after all.
You should also separate analog and digital mixers. Generally speaking, it is better to control analog mixers live, and digital audio mixers have more settings and are used more often for recording podcasts. Digital models are easier to use if you have a steady skill in working with them, and it will be easier for a complete beginner to start with an analog mixing console.
And we must not forget the dimensions of the devices. The user makes a choice according to the situation. Portable models for home or regular outdoor events are optimal. If a person has the opportunity to create a mini-studio in a separate place, then he can also purchase larger devices.
The Top 5 Best Audio Mixers for Streaming
It's time to move on to specific mixer models for streaming on Twitch. We will be guided by the subjective opinion and general meanings of the selection factors described above. The range of equipment in body size and weight, price and features is very different, and the needs of streamers also vary greatly. Therefore, we propose to pay attention to several guaranteed cool solutions for this category of devices, which are marked by a positive feedback to the consumer audience. This will help everyone decide on the assortment, priorities and compare all factors for further searches. Perhaps the right mixer can be found in this shortlist!
GoXLR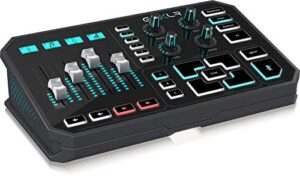 Compact 4-channel mixer with a built-in sound interface. It is designed for broadcasting and streaming.
The device is equipped with 4 motorized faders with small displays, 4 rotary controls, and a set of buttons. All controls have a customizable RGB backlight and can be adjusted at the discretion of the user. The GO XLR has one Midas mic preamp. For voice processing, a set of effects is available, which includes equalizers, compressorsvocoders, etc.
You can customize the effects with physical controls, as well as through the application that comes with the interface. For GO GO XLR switching, there are: XLR and Mini Jack microphone inputs, Mini Jack line input, Mini Jack line output, headphone output, S / PDIF input.
Features: motorized faders let you control mic, game, music, chat, and more for the perfect Broadcast mix, studio quality MIDAS preamp, record samples on-the-fly or load your own audio files to engage and entertain your community, additional effects
Pros: high power, huge range of customization options, highest sound quality
Cons:

slightly overpriced
---
Creative Sound Blaster K3+0.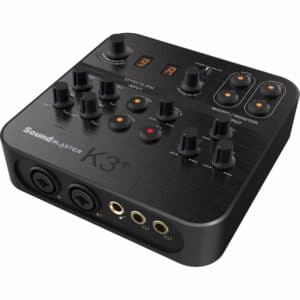 Sound Blaster K3 + has a USB sound interface from Singapore-based Creative. It was initially available only in the Chinese market; The model was also released in the United States more recently. The device has standard functionality and switching for this category of audio cards.
Sound Blaster K3+ has 2 hybrid XLR / Jack inputs, a linear input for connecting power tools, as well as a pair of headphone outputs. The compact and easy-to-use audio card allows you to not only record the signal, but also apply various effects (auto tuning, reverb, delay). K3+ processes a signal with 16/24 bit 48 kHz quality. This audio interface does not require the installation of additional drivers.
The built-in auto-tuning effect allows user to direct the vocalist's singing in accordance with the notes of the key of the work, which can be useful for recording and performing karaoke songs. Pay attention to the switching of the minor / major parameter, which is an important setting for the auto-tuning effect.
Features: simple USB connection to PC or Mac, XLR Phantom Power: Provides up to 48V phantom power to drive condenser microphones for clear, studio-grade recording quality, nine Adjustable Reverb Effects, soundboard clips/ pitch correction effects
Pros: high quality, a lot of reverberation effects, affordable price
Cons:

2 channels only, uninteresting design
---
Behringer Xenyx 502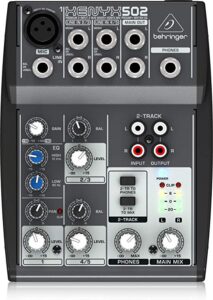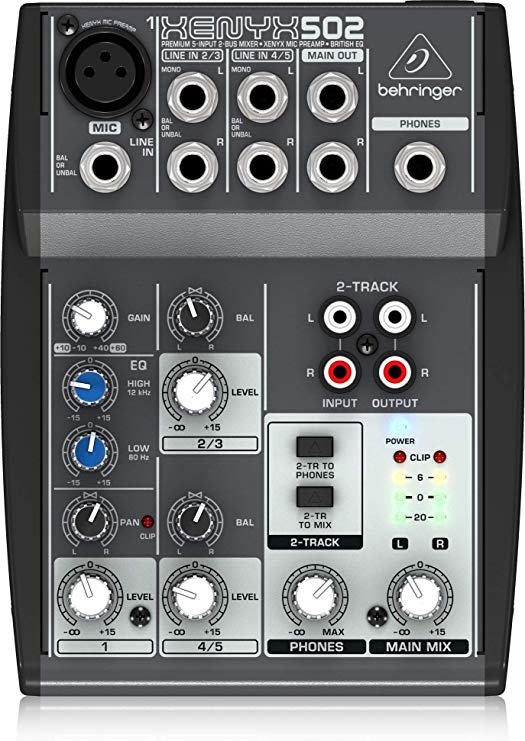 This device is useful for recording novice musicians, Internet broadcasters and just ordinary users. The device comes in a classic way with a user manual, a USB cable and a power adapter. In addition, for working with a computer, the option of free download of a digital workstation Tracktion is provided.
The main feature of the model is the presence of a Xenyx microphone preamplifier. In addition, phantom power can be supplied to the first channel to work with condenser microphones. Another hallmark of the model is the presence of a single-band compressor. This point will be more useful for live performances using the remote control and recording podcasts. Q502USB contains 5 input channels and 2 output. The USB is associated with an additional section of 2-TRACK RCA connectors (a pair of input and output) and sent to the headphones and / or mix using two buttons in the corresponding section.
Features: premium ultra-low noise, XENYX Mic Preamp, neo-classic "British" 2-band EQ for warm and musical sound, main mix, stereo CD/tape plus separate headphone outputs
Pros: low price, five channels, high enough quality
Cons:

lack of functionality
---
Rode RODECaster Pro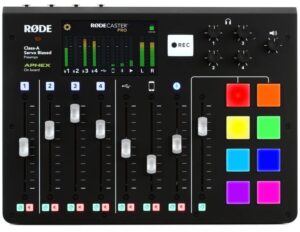 Rode RODECaster Pro is a digital mixer designed to create and record podcasts. The device is unique in that it combines the capabilities of a mixer, portable recorder, audio interface and controller. With the growing popularity of video blogs, podcasts and a variety of collective streams, RODECaster Pro looks quite relevant and in demand.
The RODECaster Pro boasts a large, bright touchscreen display, simple controls and the ability to record phone calls. The smartphone can be connected via Bluetooth or a four-pin mini-jack. For both options, full-fledged inputs with individual settings and a separate level control are provided. In addition, the Rode mixer is equipped with pads to quickly launch jingles and four headphone outputs.
Features: 4 microphone XLR inputs with A class preamps, 4 headphone outputs, USB input, 8 faders, 8 RGB pads, touch screen controls, APHEX Exciter and Big Bottom sound processing tools
Pros: very portable, universal set of inputs and settings, robust design
Cons:

too expensive for non-professionals, not enough built-in effects
---
Pyle Professional 4-Channel USB Mixer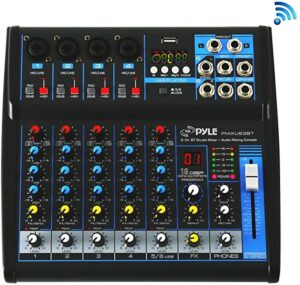 Another reasonably priced solution that comes in handy as the first mixing console for the podcast. There is a simple and quick connection to a PC and Mac via Bluetooth and USB cable. XLR / TRS combo inputs and a 3-band equalizer are also included for added processing. An important feature of the model is its compactness and practical design, which makes the mixer convenient for regular transportation. It is possible to use phantom power. Also features FX reverb with 16 settings.
Features: usb/mp3 comparability, Bluetooth wireless streaming, solid metal design, microphone, and stereo line inputs
Pros: robust design, a large selection of user settings
Cons:

no microphone mute buttons
---
Conclusion
All of the listed models of mixing consoles are good for streaming. This is a reliable equipment for everyday work, which has a reasonable size and price. Such models should be the models of audio mixers in this category if the consumer decides to purchase another model. It is important to take into account that there are models focused on streaming, but each option has its positive and negative sides, requiring a compromise.