A sound card that is also called an audio interface is an important element of any computer or laptop, responsible for the sound output. It converts the audio signals from the digital form, in which the audio data is stored in the PC memory or on removable hard disk drive, into analog, which is necessary for supplying to an amplifier or active acoustics. It also converts sound in the opposite direction: from analog to digital. This feature is useful for recording or using a microphone.
Previously, the sound cards were installed into the PCI slot and they are still available in this form. However, with advent of portable devices – laptops, and tablets, the demand for a new type of audio interfaces appeared. And manufacturers immediately reacted to this. The external audio interface has long become a standard.
When the user has to connect the wires, all necessary controls are located nearby. The consumer can find a headphone amplifier in a device and can connect it to a PC, or a laptop. With the increasing demand for affordable professional recording equipment, almost all major manufacturers rushed to the budget segment, expanding the range of so-called semi-professional solutions.
Now it's possible to buy an entry-level professional audio interface with good features nowadays without being ruined. As for segment with low cost models, it's not a problem to acquire the best USB audio interface from the world-famous pro-audio brands at affordable prices. Read this review if you need an inexpensive USB audio interface to find the model that suits you.
The Best USB Audio Interfaces on a Shoestring
PreSonus AudioBox USB 96

It suits the basic needs of different clients and is ideal solution for podcasters, musicians, songwriters who can connect two microphones to the system for effortless recording. The user gets a balanced sound with crystal clarity. It's possible to concentrate on music production without thinking about the equipment.
Features:
Compatibility with different OS;
2 combo ins;
A headphone out;
MIDI input/output.
Pros:
Portability;
Simplicity;
Durable steel chassis for better endurance;
Free software solution;
Cons:
There are customers who are not satisfied with quality of audio.
Some consumers expected more from the software included.
---
Tascam US-1×2 USB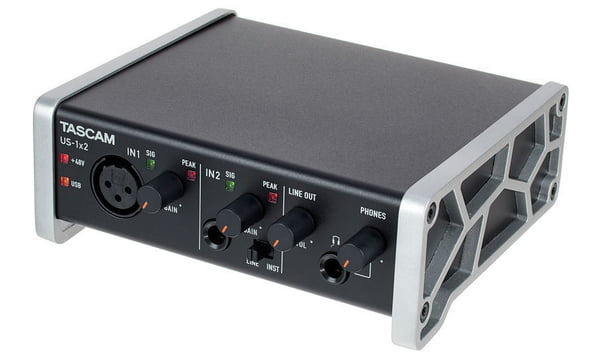 Many people like the budget products from this American audio hardware company. This item is not an exception therefore it's in high demand on the market.
Features:
48V phantom power;
XLT output;
¼" input;
Pros:
Striking design;
High quality mic preamp;
Connection with iOS devices;
Powerful and clean sound;
Monitoring function with zero latency;
Smooth sound.
Cons:
There are consumers complaining of audio glitches that make it impossible to recommend the product. It is not reliable enough for playback and recording.
---
Peavey USB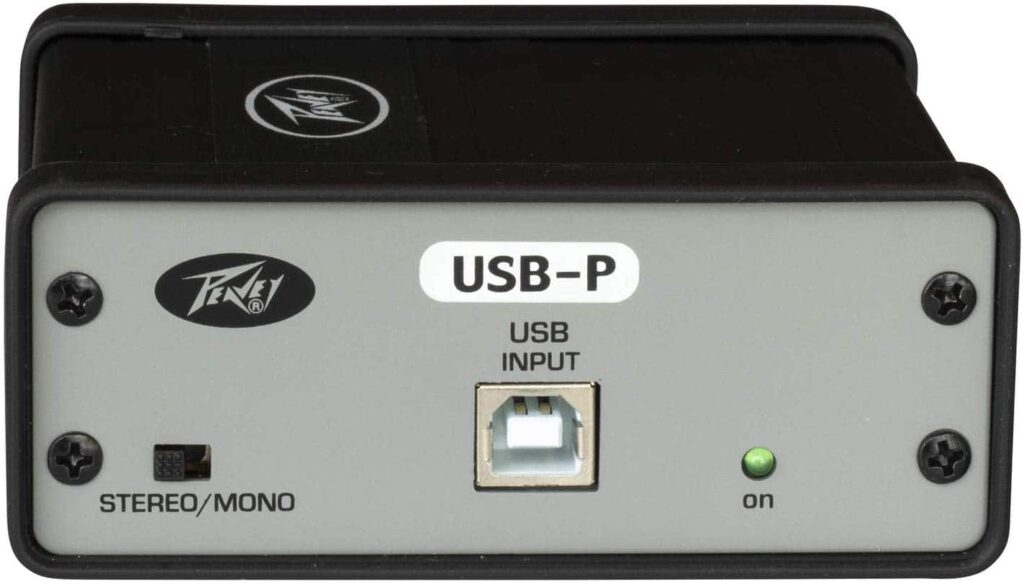 The brand is rather famous as it produces many devices known throughout the world. It's very affordable and simple. The USB-powered item is used for playback only. Those who need the simplest device with USB to obtain better audio should resort to this model that definitely doesn't have unneeded features. There are only three connections in this device. Two of them are used to connect XLR cables and one is a USB port. Despite this simplicity, the performance of device is excellent. There' is no noise in the background. It's incredibly easy to switch from stereo to mono. Probably, it's not the best USB interface but it performs well.
Features:
Stereo/mono switch;
Delivered with 2 XLR cords.
Pros:
Incredibly simple;
Low noise;
Light and portable.
Cons:
There is no USB connector;
It doesn't include level controls.
---
Behringer U-Phoria UM2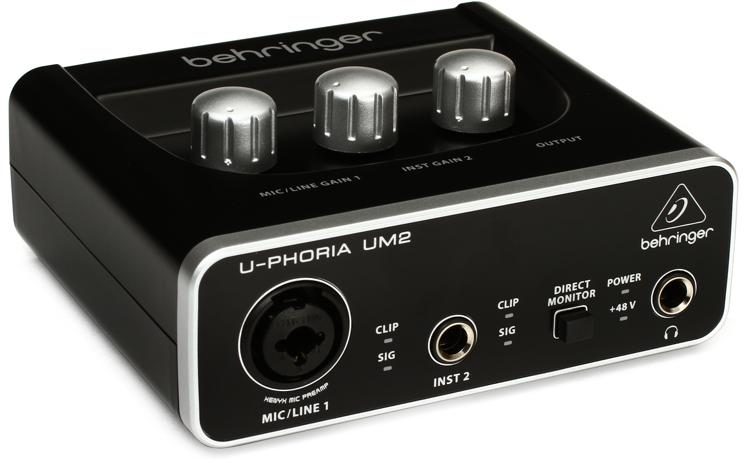 It's an excellent option even if you are record under the conditions that are far from being ideal. It definitely fits the bill of consumers who make recordings at home studios. The price of this USB interface is certainly alluring therefore it can be great for those who just start their activity. Many consumers are sure that there is no necessity in highly-priced audio interfaces when such gear exists. It copes with its job perfectly. Just try how it works to make sure there's no need for some bunch of features to get a clear sound. It will be a pleasant surprise.
Features:
4 MIDAS design preamps;
XLR/TRS combo jack;
Can be USB-powered;
Pad for each preamp.
Pros:
Excellent build quality;
It's light so one can go mobile with it;
Works well with high output signals;
Low
Cons:
It doesn't include internal effects but it's understandable as the price is low.
---
BandLab Link Analog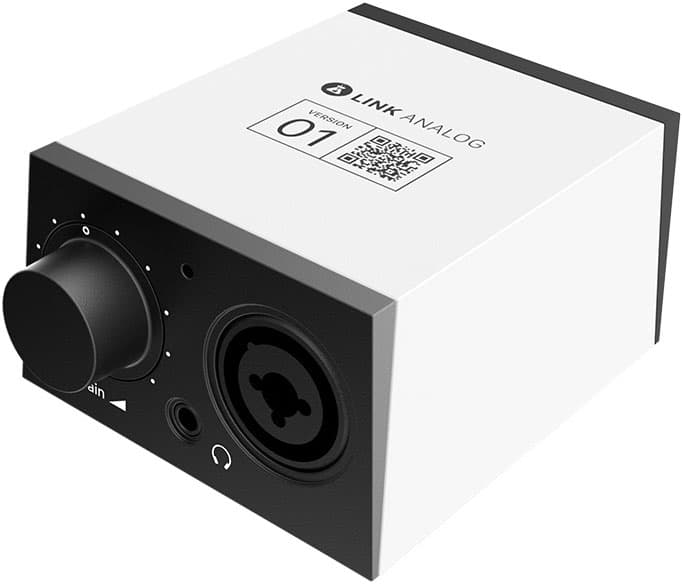 In contrast to other audio interfaces in our top list, this one belongs to analog devices. Consequently, it's unable to provide phantom power to the microphone. It can be connected to your mobile. This is a solution for those who value portability and can record their music at any place and at any time. Don't skip the moments of your inspiration and use the Band Lab or Garage Band apps to store it in the cloud and share with others. What people also like about this device is its low price.
Features:
¼ inch Neutrik combo jack;
Headphone out;
Mini-jack output;
Built-in battery.
Pros:
Small size and portability;
Convenient built-in battery that can be recharged;
The capability to connect the audio interface to the phone via mini-jack;
Low price.
Cons:
Doesn't suit the majority of home studio setups;
It doesn't contain software.
---
M Audio M Track 2X2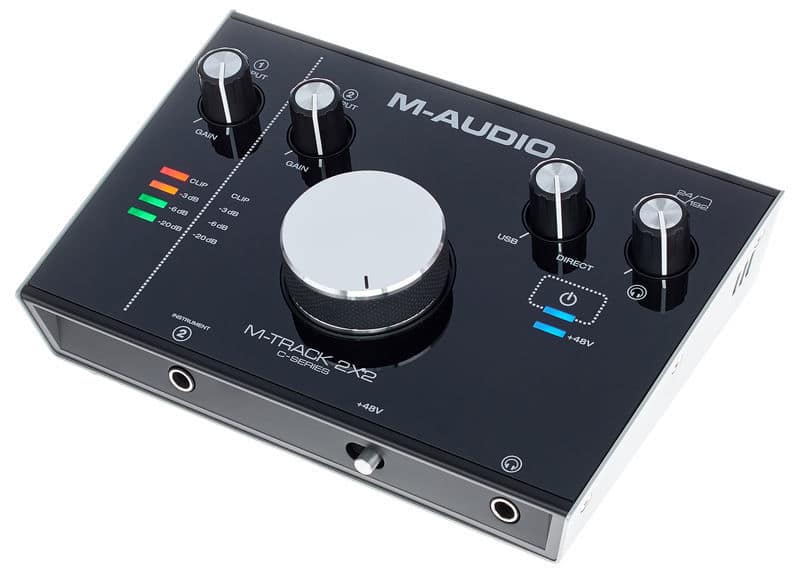 The brand has contributed a lot to the audio production equipment. It has a stylish design and its performance is great. The USB interface uses a unique chassis design that makes the device rather attractive. There is some old-fashioned aesthetic about this item that gives a retro vibe to it. LED illumination adds a nice look to it. The volume knob in the center is oversized and also makes them look stylish.
The device includes basic features. The accent is on reliability of performance.
Features:
XLR port;
One instrument line;
¼ inch TRS in.
Pros:
Perfect clarity of audio;
Graphic LED stack on the left of the item is useful to level out gain.
Cons:
Software is not offered with this device.
---
Line 6 Sonic Port
This item enables connection of different audio sources and instruments. The brand makes a good gear for guitarists. This is the audio interface with basic features.
Features:
2 1/4" TRS ports;
2 1/8" stereo ports;
USB-port.
Pros:
Excellent, reliable built;
Headphone/line output;
Compact size.
Cons:
The consumers assert that there is a problem concerning the compatibility of Apple-based devices. There is incompatibility with some iOS versions.
---
The Most Affordable USB Audio Interface
Among the options offered above, U-Phoria UM2 seems to be the most reliable solution offering fantastic quality to the people working with sound.
Conclusion
In pursuit of USB sound card for music production pay attention to devices above. Those who need basic functionality can take advantage of many budget models included to our list. You will be able to get good sound on a budget, but if you need a better versatility and more effects included to the device you will have to have to spend more money.