Those who do want to spend hours trying to install and set up the recording gear should resort to equipment that starts working easily and suits even beginners. Blue is the name that is often heard when you start choosing the microphones. This brand provides some very good models to the market that are easy to use. Blue Yeti USB mic is the right choice if you hurry to start working without extra hassle. This is the plug and plays microphone and this review is dedicated to this model. It has fantastic sound quality appreciated by all those who reviewed Blue Yeti. This is a characteristic of all BlueYeti USBmicrophones. They all perform their job perfectly in comparison with other devices in this price segment.
Who Would Use The Blue Yeti?
It's helpful to see who uses such gear and then decide upon the purchase. The customers who face different recording situations and need different recording patterns, for this reason, should just select Blue Yeti. It's the best variant for the price asked. Its multi-pattern capability makes Yeti a universal device, so if you record the vocals, make interviews, stream games and create podcasts, this is a great solution for you. It's as versatile as your activity.
It can be a good option also for those who are not sure what they are going to do in the future. They have some definite goals at the moment but plan to expand the area of their activities. The money won't be wasted if you acquire Blue Yeti. It will definitely suit them as it embraces almost all you can imagine. With Omni, bidirectional, and stereo mode that cover almost all possible situations during recording sessions, the videographer or vlogger feels well-equipped using this mic.
Actually, any person would use this model of Yeti to his advantage. The sound of the microphone is impressive. Though not all sound lovers agree that it's suitable for music, almost all agree that it's wonderful for podcasters.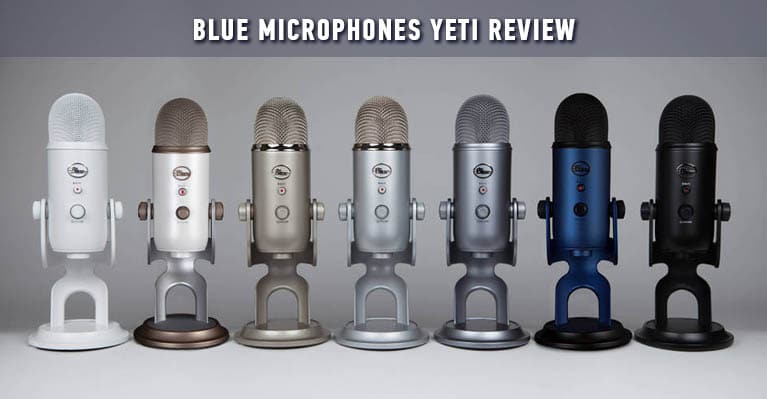 Setting Up The Blue Yeti
It's necessary to set up Yeti about 8'' from the source because Blue Yeti is a side-address mic. Those who speak directly to its top can notice that sound is reproduced badly. Keep it on the side to be satisfied with the result. It was noticed that people who write a negative review about sound quality, just don't know how to use the mic properly.
It's important to know the optimal setting for your Yeti microphone. Actually, setup takes 2 minutes to set it up. Take the USB cord and connect it to PC or Mac to start using it at once.
The main benefit of gear is a USB port making the device affordable for non-savvy customers – it's incredibly easy in use. It's enough to connect Blue Yeti to the computer and it becomes a fully-featured tool. In comparison with other microphones Yeti USB mic looks reliable. It's hard to find such a solid USB mic as this one in this price segment.
Mounting the Yeti on a Stand
The large table stand makes Blue Yeti look rather serious. Many consumers consider it a benefit that it comes with such a sturdy stand. The stand has a rubber padding that suppresses noise and vibrations. Not all users are satisfied with its position on a stand. Some review complaints reflect it. Then the boom arm can be useful. Yeti includes a screwthread hole below for attachment to a boomarm or standard microphone stand. It's also possible to acquire the set that includes the pop shield additionally and it's also easily attached to the mic.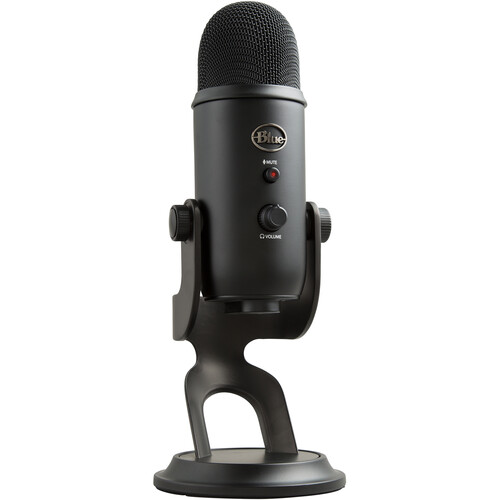 Features Of The Blue Yeti
The device includes tri-capsule array thus providing the functionality of three condenser microphones in one item.
It's convenient to monitor your recording with a 3.5mm headphone jack on the bottom of microphone. Connect headphones to it to hear everything you record and modify the result the way you need.
There are also dials of gain and headphone volume there. The user selects the polar pattern with a knob on the mic. Gain is needed for control of mic's sensitivity. The quality of capturing depends upon input volume, so it should be adjusted in a proper way to get a good outcome.
The mute button is also very useful during the recording session. When you switch it on, the red light appears. Red light denotes the mute mode when the source isn't captured.
There's no need to download any software or drivers before you start using Yeti. The drivers aren't needed because audio is supported in USB standard by default. 10 ft. USB cable is rather long for convenient use. The mic stand has rubber pads on the bottom for steady positioning on the table and protection of the table surface.
The model is delivered with a reliable stand that makes the item rather weighty and big when it's installed on the table. This is not a choice of those who select minimalism. The device is made of metal for the most part. It's rather sizable and often purchased to attain a beautiful picture. When connected to the stand, the microphone is over 1,55 kg. As you see, this is rather substantial construction. When you put it on the table, it looks as if you make a serious statement.
Blue Yeti features retro charm. The construction reminds the 50-s of the last century. The mic was designed just brilliantly. Yeti is well perceived by numerous consumers who expressed their admiration with its design in their reviews.
Polar Patterns
Multiplattern approach makes the reviewed gear exceptional as it's possible to capture sound in different ways using the same device. There is no need to buy several mics. It's enough to buy Yeti to record the sound.
Use stereo to record a musician playing some instrument or instruments or a singer.
The unidirectional pattern is helpful to record voice for podcasters when the source is sitting near the mic.
Omni mode is perfect for multiple sources around the microphone as it captures everything it hears in all directions.
The bidirectional mode is used to record two sources opposing each other, for instance, when the journalist takes the interview, it can be an ideal variant.
Sound Quality
Almost any consumer's review you can easily find online points out how well Blue Yeti sounds. The clarity and cleanness of sound helped to achieve big popularity. The sound is reproduced without distortion.
Let us say you use the Audacity for recording. It's important to adjust the gain before using Yeti. In case of necessity, the sound can be improved with a boom arm and a shock mount that minimizes desk vibrations. Try to remove the background noise. From all Blue Microphones Yeti is rather vulnerable in this respect. This is a condenser that is sensitive to noise. However, with some adjustments, the problem can be easily removed. Also, treated space is rather helpful. Those who need clean sound should be ready to invest in-room treatment to deliver excellent quality of sound.
Blue Yeti Review Summary
The mic review is not comprehensive at all but it covers the main aspects of this popular model. Blue Microphones always manufacture products of supreme quality level. However, Blue Yeti exceeded all expectations. It made a name famous raising popularity of trademark throughout the world. Its multipattern construction makes equipment versatile. It has a solid build and appearance. The functionality and sound are superb. As a result, customers' satisfaction is rather high.
Conclusion
Those who need a USB mic without hassle in use should select Blue Yeti. It's considered a great alternative to start with, so take advantage of its features. It's also a favorite choice among gamers who need the gear for gaming. It was developed to meet the demands of the developing market. Many people needed microphones for different goals that could be connected to computers and would be easy to use. Blue Microphones filled this niche and the device created with this goal fulfilled this mission successfully. Now all bloggers, vloggers, streamers, podcasters and other videographers are aware of Yeti Blue. Many of them acquired the model and are happy with its performance.