Low output levels produced by microphones need to be amplified therefore people use preamp for this purpose. Audio interface can have preamp embedded and it suits perfectly for beginners. In case the person buys audio interface without miс preamp he should purchase external preamp. It helps to achieve more beautiful sound.
4 mic audio interface
The number of outputs is the basic criterion to regard when choosing the product. It can have from 2 channels to 18 and even more than that. More microphones are usually required to record drums than to record an acoustic guitar. If you plan to work with drums, you will need an interface with at least four inputs. This will be the best microphone audio interface for the situation. The list below will include the soundcards of this category.
Behringer UMC404HD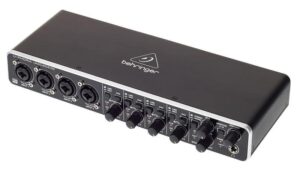 It's an excellent solution for recording instruments and microphones that enables pro-level quality.
Compatible with AvidPro Tools, AbletonLive, SteinbergCubase.
USB connectivity.
It includes 4 inputs and 4 outputs.
Rackmounted option.
---
Arturia AudioFuse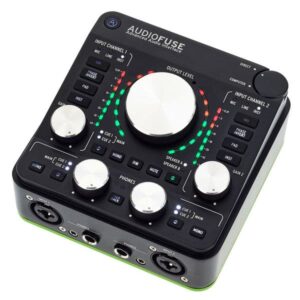 The device is available in three colors: black, grey and silver. The item is compact and looks stylish.
Features:
Compatibility with Mac, iOS and PC.
It has combo inputs, 2 headphone feeds.
It has USB hub with three USB ports.
It's advisable to download the Control Center software that alleviates work with the DAW chosen by user.
As for the price tag, it's a bit higher than that of its counterparts with similar characteristics.
---
Apogee Element 46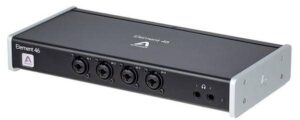 The products that focus on functionality primarily instead of form are valued usually more so the model under consideration also belongs to such devices. Apogee products are superb in this respect.
It can be used as microphone interface for Mac. It's considered one of the best among similar products for Mac. The consumers praise flexibility of the model. It's simple to use and loved by studio owners for its efficacy.
Features:
Features convenient frontmounted mic connections.
Though it looks plain enough, it presents software control over the device.
Thunderbolt connectivity.
ADAT, SMUX and S/PDIF I/O
4 analogue inputs, 6 analogue outputs
---
8 mic pre interface
Being the main gear in the studio, 8 mic preamp interface is used by specialists not for audio conversion only. This is a very convenient way to attain microphone pre-amplification and amazing sound at a low cost. In this case the person doesn't have to acquire pricey external preamp devices to record multitrack performance. So, what 8 mic device do we recommend for pre amplification instead of buying external preamps? The list of devices that are worth considering are presented below.
Behringer U-Phoria UMC1820

The company presented the device with new design and enhanced components, which included MIDASpreamps as well.
Features:
No proprietary software is offered for sophisticated monitoring.
The interface is provided with 18 inputs and 20 outputs.
Each input channel is provided with mic/line switch, gain knobs/pad.
It's convenient to use the buttons as all of them are available on the front panel.
2 headphone outputs with volume control.
---
Focusrite Clarett 8Pre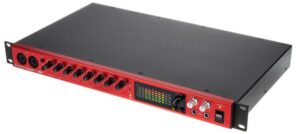 It's a solid choice that offers quality conversion. The interfaces two times more expensive offers the same features.
Features:
Powered by hardware interface Thunderbolt that connects external peripherals to computer.
Wonderful sounding of mic The sound is clear.
Low level of noise and distorting.
2 headphone inputs allow to record a singer or guitar player not using one output.
---
Focusrite Scarlett 18i8 (2nd Gen) USB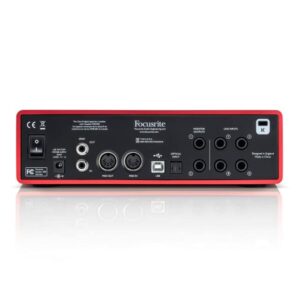 This is a magnificent device that has solid built and delivers low noise recording.
It features splendid instrument preamps.
Provided with 48Vphantom power to connect XLRmics.
Though x has only 8 analogue inputs, it includes ADAT-port meaning that it's possible to connect additional 8 mics. In this way, it's possible to capture 16 mics at the same time. But one will have to buy additional external preamp unit for that.
It's a great choice for the beginning band.
---
16 mic input audio interface
Sometimes it's needed to acquire the interface for recording a band so the device should have multiple channels and inputs to connect microphones. Which gear is needed when there's necessity to connect 16 mics or even more? Let us offer some options for such cases.
Apollo 16 Thunderbolt audio interface with QUAD DSP processing

Those who want to achieve almost zero-latency, should try this device. It combines all necessary features required for recording system, including big number of analogue/digital headphone inputs/outputs, preamps etc.
This is the device for high-end customers. The quality of performance is outstanding.
Features:
Console 2.0 software, Bundled with RealtimeAnalog Classics Plus suite.
Thunderbolt connectivity.
MIDI interface.
Its 16x16 analog inputs and outputs enabling pairing with mixing consoles and other gear. The example is mic input. The interface can be expanded to 32 channels if it's necessary for audio.
---
PreSonus Studio 192 26×32 USB 3.0 Audio Interface and Studio Command Center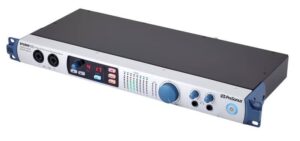 It's a remarkable option for the price offered.
Integration with StudioOne 3 ArtistDAW software.
USB
8XMAX mic preamps, 2 instrument, 6 line level inputs.
Desktop solution.
18 digital inputs and outputs with possibility of expanding
The sound is clear, detailed, without distortion. the customers like the universal control application and simple operation.
---
Avid 99005867040 Pro Tools HD I/O 16X16 Analog

The device is known for lack of latency and comes in different configurations depending upon users' needs. Its features:
Full integration with ProTools HD.
Rackmountable
The installation of additional I/O ports is easy by adding a card to an empty bay.
Though the device is rather expensive, it's a studio staple delivering unparalleled quality.
---
Audio interfaces for beginners – top 3
The experienced users are aware that with USB microphone, interface for computer audio is not necessary. The mic has the one already but the quality is not so good in comparison with audio track obtained with help of interface.  These are the devices for novices in the sphere:
PreSonus AudioBox USB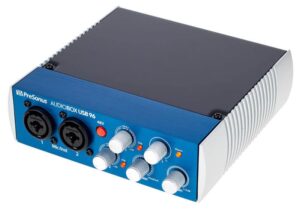 The consumers will be pleased with affordability of the model. It offers a good quality for its price. The features of the model:
Studio Magic Plug-In Suit, Studio One Artist or other 6GB+ software.
0
Midi
2 combo inputs with preamps.
---
M-Audio M-Track 2X2 C-Series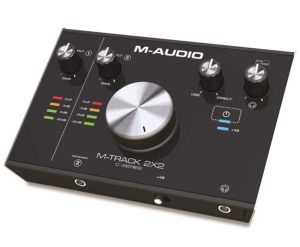 Enjoy the studio quality, intuitive interface with this entry-level model .
C-Series Software Suite, Touch Loops sample library.
USB, USB-C
5-Pin MIDI
Rackmounted device.
XLR combo input, instrument input.
It's one of the most enticing offerings available on the market.
---
M-Audio Fast Track US44010 USB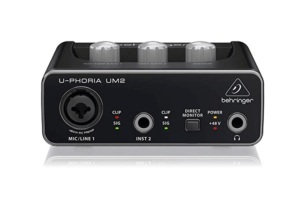 Those who are looking form audio guitar mic recording interface, should try this option. It's excellent for this instrument as well as the vocals, the keyboards, etc.
Pro tools SE, GT-Player Express Software, Ableton Live Lite, inTone|Express Bundle.
USB
1/4-inch instrument/line input, XLR mic input.
The users are able to connect the instruments in this guitar and microphone USB interface to get excellent result fast. The benefits are its low price and fantastic performance.
---
Conclusion
There are a lot of nuances while selecting an interface for recording of music. For instance, using a condenser studio mic and interface requires addition of such feature as phantom power (48V). Non-savvy consumers are not able to consider all the details, therefore help of pro-level experts is needed. It's not enough just to read the review. Apply to the store (LINK) and consult the specialists there.