Podcasting is a 21st-century chance that radio formats will remain alive and relevant to a wide range of people. Today, this topic attracts the attention of a wide range of listeners and potential storytellers. There are many opportunities for this. But what does it take to start podcasting?
In fact, a person needs quite a bit to get started. The studio can be neglected, and the video at first is also not useful. It is better to invest time and money in improving scenarios. Good free podcasting software can be found. All that remains is the microphone problem, since a standard microphone from a laptop or a voice recorder will not work, and a person needs a more or less decent separate device for sound input.
Indeed, a microphone is 90% success at the initial stage. That's just 10% more. I delegate them to the microphone stand. What is the difference, what kind of microphone does a podcast have when using it is inconvenient? And if your favorite business is uncomfortable, how to continue to carry it out with maximum dedication? The microphone should be located conveniently in any position at the mouth, and also not move from the slightest touch during recording.
It is for this reason that I insist on paying more attention to choosing and buying a microphone stand. It is not necessary to buy the most expensive model here to complete the creation of practical and convenient space for recording sound on the desktop. And I will prove it to you. I have put together some good solutions for every taste that just asks you on the table: just look at that.
NEEWER Microphone Suspension Boom Scissor Arm Stand
Let's start with the best budget microphone table stand solutions, and then decide if it's worth paying more for the more expensive cool rack models. For example, this model with a 32 mm clip is suitable for most popular podcasting microphone models. The stand is made of high-quality steel, and the design is characterized by mobility. And it is portable and takes up little space when assembled. This is not the main factor in choosing a microphone stand, but it can be important in individual situations. Mounting to the table opens a wide range of microphone installations in the working area. The clamp is made in such a way as to ensure reliable fastening without damaging the table. The only limitation of this table mount mic stand is that the structural elements are quite long, and it is difficult to put the stand in perfect position in 100% of cases. However, this indicator is approaching the maximum.
On Stage DS7200B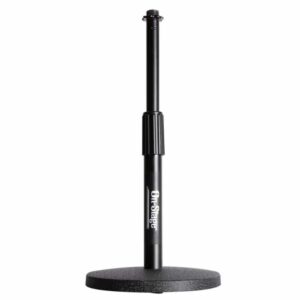 Genuine simplicity. This table mic stand does its job and is minimized at the same time. As for technical specifications, the model consists of a 6-inch base weighing 900 grams with height adjustment. This is a simple and reliable design that will be appropriate in almost any user environment. In terms of sustainability, this is a very high-quality option. However, the rack is always somewhere at hand, and this is not very convenient, but you can adjust the location quite flexibly. The stand is equipped with rubberized legs that suppress vibration and maintain high-quality microphone sound.
The stand table top mount has a standard 5/8 ″ thread. The model is made of cast steel. Height adjustment covers a range of locations from 23 to 33 cm. Two-color options are available for users: black or chrome.
---
LyxPro XBM-8 Microphone Desktop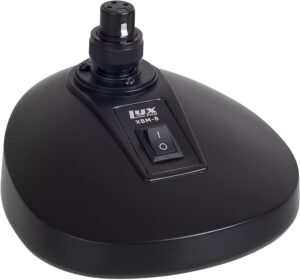 LyxPro mic stand is also specifically designed for podcasting and home recording. It is similar to the previous version in almost all parameters and characteristics. This is a stand with a base, which can change the location in height from 23 to 36 centimeters using a convenient adjustment sleeve. The platform has a round shape; It is made of cast iron. This is a very durable solution that prevents accidental microphone movements during a conversation or recording. This model deserves attention separately, as it is capable of holding heavy microphones weighing up to 3 kg.
A convenient 3/8" mount is responsible for the mountable microphones. There is also a cable clamp for convenience, and the problem of installing microphones under the 5/8" standard is solved by a special adapter that comes with the kit.
---
VIMVIP 3-in-1 Cell Phone & Microphone Stand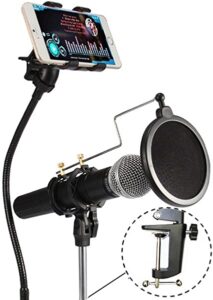 Moving on. Here is a versatile mic stand tool for home use. This stand can mount not only a microphone, but also a pop filter and even a smartphone. This means that it can be used not only for recording podcasts and conversations through an external mic, but also for live broadcasts on Instagram, for example. The design implies end mounting to the table top, and the neck of the rack bends to any shape and angle. The stand can be turned 360 degrees effortlessly and the mount will hold the position firmly. The stand is also equipped with depreciation means that will ensure stability to the voice. I believe this is a simple but powerful tool by a modern blogger and podcast author. Versatility just rolls over. If you need to mount both a mic and a smartphone for personal tasks, then such a stand will help save money.
---
Te Bo Suspension Boom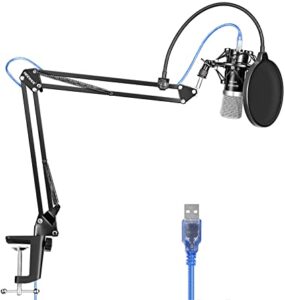 I propose to pay attention to the budget mic stand, which fits perfectly into the range of mid-budget models. The stand is characterized by versatility, it can be used for recording on the radio, podcasts and even work in the studio. Versatility is ensured by the presence of mounts for a smartphone (up to 140 mm wide) and a microphone at the same time. Also, the user can install two microphones of different sizes, which is useful for playing and recording music at home.
The stand is made of durable steel; the color of the model is black. It is characterized by ease of assembly and ample opportunities for positioning in accordance with any user request. Height and angle adjustment are very flexible. The maximum load is up to 1000 grams. An additional pop filter in the kit allows you to make the sound cleaner.
---
Samson MD5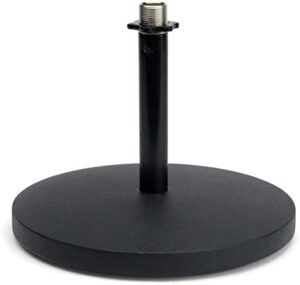 Samson MD5 is another simple and inexpensive mic stand solution for everyday tasks and daily operations. This rack is characterized by extreme simplicity of design. It consists of two main elements. The first element is a massive metal base, which provides optimal stability in all conditions and vibration absorption. The second element is a stand directly with the possibility of height adjustment. The tuning options are minimal, but the stand provides reliable microphone positioning. This is more than enough for talking and podcasts. The manufacturer gives a guarantee of the durability of the equipment.
---
Bearstar 2-Pack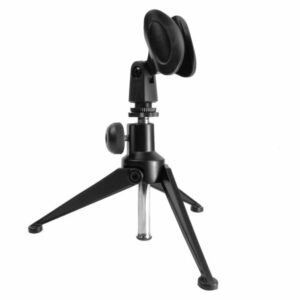 Another category of racks that is widely represented on the market is desktop tripods. And now I will fill this gap with a story about this model as an example. This is a worthy and not very expensive mic stand solution, which has a compromise ratio of advantages and disadvantages.
Users receive at their disposal a stylish stand, which is placed directly on the table. Tripod construction provides a high degree of stability. This also applies to the capabilities of the stand itself, which ensures a stable microphone position regardless of the height of the lift and tilt. The model supports all the popular microphones that are used in podcasting and home recording. Height adjustment is provided by the nut. The available adjustment range is from 21 to 27 centimeters, which is more than enough for a comfortable setting for any person.
It is also worth noting the compactness in the assembled state, since the rack almost does not take up space. It should be made in case of active "field" records, when you have to work in different places and carry equipment with you. It is important to note that the stand is not suitable for mounting heavy microphones.
---
Heil Sound PL-2T Overhead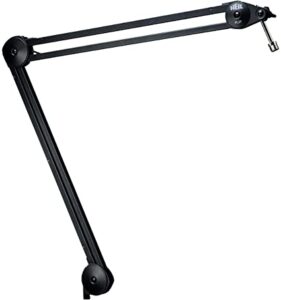 I also came across this extremely simple but unusual stance. One glance is enough to say that the main advantage of this model is design. This mic stand looks very simple but extremely stylish and memorable at the same time. this is a big contrast against the background of many monotonous models that are on the market. The combination of chrome and matte details will organically fit into the design of the room and create an additional solidity effect. One glance is enough to create the feeling of a premium product on your desk. The main technical feature in the context of the list is the switch for push-to-talk or push-to-mute. It is designed for conferences and is optional for homework. Nevertheless, the rack can also be used to record podcasts.
---
InnoGear Scissor Arm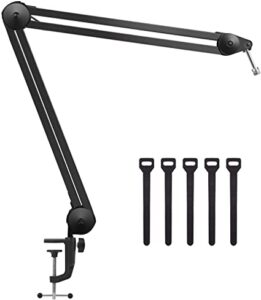 An inexpensive, but highly functional solution that resembles the first item on this list the most. This is a universal tool for recording sound at home or in the studio, which includes a pop filter for cleaning the sound, as well as an optional male HLR connector cable. The cable length is 2 meters, which is more than enough for a home studio.
The design is characterized by flexibility of adjustment in height and angle, which is close to ideal. It is also the best solution for situations where free space plays an important role. The user does not need to look for a place for the platform on the table top, because this rack is enough to fix on the end with a screw mount. The mount is soft, and it tightly fixes the structure without the risk of damaging the table. A protective sponge is also supplied.
The design provides a protective spring that blocks vibration and, accordingly, the accompanying distortion of sound during operation. The model is suitable for all popular types of microphones. It is possible to install on the thread 5/8 "-27" or "3/8" -16.
---
Proline MS112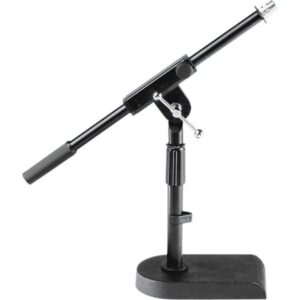 Let's end this list with a simple and affordable solution that is different from the other models presented here. Let's see what's the matter. Everything is quite simple, in my opinion. This is a desktop microphone stand with a telescopic boom that provides precise mic positioning in any household situation. High-quality sound is provided (it is only a microphone). The low profile boom is ideal for microphones, amplifiers, etc. The design is made of high strength metal, and this also applies to mounts and additional elements. This is a durable solution that covers the full range of "home desktop" tasks completely.
---
Conclusion
As you can see, desktop podcasting racks belong to several main categories by type of construction. When choosing quality solutions, I highlighted several characteristics that manufacturers adhere to when designing racks. All good models are robust and shake proof. The versatility of positioning is also important, but the developers neglect it for other advantages. This is especially true for certain types of structures. But in general, choosing a good and comfortable model will not be difficult. It is enough to carefully study the more options available. Good luck with this search!