Old-Timey Microphone
Everything new is well forgotten old. This rule works in many areas of life. People tend to return to the trends of the past, use them, conceptualize, rethink and complement. This is an endless circle of changes that leads to the creation of something new, but always cool. The same goes for microphones.
Who did not admire the style of vintage microphones mid-twentieth century? Designers then knew a lot about beauty and style. Imagine Elvis without a branded microphone? It is almost impossible. The same applies to other pop and rock and roll artists of that era. At some point, the branded forms and designs came to naught, but today they are returning and they feel great in the market. Manufacturers actively release copies of all the most famous types of vintage microphones, and these are good enough replicas for concert tasks. They will definitely improve the concert and simply provide a sense of harmony to the nostalgic owner.
Best Vintage Mics
Let's look at examples of popular vintage microphones at the moment. We have put together cool and reliable solutions that are marked by high sales volumes and multiple positive feedback. These are the microphones that will help you plunge into the golden age of the past or write a new present here and now.
Pyle PDMICR42SL Classic Retro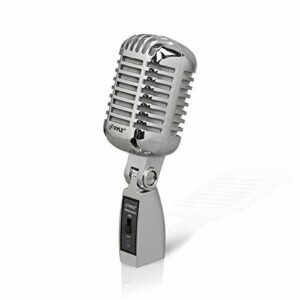 Here is a perfect example of a classic old fashioned mic that excites the minds of the masses to this day. This design is perfect in every line and from every angle. The model is intended for concert activities, and can also be used for studio live. It is not just aesthetic, but also reliable. The one-piece metal case is resistant to the hardships of active concert activity, and feels good with regular use.
The microphone is equipped with a built-in pop-filter, which suppresses third-party noise and increases the purity of the main sound channel. At the same time, high-quality sound capture is possible from different directions, and this is what makes this model optimal for concerts.
Features: classic design, built-in pop filter, shockproof housing
Pros: flexible positioning, clear sound, the ability to capture sound in any direction, low price
Cons: plastic parts, unreliable finish
---
Shure 55SH Series II


One photo was enough for me to want to be Elvis Presley. And this photo necessarily accompanies such a microphone. Many will agree with similar thoughts. This is a celebration of vintage style, which is made in a much more reliable format compared to the previous microphone. The price is significantly different, but it's worth it. This old timey microphone can be used by professionals, and the model will feel great in conditions of active daily use. If someone gives retro concerts and can't imagine life without rock and roll, then the Shure 55SH should be a must-have must-have.
Attention deserves the exact copying of the design to the smallest detail. This allows you to feel the spirit of the legend 100%. Schure tried their best in the name of universality, and this model can be used for speech, vocals and voice instruments simultaneously. Here you have a workhorse for all occasions, and an additional plus: it is surprisingly pleasant to hold in your hands.
The sound quality of this old fashioned radio microphone is very high and clear, and the positioning capabilities are wide.
Features: designed for speech, vocals and instruments at the same time, an exact copy of the canonical "Elvis microphone", metal body
Pros: versatility, stylish design, high purity of sound, reliability
Cons: reasonably high price, limited angle of sound capture
---
MXL V67G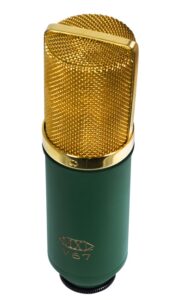 Here is another vintage hit of our time. This model departs from the design indicated in previous microphones. However, the greatness of antiquity is recognized without a doubt. This is a more professional old style microphone at an affordable price, which focuses on recording vocals. The microphone will find its place in the studio in case you need to achieve a clean, but atmospheric vintage sound. The model is made according to the canons of the first half of the twentieth century, not only visually, but also technically.
Appearance fights on the spot. This is a gold mesh and a metal case painted green in the spirit of antiquity. Each line and shape is in its place. This is minimalism that inspires. We should also mention the presence of Large 32mm pressure gradient condenser capsule and solid state preamp balanced transformer output. To achieve maximum clarity, the developers added vibration reduction to the design. It is also can be used as old fashioned radio microphone.
Features: vintage warm sound, the best solution for rhythm and blues, country, pop music, designed for recording vocals, vibration reduction system, Large 32mm pressure gradient condenser capsule, solid state preamp balanced transformer output
Pros: noble gilded case, crystal clear sound with a lampshade, rich mid-range
Cons: limited scope of use
---
Shure MV51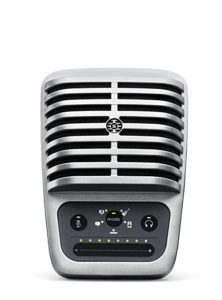 Top manufacturer Shure gave everyone another bold decision from the past. This is a broad-functional old-fashioned microphone that is designed for several situations of sound reproduction. It is great for speech, vocals, dubbing, and recording acoustic instruments, and also has a special mode for working with a loud sound. Despite the "old-fashioned" appearance, the microphone is modern and technological inside. It has automatic gain control tools, an equalizer, a compressor, and much more. Special attention is paid to the convenient module for touch control of volume, amplification, and sound switching on the front panel. They didn't do this in the past, but now it fits organically into old designs.
And here an all-metal case is implemented, and the device is very shockproof. This is a competent investment, which will last a long time on the stage and in the studio and even as old fashioned radio microphone. Whether it be the needs of musicians or broadcasting, it does not matter. The microphone will do well everywhere and always.
Features: 5 preset operating modes, shockproof metal case, automatic volume controls, integrated headphone output, convenient rear stand, touch control panel
Pros: manufacturability, reliability, versatility
Cons: no USB connection
---
Old Fashioned Microphone With Stand
The stand will help to achieve maximum completeness retro style. Users can also find complete retro kits that perfectly match the stage presence of musicians. For example, we propose to consider one of such examples separately. This is a model that conveys the mood of manufacturers in working on this category of devices in full.
Pyle PDMICR70GL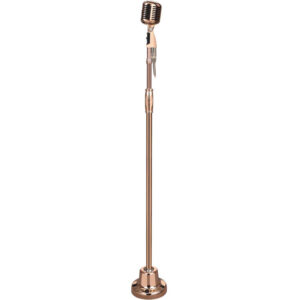 ---
This old fashioned microphone with stand is another successful and thoughtful inheritance of the classics. In this case, this is a microphone with a stand, and this model instantly brings back memories of the era of swing, jazz, rock, and roll (let everyone choose what he likes).
It is impossible to resist the charm; this microphone is created for the scene by each line. Users note a flexible adjustment in height and angle, a high degree of stability, and a crushingly attractive appearance. It is also worth noting a fairly affordable price and a reasonable ratio of build quality and components.
This is a worthy solution for amateur tasks (for example, karaoke with friends on Saturdays), but the microphone can also prove itself on stage.
Features: retro design, 360-degree microphone rotation on stage, included microphone cable, 46-69 inches' height adjustment
Pros: Reasonable price, stylish finish, fairly reliable assembly, flexible adjustment of height and angle
Cons: limited sound quality
Conclusion
All presented old-style mic models of the list follow the goal to convey the mood of the first half and mid-twentieth century. Developers make the main focus on design and provide users with stylish, accurate solutions. These are mainly budget models that are not designed for professional tasks. They can be used for entertainment or small-scale concerts. But they give special emotions from owning.