Not so long ago, digital mixing consoles were an inaccessible luxury for most sound engineers. Today, the range of such consoles has grown significantly. Many models have become available and in demand not only in the field of professional sound recording, but also in the amateur segment.
This state of affairs gives rise to multiple discussions and comparisons with analog equipment. There are many pros and cons, and this should be considered before buying. They are lightweight and compact, easy to transport. The maximum automation of processes and the flexibility of switching from the point of view of any user tasks, including studio recording, concert performance, broadcasting, also play an important role. But it's worthwhile to understand that the interface of such a device may seem specific to the specialist of the "old school", the lack of a lot of choices in the inexpensive price segment and the complexity of the repair.
It is also important to take into account when choosing specific models. There is very cool equipment that will have to fit almost everyone. Next, we consider the best digital audio mixer solutions on the market at the moment according to our version.
Soundcraft Ui-16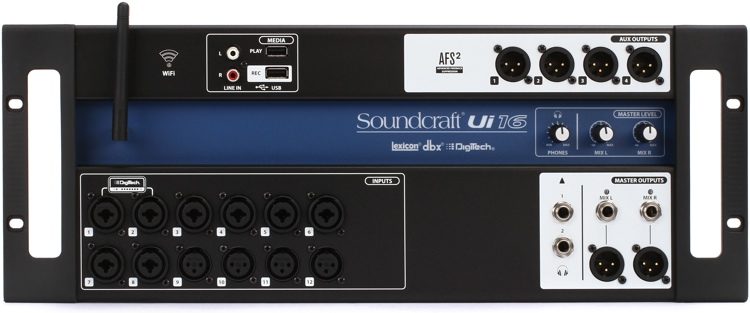 Digital mixing desk for those who value compactness and portability above all. This model has 12 inputs. The main feature is the integrated Wi-Fi router and Ethernet port, which allows you to control them remotely using a computer, tablet or smartphone. Also, users note outstanding features for sound processing. Remote control is provided using devices based on iOS, Android, Mac OS, Windows and Linux. Up to ten control devices are supported at the same time, digital signal processing from dbx, DigiTech and Lexicon is implemented, including dbx ASF2, DigiTech Amp Modeling. Attention is also paid to fully remotely controlled microphone preamps, a 4-band parametric equalizer, a 31-band graphic EQ, a noise gate and a compressor at all outputs. And the list goes on.
Features: convenient wireless switching with external devices, 8 TRS Jack and 4 XLR inputs, a master section with output level and headphone signal controls, two 1/4 " TRS Jack outputs for connecting headphones and four master outputs (2 to 1/4 " TRS Jack and 2 on XLR connectors), the ability to record to a USB drive
Pros: high sound quality, usability, ultimate portability, affordable price
Cons:

possible breaks in Wi-Fi connection during operation
---
AVID S6L-32D-192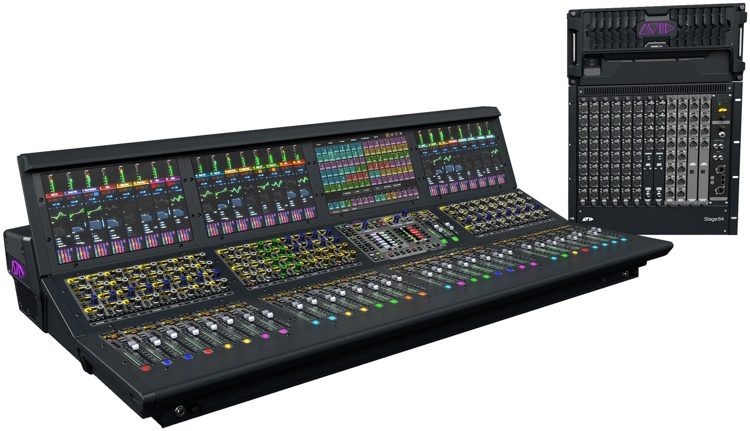 The S6L console has been designed for modern shows. This is the best digital mixer for live sound. The main emphasis is on intuitive controls. Now the user can concentrate all attention on the sound, and not on a constant search for encoders to solve a particular problem. The consoles are equipped with high-resolution OLED displays, images on the displays are visible even in bright light. Now the user can view the full picture of what is happening, select and configure plugins directly from the touch screen. It is possible to insert and configure plugins directly from the console, which is perfect for live sound work; with instant access to each input, AUX, group, VCA, and many other functions.
Also implemented the option to use exactly the same plugins that are used in top studios around the world to get the sound you want. The sound engineer can use an unprecedented number of plug-ins to adjust the settings for each channel.
Features: 4 x 12 ″ touch screen HD monitors, 8XLR, MIC / LINE analog inputs, with phantom power and signal presence indication, 4 pairs XLR (stereo) AES / EBU (8 channels total), 96 kHz sampling frequency
Pros: Outstanding functionality, everything for professional use without limits
Cons:

Technical complexity
---
Yamaha TF1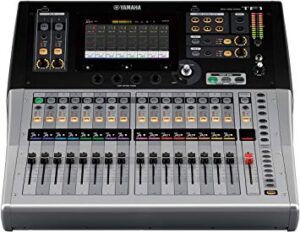 Extremely compact, but widely functional working console in comparison with even 48 channel digital mixer solutions. The switching connectors are removed here, which in no way reduced the productivity and functionality of the mixer. The new TouchFlowOperation function allows the sound engineer to participate fully in the creation of music, combining with musicians into a single creative element, due to even less delay and ergonomics of the controls optimized for live performances. The new, intuitive interface of the touch control panel is very simple and will be clear not only to experienced, but also to beginner sound engineers. And of course, the flawless D-Pre preamps play an important role. This model has 16 analog outputs.
Features: analog inputs have combined XLR / TRS connectors; 16 analog XLR outputs; USB 34 in / 34 out, the ability to record a stereo mix to a flash drive; card slot NY64-D; 20 AUX / Sub; 8 DCA groups
Pros: Wide functionality, high build quality
Cons:

High difficulty in understanding
---
Pioneer (DJM-TOUR1)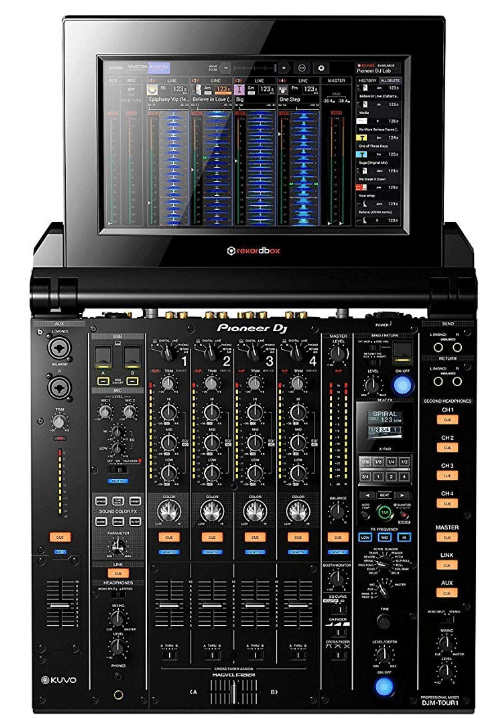 Pioneer (DJM-TOUR1)desk is a solution to a new generation of mixer that will not leave indifferent any professional while working in studio (for recording). With this model, the user gets the best sound with additional processing of 96 kHz: the largest number of channels and the most reliable equipment for mixing in real-time.
Superior sound quality of this digital sound mixer is provided by ultra-quiet microphone amplifiers and advanced digital processing of digital sound at a frequency of 96 kHz * 40 bits, while the FX comes with 8 independent Lexicon multi-FX units, BSS DPR901ii integration and a graphic equalizer BSS on each bus output. Quick setup and powerful automation features, monitoring the status of the radio microphone and the extensive ViSi Connect I / O extension (EtherSound ™, CobraNet ™, Dante ™, MADI, etc.) complete the package.
Features: Latest Vistonics ™ and FaderGlow interface, up to 128 inputs and 32 mono / stereo busses, advanced 96 kHz audio processing, STUDER vMIX auto microphone mixing
Pros: high build quality, perfect sound, huge connectivity
Cons:

complexity, too expensive
---
Mackie DL1608L
An impressive portable live digital mixer for all occasions. It is the best solution "on the go." Portability is ensured by full integration with the tablet and in the complete absence of physical faders. Users note the ability of this audio mixer to connect up to 10 wireless iPad connections using 6 additional items. The model offers a format of work that does not require constant involvement of the engineer in the process of live performance. All controls can be placed on a working iPad (mixer for ableton) or another tablet. This is an intriguing concept for true travelers.
Features: full integration with the tablet, Onyx™ mic preamps, 24-bit Cirrus Logic AD/DA, up to 20 wireless devices
Pros: stylish appearance, ease of connecting external devices and software settings, powerful plugins, clear sound
Cons:

unable to connect faders
---
PreSonus StudioLive 16.4.2AI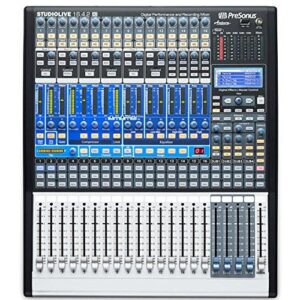 One of the best digital studio models on the market with unlimited functionality and high price. If the buyer has money to invest in large-scale projects and create something unique, then he should pay attention to this device. This digital mixer has 16 channels, a FireWire 800 audio interface, 16 microphone preamps (they are XMAX – an advanced assembly of the internal parts of amplifiers), a wireless remote control, and a 4-band full-parameter equalizer.
In addition, audio mixer provided by the software Studio One 2 Artist DAW This is a real help in the development of ultra-functional equipment. In general, PreSonus StudioLive 16.4.2AI is suitable for those who take the sound with the utmost seriousness and are not ready for compromises.
Features: microphone / line inputs with high-quality Class A amplifiers, built-in effects processor (32 bits) with custom settings, FireWire interface (24bit / 44 and 48kHz)
Pros: High sound quality, convenient software
Cons:

relative difficulty
---
Soundcraft Si Expression 1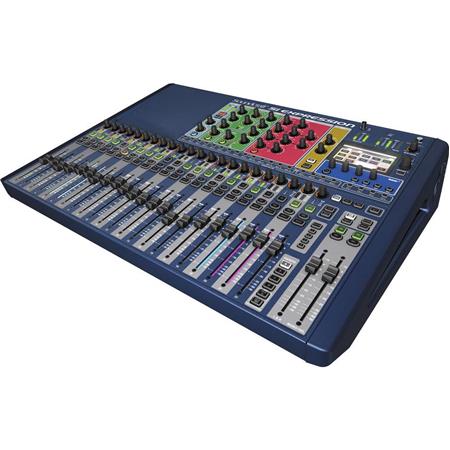 Here is one of the best digital mixer tools that truly dominates others when it comes to the overall sound quality and features that it brings. The best solution for playing live or recording in the studio (at home or professional). Here, Express 1 has 16 channels and microphone preamps (possibly), 4 line-in inputs, 4 internal stereo outputs and the ability to use up to 66 processing channels (with an expansion slot 64 x 64). Each channel also has its own dedicated processing (high-frequency, delay, shutter, compressor, and 4-band equalizer). The Lexicon FX processor and EMMA DSP processor, which provide high-quality sound, justify the sound mixer advancement and overall price.
The manufacturer recommended this sound mixer for broadcasting, churches, music venues of most sizes, group practices, recordings in studios and theaters. That is, this is a universal solution. The only thing, the price may seem too high for most.
Features: 16 mono microphone inputs, 4 linear inputs, 66 inputs to the mix, One ViSi Connect card slot, more faders, vibe effects to the skin input of the bus, Graphic equalizer (GEQ) to the bus
Pros: pure versality, high quality of sound
Cons:

high price
---
BEHRINGER, 32 A-B Box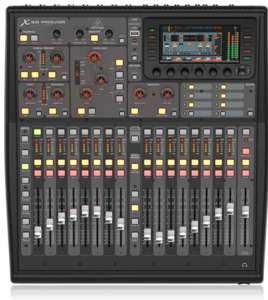 A simple example of a small digital mixer, budget solution in this category. The device pleases with wide functionality combined with an affordable price. This is the best choice for undemanding tasks and this  is a great cheap digital mixer. There is the ability to control through a tablet, mobile phone and computer (up to 10 connected devices at the same time). Web-based cross-platform management in the phone and tablet is possible without the need to install any application software. It is possible to save and load settings, record and play audio files via USB. Professional effects: reverb, delay, chorus, etc.
Features: 8-16-channel microphone input, 8-channel line-out (including headphone monitoring), 1-port digital input / output S / PDIF, professional pre-amplifier with remote control, 48 V phantom power, 4-band full-parameter equalizer (input side) ), 31-band graphic equalizer (output side), noise shutter, limiter and expander
Pros: portabile, versatility, cheap, ease of switching with external devices
Cons:

relatively small functionality
---
Conclusion
The best solutions in the digital mixer category are in radically different weight categories. Here everyone can find small portable equipment, along with ultramodern ultra-expensive studio solutions. Most of the models require additional time for development, but it will provide opportunities that previously might have seemed unrealizable. Also, all models are characterized by interesting and wide opportunities for the integration of external control devices.