What activity do you plan for Friday night? Karaoke can be an ideal way to clear your head after a long, busy working week. It's hard to imagine a better way to relax. People sing with friends, colleagues and other visitors to karaoke bars they see for the first time. This activity has always been trendy and always brought satisfaction. Karaoke is really brilliant invention, so you can also share the fun with your friends singing together. After this device was invented, it conquered the hearts of people from different countries of the world and became popular with skyrocketing speed.
Therefore, it would be great to have a karaoke mixer at your place. But how should one choose the right equipment? Customers can be confused due to the wide selection of karaoke devices in the store. These devices are rather compact and do not take much place. The prices are also reasonable. The mixer is easy to control and it's not hard to tune its sound. Such devices are convenient for amateur vocal exercises.
Some karaoke mixers have just basic functionality, others are packed with features and often acquired for professional use. If the first ones are purchased for home use, the devices from the second group are often acquired by experts working with sound and amateurs who want an advanced karaoke mixer to have more fun.
The selection below includes examples from both groups so you can find the gear that meets your requirements easily.
Alesis Multimix 4 USB FX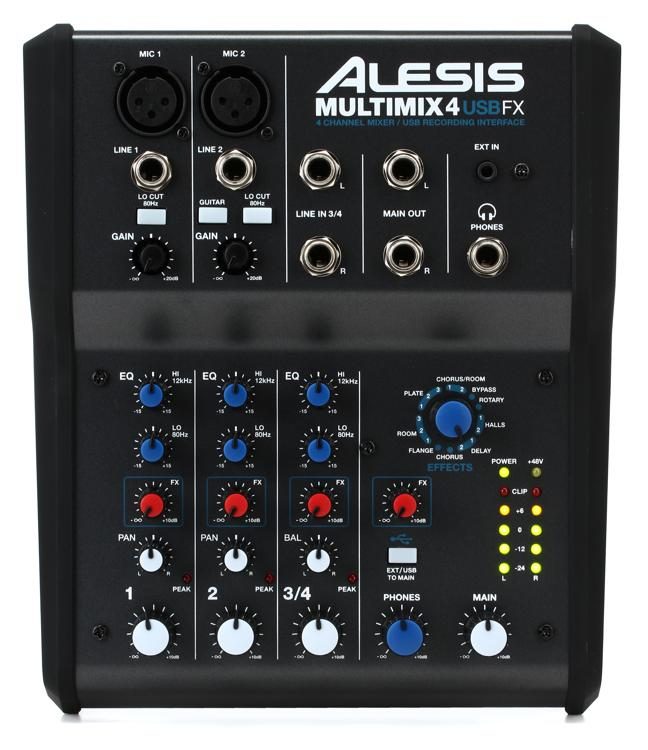 Alesis has released a number of mixing consoles specifically designed for use in small post-production studios, for use in an online environment, and also as a small effects processor with simple functions that all creative people need. The presence of a USB 2-in/2-out interface allows you to easily connect the remote to a PC/MAC/IPAD, even without the installation of drivers. For advanced sound production functions, Cubase LE is supplied. The build is solid and reliable. The users complain of hissing background. Supposedly, it occurs because of the soundcard that is not that powerful. It should be noted that you don't hear this sound in case you listen to it via headphones. The ability to connect it via USB is a big benefit of the mixer. Many customers admit that it's the best solution for karaoke.
Features:
4 channels with stereo;
High-pass filters;
48V phantom power;
XLR ins;
Duel-band EQ.
Pros:
Studio effects;
Pro-level recording software;
USB compliance enables plug and plays feature;
USB enables effortless recording and playback;
iPad compatibility.
Cons:
Some consumers complain of hissing.
---
Behringer XENYX502 5-Channel Mixer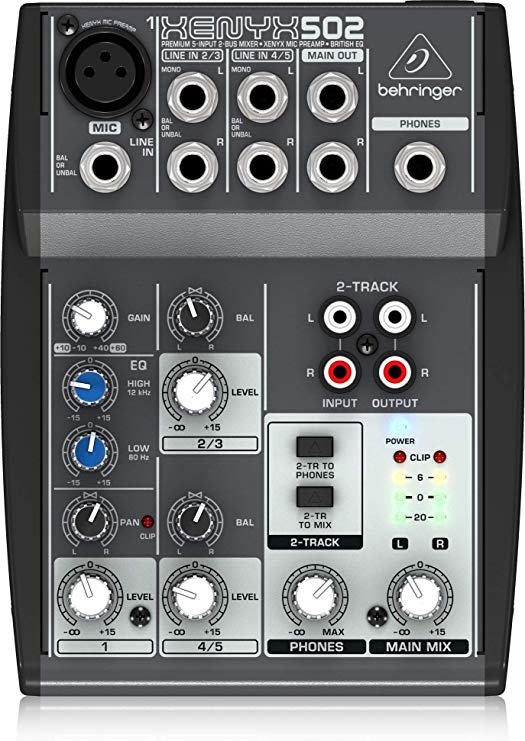 If you see the prefix Q in the models of the German company Behringer, it means that this mixer includes the built-in compressor. If USB is terminated, the user is informed about the possibility of a direct connection to the computer to be used as an audio interface. This is very convenient because the audio card isn't necessary for data transfer.
The newbies love to use this karaoke mixer as it's rather convenient for them. It is also suitable for Internet broadcasters and common users. So, it can be a multifunctional device.
The standard mixer includes such accessories as USB cord, user manual, and a power adapter. There is a possibility to download digital workstation Tracktion free of charge.
The first channel should be employed in case you need phantom power. There is a special red button for this purpose in the center of the main panel. The device compresses the sound well and improves the dynamics characteristic. It is designed to connect microphones and instruments with a mono signal via XLR and jack connectors 6.35 mm.
It is perfect for two instruments and vocals. The device is cheap and really fantastic for home use and karaoke pastime.
Features:
Good headroom;
Phantom powered XENYX preamp;
British EQ for warmer sound;
5 ins and 2 outs.
The pros:
Xenyx mic preamp;
The capability to use phantom power;
An efficient compressor is irreplaceable for live performances to be used remotely;
Cons:
The consumers say that it's too noisy. But we shouldn't be too picky taking into account the price tag of the product.
---
Mackie Mix Series Mix8 8-Channel Mixer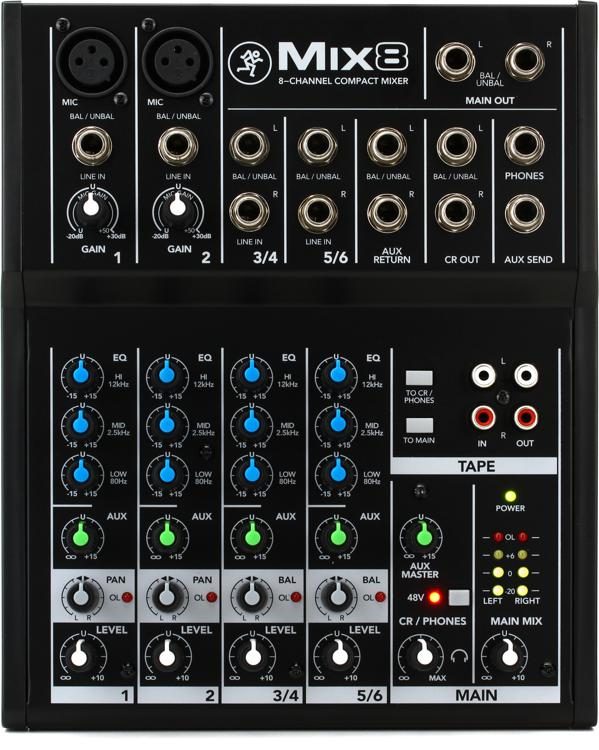 The Mix line is the most inexpensive in the range of the brand and is intended for users with a limited budget. New items offer a simple set of functions and are well suited for artists and songwriters, street musicians, as well as small rehearsals and events. If you need more functionality, then you should pay attention to other models.
As so much interesting software appeared on the market, many musicians started creating again. Comparing different devices, we understand that simplicity is the best thing. We are so obsessed with extensive functionality that forget about basic things. It won't happen to you when you use this karaoke mixer. It includes just the basics. Only the main features are included in this compact mixer.
Features:
8 channels;
High headroom;
Low noise device;
2 mic/line ins;
1 aux send with stereo;
3 band EQ.
Pros:
Compactness;
Effortless in use;
Reliable all-metal chassis;
Rugged construction;
Use of high-quality preamps and electronics.
Cons:
If you love the all-in-the-box approach, this is probably not the best option for you.
It includes only basic features, but the price is basic as well.
---
Yamaha Mg06X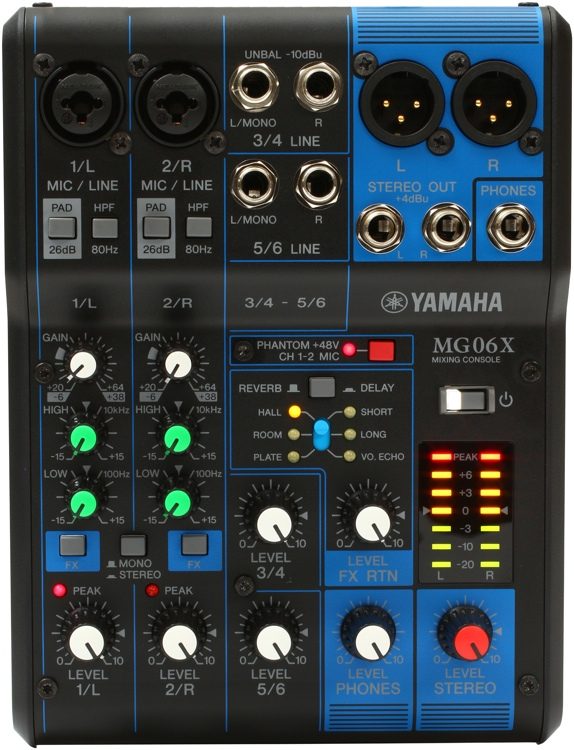 This is the third generation of the device. It includes features you will find in the high-end consoles only. For instance, pre amps of studio-quality level can be referred to as such features. The power of digital processing impresses the consumers who enjoy the solid construction of these mixers as well. This is the karaoke mixer that is pleasant to use. One of the biggest benefits is its low budget. It's really superb mixer for its price. There are two models in the line: one mixer is supplied with effects and the other mixer doesn't include them. It's better to have the one with effects included. This mixer for karaoke is reliable and offers the best audio. One shouldn't have unrealistic expectations concerning the device. In reality, this is a small mixer at a low price, but it's an excellent option for those who need a nice solution for karaoke.
Features:
6 channels;
Digital effects;
+48V phantom power;
3 band EQ;
It has knobs instead of sliders;
2 mono XLR.
Pros:
Clear, intuitive interface;
Universal capabilities that enable its users for different categories of consumers;
Sturdiness;
Flexibility of design;
Low budget;
It's small and compact;
The capability to plug several instruments into one amplifier;
This audio mixer can be used for best karaoke
Cons:
It doesn't have USB output.
---
Behringer Europower PMP1680S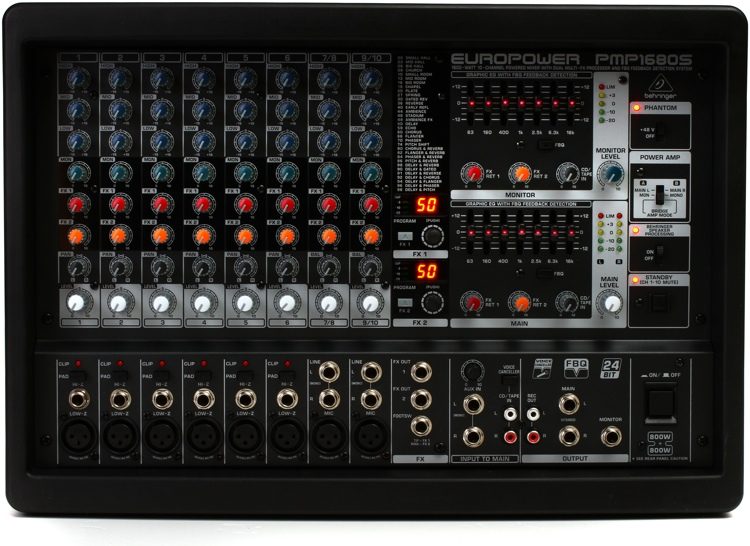 Europower PMP1680S is one of Behringer's most versatile mixers. Operating as a signal router, it is also used as a processing correction tool, as an amplifier, and as a switch for other devices. This is the best mixer for the sound engineers working over a wide range of tasks with a minimum of hardware resources. And compactness, combined with power, also solves the problem of insufficient free space, which is a common situation for sound rooms.
The main instrument the sound engineer interacts with when using PMP1680S is the mixing console. It is represented by 6 mono and 2 stereo channels, each of which is connected to the microphone in addition to the main connector or connectors. Preamplifiers and switchable phantom power allow you to use almost any microphones with the mixer – the signal quality will be high regardless of anything.
All channels are equipped with 3-band equalizers with rotary knobs. Three sends per bus per channel – monitor and two FX – allow you to flexibly route the signal and use sophisticated audio processing algorithms. Actually, 2 effect processors are involved in processing, each with hundreds of pre-installed programs, including reverb, loved by many musicians and other features.
After applying the effects and setting the required channel parameters, the final mix can be sent to the built-in Class D amplifier, which is characterized by a low level of technical noise and high energy efficiency.
Features:
6 mono and 2 stereo channels;
The power of the amp is 2×800 W or 1600 W;
CD/Tape inputs and outputs;
Standby mute function.
Pros:
FBQ system improving quality during live sessions;
Universal, multifunctional device.
Cons:
The system reveals the frequencies that cause acoustic feedback. The drawback is entailed by poorly selected components of the device. It's possible to get rid of the problem using a stereo 7-band equalizer.
---
PYLE PT265BT Bluetooth

The devices from this reputed brand are always the best as far as the quality of the audio is concerned and karaoke amplifiers are not excluded. Those who need to acquire the best karaoke mixer, should consider this alternative. Provided with wireless connectivity, the device features a pro-level functionality. Not any karaoke mixer can boast of it, while this feature is very important for karaoke. Any Bluetooth-enabled device is able to control it, for instance, the smartphone. There is a possibility to sing along to the music playing from numerous sources.
Features:
2 microphone ins;
LCD display;
AM/FM radio;
4 speaker outs;
Pros:
Wireless connectivity;
The possibility to control the device via Bluetooth;
The audio is very good;
No noise or buzzing;
50 memory presets.
Cons:
There are complaints of poor quality of Bluetooth that doesn't pick up radio stations;
Some customers say that the quality of the stereo is not high.
Isn't it the best way to upgrade your home entertainment? Choose it as karaoke equipment and enjoy your parties with friends!
---
Voco Pro DA-1000 Professional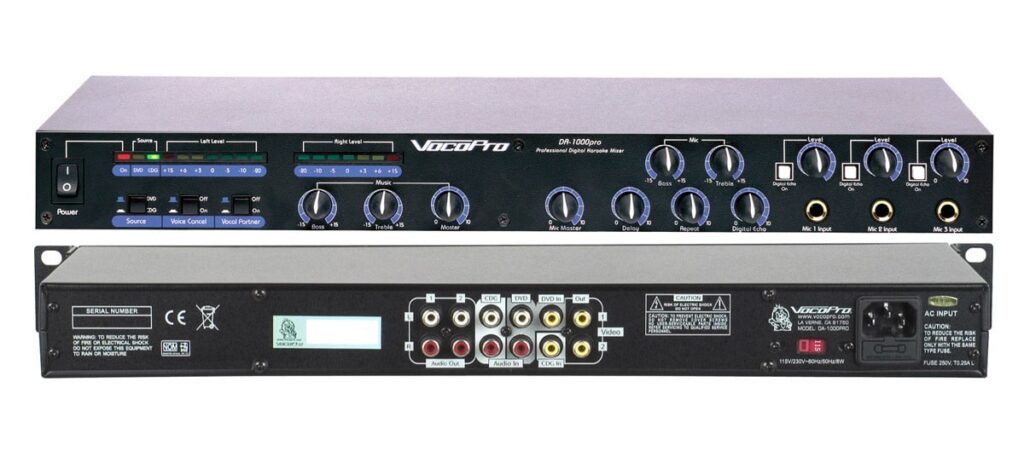 The functionality of the device is rich. It makes the device easy to control. Arrange the party for kids and sing over the YouTube videos. Amazing sound and useful features make this gear irreplaceable for karaoke. In case it all gets out of control on the kids' party and gets crazy, there is a capability to turn the mics down. All are impressed at the features the equipment offers. It's very convenient to obtain mixed sounds of mics and videos and get a great sound. If you want to organize a makeshift karaoke in your house, consider this device – it's ideal for this goal.
Features:
3 mic inputs;
Digital echo;
Music master/bass/treble controls.
Pros:
Amazing addon for expansion of the karaoke system;
Mic ins are provided with individual volume control;
Ergonomic design helps to rack mount device and save the place;
Comes with mounting brackets;
This is the best karaoke mixer for home enthusiasts and for professional use.
Cons:
Some consumers say that after some use explosive hissing sound appears.
Some had to refuse from the device because the effects didn't work.
---
Hisonic Dual Channel MA-3800K

Though the device is rather expensive in comparison with other alternatives offered above, it's one of the best values on the market. Have a look at its features to understand that this is a superb karaoke amplifier that is worth it. The customers are happy about its performance.
Features:
Dual-channel input for speakers;
11-step digital key control;
Pros:
The capability of mic adjustment;
3 mic ins;
The quality of sound is great;
Auto singing mate switch functions well;
Excellent quality of bass;
The sound is accurate.
Cons:
The weight is big, so the item is rather heavy. Some consumers like this feature though thinking that reliable items should be bulky.
---
EMB Pro 700-watt Digital Karaoke Mixer Stereo Amplifier EBK37

The amplifier makes an amazing job similar to what other expensive karaoke devices make. But you don't have to pay so much here for its goods. This karaoke mixer is reasonably priced and has many positive reviews from consumers.
Features:
700 Watts;
Two mic input;
Echo selector;
3 band EQ;
Bass functions.
Pros:
The quality of audio is superb;
Clarity of performance;
No distorted sound;
Fantastic build quality;
Metal case is robust and provided with convenient handle;
No buzz;
Great value for the price.
Cons:
There is some problem with tone up/down function that doesn't work properly. The result of tone change processing can be applied for karaoke singing but it is far from being expected.
The mixer is not a 700watt, actually, but still can amplify sound well.
---
Pyle PMXAKB1000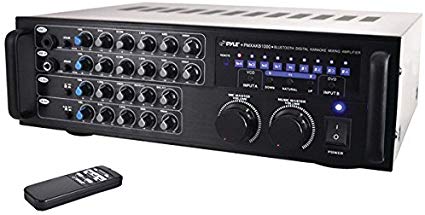 Those who are going to have large gatherings indoors and outdoors, need excellent equipment to arrange karaoke entertainment.
Features:
Embedded Bluetooth;
Digital key controls;
Rotary controls enabling control of the volume and balance;
Rack mount brackets.
Pros:
Good connectivity;
Nice, crisp sound;
The board includes good effects;
The system sounds good.
Cons:
Bluetooth capability is poor in some models, especially, when the distance is over 30 ft. It starts losing connection and interference appears.
Some reviews mention the humming sound.
---
Conclusion
Karaoke mixers with Bluetooth support have increasingly become the most popular choice among karaoke lovers. The customers buy mixers with microphones, which synch with smartphones and hand-held devices. Such mixers can boast of extensive features. It's possible to adjust the volume and balance the song of the performer and then apply the effects to get the desired result. There are karaoke machines with embedded mixer keeping the whole singing session under control, but professionals prefer to set up a mixer unit to have more features of effect controls and volume balancing at their disposal. Karaoke machines are often acquired with mixers to take advantage of all their features and enjoy this activity fully.