The best minds from the world of sound rack their brains over it. Trying different combinations they are eager to find the solution which seems to evade constantly. It's challenging to achieve fantastic sound and only technically-savvy professionals are able to pick the right device.
Some devices perform better than others, so the task is to find the more reasonably priced option among a wide array of items available on sale. The ultimate goal – to obtain fantastic karaoke experience with friends or arrange an exciting party for clients. Some systems are wired, others are wireless and it's up to consumers to select the product. A mic without cord is always the most preferable as excludes the situation of stepping on the cord, but some consumers think that they're less durable.
Karaoke Microphone Buyers Guide
With so many microphones available on the market, the common consumer is puzzled as a rule and doesn't know what he should start with. What factors should be considered when buying the mic apart from the most evident ones such as price and intended use. It would be great to bring karaoke fun to celebrate some festive occasion, but one should determine best karaoke microphone for it. But how to determine a suitable option? Find the microphone meeting all your requirements and performing well at karaoke nights.
Let's start with evident things: the number of items in a package.
A karaoke system with a microphone improves the gig, but when it comes with multiple mics – it's superb! A guest decides to sing a song together with friend? No problem if the system with a couple of mics is at hand. So you may need an extra mic or a system with several microphones for brilliant karaoke!
The microphone should be durable and reliable especially when karaoke is the goal. People tend to drop microphones often at parties and celebrations therefore the equipment of this type is often abused.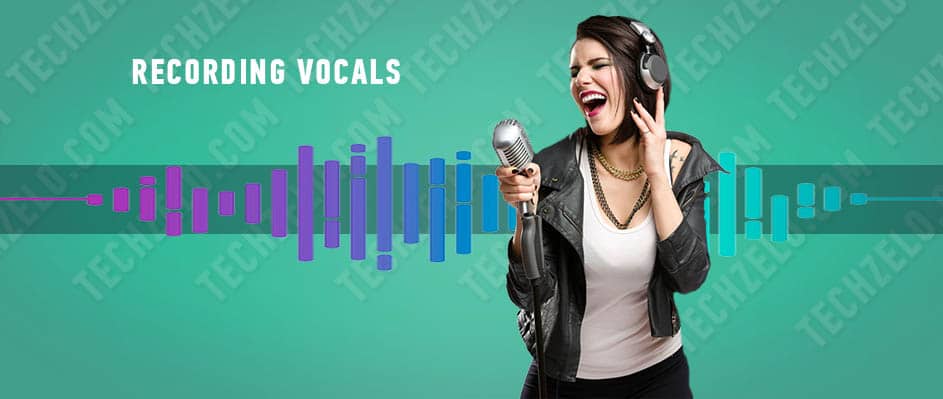 Our Top Pick
It's hard to say what microphone should be chosen when this or that event is organized. Which one performs its best at the exhibitions or meeting? Which alternatives are irreplaceable for karaoke? We think that numerous mics would enhance the party! Therefore the GTD AudioG-380H should be the pick! It'll make a perfect and unforgettable karaoke party.
Offering this gear, we understand that nothing surpasses pro-level equipment, so this microphone entered the article for a single intended use, referred to in its headline. More sophisticated options were still included to provide audiophiles with selection as well. These variants are pricey but pleasant for prosumers' ears.
Premium Choice
A premium karaoke choice is the combo with well-known Shure SM58. Provided with SLX2, it delivers expertly-designed sound made for pro-level vocalists.
Many systems come with cheaper microphones. So those who want the mic of higher level, may decide to buy it later. More expensive mic is acquired then and such variant is of better value as a rule, but in case the customer wants to acquire the comprehensive karaoke system, Shure combo mentioned above is great though a bit expensive.
Great Value
How to obtain karaoke equipment with minimal investments? If that is the goal, acquire FIFINE USB wireless microphone for about $36 only. Its standard jacks enable excellent connectivity including computer and other devices. An excellent pick for the money!
List of the Best Karaoke Microphones of 2019
Microphone System Audio-Technica ATR288W VHF Battery-Powered TwinMic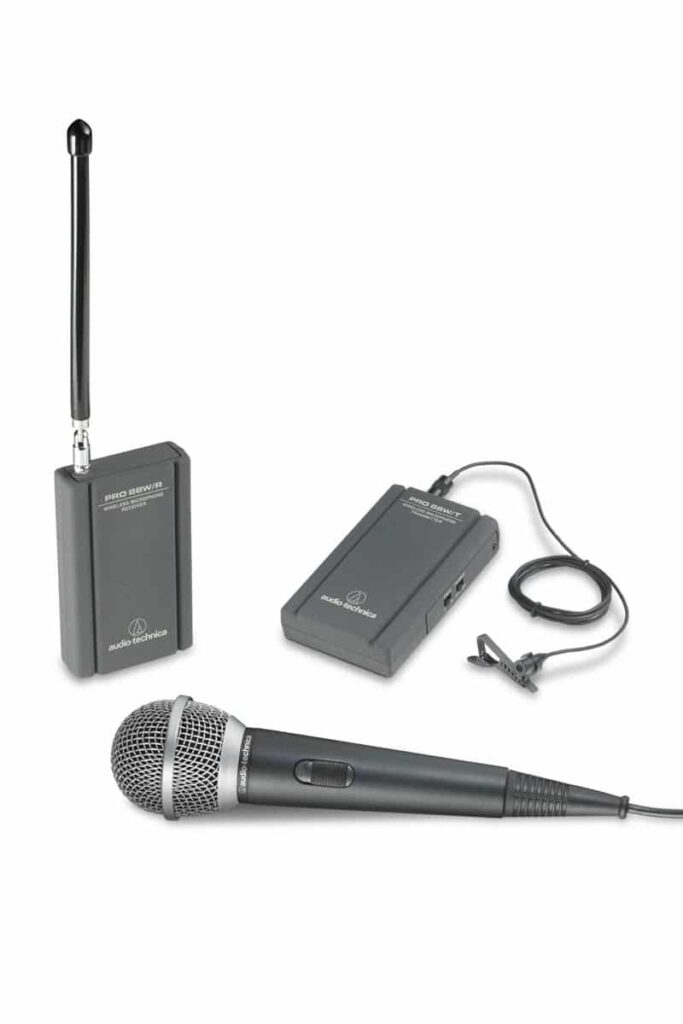 A budget friendly option for customers pursuing cheaper devices. Rare customers want to spend top dollar to acquire the karaoke microphone system. ATR288W comes with all required connectors providing good connectivity of the device. It's compatible with almost everything. The microphone system sounds flawlessly.
The system includes ATR1200 mic. It features simple functionality that is understandable even for children. The customers face no issues with the mic. The audio received after use of mic system is crisp. A handheld device functions well indoors and outdoors. The goals are versatile. One can use the microphone for different situations:
for voice over projects
reports
video shooting
talking
singing etc.
Any activity with hands involved is easily recorded with such system at hand. It's able to endure harsh environment, as some reviewers state. Their feedback, descriptions the way they use it are often very useful.
Small weight makes device rather comfy. It's able to transmit the signal within 100' regularly, but in some cases distance reaches 300'.
The device is durable and well-made. Lack of microphone cable's benefit for many users. Those who use the system for karaoke entertainment are definitely pleased with result achieved.
---
GTD Audio G-380H VHF Wireless Microphone Karaoke System with 4 Handheld Mics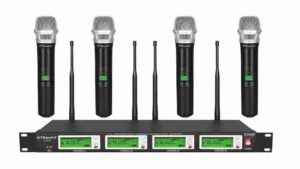 It's a good budget system with 4 channels and 4 mics included. It's not able to suppress selfnoise and background well enough in comparison with more powerful microphones, but taken into account its cheap cost, the customers don't complain on the subject. Some noise is even heard in its static position when nobody speaks or sings. Numerous consumers select the mics system for speaking though this is initially a karaoke mic kit. It also performs well for singing as it's actually developed with such goal in mind.
The device is sturdy and durable, but not heavy at all. It's not a problem to hold it long. Though the authors of reviews mentioned drop outs, such things don't occur often and don't depend upon the distance range – some of them took place 20' from the base unit. The support of the company, actually, works well with customers who experienced some problems and difficulties and even upgrade the units when consumers apply to them reporting of the problem. For instance, there was a case when they sent U-504H instead of the previous unit to solve the issue. The difference in prices isn't considerable.
The customers who need the system for practical use in campuses, churches etc. can found the acquisition very helpful. When flawless sound is not a priority, the mic serves well.
It's very convenient to use it to run karaoke. People amusing guests at weddings and other events as DJ adore the system – its pricetag, in particular. However, even the customers who like this product assert that short lifespan is a huge system's drawback.
---
Karaoke Mic Behringer Ultralink ULM100USB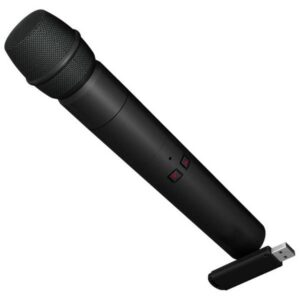 Those who need the mic to host the karaoke party, should try this device. It suits those who need a comprehensive system for organization of karaoke gigs. Provided with a couple of mics, the base unit is provided with a dual USB port. The level of performance is excellent along with the distance range for effortless transmission. The connection is discovered in an automatic manner. One shouldn't do anything for it. The setup is easy. The mic looks nice and delivers sound without distortion until it finds connection. Some users complain of sync and dropouts issues. Such problems are topical for the microphone. But most consumers face no obstacles using the mics. Many call it a marvelous karaoke machine. There is no noticeable hiss or self-noise when mic is used. The mic is provided with simple functions – volume and mute controls embedded to the device.
The brand manufactures reasonably priced but simultaneously high quality products and the system reviewed here is just one of them. The compatibility of the device with other items from the same brand helps to build it up and develop further. The person is able to enhance the system buying additional items.
Being powered by batteries, the system is able to serve for long 6 hours. It's possible to extend the length though with special rechargeable set.
---
Microphone System Pyle-Pro PDWM2100 Professional Dual VHF Wireless Handheld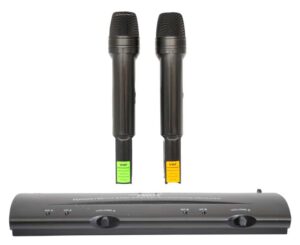 Consider this incredible reasonably priced microphone. Taking into account that it enters the system, there's everything necessary for the performance in the package. Use it for live karaoke and entertain the clients or guests. It sounds beautiful. Besides, the karaoke fans adore to go wireless and this unit enables that.
PDWM2100 including a couple of mics is easy to set up. It's recommended to buy a high-quality battery to use the device as it doesn't last long when cheap substitute is used. The consumers are pleasantly surprised with performance but some mention presence of hiss during its operation.
Also, the person's position is important when he speaks or sings. The users say that it's necessary to be close to the front of the mic during performance. Though the name itself claims that the device is professional, the unit with such flaws should be excluded from lists of professional gear.
Lightweight mics are easy to hold. The consumers can use both mics simultaneously, consequently, two friends can arrange a duet and sing together enjoying freedom of movement. The distance range varies from 50 to 150 meters, but there's no need to measure anything as special feature was added – LED lights warning of the problem. When the users go away far, lights tell them about that.
---
Karaoke Microphone System Pyle-Pro PDWM96 Lavalier Wireless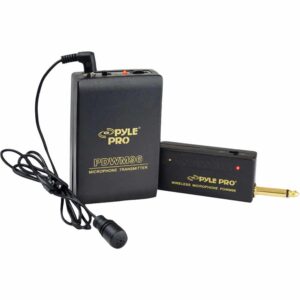 Compactness is primary benefit of PDWM96. The lav mic operates within 60'. Developed by engineers obsessed with flawless sound, it vividly displays its main characteristic. But there are different opinions if they succeeded in it. Though the description asserts that the wireless microphone is devoid of self-noise and produces clear sound without distortion, many consumers state the opposite. The system includes the transmitter, receiver, clip on lav mic, batteries.
The system has 1 input so it's impossible to connect more than one microphone to the receiver. However, it's possible to have several of them for all friends to participate in the singing fun. Taken into account that it's so cheap, one shouldn't rely on some extra features. It's able to deliver acceptable quality but nothing more should be expected for the money. Those who don't want to re-record their sessions, should acquire more expensive microphones, just to make sure to have an efficient tool at their disposal but the system can be a good option for entertainment therefore it's up to you to decide if it should be purchased for karaoke. The customer should see if the microphone produces sound sufficient for his needs. Anyway, this is far from being a pro-level device. It entered the list because of affordable price and nothing else. It's precisely what pricetag suggests.
We value the experience of the company Pyle that manufactures such systems for over 30 years already, so it's hopefully knows what it does. Why not rely on a company with a rich expertise?
It's the iPhone-compatible system and this feature contributes to its popularity.
---
Karaoke System Sennheiser EW 135 G3-A-US Handheld Cardioid EW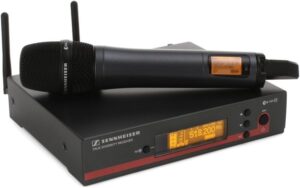 Consider this option as even professionals select the microphone to their convenience. It rejects noise, and can be easily used within 100' range. It has simple to use, incredible sound quality, so the guests of karaoke party will be happy with it. Even those who sing vocals expressed their positive attitude towards the system, which is often referred to as complete karaoke machine.
When the device was made, the engineers aimed it at public speakers and professional vocalists and it meets the demands of pro-level users, producing a clear sound within a fantastic range. The microphone transmits the signal, while the rackmount is another component in the system, which receives it.
It's incredibly easy to set up the system. There's auto search function alleviating the task. It finds a vacant channel within an instant after the person pushes the button for pairing the components together. Though there is a range of parameters that requires adjustment, so savvy users will have to experiment with the device for better result, adjusting EQ, mic gain and removing the background noise to a minimum. Upon the whole, the microphone is accepted as a brilliant option for all those who need it for speaking and singing. Customers also select such mics for entertaining. For instance, when they plan karaoke party.
The mic is robust and durable, so one won't face the emergency situations long after purchase. The useful functionality includes the battery indicator warning the user about the necessity of battery replacement in advance. The lock mode doesn't let the user switch off the device by chance while performing. The users also like backlit graphic display that is visible in the darkness.
Die-hard karaoke fans may not worry about security of the device when they order the system online. The mic comes with a carrying pouch protecting the device during transportation. It's possible to adapt the system to diverse accessories depending upon the users' requirements. The choice of this karaoke mic won't disappoint even demanding prosumers.
---
Wireless Microphone Sony ECMAW4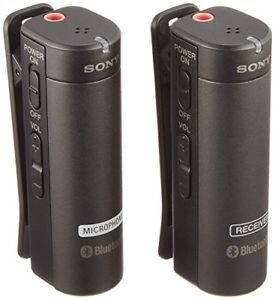 When world-class quality is required, Sony is the answer. Those who need a portable device, should select ECMAW4. It's the most convenient on the road and videographers often resort to it when they need to record something. It's superb for travel vloggers and product reviewers who need clear sound. the mic is easy to use with camcorders. Its light weight and compactness make it a number one for users on the move. It's effortless to control its functions such as volume. Though this is non-directional microphone, it's great for interviews and public speeches. It also can be used for karaoke, conference and live recording. The mic is rather universal and has all necessary accessories such as windshield, cord, earphone hanger, and armband. The package comes with a convenient carrying pouch that protects the device securely. The acceptable distance is 150'. It's a suitable system for consumers who refuse from complicated devices and want something simple instead. Despite the fact that Bluetooth audio is compressed, the sound quality is excellent. The mic is actually appropriate for any occasion and has 3.5 mm jack used by standard computer.
---
Wireless Microphone Shure PGXD24/SM58-X8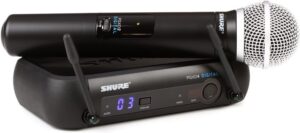 The brand Shure is associated with exceptional quality in the world of sound. It's an industry standard and a serious heavyweight contender when opposed to other microphones. The mic was made with attention to details. The device is exceptionally solid and very reliable. When the consumers need the microphone for years to come, they apply to this model. It's one of the best microphones nowadays and enters the list of bestsellers in different categories.
The combo presented here includes the mic and PGXD24 transmitter that function perfectly together. It's possible to use up to 5 systems with mics together. The device is operated by batteries. One can save funds using it with its rechargeable alternatives. The operational distance is large enough. The person is free to roam with a microphone freely, but the distance shouldn't exceed 200' not to lose signal.
It's worth mentioning that the mic is thicker than usual SM58, therefore, some consumers don't feel convenient holding the device in hand at karaoke party. It's not that compact, but if this isn't a problem, the guests of karaoke gigs will rock with it! Karaoke bars often acquire such microphones as they are almost indestructible. It's hard to imagine mics that would work better for this purpose.
---
Shure SLX2/SM58 Handheld Transmitter with SM58 Microphone, H5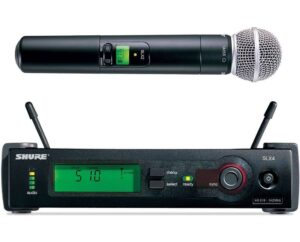 The products of Shure are top of the line, so let us look if the model offered here for karaoke is worth to be considered. We have regarded many mics already of different price range, but these units remain the best. Being solid and cost-effective choice, the famous SM58 microphone became a part of the system that can be effectively used for karaoke and other purposes.
This unit is loved by most consumers who made choice in its favor. It's clear that it's possible to find a better mic produced by the brand than this one, but still it's good enough to be used for karaoke.
The transmitter design enables use of interchangeable microphone cartridges. Those who are seriously committed to flawless sound, are excited over microphone's warm sounding and never regret about the choice. It easily solves the problem of speech flaws such as popping sounds and is able to minimize negative effect of wind thanks to special filter construction. The component is embedded. It is highly effective due to its spherical form. All these things along with unidirectional microphone's pickup pattern contribute to perfect result.
Besides, it can be a good option when the person owns the system already and has its components partly. The customer just saves money, trying to purchase additional karaoke mics to the sets owned already. The organizations trying to augment their handheld inventory, understand that there's more financial sense in such approach – when customers don't buy the whole system each time but use the same receivers. It's a cost-efficient solution.
The wireless microphone versions tend to be less durable but this shortcoming is easily compensated by the convenience of use. Besides, the mics can last long when not abused much. Probably, it's hard to achieve when the equipment is used for karaoke parties at entertainment venues, but can be a good variant when educational goals are pursued.
Performance build quality is excellent. Those who want to purchase reliable mic, should select this option. It's also suitable for those who want to raise karaoke parties to a higher level. The microphone is beautifully crafted and looks very impressive. There's some professional vibe around this mic. The live performance is exceptional with it. Use it to reinforce the sound at karaoke and for studio recordings.
---
XINGMA PC-K6 Portable Rechargeable LED Wireless Microphone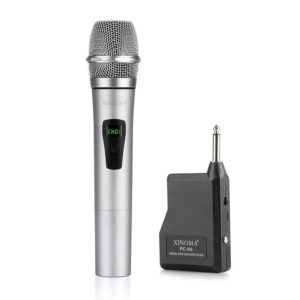 The device can boast of excellent audio quality that's achieved by rejection and suppression of ambient noise. It's wireless and, consequently, very convenient as tangle of cable is never in the way while performing. The mic with its powerful range presents a great potential. The performer is able to roam freely as doesn't stop functioning even when the person's far from the base unit. Covering big distances, the system gives you freedom to go where you want. In this way, karaoke lovers don't face restrictions of some kind moving around with a wireless mic. The device has a long battery life. Both the receiver and the microphone take rechargeable batteries. There's LED indicator showing when the batteries run out of power.
The users admit that it's a fantastic mic for karaoke that entertains all participants of the party. It's convenient to perform with it, the reproduction of the voice is superb and it seems for you that performance is even better than the source. So good the microphone sounds!
Though microphones of this brand are not that famous, they refer to bestsellers. Excellent connectivity is one of the benefits of the karaoke system. It can be connected with a computer, television, speaker, mixer, DVD player etc.
---
Conclusion
What device do you prefer for karaoke gig? What system will suit your demands most of all? Best karaoke microphone system may have other uses as well and should be selected with this idea in mind also. In case the customer needs the microphone for karaoke only, there is enough information in this article to select the most appropriate variant. When the plans go further and include additional purposes it's important to look at the task jointly. However, no matter what device you are going to choose from the assortment presented here, you're