Once upon a time, analog mixer solutions reigned supreme in their category. Then digital models appeared, and a conditional struggle began. Today there are worthy models among analog and digital models, and the range of devices in terms of scale and purpose is practically unlimited. This means that it is wrong to name a particular category of devices better or more relevant. It all depends on the situation. Today we will give some examples of models of good analog and digital live and studio mixers that are relevant for 2020. But first, we suggest deciding on the pros and cons of both categories, as well as the main differences between mixers and audio interfaces.
Mixer vs. Audio interface
First, let's understand when and who needs a mixing console for studio work and live performances. Speaking very generally, it is designed for more ambitious and professional tasks in comparison with the audio interface.
An audio interface (AI) is a device for recording sound from two or more sources. Sound enters the computer via USB. Sounds from different sources do not mix with each other. The software allows the user to adjust the volume level and sound quality from each source. This function is very necessary in case of recording singing or guitar. The audio interface allows the user to adjust the volume according to individual needs. Recording a sound interface with subsequent sound processing and using software ensures that the instrument sounds properly. The audio interface has no added advantage over the real-time sound mixer.
The mixer combines different parts of the audio signal together and allows you to individually control multiple inputs and outputs. This is a device that mixes sounds from different inputs before it enters any recorder or speakers. Thus, mixed audio tracks lose their personality and become part of the stereo output. Recording processing will no longer be possible here, except for increasing the volume of all stereo sound.
Digital vs. Analog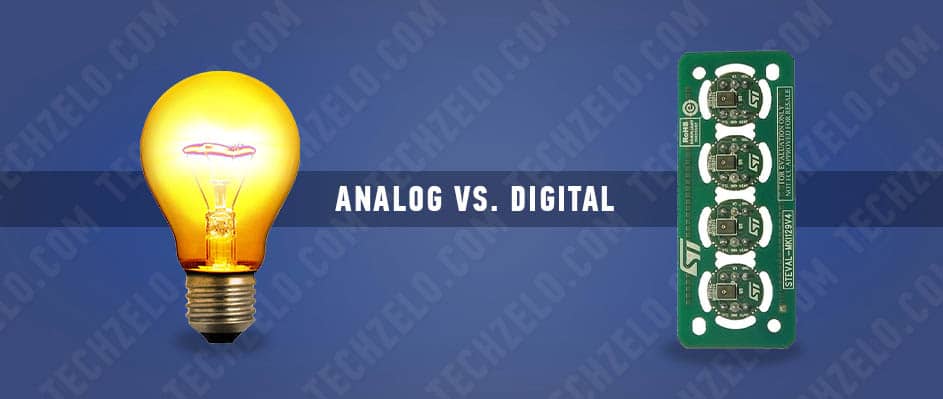 Digital mixers are considered a more modern solution, but analog mixer remain a little more popular even today. It is important to compare two categories of equipment for the main pros and cons.
Despite the development of digital technology, analog remotes are still the most popular and in demand, especially in the low and middle price segment. Modern mixers of this type cope with the simplest sound processing at a conference or amateur concert, or in a professional studio.
Analog devices are fairly easy to learn. In most devices, each sound parameter is controlled by separate elements, which simplifies memorization. This mixer can be used by both specialists of the older generation, and young beginners. We also take into account the simplicity of design and maintainability. Simple damage can be eliminated independently. And analog models are durable and reliable.
At the same time, analog mixers have a lot of weight and dimensions, and automation of many processes is impossible, which takes extra time from the sound engineer.
The advantages of digital devices include light weight and dimensions, full automation of processes, wide flexibility of switching with external devices. At the same time, they have specific interfaces (more difficult to configure and manage), are more expensive and problematic to repair. Sometimes one local breakdown irrevocably turns a large remote into a piece of useless garbage.
List of analog and digital mixers that are worth buying in 2020
Yamaha MG16XU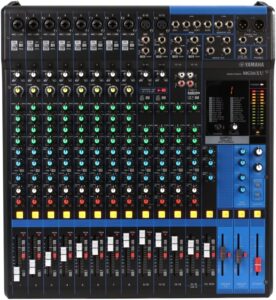 Yamaha MG16XU does not have modern features, but offers the most basic, proven features. The audio mixer is equipped with a DSP effects processor, 6 inputs and a USB interface (as an external sound card). A budget device is capable of simultaneously playing music from third-party devices and recording it in a channel. The user controls the balance and sensitivity. A simple DSP processor delivers 100 effects. There are outputs for 2 mono and 2 stereo channels.
Devices for playing and recording music are connected to the mixing console. The user can send sound to the headphones and adjust the volume. Changes in settings are indicated by LEDs. The device takes up little space, suitable for small studios.Yamaha MG16XU features clear controls, ergonomic button layout. The device is highly appreciated by DJ, musicians. It connects to the iPad, the App Store has a free app.
Features: 16-Input 6 Bus Mixer Analog mixer with Compression, Effects, USB, Rack Kit and Senor Instrument Cables and Microphone Cables
Pros: Flexible connection settings, simplicity, low price
Cons: Lack of advanced features
---
Yamaha MG12XU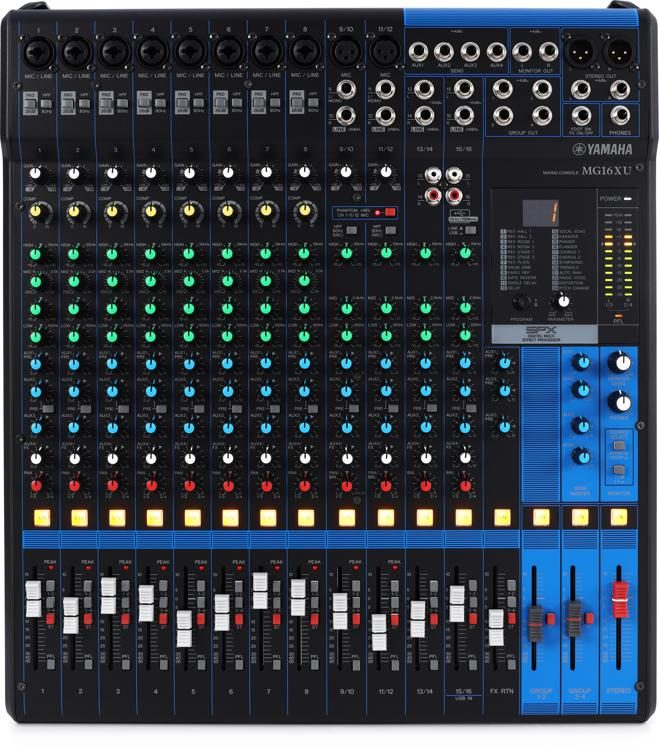 The compact analog budget model is optimal as a compact solution for amateur use. The digital mixer is in demand among beginner musicians, during small concerts, in small studios. 4 monophonic inputs with preamps are built into the housing. It is possible to record sound directly to the remote. Equalizers and low-pass filters squeeze the most out of music. The AUX send channel provides a simple effect application.
Both condenser and dynamic microphones are connected to the digital device. The device itself is powered from a conventional outlet through an external unit. It is suitable for mastering basic functions, it will not confuse beginners with a multitude of buttons and obscure definitions. The remote control provides for the installation of models: USB player, recorder and Bluetooth. A digital effects processor is available, although it is not as powerful as professional instruments.
Features: 12-Input 4-Bus Mixer with Effects
Pros: basic set of functions for a novice musician, affordable price, compact format
Cons: insufficient arsenal of opportunities for large-scale tasks
---
Behringer Xenyx X1222USB-EU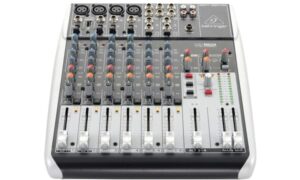 Behringer Xenyx X1222USB-EU is among the budget ones, but it is able to make clear sound and offers many settings. This is the great mixer for live sound. The user is given the most accurate control tools. The main advantage of the remote control is the low noise and interference when working in studios that are complex in terms of acoustics. It has 4 mono, 4 stereo jacks and 6 microphone inputs. Mono channels filter low frequencies. Compressors equalize fluctuations in intensity, allowing you to achieve better audio quality.
Behringer Xenyx X1222USB-EU live tool combines traditional and modern digital solutions. Beginners make adjustments using the equalizer, gradually mastering more complex functions. The processor is equipped with 16 effects, quickly processes signals from the clipping and volume buttons. All changes are notified by light indicators. Advanced users compare the original sound with the processed one, send the results to any device.
Features: 4 XENYX Phantom Mic Preamps, 7-Band Graphic Equalizer, Effects Processor with 16 Editable Presets, 150 Instruments / Effects Plug-Ins
Pros: low price, compact format, wide functionality, compliance with professional tasks
Cons: sometimes loss of power and echo during use
---
Allen & Heath ZED60-10FX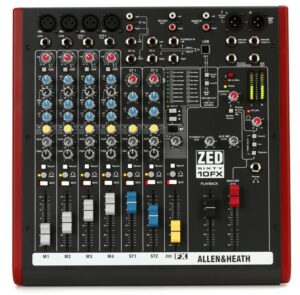 The model is a bestseller of the brand and one of the most popular remotes in the world. This is the best solution for DJs, sound engineers, large and small studios. Two channels have high resistance and replace the Di-box. They are added specifically to achieve the sound of a classic preamp. The digital mixing system has 16 high-quality effects and a decent ZED FX processor. This model has been on the market for many years and maintains a high level of competitiveness.
Allen & Heath zed60-10fx is especially popular with guitarists. Mono channels uses several levels of pickups; musical instruments are connected directly to the remote control. There are inputs for MP3 / CD players and various keyboards. Among the additional functions, monitoring of what is happening and speakers stand out. Since the device is professional, built-in XLR stereo outputs. Allen & Heath is one of the most trusted companies in the world, and in many respects the reputation is deserved thanks to the release of this model.
Features: 4 mono, 2 stereo, USB, Neutrik XLR and 1/4 inch connectors, Lo-cut filter for cleaning unwanted low-frequency noise, 2-band equalizer on stereo channels, flexible signal monitoring
Pros: versatility, dense and rich sound, high build quality
Cons: sometimes quick non-critical breakdowns of individual components are observed
---
Alto ZMX52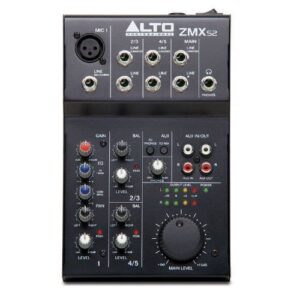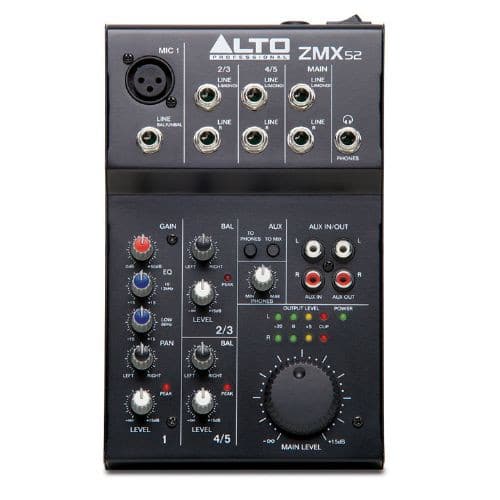 The perfect combination of price and quality for those who are looking for the lowest price mixer for live. ALTO ZMX52 is designed for amateur performances, small presentations and home parties. Despite the low cost, the model provides high-quality sounding. This  compact analog tool has small dimensions and it can be placed in a bag. Visually simple controls help beginners get comfortable. 5 channels: one works in mono and 2 in stereo. The device has a low noise level and high-quality assembly. The buttons illuminate the LEDs.
The analog console provides 48V power. The sensitivity is controlled by the GAIN knob. Each stereo channel has a calibration of volume and balance, and such peak indicators. You can connect speakers, headphones, and recording devices to the device. ALTO ZMX52 is equipped with digital marking for easy control. The kit includes detailed instructions with all the functions. There are not many functions, and devices will not be suitable for everyday professional tasks.
Features: Mono channel with microphone input, balanced TPC input, 2-band equalizer, 2 stereo channels with TRS balanced inputs and a separate stereo input with RCA connectors for connecting an external player
Pros: perfect combination of price and quality at a very low price, portability
Cons: limited user options
---
Yamaha TF1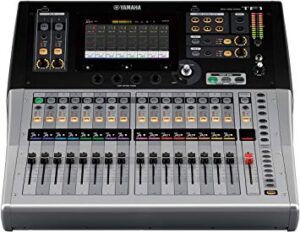 A powerful modern mixer for live and studio for true professionals. The mixing console provides a complete set of studio and concert functions, meeting the quality of its well-known manufacturer. Modern design gives the sound engineer advanced authority and he can create music, like an artist. Using the new TouchFlowOperation technology allows user to connect music and voice from the stage together, providing an increase in the speed of interaction and improving concert sound amplification. Not all old-school sound engineers will immediately understand the possibilities.
Features: 16 analog XLR inputs, 17 motorized faders, expansion slot for NY64-D audio interface card, DCA groups with Roll-out
Pros: reliability, manufacturability, versatility
Cons: difficult to understand
---
Mackie 402 VLZ 4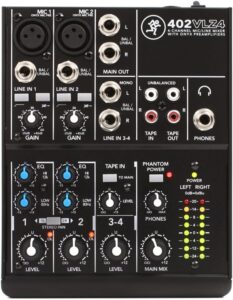 An innovative live mixing console that has low noise and high dynamic range. Engineers have achieved a new level of quality models. The channels are equipped with a low-pass filter. In addition, the Onyx preamps were specifically invented for this model. The body of the device is made using the "Built-Like-A-Tank" technology. He is not afraid of dust and dirt. Maximum portable.
Features: 4-channel compact mixer, 2 Onyx "boutique" microphone preamps, ultra-wide 60dB preamp range, dust and dirt protection
Pros: portability, reliability
Cons: modest functionality
---
Avid S6L-32D-192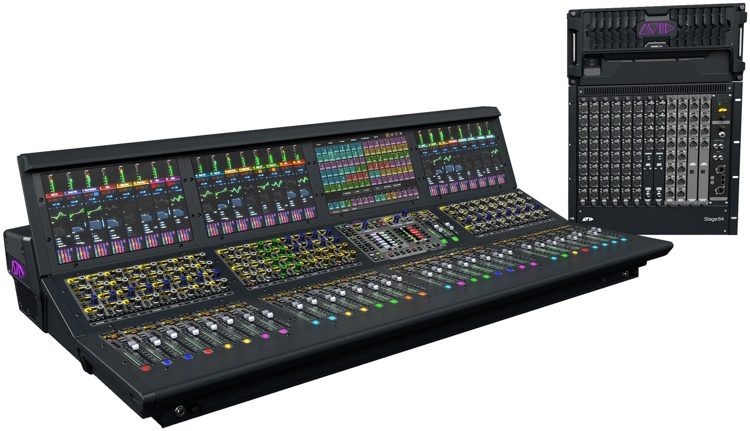 The device is designed for the modern live parties. The consoles consist of high-resolution OLED displays that are visible even in bright conditions. The developers took into account all the requests for modern mixers. The console can use previously recorded tracks for more precise tuning. Due to the sensitive integration with Pro Tools, the S6L is an ideal interface in the Avid MediaCentral platform. The modular system supports DANTE, MADI, Thunderbolt and other popular technologies.
Features: 4 x 12 ″ touch screen HD monitors, 8XLR, MIC / LINE analog inputs with phantom power and signal presence indication, 96 kHz sampling frequency
Pros: manufacturability, will satisfy any professional needs, many unique features
Cons: complexity
---
Yamaha MG06X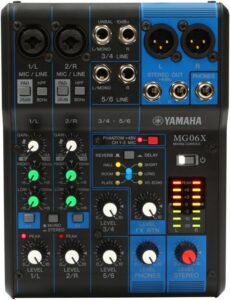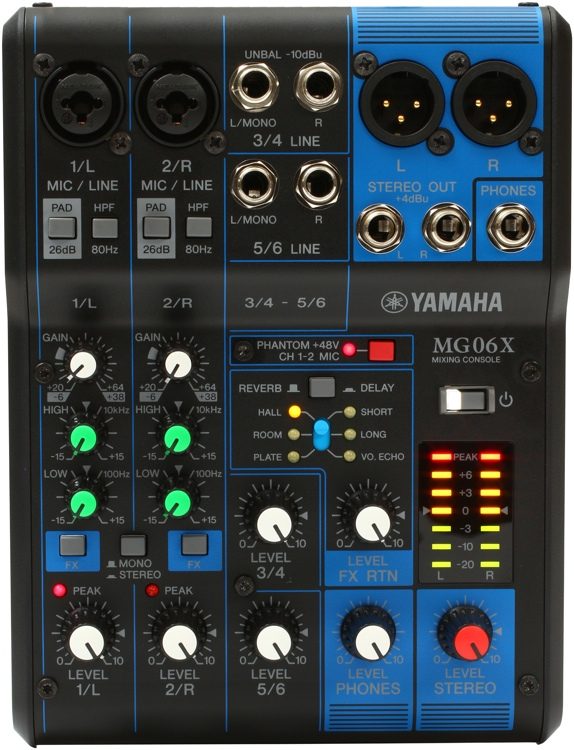 Very affordable and very high quality model for your attention. It should be specially noted that the MG series is not much more expensive than the Chinese counterparts at the price, but surpasses them in quality and reliability. The main advantage of analog remotes is uninterrupted operation in harsh field conditions, resistance to shocks and falls. Here, the bet is made specifically on the body of steel, instead of aluminum. The MG-Series device frame can even withstand knocks on the controllers. Placing the handles above the surface of the enclosure protects internal components by absorbing shock or pressure from the handles themselves. The chassis of the mixers is made of steel with a high-quality powder dye that will not peel off and will not paint over. Older models can be mounted in a rack, while younger ones have an optional accessory for mounting on a microphone stand.
Features: SPX: 6 modes, 3 reverse + 3 delay, phantom power +48 V, preamplifiers D-PRE, operational amplifier MG01 with optimization for professional audio equipment
Pros: best price-functionality, high build quality, reliability, portability
Cons: obsolete operational amplifiers
---
Pioneer DJM-2000 nexus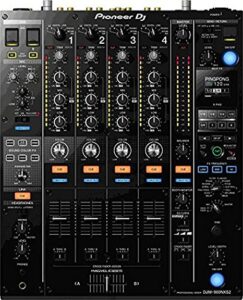 A multifunctional live model for DJs with great potential, which is Pioneer's flagship four-channel mixer. Users highly appreciate the model for cross-platform and performance, as well as high-quality implementation of many add-ons and options.
Central to the features of this model is Pro DJ Link, which provides advanced synchronization between the mixer and other devices, such as CDJ-2000 nexus players and laptops with Rekordbox software. The DJM-2000 also features a Beat Slice touch for quick rearrangement of tracks.
In addition, the Pioneer DJM-2000 nexus mixer has a built-in eight-channel sound card, MIDI functionality to control external software and an impressive range of high-quality DJ effects.
Features: the ability to connect up to 4 players, a turntable, or two computers, creating and playing mixes in real time, built-in USB sound card, 5.8-inch LCD multi-touch screen
Pros: a large set of functions for live performance, ample opportunity to synchronize with external devices
Cons: reasonably high price
---
Conclusion
As can be seen from the models presented in the list, the choice should be made based on the needs of the user. Here's a lot of good tools from 4 to 32 channels and more. It matters whether a beginner or a professional works in the studio, at concerts, or acts as a DJ on his own. The main thing is to pay attention to trusted brands and popular models of analog and digital mixers in the first place. We hope this article will help everyone understand the priorities.