This is a piece of equipment that may seem unnecessary for podcasters, especially when they just start their activity. But as time goes by and they increase their audience they might want to improve their podcast. Then they will surely need the best audio mixer for podcasting. The audience will definitely highly evaluate such efforts so there is a good reason to acquire the gear for better performance.
It's not recommended to hurry with the purchase in case you need the audio mixer for your narration work. The podcast creator should consider all pros and cons of different mixers and then come up with better solution.
As you see, it may take some time to determine the best mixer for podcasting.
Mackie 402VLZ4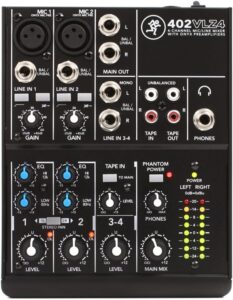 Those who need a portable unit should consider this model. The price tag is incredibly low but it has many features improving the quality of audio. This is a four-channel model that suits perfectly for podcasting.
Features:
The device is known for its low noise performance.
Supplied with Onyx preamps, the device delivers excellent clear sound.
The item features a nice design with a beautiful finish.
It has fantastic construction.
This audio mixer is constructed to provide the result of pro-level quality.
It also has a solid design according to the technology that was named 'built like a tank'. It first appeared two decades ago. Since then the company has been always working over enhancement of its products. It's made with use of steel.
Pros:
It's pleasurable to use noiseless gain.
Consistency of gain amount.
Not bulky and easy to transport.
Excellent build and design.
Cons:
Some consumers still complained of noise but most customers can't think of any drawbacks taking into account the low price of the item.
---
Behringer Xenyx 1204USB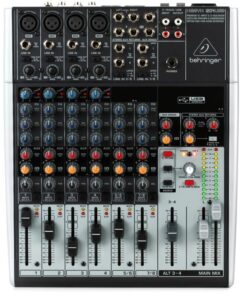 This is an excellent option for podcasters. The audio mixer with 12 channels is the gear any podcaster is dreaming of! The model offers sliders instead of knobs for volume control therefore it's easy to control it and correct it quickly. With sliders used, precision becomes available – something that's not possible when you operate the knobs. It's also performed smoothly. The model is often chosen by the beginning podcasters. Figure out if you also need this USB mixer for your goals.
Features:
The item includes 4Xenix mic preamps.
The system has USB interface for LinuxOS.
1knob compressors built into mixer.
Pros:
Compatibility with different OS.
Convenience for podcasting.
Cons:
It's a budget no frills mixer including basic features. If you want more, you should purchase more expensive device. It's the best podcasting device for its price range.
---
Yamaha MG10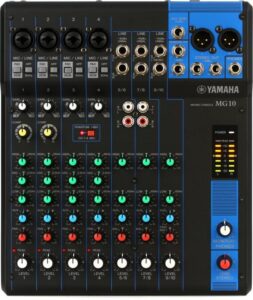 This is not a big and portable mixer for podcasting enabling high quality of audio. It's one of the best devices of this type as far as durability is concerned. It's great to take it to the gig or some party and travel with it. It can bear a lot as it was constructed to survive in these conditions.
However, it doesn't mean at all that the model can't be helpful for studio work. It copes with such obligations perfectly. It suits the customers on a budget.
Features:
It includes 4 XLR mono inputs.
It has 3 stereo inputs.
There is phantom power for condensers.
It offers available price tag.
Pros:
The item doesn't take much space.
This is affordable bit of gear.
It's considered the best mixer in its price category.
Cons:
It's not a USB mixer. You'll have to find other option if you need USB
This is expensive equipment for people who don't have XLR mics.
---
 Behringer Xenyx Q502USB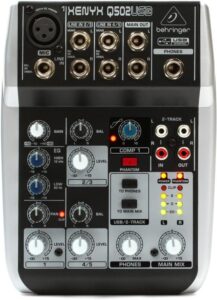 A series of models starting with Q from the well-known brand are mixers equipped with in-built compressor. With termination of USB work the device functions as audio interface. This is very convenient as data transfer doesn't require external soundcard. This is a very useful mixer for beginning musicians and users making podcasts. They can mix audio materials easily with it.
The set includes the USB cord, adapter. Many customers consider it the best mixer that can raise podcasting work to higher level.
Features:
Equipped with Xenyx mic preamp.
It's possible to use phantom power for work with condensers.
It has in-built single compressor needed for live performances.
It contains 5 inputs and 2 bus outs.
The device is compatible with Windows/Mac.
Pros:
It functions with condenser or dynamic microphone.
2-band British EQ makes the sound warmer.
It's lightweight and, consequently, portable.
The price is affordable.
It comes with free recording/editing software programs.
Cons:
Some consumers complained about the hissing noise of the mixer.
---
Soundcraft Signature 12MTK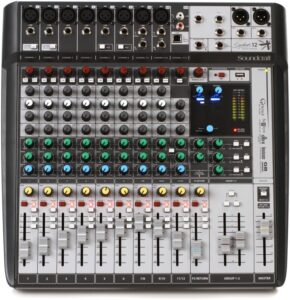 Though this is a small-sized device it suits the podcaster who mixes audio files perfectly. The on board effects are standard in this device. The model can cope with any mixing situation. The interviews or podcasts created with device sound very professionally.
Features include:
Solid build
Smoothly working EQ
12-input mixer featuring 14-in and 12-out interface
Pros:
It's easy to use.
Mixer can function as USB interface when analogue signal path is broken.
It features low noise and uncolored sound.
The list of features is impressive in this device.
The item is durable.
Cons:
The device is heavy in weight.
---
Allen & Heath ZEDi-10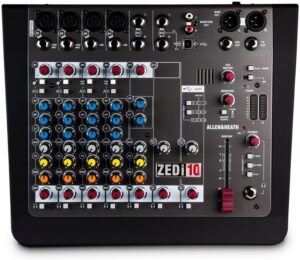 The combination of solid build and manual control of an analogue audio mixer with USB interface of the best quality. This is a comprehensive solution for musicians, artists, and casters making recording and caring about its good quality. There is also 10FX model that is additionally supplied with effects processor. The customers can effectively use the mixer for live performances and in sound studios.
Features:
It includes mic preamps of advanced construction.
It's possible to connect the guitar and bass guitar to the model.
4 channel USB that can be used with Mac, PC and iOS devices (special adapter is needed).
It's supplied with phantom power for condenser microphone.
Pros:
It includes low-cut filter removing background noise.
The model features excellent processor of effects with hundreds of presets and Tap Pempo function.
It's provided with versatile capabilities to monitor signal.
The item has exceptional value for the price.
Cons:
The audio interface is just stereo.
---
Allen & Heath ZED-12FX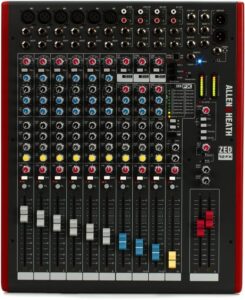 Those who look for the best mixer, should consider this model as well. It presents an extensive list of features such as:
12 channels/2 bus outs
6 mic/line inputs
Embedded USB interface
3-band EQ
DuoPre preamps delivering clean sound
Compatibility with Mac/Windows
Pros:
The gear is easy to use.
It's provided with sonar software.
Cons:
Some consumers discovered overwhelming features in the device they don't need while they take much space. Therefore, it's important to understand if this is exactly what you need.
---
Rode Rodecaster Pro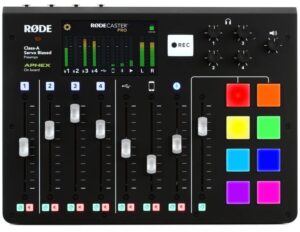 The device isn't marketed as a mixer but as 'podcast production studio' that performs the job of audio mixer for podcasting and it does it the best way possible. It doesn't look sophisticated as mixer. It is also combined with a digital recorder. Usually mixers aren't isolated. They are a part of equipment where different units work together to perform some function. These items are devoid of such capabilities as storage of audio or saving it. In contrast to them, this device can do it thus making life if many users easier. The person gets what he needs even without computer.
Features include:
8 faders
4 headphone outputs
4 mic inputs
Pros:
It's a one-step solution for many consumers.
Has an ideal number of jacks in case there are several guests in the show.
Good connectivity thanks to micro USB, phone/Bluetooth channel.
It's possible to use either wired or wireless connection for streaming.
Cons:
There can be some problems with transfer of files to a computer. Now the user has to remove its micro SD and inserted to the card reader for that.
---
QSC TouchMix-8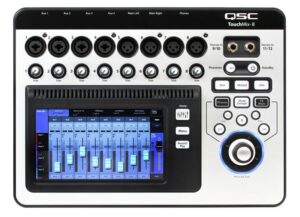 We all need devices that help us perform the tasks with minimal fuss. This mixer is able to deliver that. This is an excellent solution when the person wants to record and mix sounds. It includes numerous features in a compact device.
Features:
There are 8 channels at users' disposal: 4 inputs (combo) and 4 outputs.
The device is supplied with 4 band EQ.
It includes a high pass filter.
Pros:
The device is rather powerful despite its compact size.
Light weight makes it portable.
It's equipped with presets and tools making its use more convenient for musicians.
It's easy to use therefore suitable for newbies in the world of audio production.
Cons:
Some consumers consider it expensive.
---
Pyle Professional Audio Mixer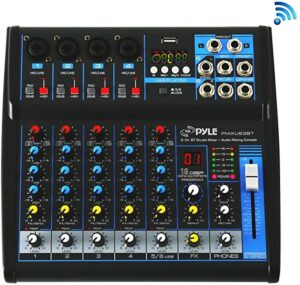 This is a budget mixer of decent quality provided with USB features.
Features:
4 XLR/TRS combo channels
Bluetooth/USB/TS input
One stereo input and one stereo output
Phantom power
Pros:
Low price
Great for entry-level users
Cons:
Some users complained about the hiss.
Poor Bluetooth functionality was noticed.
It comes with poor documentation.
---
In conclusion
Hopefully, you were able to figure out the best audio mixer after you've read all descriptions of mixing equipment.
The device will help you to bring diverse elements into the show, make it more interesting. The mixer will be useful if you invite the guest to the recording session. Combine different sounds and modify them with best gear that enables creation of special effects and much fun in the process of post-production.