It can be very confusing to find proper gear to create the audiobook. The market of equipment presents expanded selection of devices that perfectly attain the goal. But how to find them in the ocean of offers made by the thousands of manufacturers? It's challenging enough and rather time consuming but it can bring the author to fame. The person will have to contribute time, money and much effort to realize the potential fully. It's certainly great to employ the pro-studio but then the number of expenditures can increase many times. Isn't it easier to find effective microphone for recording? It will help you to create the audiobook of fantastic quality! And not just one of them, but as many as you wish. This is an incredible investment that's worth making! With right approach it'll pay off with time.
Blue Yeti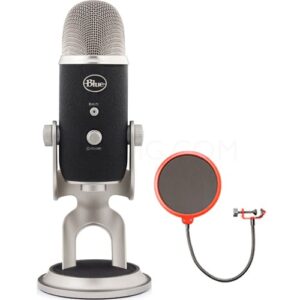 One can't call it the cheapest option when you just start recording audio. Still it's very common when beginners buy this mic for recording of podcasts and diverse voiceover projects. The model copes with this task easily and will make work more pleasant. The packaging of the microphone is great as its appearance is fantastic! It's easily recognized as well because the model is rather widespread among bloggers. The consumer doesn't have to study sophisticated instructions to understand how it functions. There are simple diagrams explaining everything. Thus even non-savvy customer understands what to do for recording. However, this is just a starting point. There's much more one should know for audiobook creation. The microphone captures the voice accurately and the sound is good for USB mic, so the audiobooks' audio is going to be superb.
---
Blue Snowball iCE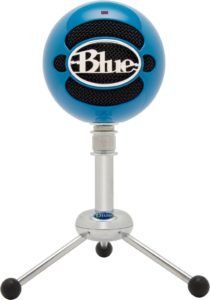 If accurate reproduction of voice is needed, select the model for fabulous audio. The product was manufactured by the same producer as the previous model. It's actively used by podcasters. Some consumers consider it the best microphone for audiobook. It's a microphone with USBport just as Yeti and it's very affordable. iCE is a sibling of Snowball. The price tag is lower just because it doesn't have many patterns for capturing. It's installed on the desktop mount to make recording convenient and easy. In all other features they're similar.
Many consumers like its spherical design but the main benefit are the capability to change the height of mount for better comfort during audiobooks recording. It also contributes to better quality as the person can speak directly to the device to have the audiobook recorded well.
---
Rode NT-USB – Our choice among USB microphones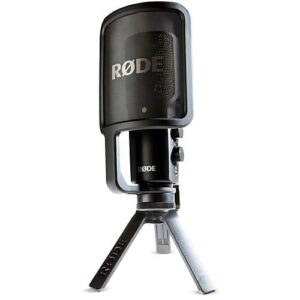 Though the model presented here is a USBdevice, the level of performance is very high. It's considered to be a broadcast quality product therefore it's suitable for recording audiobook. It's significant to define appropriate microphone for it. NT is the best possible option surpassing others.
It's worth saying it handles work with vocal and instrumental recordings, so it's a universal device for the consumer.
Why the model is perfect for audiobook recording:
The person can read the script of audio book version directly to the computer due to USB connectivity.
It's simple. The consumer doesn't need to buy audio interface and perform further manipulations for result.
The sound reproduction is transparent, clean and accurate compared to other microphones within the price range.
So pay attention to this model when you explore different mics for audiobook recording.
---
Audio-Technica AT2020USB+
(Read review Audio-Technica AT2020)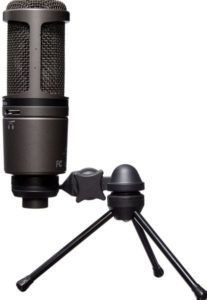 The model presents excellent performance within the price range. This is a USB mic that comes with a long connection cable, a carrying bag and a desk stand. The model has a nonUSB counterpart. Both versions are equally good as far as performance is concerned. Even if there's difference, it's almost indistinguishable. The border between the microphone versions becomes blurred. This trend is observed in the whole industry, it's acute not just for this brand.
The conversion of audio books to digital format takes place without delay. The consumer gets digital audiobook right after the recording.
The sound features warmth and smoothness. The compatibility with different operating systems makes the device universal. One shouldn't look through some sophisticated recorders or other gear to find the microphone for recording of audio.
The functionality is excellent and background noise is rejected perfectly. With improvement of connectivity it became easier to handle it for different purposes.
---
Rode NT1A – our preferred choice among cost-effective condenser mics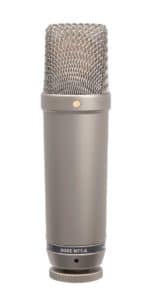 It's incredible in all respects. But since we discuss not its universal character but the particular topic only, let us concentrate on it. This is a fantastic model for audiobook recording. The item features solid quality build. It's made of metal and feels chunky a little.
It's convenient to use it and the user can record audio books effortlessly, without worrying over the quality. The cardioid pattern enables fantastic signal quality. The voice sounds clean and clear.
The microphone for audio recording looks rather stylish with its curved popshield arriving to consumer in a kit. It really looks its best with this accessory protecting the mic. Additionally, the kit includes long USB cord, soft pouch for storage and a tripod desktop stand that is excellent for recording.
The efficacy of its performance is rather impressive!
---
H2: Harlan Hogan VO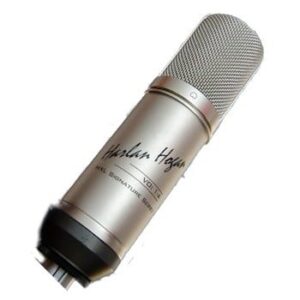 When common users hear the brand, it doesn't remind them anything. Despite such lack of fame, it boasts of spotless reputation among savvy professionals and many experts consider it best.
The model is perfect for audiobook since it was developed for voiceover projects. It really looks nice and has beautiful nickel finish. Wire mesh screen protecting the condenser's large capsule makes the item reliable. There's also a foam layer under it so the device is additionally protected against humidity and moisture. The popfilter doesn't enter the set so it should be purchased separately. But what the kit includes is a spider-type shockmount decreasing background noise and contributing to higher quality of recorder. The consumers looking for XLR voiceover device or planning audiobook, consider this alternative. It's excellent for this goal. It's also possible to buy external USB adapter for enhanced connectivity.
---
SE Electronics sE2200a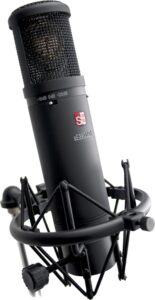 The hand crafted capsules of these condenser is one of the reasons why this microphone is worth the consumers' attention. Many use it for voiceover projects and narration work so it can be perfect for audiobook. The device is brilliant. The audiophiles resort to it for years and are pleased with the result obtained. It was one of fave condensers of Amy Winehouse and it brought the fame to the brand. As you understand it's good for vocal sessions as well, therefore the solution is versatile and can be used for different purposes. Taking into account the level of quality received, the price is competitive. The voice is smooth, stable and pleasant to hear. The device features excellent build and delivered along with popfilter and shockmount, so if price scares you, it's a good reminder that you won't have to purchase these accessories additionally.
If you're in pursuit of the option for recording audio books, sE2200a is amazing. You'll fall in love with it!
---
Shure SM7B – our best choice among dynamic mics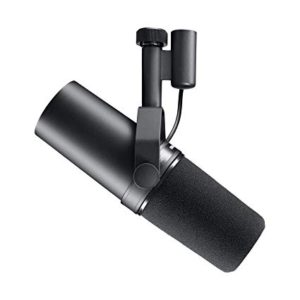 All devices regarded above were condensers, but what about the dynamic mics. The model under discussion is a well-known workhorse for many studios and separate people. It's a staple and always chosen as must have for any kit. The reason is explicable – its quality is really surprising! The microphone of the famous brand doesn't pick up background noise so the performance is going to be pure and clean as users work over books' audio. Those who need the dynamic option for recording shouldn't hesitate about purchase of this device. It'll never disappoint you. It may seem a bit pricey in case you're going to record audio books only, as it performs professional work over vocals. But if you combine different activities and want to use it for other projects as well, it's an ideal variant then!
---
Rode Procaster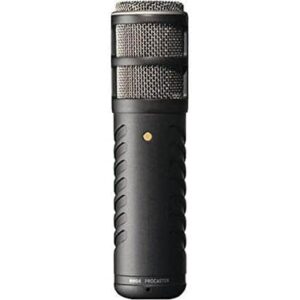 Another dynamic mic that's amazing for all types of work with the sound. It's an excellent broadcast microphone suppressing sounds, so you shouldn't worry about the cars passing by your house or neighbors producing noise. Opposing to condensers, dynamic microphones are not able to capture all nuances, but the tests demonstrated that big capsule is able to deliver fantastic reproduction quality. Reading books and capturing audio of the process is easy thanks to its super cardiod pickup. It's a feature eliminating ambient unwanted noise. The person just needs to draw closer to the mic to remove everything one hears behind.
---
Heil PR-40

The manufacturer of the model is very experienced player on the sound market. Being a front-address device, it's easy to use the item for capturing audiobook. Delivered in a custom cushioned box, the set also includes other accessories for better quality of performance. It's solid and durable therefore it's often used with drums. Though it's used for instruments and vocals, it's still better used for narrations therefore the consumers often select it as microphone for recording audio books.
---
Electro Voice RE-20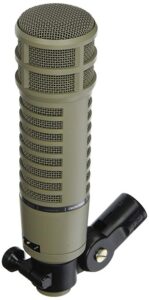 It's a fantastic vocal device often used by broadcasters and DJs. The item is sensible to everything that happens in front of it as it's of cardioid pattern. The voice doesn't have coloration with it and its users don't suffer from proximity effect. Rejection of ambient noise is incredible and it improves the quality of sound when you read the books and capture the process. It also rejects plosives so it can be an excellent microphone for audiobook recording. The performer will sound his best with such a flawless assistant!
---
Neumann TLM 102 MT – the choice number one among mid-range mics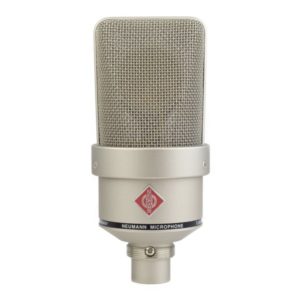 We like everything about this fabulous device but still thing doesn't let us enjoy it entirely. Hopefully, you understand what I mean – the pricetag. It's incredibly high and almost turned this microphone into a myth. It's available only for those who can afford the item. The passionate audiophiles can buy it regardless of circumstances. Just because they enjoy the microphone incredible sound. It's mostly used by studios because of the price, so it's not for home recording, but if you so love what you do and want to use the iconic device for recording of audio books, come on! It's going to be incredible experience! It's the best among mid-range devices, but rather overpriced.
---
CAD E-100S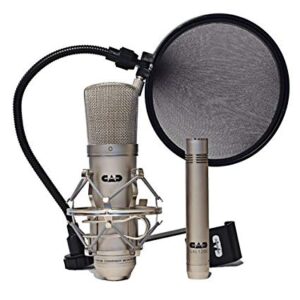 The manufacturer of this device earned its reputation creating microphones for commercial use. But it evolved with time and created divisions for different types of mics. The company uses its own proprietary developments for production of premium products and E-100S is one of them. If a consumer needs a recording mic, there's not choice better! The design is slim and has rectangular form. It's a versatile device that maintained positions of its predecessor. Providing a balanced sound, it's a marvelous option for recording audio. The item displays subtle nuances without coloration. The shockmount removes vibrations. Enjoy brilliant detailed performance with this product.
---
Rode NTK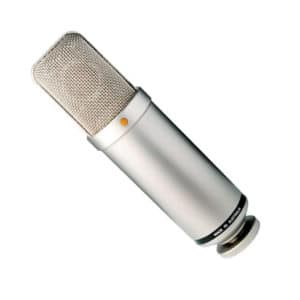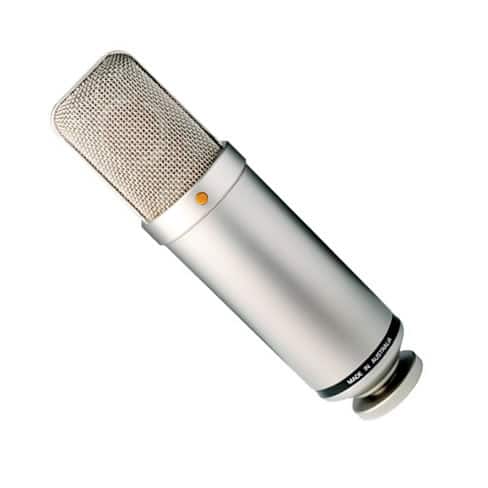 Though the brand produces wonderful gear, each item has distinguishable characteristics, so it's better to consider them prior to recording to avoid problems. The hereditary progression is still preserved at its basis, but when we go further the details emerge making devices completely different. It's an item that's practically devoid of self-noise! It features warmth of performance, effective noise cancellation. It's not heavy in comparison with its brothers. Its dark brown hue is stylish enough. The device uses XLR for connecting. The performance isn't muddy. It's deep and rich. The microphone captures middle-range, highs and lows perfectly. It's an ideal portable version thanks to its light weight.
---
Neumann TLM103 – our pick among professional microphones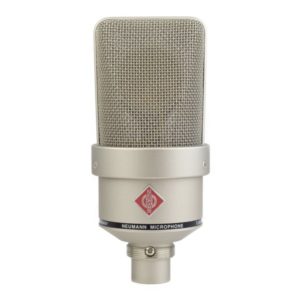 Female vocalists love this microphone as it reproduces voice fantastically. It also works well with male vocals. As for recording narrations, this is an excellent device providing very beautiful result. The equipment of the brand is fabulous and the manufacturer prides themselves making it reality for decades. It's one of most affordable devices in the line, but still rather expensive microphone for consumers. Only passionate followers of the brand shop for the device. It's certainly flawless in performance therefore it's always the pick of prosumers, but it's too costly for most users.
---