Sound specialists and music amateurs always explore new gear and compare the results. It helps to determine how perfect performance can be attained. They want to know if Thunderbolt 2 audio equipment performs as good as Thunderbolt or USB devices. Interface is a must have item in the kit of any pro-level but different units can demonstrate different efficiency. It can be hard to figure out if this is a piece of required gear for an inexperienced person.
This article is helpful for people looking for the best Thunderbolt audio interface. The person should know first of all that Thunderbolt audio interface is needed for use with Mac computer though there are PCs as well that are compatible with Thunderbolt interfaces.
It is worth noting that Thunderbolt connection type is preferable for many people as it is considerably faster than the most advanced USB. Those who purchase Thunderbolt audio interface will hardly encounter latency issues.
Some people find Thunderbolt 3 a better choice as it provides the capability to connect up to 6 external devices in a single port without loss of transfer speed, but this review doesn't contain such equipment.
Key Points To Consider Before Buying A Thunderbolt Audio Interface
So, what should one pay attention to when buying Thunderbolt 2 audio devices? The choice of electronics always depends upon the goals set. The person who wants to use the device with Garage Band will have to select a different alternative than those who need to use the gear for live onstage activity. Therefore, the notion of 'best' is closely interconnected with circumstances. The number of ins and outs depends upon the number of sources that need to be connected to the interface. It's sufficient to have a couple of ins in case the user needs to connect the mic and an instrument, but the situation becomes quite different when recording a band. The choice may depend upon the necessity to use phantom power, the type of connectivity and other factors. The comparison table at the end of the article will help to select the right purchase and not to make a mistake when choosing the device.
Resident Audio T2 Thunderbolt Interface

It is a perfect device for all those who need a device for a laptop to be used on the stage or for recording on the road. This is exactly what is needed as this is a portable lightweight device, which despite its format is rather powerful and delivers a perfect pro-level result. As a result, the person gets high-resolution audio from this entirely bus-powered appliance. The capability of plugging in mics into dual combo ins, instruments, and other external sources make T2 highly universal and convenient. The feature rich audio interface uses the most advanced protocol that delivers excellent performance along with zero latency. This is a rather affordable device in comparison, for instance, with other items that entered this list.
Features:
MIDI in and out;
1 headphone output;
Made of durable materials;
Thunderbolt 2
Pros:
Phantom power switches for both inputs;
Smart Monitoring feature delivers an effortless switch between mono and stereo;
As it's fully provided with bus power, this makes the device ideal for easy live performance;
Fantastic audio;
Lightweight device is suitable for portable use.
Cons:
Most users liked this Thunderbolt 2 interface and negative serious issues were not revealed.
---
Universal Audio Apollo Twin Mk II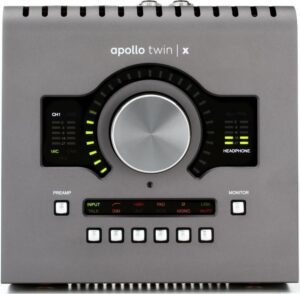 This item has received rich functionality of its predecessors, and this refers to the support of Unison technology as well. The professionals highly assessed this item, having stated that this Thunderbolt audio interface surpassed other devices in quality, so the consumers looking for the best thunderbolt audio device can try this gear. It's definitely worth attention. It also features enhanced monitoring features, so it's not problematic to track the process with its assistance. The sleek design of this audio appliance deserves the praise as well. Besides, consumers like its compactness and portability. Despite a relatively small size, the interface is powerful, as dual core processing delivers a good result.
Features:
Unison mic preamps;
Made of robust materials;
2 combo inputs;
2 headphone outs;
Thunderbolt audio connection;
The capability of combination with other Apollos.
Pros:
Selection of plugins;
Lack of latency;
Compatibility with different operating systems;
Excellent audio;
Well performing AD/DA converters.
Cons:
This interface seems to have no serious flaws.
---
Resident Audio T4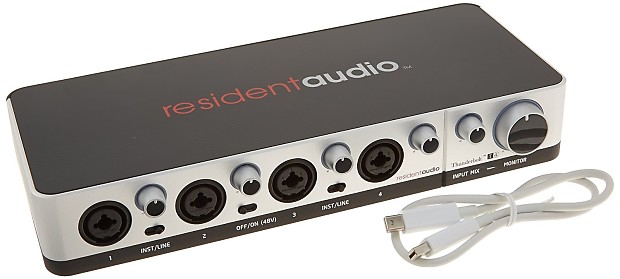 The US-headquartered company produces a set of unique Thunderbolt audio appliances for the studio. As for the T4 model, it's promoted as a model for home studios or DJ work. Why was Thunderbolt chosen for this device? The manufacturer responds that this is the best bus currently as it provides the fastest work. The speed is very important for audio equipment. It also provides 4x bigger power that helps to create a more powerful preamplifier, an amplifier for headphones and enables phantom power for several microphones simultaneously. What is great, not only Mac is supported but PC as well as turning the gear into universal equipment. Thunderbolt audio interface comes with a 50cm. cable and drivers on a flash drive.
Features:
4 inputs and 4 outputs;
MIDI in and out;
LED backlight;
Linear/guitar switch;
Thunderbolt audio connection;
Mic/guitar preamps per each channel.
Pros:
Tight and highly professional installation of components;
2 headphone amplifiers;
Compatibility with different operating systems;
Excellent audio;
Powerful Thunderbolt bus power supply.
Cons:
The manufacturer is not going to upgrade this device or fix issues if there are any. Therefore, it's better to acquire a next generation device instead of Thunderbolt 2 audio
The audio of Thunderbolt interface is comparable to other entry-level devices and sound interfaces for DJ. One shouldn't purchase this gear for a studio.
---
Apogee ELEMENT 88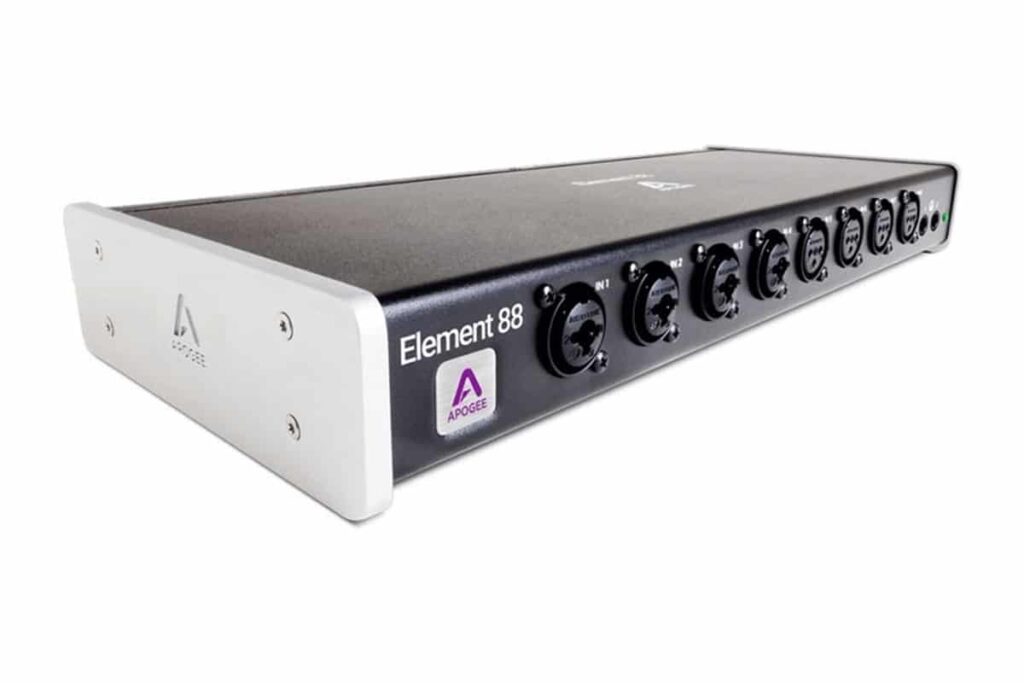 This brand produces fantastic audio equipment and this is one of such devices. It has an optimal combination of inputs and outputs. The rack-mountable device with Thunderbolt 2 connectivity can be an excellent option. The unit is marketed as a premium audio appliance and it meets the demands of almost all consumers and performs well in all aspects. The device doesn't have a Thunderbolt cable in the box but the power supply is included. This is certainly not the best solution when a portable unit is required.
It's not problematic to start using it. It can also boast of 8 XLR channels that can be used simultaneously.
Features:
Excellent circuitry and preamps;
Rackmounted design;
Capability to use phantom power;
Thunderbolt audio
Pros:
High quality of production;
Incredible design;
Excellent audio;
Powerful mic preamps;
Capability of functionality expansion thanks to ADAT;
Good AD/DA converters.
Cons:
It's a model of a premium group so it tells upon the price;
There is no MIDI in or out;
Unlike other Thunderbolt audio devices, it's compatible with Mac only and this makes the model less popular.
---
Focusrite Clarett 4Pre 18×8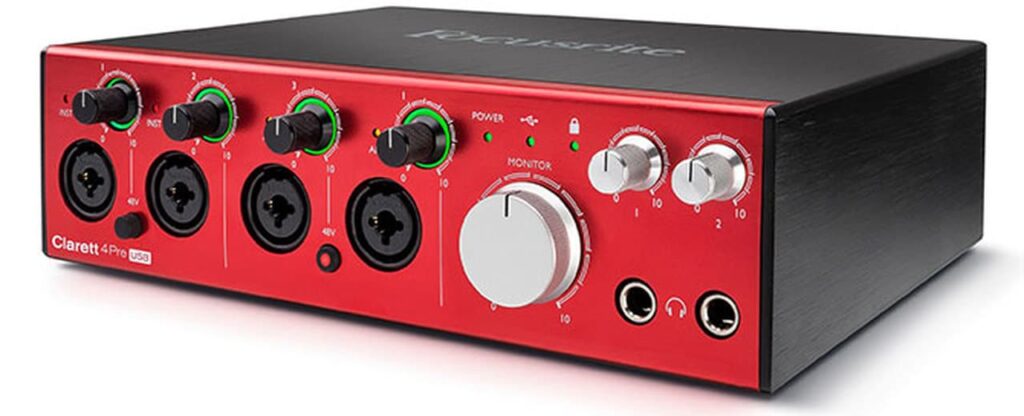 When this device appeared many users were delighted. The release of the Thunderbolt Clarett family was quite handy. The customers liked the pack of features provided – they wanted to get rid of obsolete bus USB 2.0 and use more progressive Thunderbolt. This is certainly correct to give a person the possibility to choose but not all PCs are equipped with it. Therefore, don't hurry to refuse from USB. The Thunderbolt 2 audio device is great, but if there is no proper equipment, the use can be problematic. However, if this problem is solved, one should pay attention to its great features:
Features:
8 excellent Clarett mic pres;
Very low latency;
Full set of I/O features;
Capability to use phantom power;
Thunderbolt audio
Pros:
Good gain;
Beautiful design;
Lack of distortion in audio;
Powerful mic preamps;
Extended functionality with ADAT capability.
Cons:
All admit that it's a killer product but are not satisfied with the work of drivers.
---
Thunderbolt Audio Interface Comparison Table
Those who don't have enough time to read all details can just explore the comparison table that reveals the main features that are usually demanded by the customers when they are going to make a purchase.
| | | | | | |
| --- | --- | --- | --- | --- | --- |
| | Resident Audio T2 | Apollo Twin Mk II | ELEMENT 88 | Resident Audio T4 | Clarett 4Pre |
| Inputs/outputs | 2 ins, 2 outs | 2 ins, 6 outs | 16 ins, 16 outs | 4 channels of inputs/outputs | 4 ins, 8 outs |
| Connection | Thunderbolt 2.0 | Thunderbolt 2.0 | Thunderbolt 2.0 | Thunderbolt 2.0 | Thunderbolt 2.0 |
| System | Windows, Mac | Windows, Mac | Windows, Mac | Windows, Mac | Windows on Thunderbolt-enabled PC, Mac |
| Phantom power | Yes | Yes | Yes | Yes, for all inputs | Yes |
| MIDI | MIDI in and out | No | No | MIDI in and out | Yes |
| Bus-powered | Yes | No | No | Yes | Not USB bus powered |
Conclusion
The article includes high-quality items that serve so well when excellent audio should be obtained. This selection with Thunderbolt gear can also be very helpful for you.