Which device is needed for appropriate recording? Especially when a person needs to get results clearly distinguished from the background. There's very effective type of microphone often compared with a shotgun as it resembles it as it's directed toward the source in the same way.
It can be hard to compare two mics the article devoted to as both deserved attention from the audience. Both of them have their funs who consider it the best gear on earth. Still, those who haven't joined some group rack their brain and don't know if Sennheiser model should be chosen or some other mic? This comparison survey is reviewing both models to determine which one is better for voice recording.
Sennheiser MKE 400 Shotgun microphone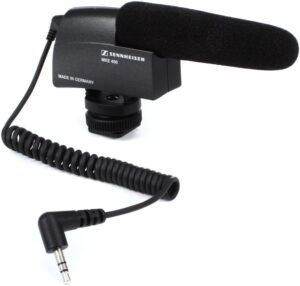 ---
The mic is an industry standard that effectively deals with noise. It includes an inbuilt shock mount that copes with vibration and noise without effort. It's first of all chosen thanks to this property. It's a good option to be used with cameras. The reviews of customers also point out superb quality of external mic and lightning shoe mount. They also like that it's tiny and compact. These parameters make the mic stand out. Build quality is outstanding. It refers to the quality of its components as well.
MKE 400 is solid and can tolerate even active use for a long time.
The length of work that is promised is also impressive – 300 hours. The user just needs one battery to make it function. There special cable for connection with the camera.
The mic is excellent when portability is a priority. Its lightness makes it a wonderful option for videographers working in the field. No matter at what distance the user is recording, the audio obtained is always excellent.
It picks up noise from all directions and mutes unwanted noise, doesn't reject it completely. As a result, clarity of sound is superb.
Other features of the Sennheiser MKE 400
It's great to acquire the foam shield to be used with MKE 400. This is a good remedy against the plosives and noise created by wind.
The user is protected with a 2year warranty when buying the mic.
Cost
MKE 400 is an affordable mic. With cost about 200 bucks it delivers a fantastic results. This is a marvelous product for its price.
Rode Videomic Pro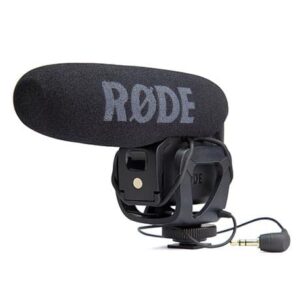 ---
Being a universal device, it's used for various goals. This is also a shotgun to be used with camcorder. It's an excellent alternative for recording videos and audios. It's possible to carry it in the backpack – it's not heavy at all. However, it isn't that small as Sennheiser model. It functions for 70 hours without problems and only then it needs power to start functioning again. Like the previous mic, it also includes inbuilt shockmount and it's less subjected to vibrations.
The pickup differs considerably depending upon the settings. Captured lowend noises are removed from the recording when 80Hz filter is involved.
Select -10dB level attenuation for close-up capturing, while +20dB setting is great for camera recording.
It features a standard shoemount to be used with other standard devices.
When pro-level consumers get the device, they always try to compare its work with the way MKE 400 functions. Those who used both mics say that both have problems with wind handling. If the wind is strong than professional mic should be used.
Both microphones reviewed here differ in size and build and in both categories the Sennheiser model is better as this device is made of plastic, consequently, less durable.
More features of the Rode Videomic Pro
In contrast to MKE 400, this one has a 10-year warranty. The technically-savvy folks assert that the device has a wonderful suspension system. It's actually the best among the devices. Sennheiser MKE 400 is also considered more rigorous in comparison with Rode reviewed model.
Recommendation
Both are microphones of high quality and both devices feature great capacity. They both sound well, however, MKE 400 should be selected for a more natural voice.
Cost
Videomicpro differs just a little in price from the Sennheiser MKE 400 but isn't less powerful than the first model. It's recommended to try both mics before selecting. It's hard to determine which suits better without trying. The cost is not the factor to base upon.
Conclusion
Some users assure that the quality of Sennheiser model is much better than sound delivered by Rode VideoMic Pro. It's not that boomy and provides more clarity. YouTube content creators though will be happy with both types of the mic as they meet the basic requirements of videographers. For sit-down vlogs, they are just superb! Though MKE 400 is great, MKE 600 would suit better when films on the go are created. It features a crispness of sound and excellent signal for enhanced audio quality.