It's a big mistake to pay little attention to purchase of such necessary accessory as a mic stand. People who perform live are aware about it. They can tell how this item contributes to success of the musician or, on the contrary, can ruin career when makes the performance awful. When the stand isn't reliable, the expensive performance gear is at risk. It's essential to have the solid accessories to avoid losses. These expenditures are compulsory and it's better not to neglect them.
The 6 categories of mic stands
It's necessary to use a microphone stand that holds the mic tightly. In this case the common use stand is required. It's less costly and suits users in different situations. Tripod Stand is perfect for such goals.
Those who need the items with longer booms should select Tripod Boom One finds easier to adjust these accessories for better performance.
Round-base models are more convenient for singing performers who find tripod items not convenient enough and don't want to stumble upon them. The round base is more compact and doesn't take much space.
The next two groups resemble each other but their purposes differ. While one of them is employed for kick drums (Low-profile items), the other is used for recording podcasts (desktop models). These accessories are placed on desks.
It's also worth noting Overhead models of stands. These items are pricier than any of the types mentioned above. The specialists install them high selecting their position at the right angle for best sounding.
Choosing the Best Stand in your Price Range
The stands described above have different characteristics. As any products the stands differ in price. The owners of professional studios, concert organizers should have different models to provide selection and convenience to the customers. Versatility is their priority. Professionals, buying equipment and accessories for recording sessions and different venues, buy several different models, so the price factor matters for them. It's also important for musicians who acquire the stand for home application. Being on a budget, such person can select the particular model and find affordable model. Taking into account the importance of price factor for different categories of customers, we've prepared the review of models basing on this feature. Find the price group you can afford at the moment to purchase the best microphone stand for you.
It's hard to purchase the mic stand. Usually some time passes until the consumer understands if the product suits perfectly. Sometimes a month is required or so. Therefore the customers' experience expressed in their reviews can be very useful.
 The Best Budget Mic Stands (under $50)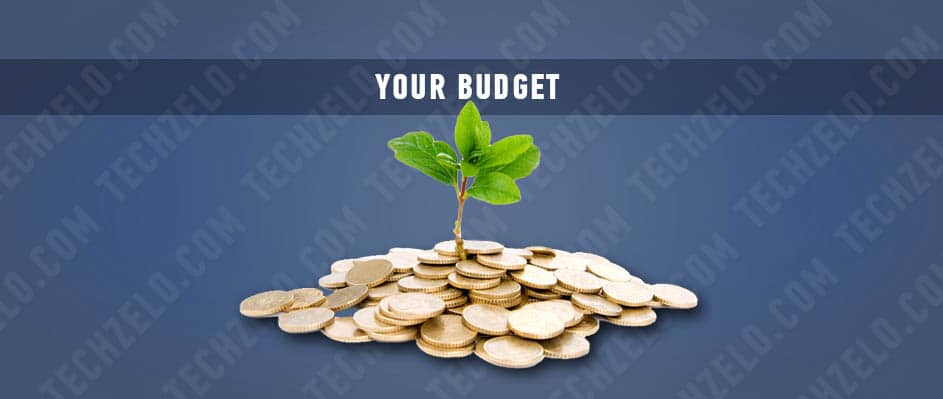 It's unpleasant when the musician isn't able to afford an expensive high quality accessory. However, there's no need to worry about it. The best stand is not the most expensive one. Sometimes low-cost models are rather decent. At least, we'll explore the market to find the best cheap microphone stand.
For instance, in case the person wants to purchase the stand for general use,

Samson MK-10

is a nice option. This is a lightweight, convenient option that is frequently purchased to be used in the studio. Despite its light weight, it's reliable as made of stainless steel.
One can find the similar features in case the tripod boom stand is required. SamsonBT4 is an excellent variant then. This is one of the cheapest
In the event the customer prefers a round base model, he should pay attention to Pyle-Pro PMKS5. It's black and so stylish – the best variant one can imagine. The item is convenient is easily assembled.
Many consumers select OnStage Stands DS7200 as the best desktop mics stand. It's pretty solid, not heavy and easy to assemble. The person won't worry about the mic with such stand on the desk.
The Best Mid-Range Mic Stands ($50-$100)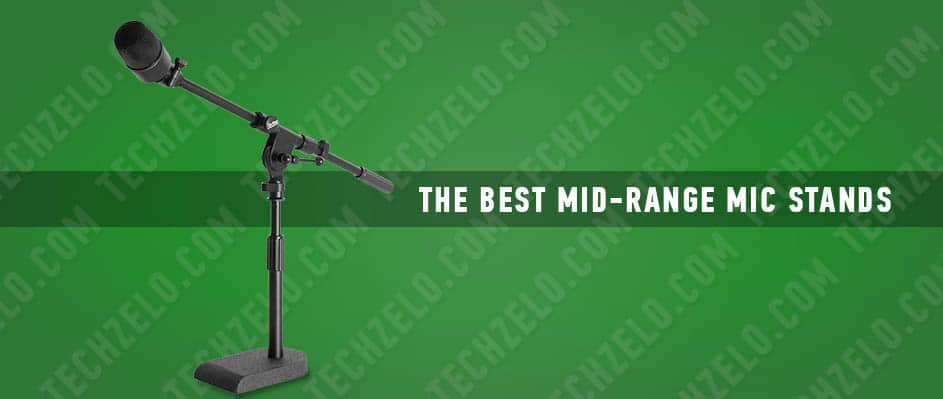 When consumers buy very expensive microphones, they want to be sure nothing bad will happen. It's not smart to economize on accessories then. Consequently, a high quality stand for costly gear is needed.
The cheaper stand is good for bedroom studio records. However, when recordings are fulfilled from morning till night 7 days a week, more reliable stand should be purchased.
Usually cheap stands suffer from sagging. These models don't have problems of this kind:
DRPro Quick Release is the option when tripod model is required.
The one with telescopic boom from the same manufacturer (DRPro Telescopic Boom) is also a hit among the consumers.
Atlas Sound MS-10C is the option for round base stands.
When low profile stand is needed, choose DRPro DR259 MS1500BK with a very flexible boom and fantastic stability even when holding heavy mics.
Why not select Rode PSA1 for your desk? It's an excellent alternative when desktop stand is needed.
The Best High-End Mic Stands ($100+)
The frontman would be happy to have one of these models. Such singers like to move around the stage and perform different tricks with mic stands.
Select UltimateSupport TOUR-T-TALL Tripod stand, which is heavy and sturdy. It's super strong tube makes the accessory robust. This is a roadworthy stand for professional musicians.
Those who want to acquire tripod boom accessories should look for K&M21021, which is the best for recording.
Those who don't mind the weight should purchase awesome Atlas Sound MS25 or MS20E to get the mic into perfect position as you record. It performs well even with heaviest mics.
The reader has probably noticed lack of overhead stands in the cheaper groups. There were no high quality models to recommend for the price. However, it's not a problem in this price group.
Select Ultimate Support MC125 featuring impressive performance. It's the sturdiest of mic stands.
How to Supercharge Your Mic Stand
The person will need additional accessories as well to improve the performance and make it convenient. Don't forget about the comfort standing on the stage or in the studio surrounded by recorders. There are so many goods on sale to pump up your mic stand! The list below displays useful things that can help the musician considerably.
1. The IK Multimedia iKlip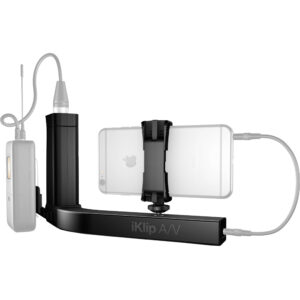 Small and fantastically convenient stand adapter helps to adjust the mic at any angle without effort. The problem is solved elegantly with this small item. It's a necessary device to make recording smooth and pleasant. There're special versions for:
Take advantage of precise positioning thanks to multirotational adjustment. It was constructed to make installation of device fast and effortless. At this, all buttons and controls are available for users.
---
2. On-Stage Posi-Lok Sidemount Boom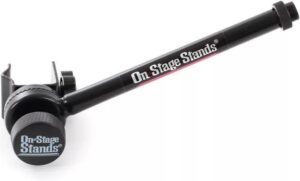 Select this accessory when the second microphone is needed to mike the instrument during vocal performance. This simple item doesn't cost much but the result is going to be many times better! It can be used in a studio during recording or when you perform live. There's no need to buy another stand for a second microphone, which takes much space on the stage. Additional boom economizes space and money. It enhances the result with one more microphone adjusted near the instrument.
---
3. Stedman Headphone Hanger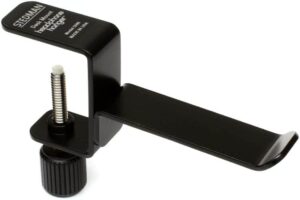 Organize the accessories in your home studio properly. When we scatter things around, we can't concentrate on our tasks. When headphones don't have their place, the item is always lost. You put them on the desk, near the recorder or on the chair and always look for the device. Purchase this accessory to forget about the problem. The headphones are always near microphone. Start your recording session in time having all necessary things at hand.
---
4. K&M Drink Holder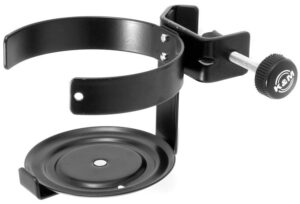 The musician playing on the stage or recording performance in the studio for hours wants to have a drink from time to time. It's essential to have it at hand but this can end badly for expensive equipment. There were a lot of sad accidents, destructive for the gear. It won't happen after purchase of this solidly built holder. The drink is always near the microphone but doesn't pose threat to it. The rubber grips of the item hold the drink tightly no matter what type of container is used: can, bottle, cup etc.
---
5. Primacoustic Tripod Mic Stand Isolator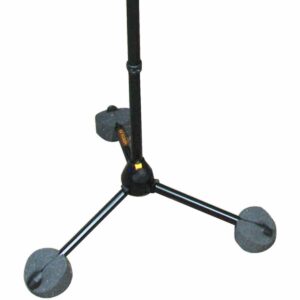 It can be very difficult to get rid of noise and floor vibrations during recording. This item guarantees isolation of resonance coming from the floor. Using this accessory, the person protects the microphone from noise. Made of acoustic foam, it also contributes to stabilization of microphone stand.
---
6. Audix CabGrabber

Some accessories are small but irreplaceable. It's worth buying them. They save so much hassle! This item belongs to such accessories. The microarm is extended easily. This is a good substitute to additional stand that can cause annoyance. The device offered to you removes the need for it. It's not a problem any longer to place the microphone close to guitar cab during the performance. The simple device holds the mic with a firm grip and does its job perfectly!
---