Audio mixers are designed to work seamlessly with sound. They expand the working range of engineers and musicians in studio and concert work. Audio mixer is a device that receives and converts sound signals from external devices in the necessary way, and then redirects and mixes them in the required proportions. This is the basis of live performance and music recording. Models differ in size, purpose, the scope of application and additional functionality (for example, supplemented by systems of complex routing and signal monitoring). The choice requires serious attention in each case. Next, we will consider, for example, several of the best audio mixer solutions in different categories of price, quality, and functionality.
Mackie 1642 VLZ4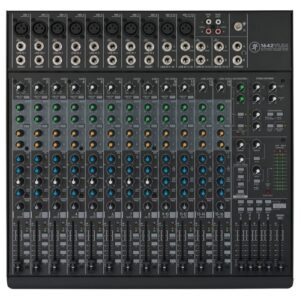 The Mackie 1642 VLZ4 is a 16-channel analog mixing console with Onyx's flagship microphone preamps. Users receive a universal mixing console with a complete set of functions, a large margin for overload, low noise and shockproof design. This VLZ4 model is optimized so that the user has a high professional quality in any application.
Developers strictly adhere to build quality standards. The Mackie 1642 VLZ4 best pa mixer contains all the best, and a multi-year quality guarantee is as honest as ever. This is confirmed by the M80 operational amplifiers and the best bus architecture in its category. The design is thought out so that to exclude penetration of dust and dirt to invert in any conditions.
It is also worth noting the improved suppression of radio frequencies (the best solution for broadcasting), phantom power, a three-band equalizer, low-frequency cutoff of 75 Hz at the microphone outputs and other quality indicators.
Features: 16 channels, Onyx preamps, M80 amplifiers, high degree of versatility
Pros: high-quality materialsm high degree of durability, high degree of versatility
Cons: No effects unit and digital interface
---
Behringer qx1204usb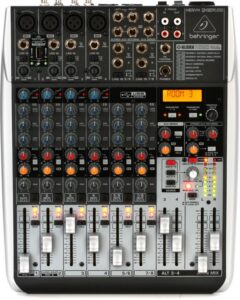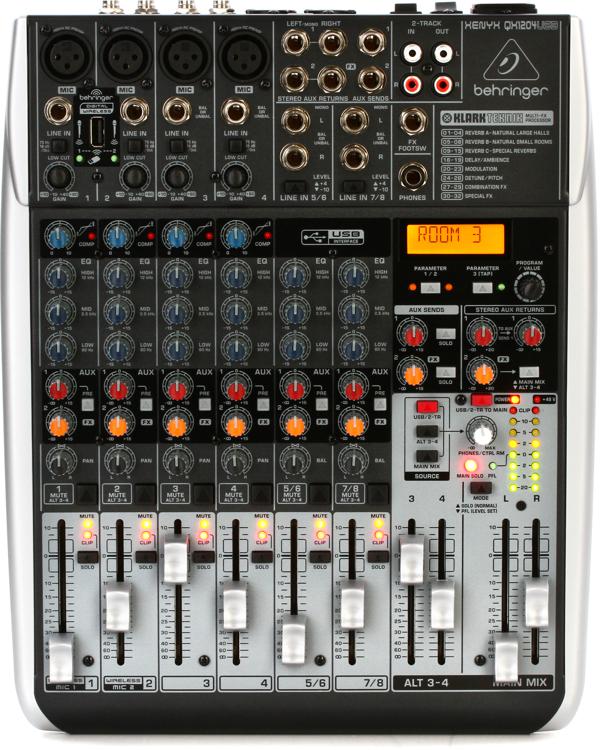 This top audio mixer is an excellent working tool with advanced features at a relatively low cost. Users note this as a quality workhorse for every day, which did not fail at a crucial moment.
Among the key functions and features of the device, it is worth noting an audio processor that allows person to use up to 100 different presets. Presets include reverb, delay, and pitch shift. The sound can be tuned very precisely using the Pan / Bal knobs on each channel. Four microphone inputs have small preamps with a low noise figure. The USB-A connector allows user to connect two wireless ULM microphones.
Users can download specialized software for working with the device from Behringer's site for free. The software includes more than a hundred useful and diverse virtual tools and plugins.
Features: 150+ presets, Pan / Bal knobs per channel, USB-A connector
Pros: low cost, versatility for studio and concert work, flexible computer integration
Cons: imperfect noise reduction
---
Behringer 802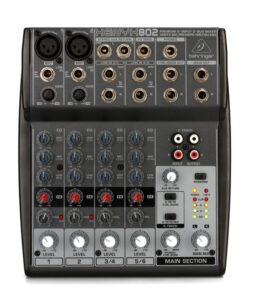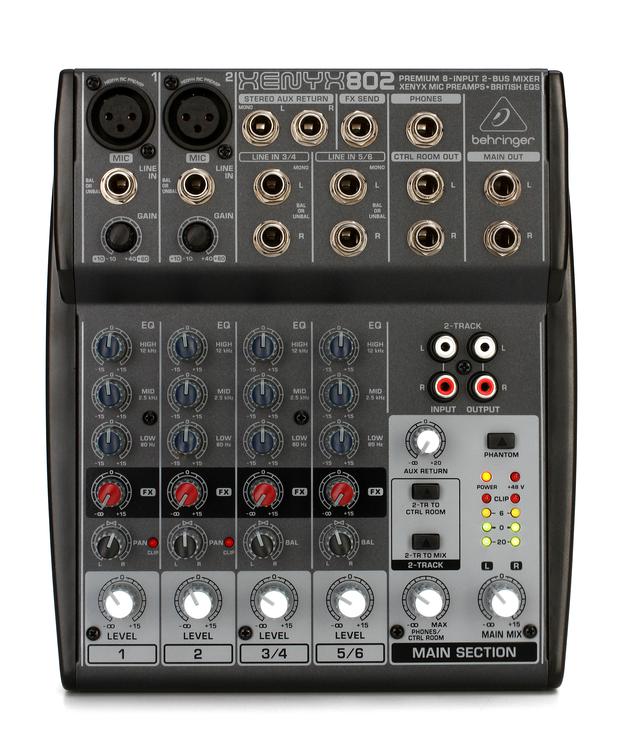 Compact beginner audio mixer model that is perfect for non-professionals. User features are also relevant for professional use in undemanding tasks. There are several advantages that determine the quality of Behringer 802 in the niche of higher-level models.
For example, all volume controls have a smooth mechanism for accurately calibrating the level of the input signal. The case is made of wear-resistant materials in such a way as to exclude accidental damage under the influence of external factors, as well as the rapid appearance of scratches and abrasions.
The mixer provides PCA and TPC outputs. Sockets are securely fixed in the housing cover, which eliminates the possibility of backlash or poor-quality connection. Three-band equalizers are designed for each input (for low, medium and high frequencies separately). It is possible to supply phantom voltage. A separate button with LED indication is provided for switching on / off. With a maximum resistance of 150 ohms, the amplifier is able to provide about -130 dB.
Features: PCA and TPC outputs, LED indication, 3-band equalizers for each input
Pros: compactness / high functionality, stylish appearance, high durability
Cons: external power supply with a non-standard connector, the relative complexity of the working setup preparing
---
Yamaha 01V96i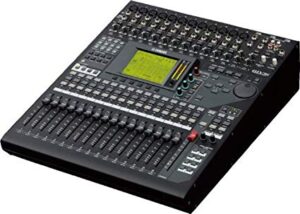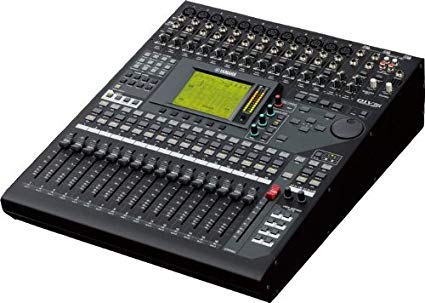 The legendary classic of digital mixers, which was recently released in an updated form. So, the instrument retained its trademark advantages and adopted the spirit and needs of the present.
The model is characterized by 24-bit sound resolution, digital S / PDIF connection. The model provides the professional user outstanding freedom and an unlimited scale of action. It has the function of universal built-in processing with 16 input and output channels. It is also worth noting the presence of motorized faders with silent control, 40 inputs on the desktop and the ability to bind software to work through the DAW program.
Users note high sound quality, flexible routing capabilities, and high quality integrated effects. This is one of the best full-featured models in the studio category.
Features: 24-bit sound resolution, S / PDIF, 16 input and output channels, motorized faders with silent control
Pros: Convenient for everyday use, nice design, high durability
Cons: No remote control
---
Yamaha MGP24X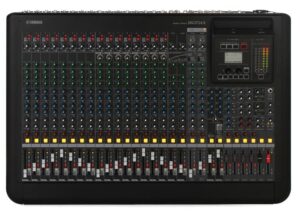 Introducing the attention of professionals 20 channel mixer for all occasions. This is the flagship professional mixer in the budget category. It is intended for studio work. A mixer costs less than most analogs with similar functionality, and users appreciate it for one of the most outstanding quality price ratios. The model also has a number of additional functions: noise reduction, microphone preamp, and so on.
In total, 16 analog stereo outputs and 4 mono outputs are presented. They are complemented by a 3-band equalizer and master compressor. The device allows an engineer to work with a large number of equipment at the same time, mixing and adding sound effects instantly. It is important to note the absence of a monitor for outputting levels and effects, which is usually not a difficulty for a specialist. Build quality and materials are at the level you would expect from Yamaha brand products.
Features: 20 channels (16 stereo + 4 mono) with band equalizer and master compressor, additional sound functions
Pros: smart compressors with LED indication, convenient integration with a computer, 16 advanced digital effects with editable parameters
Cons: crowded control surface
---
Roland MX-1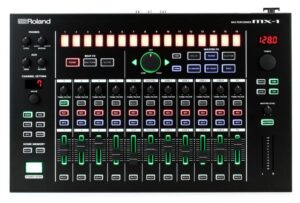 Roland brand is widely known in the recording equipment market. Every year, the developers of the company amaze users with innovative and innovative innovations in the field of sound reproduction and recording. This 18 channel mixer is one of the modern pride of Japanese development engineers. It is very important that Roland was able to integrate full-featured functionality into a fairly budget format. Reliability and sound quality are not affected.
This equipment is used for mixing sounds. It can work separately with drum machines. The drums are output to one or more channels with the ability to customize an individual effect setup in each channel. Flexibility is provided by the huge console library.
This is a management console with the ability to perform several functions in parallel. There is a function to automatically add effects and reset instruments. An important role is played by a flexible interface for interacting with a computer.
Features: 18 channels (analog, digital, and AIRA sources), Master FX, 48 types of master effects
Pros: high reliability and functionality
Cons: fader inaccuracy in some cases
---
Pioneer DJM-750MK2

A compact audio mixer by the legendary Japanese manufacturer, which is focused on DJ tasks. This is manifested in everything from functional filling, and to the combination of portability with high durability of the case. This model feels great on the road and is immune to most external mechanical and atmospheric influences.
If the device is connected to laser or vinyl players, it can also work directly with four instruments for undemanding tasks of a sound engineer. A number of sound conversion tools are available. This is one of the best live sound mixer solutions in its "weight category" for working with sound.
Among the interesting features, it is possible to note the ability to connect mobile devices to synchronize with effect libraries. Also, the user can use the effects from a smartphone or tablet directly when connected. Mixer interface is intuitive at the same time.
Features: 4 channels, Magvel crossfader, Sound Color FX, Beat FX
Pros: full set of tools for DJs, high durability for the on the road everyday use, useful tools for simple 4-channel mixing, intuitive ease of use
Cons: limited opportunities for non-DJ (studio) tasks
---
Soundcraft EPM6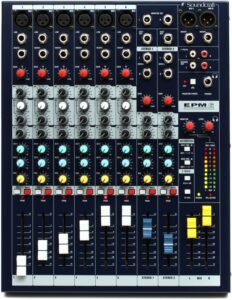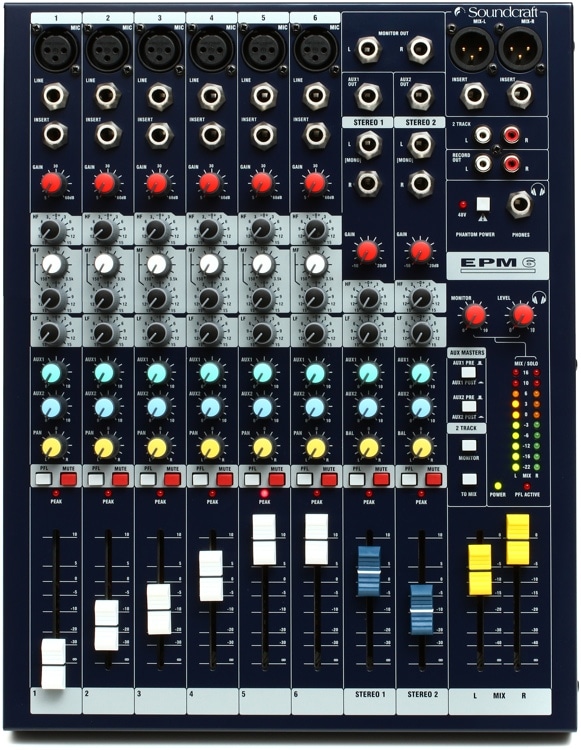 A high-performance professional-grade analog high quality mixer that is universal in the context of setting a work task. The capabilities of the device are best indicated by its functions.
It uses faders (60 mm) with a smooth ride and precise response. On each channel, a regulator is installed to change the strength of the signal to an external effects processor. The amplifier is equipped with a convenient signal strength indication. The scale consists of 10 paired LEDs for accurate visualization of sound conditions. The robust design of the buttons is resistant to constant mechanical stress. Each channel of the mixer has a pan setting. With one knob, the user can adjust the balance between the right and left channels.
Features: Led indication, 3 microphone inputs,
Pros: smooth use faders, quite high functionality with high portability
Cons: limited functionality for complex professional tasks
---
Allen & Heath ZEDi 10FX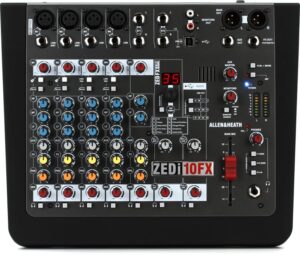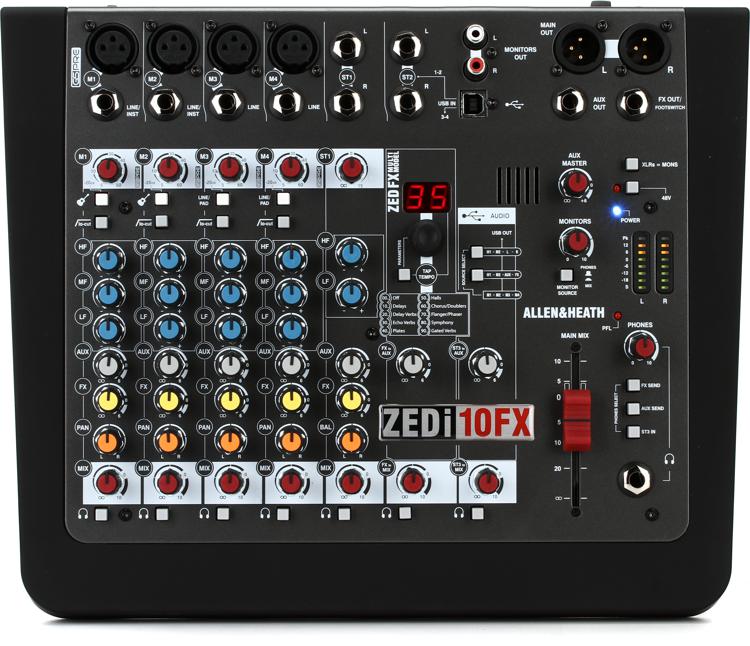 An excellent universal option from a trusted company that feels comfortable in a budget price category. The model is characterized by 24-bit / 96 kHz audio resolution and USB 2.0 connection. The model combines a USB 4 × 4 interface along with GSPre preamps and built-in effects. This defines it as a powerful solution for small-scale studio tasks. Allen & Heath ZEDi 10FKS is suitable for a home audio for example. A total of four monaural microphone / line channels (with phantom power) and three stereo inputs are available. The first two channels include DI high impedance mode, while the four mono channels have separate balanced / unbalanced TRS and XLR inputs.
GSPre preamps are very quiet with plenty of headroom. It is also worth noting that the microphone inputs are equipped with a low-pass filter up to 100 Hz and a three-band equalizer with a fixed frequency. Build quality is high.
Features: new GSPre microphone preamps, two DI instrument inputs for connecting a guitar or bass, 4-channel USB audio interface 24 bit / 96 kHz for Mac, PC and iOS devices
Pros: portability, studio / concert versatility and full functionality
Cons: –
---
Behringer Micromix MX400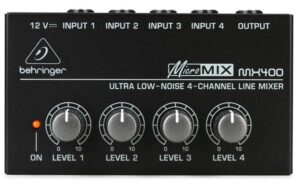 An example of the simplest budget powered mixer with the lowest price and functionality. However, the quality of the device is at a high level, and the high status of the manufacturer is beyond doubt. The design includes four channels with one output and four volume controls. The case is very stylish, small and resistant to mechanical stress, so the model is optimal for everyday use. The price is minimal; implemented noise reduction mechanism. This is a home audio mixer with a connection to a small amplifier.
Features: 4 inputs, volume controls, noise reduction
Pros: high durability for everyday use, very low price
Cons: minimal functionality
---
Conclusion
The scale of the categories and subcategories of audio mixers is enormous, which is confirmed by this sample. Users can find models from several tens to several tens of thousands of dollars. And this slice should help everyone sort out what they need in order to carry out further searches by category.