High-quality recording and playback of sound in a home studio environment requires corresponding financial costs. A large budget should go to the acquisition of a productive audio interface. Recall that we mean an external sound card by this term. It connects to a computer to provide the ability to fully record and process sound. The built-in computer sound cards are not capable of this. Therefore, the audio interface is the starting point for a precise home recording studio.
Those who are going to buy an audio interface need to decide on a budget and a list of features. The buyer should consider how many inputs and outputs will be required, what tools and devices you will connect, and what kind of music to record. In our case, it's about recording a guitar. Based on this information, it will be much easier to select a list of suitable models.
In the meantime, we offer consumers some best audio interface for guitar options. These are solutions that are characterized by versatility and an adequate ratio of price, quality, and functionality (from the position of a guitarist, while using electric or acoustic guitar). This will help everyone to understand what equipment is worth looking at. All presented models are widely demanded in the market, and their leaders are the sound industry.
Roland Duo Capture EX UA-22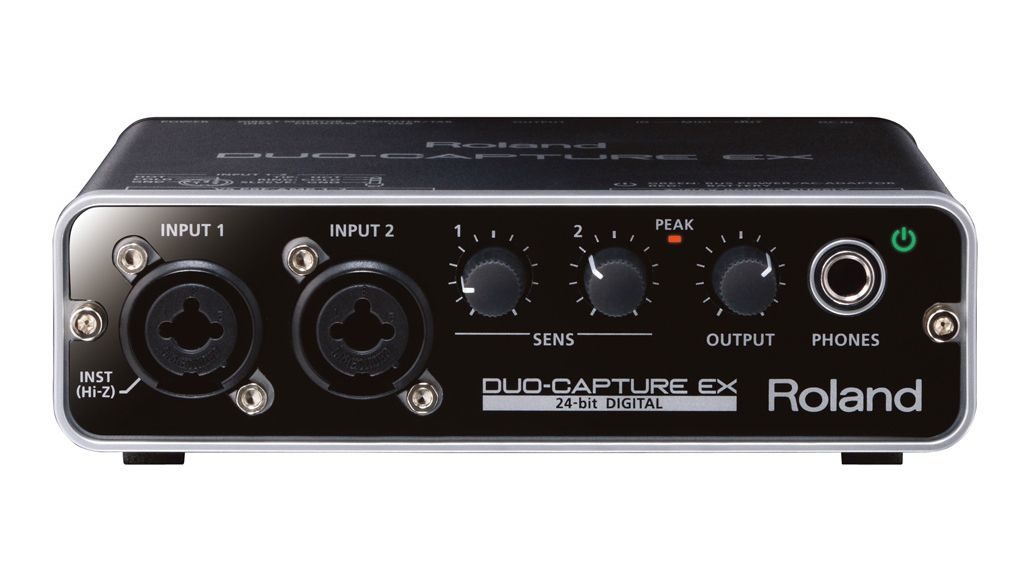 This interface for guitar has a pairs of inputs and outputs. The model has 2 VS preamps, the same as those installed on Roland's top studio interfaces: Quad-Capture and Octa-Capture. At the same time, XLR and 1/4 jacks are presented, and phantom power can be turned on at the XLR and Hi-Z inputs (1 channel) used to connect directly to a guitar or any other instrument. The rear panel has balanced 1/4 jack outputs and MIDI I / O ports. There is also a headphone connector on the front panel with independent volume control.
Offering beautiful design and audio quality, the model can work via USB, using a power supply (not supplied) or using batteries. The device does its job perfectly, and it will become apparent right away.
Features: 2 VS Preamp with phantom animations, work with all platforms, USB, adapter or AA batteries power, shockproof aluminum housing, Hi-Z for guitar and bass, MIDI inputs and outputs
Pros:

low-noise operation, best build quality, portability, stylish appearance
Cons:

no power adapter included
---
Focusrite Scarlett 6i6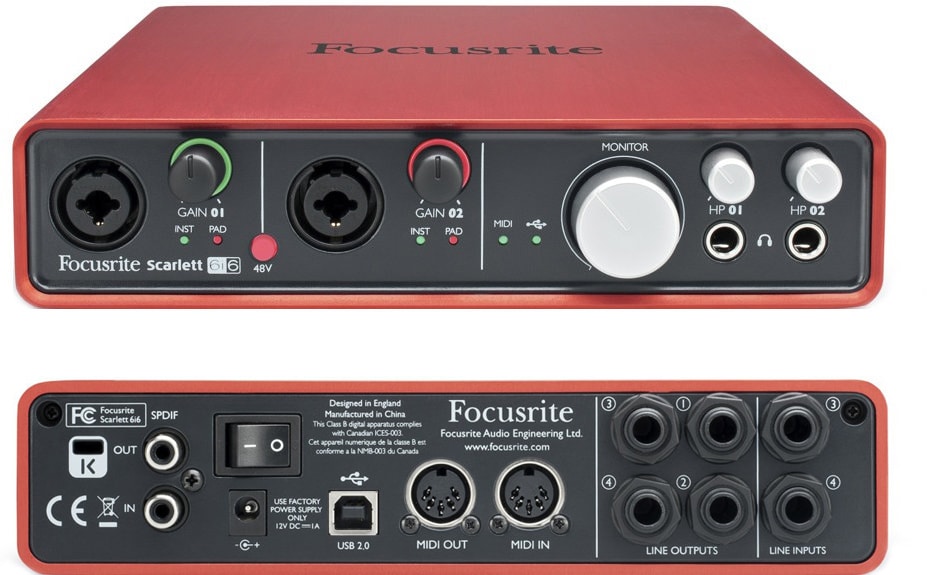 This best audio interface is useful for those who need as many outputs as possible for studio work at home. This is an externally stylish box that has 2 microphones/line/instrument inputs equipped with preamps on the front panel and 2 balanced TRS line inputs on the rear. There are 4 balanced TRS outputs on the rear panel, and a total of six available I / O complement the stereo S / PDIF input/output, also located on the rear side.
The phantom power switch on the front panel activates the power transmission to both microphone preamps, and the main monitor switch controls the level at the first two outs. There are also two headphone outputs with individual volume controls. They are parallel with first four outs, but have a separate pair of outputs for each of the headphones. With a slight emphasis on preamplification and the possibility of a thoughtful recording scheme,
Features: 6 channels for best connection, built-in 48V phantom power for condenser microphones, zero monitoring delay
Pros:

intuitive controls, stylish design, ample opportunities for studio work
Cons:

poor optimization for Windows, the device strongly accumulates static electricity (requires frequent reboots)
---
ESI U22 XT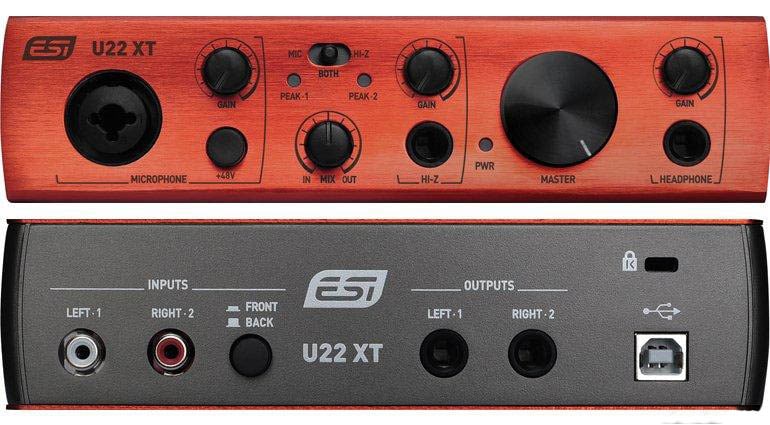 ESI U22 XT is an audio interface USB version of the well-known ESI MAYA 44ex sound card. There are only two independent channels, but there are two additional virtual ones, for modern use, for Internet broadcasting. ESI U22 XT interface is quite interesting in that it is one of the most inexpensive professional USB sound cards. The metal case has a lacquered copper finish. The case looks pretty good. Original design decision. The main achievement of the ESI U22 XT designers is the separate twists of the line output and headphone output. Very correct approach. The FRONT-BACK hardware switch determines whether to use the front microphone + guitar inputs or digitize the signal from the stereo RCA in on the rear panel. Highlighted TRS balanced outputs. Quite unusual for a low-budget device. ESI U22 XT does not require a separate network adapter and is powered by a USB bus. All that is needed is to connect the cord to the computer. Moreover, the interface works with mobile gadgets, as it supports the UAC1 mode.
Features: 2 I / O, 24 bit / 96 kHz, USB 2.0 Full Speed, mic preamp with phantom power + 48V, instrumental Hi-Z input with 1/4 ″ connector for guitar, USB connection, maximum signal quality 24 bit / 96 kHz
Pros:

high sound quality, stable operation of this audio interface for USB connection, four full channels, very affordable price
Cons:

inconvenient frequency and bitrate settings, minimum basic driver functionality, lack of external power
---
Behringer UMC202HD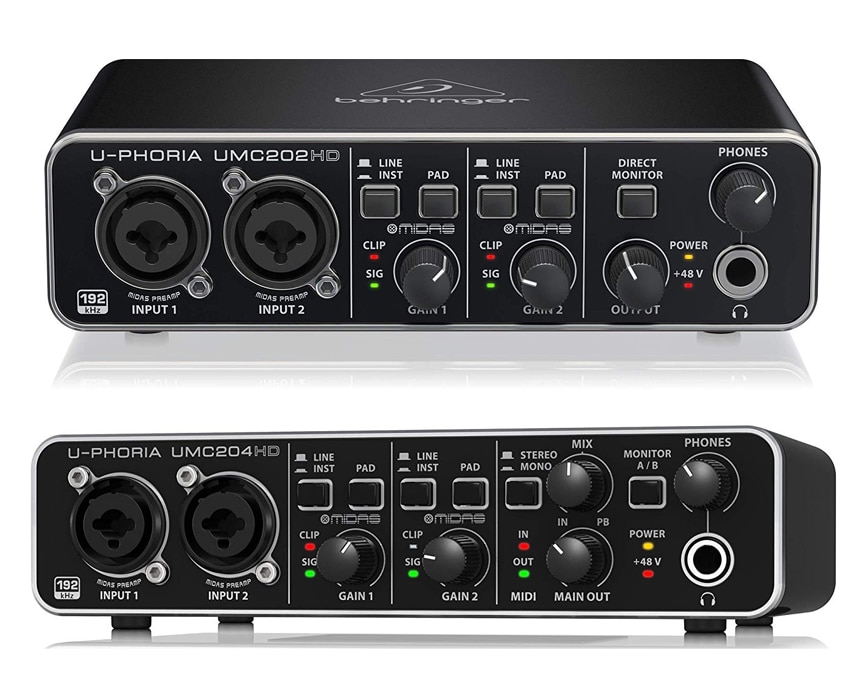 This is a small desktop audio solution created to ensure the compatibility of analog devices for recording and modeling sound and a PC/Mac that is not equipped with a professional sound card with specific audio connectors. It produces high-quality sound, and even professionals with premium headphones and experienced sound engineers with analyzer applications will not be able to find a single drawback in the out signal.
The model is equipped with two XLR mic inputs combined with instrumental 1/4 TRS connectors. For each of them, a section with control elements is selected on the control panel of the device. Also in the channel sections are LED indicators that signal the presence of an input signal on the connector and the occurrence of clipping. The main section of the panel there is a 1/4 headphone jack, volume control of the output signal supplied to it, and a direct monitoring mode switch in which the input signal is directly fed to the headphones. Also here is the volume control of the signal at the output connectors, and indicators of the device's power and phantom power +48 V on the microphone inputs. On the rear panel, there are balanced RCA outputs for mixer or speakers, a phantom power switch, a Kensington lock and a USB audio port that directs sound to a PC via two input and two output channels.
The model is known as one of the best interface for vocals/instruments converts audio with 24-bit quality and a sampling frequency of 96 kHz. This is enough for professional studio recording and for computer processing of any complexity. The mic inputs are equipped with MIDAS preamplifiers, providing excellent sound quality already at the reading stage. U-PHORIA UMC202 uses a USB connection as a power source, so the interface does not need a power supply for operation. A bonus for touring performers and sound engineers working in on-site conditions is the metal case of the device, which is reliable and resistant to mechanical damage.
Features: 2 line/instrument inputs on XLR + TRS combo jacks with MIDAS mic preamps and switchable +48 Volt phantom power for condenser mics, sound recording and playback in resolutions up to 24 bit / 192 kHz, hardware direct monitoring with zero delays during recording
Pros:

best price, ease of use, 48V phantom power
Cons:

slight third-party noise during recording is possible
---
Conclusion
As everyone can see, all of the above models are not without specific point flaws. Nevertheless, it is quality equipment at a price affordable to everyone. Users should familiarize themselves with the characterization of models in more detail, as well as discover other offers in the market to make the right choice.