Who is looking for an interesting solution for gaming and podcasting among microphones of an affordable price category? It is not necessary that devices of this category are characterized by poor sound quality (as can be found from reviews on the Internet). If you study the available options in more detail, you can find many cool compromises at an affordable price that will serve well for years.
One example of such equipment is the Samson Meteor Mic, which also strikes the user's aesthetic needs. This model will be a good solution for an undemanding user in any situation of online communication or the production of video/audio content. This model has been on the market for a long time, and during this time she managed to pick up a significant number of positive reviews. Next, I will tell you the key features of this device.
Samson Meteor mic: Packaging and design
The microphone packaging is very small and stylish. By this, he stands out from most devices in his class. It is simply pleasant to hold in her hands. What is included in the package? In principle, the set is quite typical. In addition to the instructions and user manuals, a soft case is added here (which is able to collect probably all the dust of the world), as well as a mini-USB cable.
As for the microphone itself, it looks just great. The second visual reason why you want to get it into your possession is precisely its appearance and general aesthetic unbanality. The case is completely metal, compact. At the same time, it is so small that, for example, it easily fits in the side pocket of trousers. However, it is worth taking into account the rather large weight of the device. These are all the costs of an all-metal casing.
Samson Meteor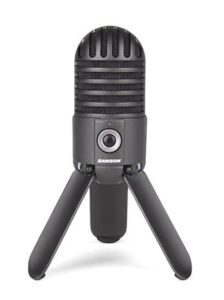 ---
Construction
From the upper part on the case we see cutouts with a mesh inside. It is from these cutouts that you can navigate where it has a front side. Speaking absolutely for complete beginners, this will help them figure out "where to talk." It is ridiculous to note this, but some unidirectional budget microphones look incomprehensible, and novice users come in behind, note a weak sound, and write angry comments. There's not enough "talk here" pointer.
Below you can find the thread for installing it on a standard microphone stand. Unfortunately, in this mode, I was not able to try the microphone, as with the standard wind protection or pop filter. There are simply no additional accessories specifically for the model, so you can search and select them separately. But this is an optional separate topic of conversation.
On the sides of the thread, there are three locking mechanisms. These are the legs built into the microphone. At the end of each of them is a soft rubber pad, so as not to scratch the table or other surface on which you plan to place the microphone. Carefully bend the legs and install the device directly in front of you.
On the front side, in addition to an additional cutout on the top, we have a knob with a button and an LED indicator. This is not a sensitivity control, but a headphone volume control for direct monitoring without delay.
The button is responsible for turning on and off the microphone. It works quickly, is pressed comfortably and helps in unforeseen situations (when, for example, someone nearby decided to suddenly speak). The indicator is essentially only needed so that you understand the state of the microphone. Red means no connection, blue is active, yellow is a pause.
On the back side, when folded, this part is covered with a leg, we have the same MiniUSB connector for connecting to a PC and a 3.5 mm headphone output. I usually do not need direct monitoring, and for USB the back is just fine. Of the shortcomings, very short legs can also be noted.
Sound review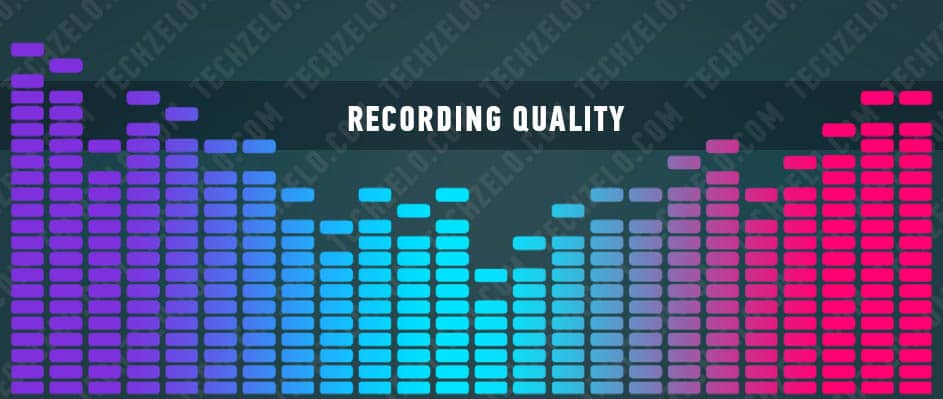 The manufacturer claims that the Samson Meteor Mic has the largest aperture in its class. We will not argue with him; other things are important. The model interacts well with any desktop OS. It also goes well with iOS, but the question of easy compatibility with Android devices remains open. There were difficulties with the test of my devices. An interesting feature of this device is the presence of the headphone input already mentioned above. Drivers for OS X are not needed since they are standard, Windows 7 and the latest versions find the software themselves.
The sound of the microphone is optimal for home. In fact, the capacitor design allows you to capture third-party sounds not so much, so additional wind protection and other amenities are unlikely to be needed. The only condition is that it is best to prepare a comfortable workplace without "external irritants" behind the speaker. It is not necessary to move too far from the microphone during a conversation, the clarity of the signal is easily lost. This is an obvious thing for budget models.
In general, if you competently approach voice recording on a computer (provide sound insulation, correctly set the volume level when recording), that is, you can make a very high-quality recording. A little post-processing of noise will be needed. Any more or less popular audio editor is suitable.
Samson Meteor Microphone review: Conclusion
Worthy alternatives to the Samson Meteor Mic in its price range exist. However, aesthetes will definitely like this very beautiful microphone. And it is very balanced in all respects and quite easy to use. This is more than enough to stop your choice here and start recording podcasts, video blogs or simply chat online at your workplace.
Features & Characteristics
Mic for speech issues
Totally balanced sounding
Decent value for money for gamers and newbies to podcasting and blogging
Easy connection and setup
20 – 20000 Hz frequency range
Cardioid type
mini USB cable and soft case included