If you need an audio interface and a mixer for your work at home, it's possible to acquire the mixing console with an integrated audio interface. These are universal solutions that can be used for live performances but when other goals are pursued, then use the devices for multitrack recordings. The list below includes the gear that is capable to perform such tasks. They have also other alluring features that are highly assessed by users.
Soundcraft Signature MTK 12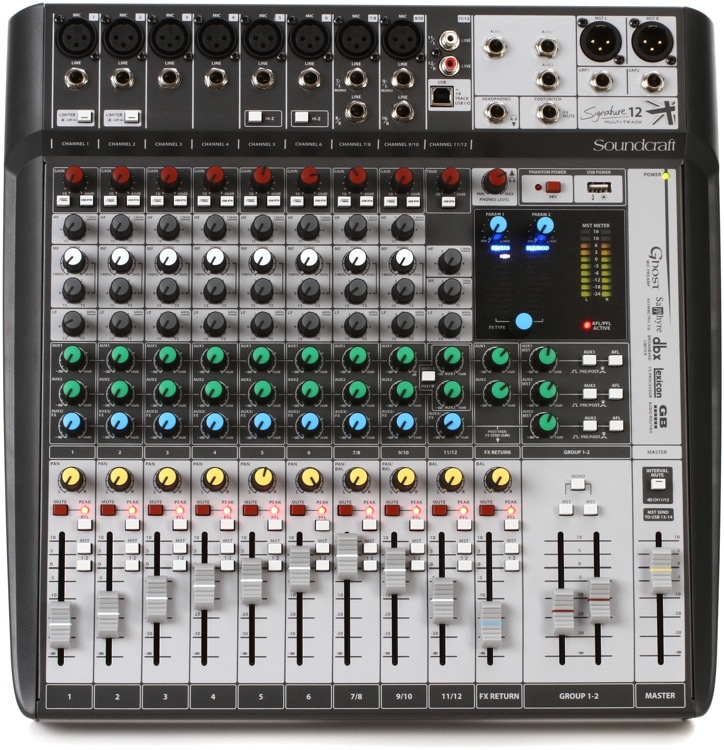 This board is ideal if there is necessity to mix musical instruments. There are a lot of positive reviews. For instance, the consumers are happy with the quality when use the mixer for live shows.
Features:
Analogue mixer;
Features Lexicon effects;
Soundcraft Sapphyre British EQ.
Pros:
Clean sound and superb functionality;
Solid, durable construction;
Excellent mic preamps with promising low-noise performance.
Cons:
The problem with the device is that the USB output is not designed for a vocal recording. It's important to mention that nothing is wrong with the main outputs. The problem refers to the USB out only.
---
Zoom LiveTrak L-12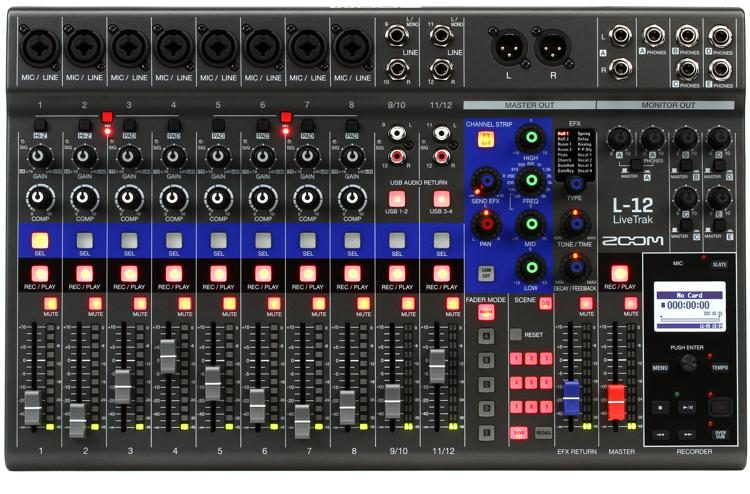 Some consumers consider this device the best multitrack mixer as it copes with its work well. This multifunctional product from the Japanese manufacturer is rather compact. Using 2 ins and stereo mixers, the musicians are able to create even 14 track recording.
Features:
3band EQ;
16 effects that can be configured;
Pros:
Recording to a SD memory card;
8 mic preamps of superb quality;
Low noise during performance;
Embedded mic for comments recording;
Rather durable though the item is made of plastic.
Cons:
The consumers don't point out some serious drawbacks.
If 8 mic- and 2 stereo line is sufficient for your goals, it's a bargain. If you need more channels, you should select Zoom LiveTrak L-20.
---
Presonus Studiolive AR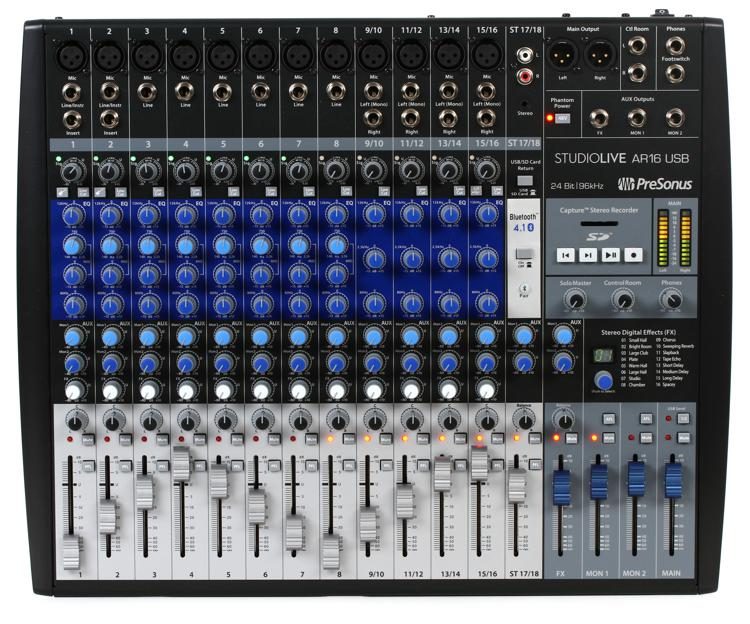 There are a lot of different options in this line and the person can select the one depending upon the requirements. This is an amazing machine that is capable of multitrack recording from 8 to 22 tracks at the same time. The potential of this device is huge! This is a hybrid model that features the physical controls and doesn't differ from usual mixers. At the same time, when the item is on, it performs functions of multichannel soundcard. The users can record the mix on SD without use of computer. Don't skip this device in pursue of the best mixer for multitrack recording.
Features:
Only the number of channels differ in AR8, AR12, AR16 and AR22;
Direct connection of acoustic instruments to the mixer;
3band EQ.
Pros:
The sound is great;
Excellent class-A preamps;
Embedded SD recorder;
Nice mixing surface.
Cons:
Some prosumers who use the device professionally and take it with them complain of bad build. The faders and knobs look flimsy.
The hissing sound is noticed in some models.
---
Zoom R16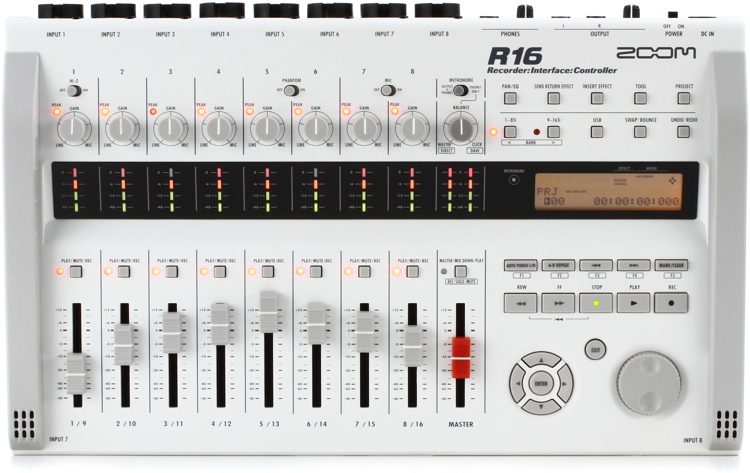 This is a perfect option when you need a modern device that would substitute a classic multitracking mixer. The difference is that it doesn't use the hard-drive to store the recorded multitracks. There is SD instead for it.
Features:
8 mic/line ins with TRS/XLR;
9 digital effects in the basic package;
Two channels with 48V phantom power.
Pros:
The model is light;
It has a tough case;
Compactness;
Great option when portability is needed therefore can be used like field recorders.
Cons:
There are complaints on poor recording
---
Behringer UFX1604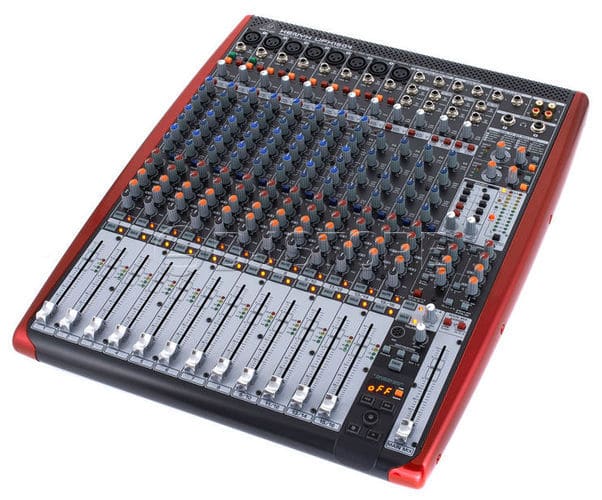 The customers research different mixing boards but most of them arrive at conclusion that there are no devices with such a good set of features that come close in this price range. Why not consider this mixer with capability of multi tracking as alternative?
Features:
Multi track USB recorder with possibility to record 16 tracks;
4 playback channels;
FX processors;
British 4band EQ;
Excellent effects.
Pros:
Warm, excellent sound;
There are inputs for direct connection of musical instruments;
Lots of routing and configuration possibilities.
Cons:
Faders don't look well enough. Some customers have to purchase better looking faders to solve the problem.
---
Tascam Model 24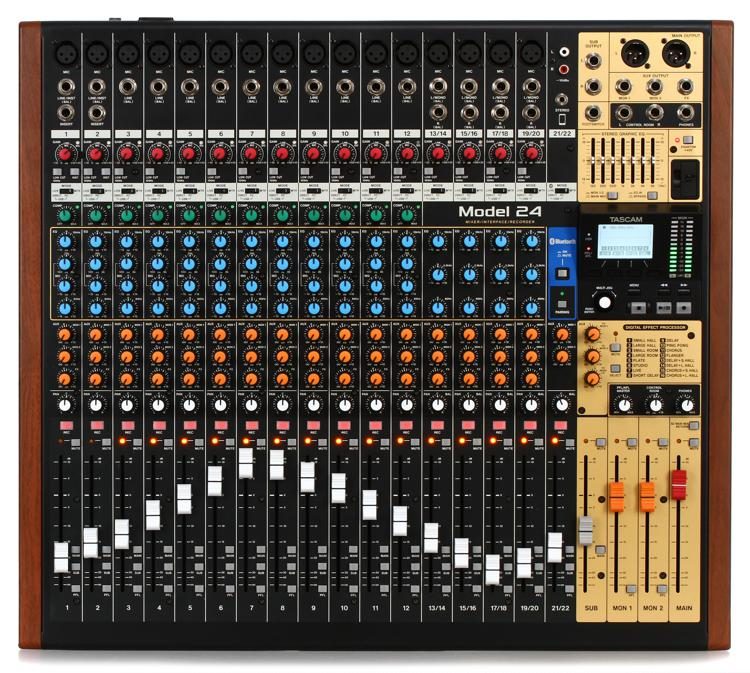 The model has an extraordinary look thanks to its unusual design with retro vibe. If you like the feel of real knobs when you mix sounds, this is a perfect solution. It can record up to 22 tracks.
Features:
16 ins with XLR;
16 superb Tascam preamps;
Powerful EQ;
Dedicated stereo channel1/8".
Pros:
Direct connection to computer;
Reliable build;
The sound of analog mixer is always better;
Nice price tag;
Easy to configure.
Cons:
It lacks many useful features present in other mixers.
There's no opportunity to assign the multritracks to other tracks without connection to computer.
---
Allen & Heath ZEDi 10FX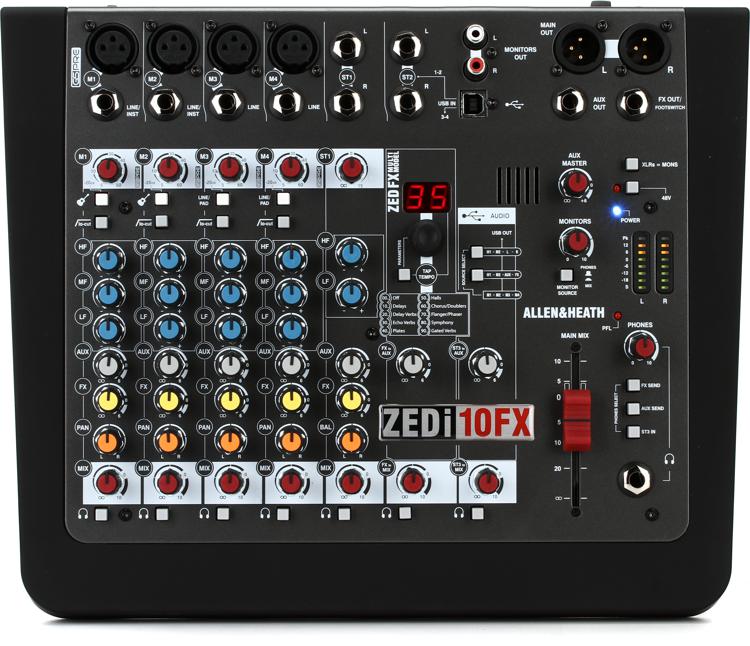 The list wouldn't be full without this device. It's suitable for customers who need a multitrack mixer for a home studio. Those who need the device with numerous inputs and outputs should look for some other alternative because this is 4×4 device. There are only 4 mic ins on it to record the separate tracks to DAW.
Features:
Hybrid mixer with USB interface equipped with FX;
Cubase LE software;
Powerful effects;
Robust build.
Pros:
A good set of features for the price;
Clean preamps;
Flexibility of routing;
Convenience of use.
Cons:
It's good for beginners, but not sufficient for advanced user.
---
Soundcraft Signature MTK 22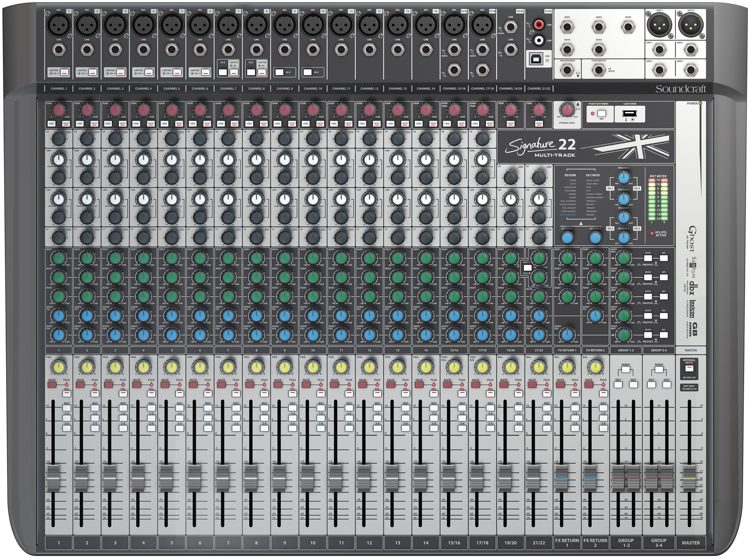 We have started the review with this model but it had 12 channels only. It's really outstanding piece of equipment therefore its 22-channel variety will be a good addition to this list as well. Both these devices are analog items used for mixing tracks and both belong to the same series.
Features:
Analogue device;
A good set of effects;
Powerful British EQ.
Pros:
Fantastic functionality;
Robust build;
High quality preamps;
Performance without noise.
Cons:
Some customers wrote about the problems with USB output. But most consumers are happy with quality of the mixer.
---
Conclusion
There are a lot of iconic brands in the list above that offer really very good variants to you. Using these professional mixing consoles, you can achieve fabulous results. The equipment discloses all your potential fully. They are made to deliver pristine sound with lots of effects. The top quality components of multitrack devices will only contribute to better result. Hopefully, you liked some of the offered consoles. If not, read other articles on the site or consult the online store to get advice on the choice of proper gear for multi-track recording.